Word Count: Information not available
Summary: You're never too young or too old to experience a paradigm shift. Toria Connor is 25 when tripping over an artifact in the ruins of Nacostina thrusts her a century into the past, before the city is destroyed during the Last War. Now, she finds herself alone. Adrift in a time where she must hide everything important to her, from her mercenary career to her true magical ability. Victory is over eight centuries old when she follows her adopted daughter. She has seen empires rise and fall, but never anything like this. She must survive alone in a city inhospitable to vampires, dodging friends and foes from her past alike. Both of them know the clock is ticking down to the moment when the city is wiped off the map. Now, they're in a race against time. To find each other. To escape the past. And to save the future.
Steel Time
September 6, 2018
Word Count:
75000
Summary: One hundred years ago, the vampire Victory retired from a centuries-long mercenary career. She settled in Limani, the independent city-state acting as a neutral zone between the British and Roman colonies on the New Continent. Twenty years ago, Victory adopted a human baby girl, who soon showed signs of magical ability. Today, Victory is a city councilwoman, balancing the human and supernatural populations within Limani. Her daughter Toria is a warrior-mage, balancing life as an apprentice mercenary with college chemistry courses. Tomorrow, the Roman Empire invades.
Steel Victory
June 15, 2015
Word Count:
68000
Summary: What price would you pay to rescue a friend from hell? For Logan Conner, the answer is almost anything. Guilt-ridden over trapping his college roommate in a ghost war rooted in Portland's pioneer past, Logan has spent years searching for a solution. Then his new boyfriend, folklorist Riley Morrel, inadvertently gives him the key. Determined to pay his debt—and keep Riley safe—Logan abandons Riley and returns to Portland, prepared to give up his freedom and his future to make things right. Crushed by Logan's betrayal, Riley drops out of school and takes a job on a lackluster paranormal investigation show. When the crew arrives in Portland to film an episode about a local legend of feuding ghosts, he stumbles across Logan working at a local bar, and learns the truth about Logan's plan. Their destinies once more intertwined, the two men attempt to reforge their relationship while dodging a narcissistic TV personality, a craven ex-ghost, and a curmudgeonly bar owner with a hidden agenda. But Logan's date with destiny is looming, and his life might not be the only one at stake.
Stumptown Spirits
May 16, 2016
Word Count: Information not available
Summary: Steel and Shadow San Francisco, 2015. A group of friends celebrating a windfall in their musical careers take a wrong turn down a deserted alleyway, only to find their path blocked by two creatures out of nightmare. Surviving only through the arcane intervention of a cryptic savior, they find themselves thrust unwillingly into the center of a war of extermination between two mystical races. The Gauntlet Rory loved his best friend Takeshi for as long as he can remember, though he never had the courage to speak of it. The discovery of their supernatural destinies as the leaders of the Sentinel race only compounded the danger of a relationship, so he kept silent. When Rory is captured, his soul hangs in the balance as the Nightwalkers delve into ancient magic to corrupt his spirit. Takeshi attempts a desperate rescue, but is unprepared to face the enemy that waits in the depths of the vampire fortress. In the end, his own damnation may be the key to Rory's salvation. Night and Day Nick was surprised to see Rory at a Christmas party so many years after the other musician disappeared from public life. Renewing their friendship, he remains completely unaware that Rory is not at all what he appears to be. Nick's ignorance costs him dearly when Rory's enemies attack. To save Nick, Rory and his allies must find a way to triumph over the first and greatest of the vampire lords, before Nick's soul is twisted forever by the torments of the Prince of Nightmares.
Sunrise
March 24, 2011
Word Count: Information not available
Summary: An unlikely savior emerges to prevent the advent of mass destruction and genocide descending on the world… By Day Los Angeles, 2040. When the terrorist known as Medusa threatens to kill millions with a stolen nuclear bomb, Nick Jameson makes a fateful decision. He reveals himself on global television as a Daywalker - a vampire with a soul. To save Los Angeles, Nick exposes not only his own gifts but three separate cultures based on millennia-old magic. By Night The three metahuman races exist in careful balance, working to maintain a fragile peace. Nick and his fellow Daywalkers successfully master their natural bloodlust. The Sentinels, armed with both magic and steel, repress their warlike instincts. And even some Nightwalkers, normally their natural enemies, have deserted the Court of Shadows to join the triple alliance. Nick Jameson is deeply involved with two such Nightwalkers - handsome Lorcan and powerful Rory. Both men love Nick. But neither can protect the new Ambassador to Humanity from the events he has set in motion. By the Sword Jeremy Harkness was lured into Medusa's service under false pretenses. A loner with no one and nothing to cling to, he was willing to die for his cause. But the night Medusa tried to obliterate Los Angeles, Jeremy met Nick Jameson, triggering the onset of his own psychic gifts. For Jeremy is the third race of metahuman, a Sentinel, born to kill the Nightwalkers with no quarter asked or offered. And neither Medusa nor the Court of Shadows will settle for peace when they can make war. Betrayal and treachery lurk around every corner on the road to coexistence, and at every turn, Nick must question who to trust among his metahuman allies, friends, and lovers—before their civilization is plunged into the depths of darkness and bloodshed. With millennia-old magic, emerging romance, and ever-shifting allegiances, this inventive series unveils a scintillating, homoerotic world of Nightwalkers, Daywalkers, Sentinels, and Humans, who battle for world dominance in the not-too-distant future.
Sunset
February 1, 2011
Word Count: Information not available
Summary:
When Sunny retires to the northern Ontario wilderness to mourn his parents' deaths, he's hoping the change of scenery will afford him some peace and quiet.
His hopes are soon spectacularly dashed.
In self-imposed exile, dragon Emile runs across the Fold between his dimension and Sunny's—and right into Sunny's arms. Centuries out of touch with human culture, bright, beautiful Emile incinerates any hope Sunny had for an ordinary existence. With dryads and water sprites coming to life all around them, Sunny can't deny the magic Emile brings to his life—or his heart. But that same magic leads the unrelenting dragon who would keep Emile captive right to them. To save his love, Sunny will have to reach deep and find some magic of his own.
Sunshine in the Dragon's Heart
December 4, 2018
Word Count:
71000
Summary: I've got a secret. Two, actually. I'm not that powerful. My best friend Gerald, though, he's got enough superpowers to fill the role of two heroes. His abilities are so strong, he can even make everyone believe I'm destined to be more than a sidekick. My other secret? I love him. My crush is getting harder to hide now that we're headed off to superhero university together. With Gerald as my roommate, it's only a matter of time before he figures out how I feel. And from there, our other secrets will inevitably unravel, too. Including what truly happened the night we stumbled on a League of Villains meeting. I never counted on the League ruining my plans to enjoy the university experience with my bestie. Or the nemesis who haunts my nightmares turning his telepathy on the city I grew up expecting to protect with my powers. One thing's for sure, superhero school isn't for the faint of heart. Super U: Rising Storm is an M/X superhero slow-burn best friends to lovers romance. It is part of a multi-author shared universe following the university adventures of superheroes in training. Gerald is a trans man who commands the wind and electricity. Ignatius is his non-binary and autistic best friend, who controls electric sparks. Read now to watch them turn their spark into a storm.
Super U: Rising Storm
October 12, 2021
Word Count: Information not available
Summary: Life sucks and then you die. Sort of. Valentino Crispo loves Mom's Italian cooking, sun on the beach, and working for the Cranston Police Department. He loses it all after getting vamped. Now, he's the noobiest vampire in Providence. This collection includes the complete four-book Supernatural Vigilante Society at a great price! Be Counted When a hitwoman apparently shoots Valentino Crispo's dad and one of Cranston's Finest on the same night, Tino stops letting vampirism bite him. He'll mix supernatural and PD skills to solve the crime. But he hasn't got the hang of being a vampire yet. The mystery of whodunit and why is tied up with Tino's own turning. The Providence vampire elders hate nosy vamps almost as much as new ones. Will Valentino stand up and be counted or add to the body count? Body Count Valentino Crispo's just started sinking his fangs into unlife as a vampire. He's got a decent start in his new PI business, too. Cases walk through the door and he solves them with a little help from his paranormal pals and the vigilante hobby they've got on the side. Wash, rinse, repeat. But there's big trouble in the little Ocean State. Powerful nouns in the supernatural community are going missing. These people, places, and things threaten to leave a power vacuum in their absence. Tino and his gang don't like the crew likely to step in and fill it, either. It gets personal when an old enemy shows up, asking the Supernatural Vigilante Society to help hide a tween psychic who knows too much about what's fishy in Providence. Are Tino and his friends in too deep this time? Can they stop the body count from rising or will they go out with the tide? Counting Costs There's no fortune in favors owed. After saving a king but losing a kingdom, Tino's up to his fangs in debt. But he doesn't owe money. A vampire's word is his bond. When a rival, a witch, and a hunter all call in their markers at the same time, Tino's suddenly got a metric ton promises to keep. To keep his vows, Providence's newest vampire must find missing memories, adopt an orphan, and cure a comatose fiance. Sounds easy, right? Wrong. The Mafia's standing in his way at every turn. And the holes in his own recall are a total roadblock. Meeting obligations is impossible if they're forgotten. Can Tino pay his debts without cashing in his unlife? Counting Stars Undead stars still burn. Still adjusting to recent changes, Tino Crispo, vampire PI, saddles himself with a new case. An ailing friend charges him with investigating a series of mysterious assaults. Rhode Island's youngest vampire has to balance his work life and new domestic responsibilities. With his extended supernatural family counting on him, he'll need help. Which is in short supply. Tino's biggest advantage is his circle of friends. But the threads he follows in this case seem connected to some of his closest allies. Who can he trust?
Supernatural Vigilante
Word Count:
49112
Summary: Tristan has agreed to bond with Ushna, but there is still much to do. Returning to Tribe Enkidu puts everyone on edge, and Tristan is being stalked like prey. It doesn't help that he fights depression as he mourns the loss of Nikita, or that claiming his birthright becomes a battle of wills with the Elder Council. The pleading of his adoptive daughter only adds to the oppressive feeling. Stumbling onto a secret prison while searching for Ushna leads Tristan to risk everything to free a lost God. But breaking the bond to his Twin Flame all those years ago has more repercussions than Tristan knew, and the assistance of a forgotten Goddess and a centuries-old lover may not be enough to save him. Surrounded by Crimson is the 4th book in the Sumeria's Sons series and features a poly (M/M/M) relationship that includes male pregnancy (mpreg). This book was previously released by another publisher and has been re-edited. Surrounded by Crimson is the 4th book in the Sumeria's Sons series and features a poly (M/M/M) relationship and includes male pregnancy (mpreg).
Surrounded by Crimson
November 4, 2009
Word Count:
9000
Summary: Can love and a promise triumph over death? I'll die for you, or with you. When Madan swore a sword oath to Serrai he was eight years old. He kept his promise while they grew to manhood and took their respective positions as king and general, even when it seemed that he was the only one fated to love, deeply and devotedly. Serrai never declared his feelings, but his love for Madan was just as fierce. And quietly, in his heart, he swore his own sword oath: to die with Madan. Until a battlefield death leaves both oaths broken, and two men fighting for a future that doesn't see them forever parted. An m/m fantasy short story proving that love can win an argument with fate.
Sword Oath: A Dornost Saga Tale (Shades #1)
August 14, 2018
Word Count:
65000
Summary: Continue to hide or help save the very kin she's hidden from? Welcome to SYN Consulting, the top business strategy consulting firm in Europe, home to a motley crew whose leader has a life changing secret. CEO, Danica Lestrange, is the first female dragon born in the last 800 years. Hidden from the rest of her kin and raised in the human world, she built a life that she would defend until her death. A devious plan is unearthed while working on a new business deal that could plunge the dragons into another war with the humans. The humans may have forgotten the last dragon-human war, but the dragons have not. Will the war reveal this hidden world to the humans, or will the clans come together to defeat their enemies and maintain their anonymity? Danica must gather her allies and help the very dragons she's hidden from her whole life. She can only hope that she'll be strong enough to protect her chosen family. This is the first book in a new series about dragons who want nothing more than to live in peace, but refuse to be subjugated. In war there's also love, and love is blind. Love doesn't care about gender, race, species (in this case), or sexuality. Warning: This book contains explicit sexual content between consenting adults. The sexual scenes are MM, MF, and MMF. There are romantic relationships depicted that are MM. There is also a high level of explicit language, snark, kink, and possibly bad puns and fart jokes. This book does end in a cliffhanger. Dragon War Chronicles is a continuous series. It is best read in order. SYN Consulting Secrets Revealed First Strike Dragon's Hoard
SYN Consulting
August 17, 2018
Word Count:
53100
Summary: Tad loves bouncing around in time and watching mankind grow and change. He loves humanity and helping when he can. However, his job isn't conducive to helping people.  He's an Angel of Death. Doug is fun loving and a drama queen.  Despite his witty exterior, he has a dark history and is prone to self-destruction. He's also an amazing drag queen and hairstylist with big dreams. When Tad pushes the boundaries of his duties too far, his angel wings are stripped away from him, and he is sent to New York City to live as a human. Lost and alone he ends up meeting Doug, and the two start a friendship that will shape them both and last a lifetime.  But nothing is simple when you're dealing with a former Angel of Death and a Drag Queen. Could these two cause the fabric of our world to collapse or will they manage to keep the future as it should?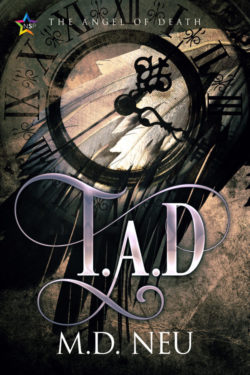 T.A.D.-The Angel of Death
September 23, 2019
Word Count:
48600
Summary: "Tell me a story Daddy." Kikoi, xolos wrangler by night and King Talos' snuggle monster by day, demanded. "What story do you want to hear tonight, baby boy?" Talos, Vampyr King and Supernatural Council Member, asked while he pulled Kikoi onto his lap. "I want to hear about when you met Daddy Bayne." Almost three hundred years old and Kikoi would never get tired of story time. "Again?" Talos arched an eyebrow with amusement. "Yes! It's a good one." Kikoi beamed at Talos. Talos leaned against the headboard of their bed as Bayne, former assassin but still looked damn good in armor, joined them and began… The Age of Man has passed, and a new age is upon the Earth. An age of magic and technology ruled by the supernatural beings that once hid amongst humanity has begun. Bayne is thrust into a world he thinks he knows but quickly discovers his whole life has been built on lies. Talos, perfectly happy ruling his corner of the world, is faced with an unexpected and unwelcome change that comes with the mate chosen by Fate. Together they must discover how to live and, in the end, love one another. Fate has more in store for them than learning to love someone they should hate. Will they be open to all the possibilities Fate lays out for them? Bloodlines of Fate is a new urban fantasy series set in a world destroyed by humans and resurrected by supernatural beings. Fate has many plans for the vampires, unicorns, therianthropes, elves, and humans of this new world. While their mates may be fated, love isn't that easy. This book contains depictions of gladiatorial combat, snarky fem twinks who will cut you, kings in stilettos, and awkward heats with a pinch of daddy kink. Talos is part one of a two-part story arch that tells the love story of two triads (MMM). It does end in an HFN with a HEA tied into the second part. This is a type of omegaverse with mpreg.
Talos
September 8, 2020
Word Count:
11220
Summary: Thomas East was meant to be the youngest Arch-Mage in history, a magical genius and a solver of problems. But he hadn't expected quite so many problems -- not to mention the endless meetings, bureaucracy, and political negotiations. So he's currently hiding in a sleepy California seaside town, working in an ice cream parlor and avoiding everyone he's let down ... until a firebird in need of rescue crashes into his shop. Nicholas Incandesco has far too many problems. He's a firebird, a shapeshifter, and a power source, and a lot of magicians could use someone with his gifts. He's also technically a murder suspect with two magical bounty hunters on his trail. He just wants someplace safe to land, and the attractive witch behind the ice cream counter might offer a sweet refuge. This encounter might be exactly what both Nicholas and Tom need to find themselves ... and rescue each other.
The Arch-Mage's Firebird
February 1, 2020
Word Count:
75,000
Summary: Reylan is everything a Sydney vampire aspires to be: wealthy, handsome and independent, carefully feeding off companions plucked from the gay bars of Oxford Street. When one of those companions is killed by Jorgas, a hot-headed young werewolf prowling his streets, Reylan reluctantly puts his cherished lifestyle of blood and boys on hold to help a mysterious alliance of supernatural beings track down the beast. It can't be that hard... not when Jorgas keeps coming after him. But there's more to this werewolf than a body count and a bad attitude. As their relationship grows deeper and more twisted, Reylan tastes Jorgas' blood, reawakening desires the vampire had thought long dead. And what evolves between them may be far more dangerous than some rival predator in the dark...
The Beast Without
March 27, 2013
Word Count:
98000
Summary: The Big Cinch embeds readers in a magic-laced St. Louis, once known as Mound City, home of the indigenous Americans' Mississippian ancestors. Little evidence of their civilization survives in 1924, apart from the popular Piasa monster image, invoked to sell plows as well as ornament civic pageants. Sean Joye, a recent Irish immigrant, tried to avoid fae attention and ignore his magical abilities since childhood. A young veteran of 1922's Irish Civil War, he aims to atone for his assassin past and make a clean life in America.  Sean helps a wealthy, powerful, magic-dabbling family—founders of the most exclusive club in town, the Piasa Lodge--with a discreet inquiry or two. Sexually involved with a secretive, high-society flapper, he falls hard for her fiancé, a Great War flying ace with a few secrets of his own. But Sean asks the wrong questions about a kidnapped toddler and missing Native American artifacts and becomes a suspect in his lover's bludgeoning and a tycoon's murder. Can he master the paranormal abilities he's rejected for so long in time to protect the innocent and save his own skin?
The Big Cinch
December 31, 2021
Word Count:
114000
Summary: The world is changing quickly for Chris now that he's part of the Immortal Community. With the events of his past finally behind him, he's still having visions and true magic is gradually taking hold in our world. There are new challenges that the Immortals must face, but Chris is still new and has no real standing in the immortal community. Learning that nothing in the Immortal community is what Chris thought and now having to face new threats, how will his new world unfold? Old enemies must work together and longtime friends may not be trustworthy. Who is lurking in the shadows? Why are they here? What does this mean for witches, immortals and humans? Can Chris' visions even be trusted given recent events, and how easily his mind is manipulated? With Juliet, Amanda, and Kirtus by his side they have to prevent the immortal and witch community from being exposed. Can they trust the local witches that are there to assist them? Can they trust their fellow Immortals? New friendships are made, and longtime alliances are called into question. How will The Called defeat these latest threats, and what does it mean for our world?
The Called
April 19, 2021
Word Count:
108000
Summary: Being a nobody isn't Duncan Alexander's life goal, but it's worked for him. He has a nondescript job, a few good friends, and overall he's content. That's until one fateful trip to San Jose, California, where he is "Called" to meet the mysterious Juliet de Exter. Juliet is a beautiful, wealthy, powerful Immortal who is undertaking The Calling—a search for a human to join her world of Immortals. Inexplicably, Duncan's calling is more dangerous than any of the Immortals, even Juliet, ever thought it would be. There is more to this nobody, this only child of long-deceased parents, than anyone thought. When Duncan experiences uncontrollable dreams of people he doesn't know and places he hasn't been, Juliet and the other Immortals worry. Soon, his visions point to a coven of long-dead witches. The dreams also lead Duncan to his one true love. How will Duncan navigate a forbidden romance with an outcast Immortal? How will he and the others keep the balance between the Light and Dark, survive vicious attacks, and keep the humans from learning who they truly are? More importantly, who is this implacable foe Duncan keeps seeing in his dreams?
The Calling
January 1, 2018
The Chimera: Bound Gods #1
March 22, 2016
Word Count:
54,665
Summary: Balancing family life with being a kick-ass investigator is hard, especially when the holidays roll up. Jake Winter and Dean Tseng are solving cases as PIAs (Paranormal Investigation Agents) in Amsterdam, as well as being fathers to their four-year-old daughter. With the festive season in full swing, everything should be calming down to make way for relaxing times with good food and presents delivered by Sinterklaas. Right? Since when was life ever that simple? When a human body is discovered with every one of its bones missing, and creepy anti-supernatural protesters start lurking in the shadows with a sinister agenda, Jake and Dean are about to experience the nasty side of Christmas. An Urban Fantasy filled with magic, mystery and mayhem (The Christmas Bones is a sequel novel to the Coldharbour Chronicles series, set four years after the events of the final book. There are references to the previous series, but this story can be enjoyed without having prior knowledge of those books. It features an established MM relationship, and plenty of Urban Fantasy action.)
The Christmas Bones
November 29, 2019