Word Count: Information not available
Summary: The Valkyrie Kara stood alone against the Ragnarok horde on Earth to ensure that the Asgard race and Valhalla could escape.  For five thousand years she has fought and evaded the Ragnarok race on Earth, just waiting for her people to return. A human woman, Kate, joins her fight against the invading race, showing as much conviction and valor as any Valkyrie.  Their friendship quickly becomes something more as they hold the line on Earth in battle to herald the return of the Asgard.
Valkyrie Chronicles: Return of the Asgard
July 13, 2013
Word Count:
73000
Summary: "Your bullets can't kill me. I'm already dead. Inside and out." When his fiancée is brutally murdered on Valentine's Day, Ash Corvus is unwittingly plunged into the nightmarish world of the Arpadeem, or as the movies call them… Vampires. What begins as a personal quest for revenge becomes a struggle for the fate of the city itself as Ash's search takes him into Cedar Rapids' secret criminal underworld. Ash must cast off his humanity and become a monster himself if he hopes to bring vengeance upon the monster who murdered his love… the man with the scar. A dark, violent thriller from the author of The Weller and War of the Worlds: Goliath!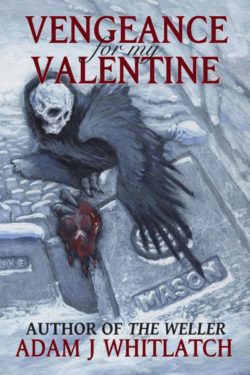 Vengeance for My Valentine
April 27, 2018
Word Count:
75431
Summary: Mwarthes, former assassin of the Eclipse, has earned his freedom but he made a few enemies among his former coworkers. Now that the Master no longer protects him, they're coming after him with all the fury of hell. Good thing he's still got his monster in a jar. There's plenty for Hapi to eat, but as it grows, it also learns. And it's learning quickly. He might need Ashira's help after all. The pharaoh has died without naming an heir. Ashira is sent to the capital to ask the deceased king who is next in line, but in a court full of intrigue and conspiracy, deciding on an heir might not be so simple. Beset on all sides by enemies, Ashira needs someone who isn't trying to use her for their own ends. But the only one she can count on is Mwarthes, who brought a mindless monster she thought was destroyed. But Hapi is still alive. Hapi is hungry. And Hapi has something to say.
Venomous
February 10, 2020
Word Count:
103061
Summary: SISTER. ASSASSIN. VESSEL. Echo Rodrigal isn't just a survivor; she's a success. But in a land where the law is there are no laws, the terms of success rest on a knife's edge, and Echo's luck is about to change. The Vindicata are one of the top vengeance crews in the Ten Realms of Interra. Their oaths to only commit crimes of justice have earned them the respect of their peers. But the Vindicata are more than a crew, they're a family. And ever since they adopted Echo, she's cared about one thing: making her family proud. For years, that's meant becoming the continent's most feared assassin. But each kill wreaks havoc on her soul, no matter how justified. Echo's unraveling fast, complicated by the mysterious rift growing between her and her beloved sister. Miyala's keeping dangerous secrets, and Echo cannot find the key to unlock her sister's trust. When the Warlord orders the Vindicata to transport foreign dissidents to a new prison, they must put their personal issues aside to face an impossible choice: die for defying orders, or die for breaking their oaths to uphold justice. Between meddling gods returning to the continent, mercenaries around every corner, and an ancient prophecy that foretells the end of all worlds, the pressure on Echo is mounting fast. Can she make enough right moves to save her family? The fate of many worlds rests in Echo's next choice.
Vessel of Starfire
September 22, 2020
Word Count:
86786
Summary: Meet Ashira. She can heal with a touch and command the dead. And she would like her kingdom back. After all, she is the reincarnation of the legendary pharaoh Nephtet-Ka. It's hers by rights. The prophecy said so after all. But she will find that an empire won't just hand over power, even if she unleashes an army of reanimated corpses on those who stand in her way. Fleeing an empire that wants her dead, she will have to cross the desert and seek out new allies and counsel from the ancient priest who started the prophecy. Her only ally is Mwarthes, a sly assassin who speaks with serpents and lets his curiosity get the better of him. Will he help her reclaim her crown from the Alvari empire? Or will she end up another corpse in the desert?
Vessels
January 3, 2019
Word Count:
72831
Summary: A river turned black. A city under siege. A monster in charge. Is this what Ashira really wanted? The desert kingdom of Khemeret has been waiting for the legendary pharaoh to return. But soon, they'll wish he hadn't. Ashira can remember when Hapi was just a mindless little blob who only devoured people on command. But now it thinks it's the legendary pharaoh Nephtet-Ka and he's laid claim on an entire city. Lucky for the city, the citizens are all supportive of the violent new regime. Every day is a riot against the oppressive foreign empire, and Hapi's vizier Mwarthes is delighted with every new horrifying idea his monster has. Can Ashira put a stop to the madness or will everything and everyone be devoured?
Vicious
April 15, 2021
Word Count: Information not available
Summary: Happy ever after, pearls, and murder—what else is romance made of? After escaping his cold fish of an ex, Jody Knox had everything—a new career, his goofy dog, and the love of his life, Merik. He couldn't believe his luck... Until it changed. In the worst way. After stumbling onto the love of his life, Merik Lighthouse had a dilemna—solve the mystery of the missing mer and return to the sea, or confess his secret identity and risk losing Jody. He couldn't decide… Until someone decided for him. Permanently. Or maybe not… Wandering a Luminous Sea is for you if you love paranormal contemporary fantasy, mm romance, fairytales, and suspense. Oh… and a loveable poodle named Ellery Queen.
Wandering a Luminous Sea
July 13, 2021
Word Count: Information not available
Summary: Red-haired questing knight Sir Percival and ailing King Arturus, both of the Green Land, are captured after the Battle of the River Colum and face slavery in the Lucian Empire. Victorious General Robert Dardarius forces thousands of Viridian captives on a death march to the Lucian capital, but he offers Arturus a deal: Turn over information about the Viridian Grail, and he will stop his invasion of Viridiae and its capital, Camelot. Merlin appears in the Lucian capital with something better, a second Grail. Percival, Arturus, and Merlin escape the Lucians, but when they reach the reorganized Viridian army under Mordred Lothian, a new battle with the Lucians takes shape. Will Percival restore the true Grail to the Green Land and face down the Lucian threat? And how will Queen Guinevere, on a mission with Percival's artist sister Dee, help her country? War for the Green Land, the second novel in the fantasy series The Future History of the Grail, re-imagines the King Arthur legends, placing them a thousand years in the future. The first and third books are Fall of the Green Land and Return to the Green Land.
War for the Green Land (The Future History of the Grail Book 2)
December 1, 2020
Word Count:
29722
Summary: Adam Drowen… Azreal, the Onyx Knight… His journey has been long and arduous. He gained power in death, lost his mentor, found truth in a dream, got lost in a fantasy, embraced his rage, challenged The Fates, offered compassion, crossed the line, hunted a monster, and realized that Darkness was enveloping his soul. A Warrior's life is not for everyone. Adventure, excitement, glory; these are not what a true Warrior desires. A Knighthood does not grant privilege, offer fame, or promise riches. It can be a hard life, full of painful choices. It is a life of service, not reward. It is a never-ending journey in search of knowledge and beauty. The Way of the Warrior is the perpetual pursuit of perfection that none will ever attain. Why would anyone choose such a life? Not everybody can; but if you wish to learn what drives someone on this ceaseless quest, then pay attention; for I am the One Arm Bandit and I have stories to tell... Now, for the first time, ShyMuse Publishing presents the tales of Azreal, the Onyx Knight; collected in a single anthology. All ten short stories chronicling Azreal's journey from a young Sapphire Knight to a cold-blooded killer and finally to a contemplative, stoic guardian, are now gathered together in one volume. In addition to the Best Selling Way of the Warrior short story series, this book contains never before seen artwork and concept designs. Visit us at www.ShyMusePub.com
Way of the Warrior: The Azreal Chronicles
August 15, 2022
Word Count: Information not available
Summary: The amorality of gods makes it hard to tell 'bad' from 'good' and 'right' from 'wrong'. Fen doesn't care. All Fen cares about is saving his family, and he'll risk anything and anyone that gets in his way. Including his own soul. No longer willing to wait for the machinations of the gods' minions, Fen accepts the trade Malick has offered and together they set out to rescue Fen's family and kill the man Fen has loved for years. With the Ancestors still screaming in his head, and with the duplicity and manipulations whirling around him, Fen finds it harder and harder to do without the silence Malick can offer him. Malick has his own reasons to hand over everything Fen wants, and equally compelling reasons to withhold everything Fen needs. Over his head, and timing as bad as ever, Malick must devise a way to do his god's bidding without breaking his god's laws—and keep Fen sane and on Malick's side in the bargain.
Weregild
December 30, 2014
Word Count: Information not available
Summary: Strange circumstances brought Morgan Patterson from the sandy beaches of the US East Coast to rocky Northern Ireland. Some called those circumstances destiny. Morgan called it something else. For her, it was just a college senior year abroad. Until, that is, her studies were interrupted when she met the man of her dreams. A man who took her by the hand, leading her into a world where promises were binding things, where nothing was as it seemed, and where wishing for something could get you more than you bargained for -- including killed. But it was also a world of enduring love, hidden treasures, and the chance to right the wrongs of long ago. What Morgan called it was her kingdom. A kingdom she was willing to die to protect.
What You Wished For
December 20, 2018
Word Count: Information not available
Summary: RED: Lázhien's human. A common Imperial soldier. And my soulmate. How could fate get it so wrong? The demon in me craves this bond with every shred of his being. He pushes me to accept it. This time I won't yield to his demands. LÁZHIEN: Red's a lust demon, a whore and a stuck-up snob. The most beautiful man I've ever seen. Pain in the arse. And he hates my guts. I'd be an idiot to pursue him. Yet something about him compels me to make him mine. When I First Saw Red is a complete and standalone short novel with an HEA ending, featuring a couple of reluctant fated soulmates—a demon and a human—trying and failing to defy destiny. 
When I First Saw Red
June 4, 2020
Word Count:
91641
Summary: Johnny Smith's luck has been bad from the moment the Stock Market crashed and he'd been forced to leave an exclusive boarding school, and he sees no reason to believe it will ever change. But then he meets Church Chetwood, a dashing, devil-may-care director of motion pictures, and his life is turned topsy-turvy when Chetwood takes him along on what the man promises will be the adventure of a lifetime. Johnny doesn't care, as long as he's with his Mr. Chetwood. The year before, Church had hired Captain Johansen to take him to the mysterious island of Iwi Po'o on the tramp steamer August Moon. There he'd found and captured a sabretooth tiger and brought the animal back to the States. "Chetwood's Kitty," so dubbed by the press, is the reason he has to leave New York so precipitously -- people had died and the law is after him. The only bright spot is the kid he'd come across in a saloon. Church thinks he's had the best idea of his life when he decides to take Johnny along with him to the South Seas. He and Captain Johansen plan to make a living transporting goods from one island to another, and they have every intention of avoiding Iwi Po'o. But a treacherous stowaway has plans to take the August Moon for himself, and convinces the men to mutiny. Johnny, Church, the skipper, the ship's cook, and the wireless operator, accompanied by the little girl Johnny had rescued from prostitution, find themselves in a lifeboat, with Iwi Po'o the only spot of land. The last time Church was on this island, twelve men lost their lives to what lived there. Will Johnny, Church, and their friends somehow manage to make it our alive this time?
Whither Thou Goest
April 22, 2020
Word Count: Information not available
Summary: When Joan's husband dies, she is forced to move with her young son, Joey, from home to home. But at each home, an evil follows, forcing Joan and Joey to move again and again, hunted. They never know why they're being hunted. All they can do is run away from the constant threat until, hopefully, it gives up the chase … or they find a savior who can either end it, or help them to fight it forever.
Widow
November 28, 2021
Word Count:
41778
Summary: Content with the quiet isolation of their lake house, Snowden and Rowan Hadley survive on summer jobs and winter hunting, unable to move on since their parents died. Their peace is shattered by a strange, human-acclimated bear who insists on following Rowan like a giant hunting dog and again by the discovery of a naked, surly stranger in the snow. Both bear and man lead the Hadley brothers into a strange, surreal world where sorcery and RPG software intertwine. Curses and magical traps lie in wait around every turn. Rowan and Snowden will need to adjust their view of how the world works, and quickly, if they want to live through rescuing their enchanted princes.
Wild Rose, Silent Snow
December 27, 2016
Word Count: Information not available
Summary: It started with a curse. Or was it the murder? No definitely the curse. In mourning after the murder of his husband, and looking for revenge, Jake Winter finds himself in a city that shouldn't exist. Evil stalks the streets and goblins weave sweet lies, and there's a curse that, it turns out, only Jake can break. Suddenly, revenge isn't his only purpose; suddenly Jake is the people's last hope. Add some new friends sworn to guard him, including a sexy half-fae bloke who has an unwelcome effect on Jake's pulse, and the stage is set for a new life of danger and death on the British coast. Because Jake has a destiny. Question is, will he live long enough to fulfill it? A dark urban fantasy tale with kick-ass action and slow-burn m/m romance.
Winter Rising
September 27, 2018
Word Count: Information not available
Summary: With Midwinter just around the corner, Mark's Nanna decides that it is time he learnt more about his family heritage. Learning witchcraft shouldn't be too difficult, right? Balancing school, magic, and the distractions of the gorgeous new guy, should make this a very interesting winter. Free to download from most ebook retailers.
Winter Trials (Northern Witch #1)
November 16, 2016
Word Count: Information not available
Summary: Mobsters, Monsters, and Magic. It's 1929 at the height of Prohibition in Plymouth, Massachusetts. Bill Chiavo and his twin sister Millie are learning Wisdom, the family magic. Wise families should take care of their own but when the stock market crashes, their Irish Uncle Finn hoards his visions. He reaps the rewards and the Chiavos head to the poor house. Now the twins are on the outs while their uncle's got the money, the power, and the connections to take over. Bill and Millie need allies and the mob-run Supper Club just might have the muscle they need. Millie wants them to skip town but Bill refuses to leave his family or friends at Finn's mercy. The twins will need to wise up if they are to thwart their uncle's conquest. But how do you defy a man who sees the future? The Wise and crime families clash in this small town for big stakes. But who will claim the prize?
Wiser Guys
Word Count:
73000
Summary: When supernatural secrets collide, it'll take more than coffee to brew the perfect love. When Ky Hernández bonded with his familiar, Zuri, his life changed forever. Their connection turned him into a practicing witch and led him to his calling as a medimagical professional. However, it totally tanked his love life—what guy would settle for eternal second place behind a parrot? So Ky keeps his witchy nature under wraps and sticks to hookups with humans, which can never go anywhere. But the mouthwatering barista at the coffee shop next door makes him thirst for more than a caffeine fix. The charms Ewan Jones uses to appear human are inconvenient, disorienting, and . . . necessary. Ewan and his siblings are achubyddion, metaphysical healers whose powers are coveted by unscrupulous supernatural beings. And let's face it: all supes are unscrupulous, given the right incentive. He's grateful for the protections that hide his little family, and for the barista job that keeps them housed and fed. He's just so lonely. And his regular, Ky, the super-hot, commitment-averse EMT, seems like the perfect candidate for a one-night shot at intimacy. After all, humans are no threat. It takes a clumsy coffee shop intern, a mysterious werewolf epidemic, and one snarky parrot to unravel their pasts—and give them a chance at a future.
Witch Under Wraps
October 26, 2020
Word Count: Information not available
Summary: Don't you long for heroines who win each other? In this anthology you can find erotic romance and wild adventure with women who use their wits and/or weapons and come together in a blaze of passion. These twelve wonderful writers present a wide range of stories. Some adapted traditional tales, and some updated old ones to contemporary times, not merely changing the gender of a character but making the female aspect essential. Some created original plots with a fairy tale sensibility, while others wrote with merely a subtle aura of fantasy. Their heroines are witches, princesses, brave, resourceful women of all walks of life, and even a troll and a dryad. There are curses and spells, battles and intrigue, elements of magic and explorations of universal themes, and, yes, sex, sensuality and true love, all bound skillfully together into complex and many-layered stories.
Witches, Princesses and Women at Arms: Erotic Lesbian Fairy Tales
April 18, 2017