Word Count: Information not available
Summary: I thought I was done with Vampires… …but I should have known they'd come back for me. I can't trust the people around me, and it's become clear everyone is after my power. The problem is, I don't understand my power, and I certainly don't want it because it comes from the Devil himself. Ever since age thirteen, the Devil visited me in my nightmares and tormented me. Nowadays, he drops into my mind and thoughts whenever he wants to and I'm thoroughly confused. Am I Dante Coranguis, or am I this other being named Snakeheart? I need help, but I don't know who to turn believe anymore. I see plots to drain my powers or kill me, but the only thing keeping me alive is the last thing I want—the power of the Antichrist. Unfinished Business is the fifth book of The Snakeheart Series (Season 1), a supernatural novelette series about Dante Coranguis and the ancient prophecy of the End Times. Get it now.
Unfinished Business
Word Count: Information not available
Summary: I thought my boss was just another eccentric billionaire… …but I didn't realize he was the financier of a global satanic cult, too. No matter how much sleep I lose thinking about my life, I can't escape the numbing evil that surrounds me. Ever since the Vampires dragged me into this mess, my life has been an uphill battle against supernatural forces I barely understand. I'm not a religious man by any stretch of the imagination, and the mere thought of stepping into a church makes me nauseous. But the insane, unexplainable events happening in my life make me truly wonder if destiny has condemned me to an unholy fate: the Herald of Satan, or the Antichrist himself. When I found out the company I work for is nothing more than a front for a secret human organization that has been financing the end of the world (aka the apocalypse) and the coming of Lucifer Morningstar, well, that was the day I decided to foil the Devil and end it all. Unholy Alliances is the fourth book of The Snakeheart Series (Season 1), a supernatural novelette series about Dante Coranguis and the ancient prophecy of the End Times. Get it now.
Unholy Alliances
Word Count: Information not available
Summary: The sequel to The Seer. Finally liberated from her captor, Amarta—The Seer of Arunkel—travels south to Perripur, her former hunter—and lover—at her side. She needs all the help she can get, because more hunters are tracking her, close behind. As Amarta's fame spreads across two countries, so does her need to understand herself, and to find others who can also see into the future. Back in Arunkel, the man who once held Amarta's freedom—the queen's Lord Commander and Royal Consort—plays a deadly game with the aristocratic Houses. He must win if his queen and his child are to survive. He has not forgotten the Seer whom he once hunted, and held captive. Amarta has not forgotten him, either. Unmoored—the first book of The Stranger Trilogy—begins new adventures for Amarta, The Seer. Come explore this rich world, follow the court intrigue, and learn the truth about power. Be sure to pick up the other books in the trilogy: Maelstrom and Landfall.
Unmoored
Word Count:

37000
Summary: He'll get by with a little help from his mate. When Paul's long-buried past reaches out for him, having Simon at his back should make all the difference. The shy, studious teen who ditched his hometown is now a grown man with a good life, an honorable profession, and a werewolf boyfriend. So why is still so hard to go home? A new 37,000 word novella in the same time frame as book 6 in the Hidden Wolves series brings challenges, pain, love, and their HEA for our favorite guys. Content warning for assisted suicide.
Unplanned Coda
Word Count: Information not available
Summary:
In 1920s Chicago, postal employee Saul Imbierowicz is unwittingly swept up in a city-wide conflict between rival gangs, federal agents, and supernatural forces beyond his control. After striking out on his own from his overbearing Jewish family, Saul quickly becomes involved with the seductive and mysterious Moira. He soon becomes mixed up in the events of the St. Valentine's Day Massacre, witnessing the shooting and fleeing from the scene after Moira takes a bullet and is presumed dead. However, Moira is far from dead, and due to her influence Saul finds himself increasingly entangled in the rival factions seeking control over the city, coming face to face with Bugs Moran, Al Capone, and the federal agents pursuing both. Everybody wants something from Saul, but will he be able to save himself and his family, and uncover the supernatural secrets of the city, before it's too late?
Unremarkable
Word Count:

55000
Summary: In Unsafe Words, the first full-length collection of her edgy, award-winning short stories, Loren Rhoads punctures the boundaries between horror, dark fantasy, and science fiction in a maelstrom of sex, drugs, and rock-n-roll. Ghosts, succubi, naiads, vampires, the Wild Hunt, and the worst predator in the woods stalk these pages, alongside human monsters who follow their cravings past sanity or sense. Featuring an introduction by Lisa Morton and cover art by Lynne Hansen, these never-before-collected stories come from the magazines Cemetery Dance, Space & Time, City Slab, and Instant City, the Wily Writers podcast, and from the books Sins of the Sirens, Demon Lovers, The Haunted Mansion Project: Year Two, Tales for the Camp Fire, and more. One story, "With You By My Side It Should Be Fine," is original to the collection.
Unsafe Words
Word Count: Information not available
Summary: Saul Imbierowicz's life literally changed when Al Capone murdered him, and he was reborn as a vampire. Now Saul is working for Eliot Ness, trying to take down the famous gangster. But Saul's new "life" isn't what he expected, and an offer from Capone to answer Saul's many questions about being one of the living dead comes at a price that Saul is unwilling to pay. Being partnered with Agent Christian Wright, who sees Saul as an abomination and an affront to God, isn't great either, but the fledgling partnership must succeed before a vampire war engulfs Chicago.
Untouchable
Word Count: Information not available
Summary: An anthology of stories combining two or more fairy tales.
Upon A Thrice Time
Word Count:

48000
Summary: Bound by a dark act of hate and despair, high school freshmen, Andrew and Kiernan, learn that their untimely deaths did not bring an end to their pain, but only began the suffering of those left behind. While his lost memories return, Andrew must master seemingly impossible feats, both spiritual and physical. As a dark spirit stalks Kiernan through the borderlands of life and death, he must also face the pain his actions have caused his loved ones. To save both their souls, Andrew must convince Kiernan to return to life and open his eyes to the love and beauty which had always been there.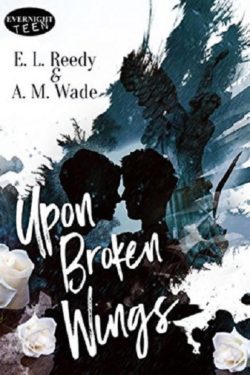 Upon Broken Wings
Word Count:

118,000
Summary: Recovering vampire Ben is discovering that life after death is hard work. It will take more than a reflection to impress his boyfriend Nate's religious mother. And Nate's twin brother, Ethan, openly resents Ben's presence at the family farm. Nate is confident they can build a normal life together, but Ben's not even sure he knows what normal is. He can't face his reflection, let alone his past, while Nate refuses to divulge his family's supernatural secret. Can they build a future on such shaky foundations? When a supernatural hunter is found dead on the family farm, Ethan becomes the main suspect in a murder investigation that puts Ben and Nate at odds. Nate wants to protect his family and stay silent about what he is, but Ben knows no one is safe until the demonic agent responsible for a string of murders is caught. Defying Nate to investigate alone, Ben can't let the demon claim another victim. But as his investigation continues, he discovers links to a past he thought he'd buried—and a past Nate refuses to acknowledge. With a desperate killer on a deadline, Ben must face the literal demons in his past if he wants to have any chance of saving himself and Nate from a fate worse than death.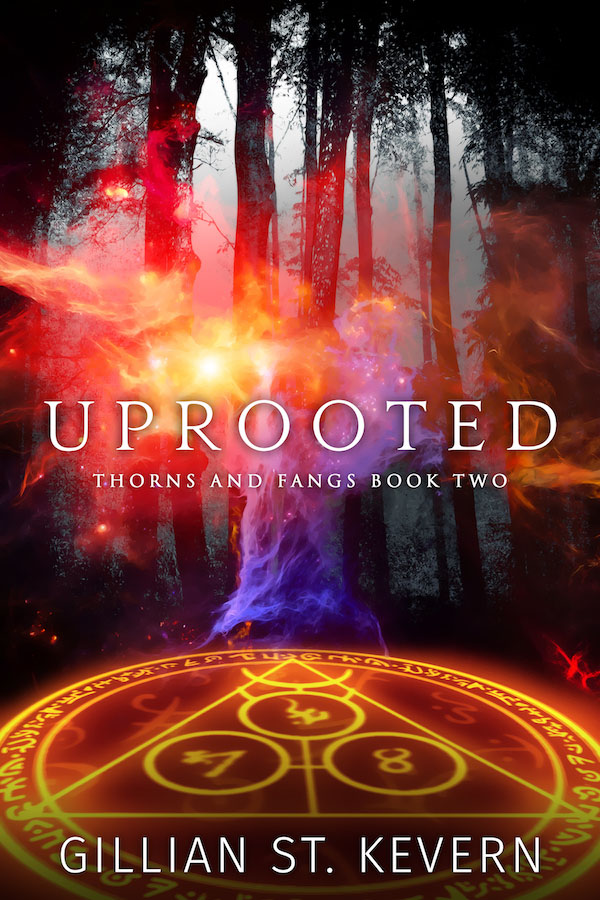 Uprooted
Word Count: Information not available
Summary: A third of the world's population are cursed to become werewolves on the full moon, and walled cities like Seattle protect the Clean Bloods.  People like Detective Daria McQueen defend the gates of the city to stand against the packs of wolves, three nights a month. Daria discovers a breach in the wall while on her patrol, and saves a family from infection by three hungry wolves.  Daria herself is saved by a Wolf Hunter she had believed to be nothing but an urban legend, the Red Hood, Maireni Damaschin.  The mysterious woman in a red cloak seems to possess inhuman abilities. Daria and Maireni find themselves caught in a tangled web of deception that goes back centuries, which could spell the end to Clean Bloods and throw the world into servitude.
Urban Fairytales: Red Hood - The Hunt
Word Count:

50000
Summary: World Fantasy Award Finalist Winner of the 2nd Annual North Street Book Prize
Dwarves and golems, Fates and minotaurs, metamorphoses, murder, and Jean-Jacques Rousseau. L.S. Johnson delivers a provocative and original short story collection that ingeniously blends myth and nightmare. Whether it concerns an infertile witch constructing a golem-baby, a daughter struggling to understand her mother's supernatural infidelities, or a cafeteria worker forming an uneasy alliance with a group of possibly imaginary but nonetheless dangerous little men, each story in this remarkable collection demonstrates the limitless capacity of intelligent speculative fiction to enthrall, inspire, and amaze.
Vacui Magia: Stories
Word Count: Information not available
Summary: The Valkyrie Kara stood alone against the Ragnarok horde on Earth to ensure that the Asgard race and Valhalla could escape.  For five thousand years she has fought and evaded the Ragnarok race on Earth, just waiting for her people to return. A human woman, Kate, joins her fight against the invading race, showing as much conviction and valor as any Valkyrie.  Their friendship quickly becomes something more as they hold the line on Earth in battle to herald the return of the Asgard.
Valkyrie Chronicles: Return of the Asgard
Word Count:

73000
Summary: "Your bullets can't kill me. I'm already dead. Inside and out." When his fiancée is brutally murdered on Valentine's Day, Ash Corvus is unwittingly plunged into the nightmarish world of the Arpadeem, or as the movies call them… Vampires. What begins as a personal quest for revenge becomes a struggle for the fate of the city itself as Ash's search takes him into Cedar Rapids' secret criminal underworld. Ash must cast off his humanity and become a monster himself if he hopes to bring vengeance upon the monster who murdered his love… the man with the scar. A dark, violent thriller from the author of The Weller and War of the Worlds: Goliath!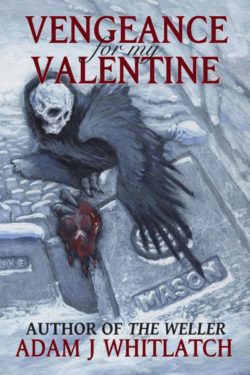 Vengeance for My Valentine
Word Count:

75431
Summary: Mwarthes, former assassin of the Eclipse, has earned his freedom but he made a few enemies among his former coworkers. Now that the Master no longer protects him, they're coming after him with all the fury of hell. Good thing he's still got his monster in a jar. There's plenty for Hapi to eat, but as it grows, it also learns. And it's learning quickly. He might need Ashira's help after all. The pharaoh has died without naming an heir. Ashira is sent to the capital to ask the deceased king who is next in line, but in a court full of intrigue and conspiracy, deciding on an heir might not be so simple. Beset on all sides by enemies, Ashira needs someone who isn't trying to use her for their own ends. But the only one she can count on is Mwarthes, who brought a mindless monster she thought was destroyed. But Hapi is still alive. Hapi is hungry. And Hapi has something to say.
Venomous
Word Count:

103061
Summary: SISTER. ASSASSIN. VESSEL. Echo Rodrigal isn't just a survivor; she's a success. But in a land where the law is there are no laws, the terms of success rest on a knife's edge, and Echo's luck is about to change. The Vindicata are one of the top vengeance crews in the Ten Realms of Interra. Their oaths to only commit crimes of justice have earned them the respect of their peers. But the Vindicata are more than a crew, they're a family. And ever since they adopted Echo, she's cared about one thing: making her family proud. For years, that's meant becoming the continent's most feared assassin. But each kill wreaks havoc on her soul, no matter how justified. Echo's unraveling fast, complicated by the mysterious rift growing between her and her beloved sister. Miyala's keeping dangerous secrets, and Echo cannot find the key to unlock her sister's trust. When the Warlord orders the Vindicata to transport foreign dissidents to a new prison, they must put their personal issues aside to face an impossible choice: die for defying orders, or die for breaking their oaths to uphold justice. Between meddling gods returning to the continent, mercenaries around every corner, and an ancient prophecy that foretells the end of all worlds, the pressure on Echo is mounting fast. Can she make enough right moves to save her family? The fate of many worlds rests in Echo's next choice.
Vessel of Starfire
Word Count:

86786
Summary: Meet Ashira. She can heal with a touch and command the dead. And she would like her kingdom back. After all, she is the reincarnation of the legendary pharaoh Nephtet-Ka. It's hers by rights. The prophecy said so after all. But she will find that an empire won't just hand over power, even if she unleashes an army of reanimated corpses on those who stand in her way. Fleeing an empire that wants her dead, she will have to cross the desert and seek out new allies and counsel from the ancient priest who started the prophecy. Her only ally is Mwarthes, a sly assassin who speaks with serpents and lets his curiosity get the better of him. Will he help her reclaim her crown from the Alvari empire? Or will she end up another corpse in the desert?
Vessels
Word Count:

72831
Summary: A river turned black. A city under siege. A monster in charge. Is this what Ashira really wanted? The desert kingdom of Khemeret has been waiting for the legendary pharaoh to return. But soon, they'll wish he hadn't. Ashira can remember when Hapi was just a mindless little blob who only devoured people on command. But now it thinks it's the legendary pharaoh Nephtet-Ka and he's laid claim on an entire city. Lucky for the city, the citizens are all supportive of the violent new regime. Every day is a riot against the oppressive foreign empire, and Hapi's vizier Mwarthes is delighted with every new horrifying idea his monster has. Can Ashira put a stop to the madness or will everything and everyone be devoured?
Vicious
Word Count:

88,500
Summary: When secrets and lies threaten the throne, can a fierce champion tame her passion in time to stop a cruel enemy's ruthless march? Viking Warrior Princess Lena craves revenge. Hunting a killer after her husband is brutally slain, she discovers a shadowy traitor is at play behind the scenes, working to disrupt the balance of power. Placing her need for vengeance on hold when the king falls gravely ill, Lena leads an expedition to locate a fabled healer across a treacherous sea. Caitlin had been snatched from her home in Eire and sold into slavery. She prayed for a means of escape, and in storms Lena to her rescue. She is grateful, but realizes her feelings for Lena run far deeper. Mighty warrior Gunnar is loyal to the core. But when his lord orders him to sabotage the princess's royal mission, he's plagued by doubt, uncertain he's fighting for the right side. Beset by a plethora of dangers and delays, Lena battles foes on every front, even within her own heart as her love for Caitlin grows. Gunnar must choose between honor and fealty, but in the end, will a traitor's blade end all their lives? Viking Quest is a breathtaking historical fantasy novel. If you like principled characters, battles of conscience, and tender F/F romance, then you'll love Edale Lane's action-packed epic. Buy Viking Quest to destroy a fearsome foe today!
Viking Quest
Word Count: Information not available
Summary: Happy ever after, pearls, and murder—what else is romance made of? After escaping his cold fish of an ex, Jody Knox had everything—a new career, his goofy dog, and the love of his life, Merik. He couldn't believe his luck... Until it changed. In the worst way. After stumbling onto the love of his life, Merik Lighthouse had a dilemna—solve the mystery of the missing mer and return to the sea, or confess his secret identity and risk losing Jody. He couldn't decide… Until someone decided for him. Permanently. Or maybe not… Wandering a Luminous Sea is for you if you love paranormal contemporary fantasy, mm romance, fairytales, and suspense. Oh… and a loveable poodle named Ellery Queen.
Wandering a Luminous Sea