Word Count:

38000
Summary: RISE (noun / verb) Eight definitions to inspire writers around the world, and an unlimited number of possible stories to tell: 1) An upward slope or movement 2) A beginning or origin 3) An increase in amount or number 4) An angry reaction 5) To take up arms 6) To return from death 7) To become heartened or elated 8) To exert oneself to meet a challenge Rise features 300-word speculative flash fiction stories from across the rainbow spectrum, from the minds of the writers of Queer Sci Fi.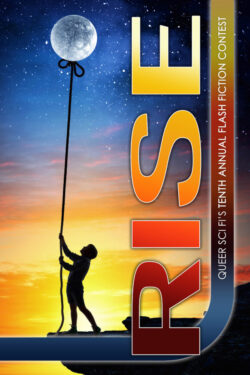 Rise
Word Count: Information not available
Summary: Death doesn't always kill you...  but second chances don't come free. Death is inevitable... Unless the Second Chance (SC) program recruits your particular super power. One last chance at life, in exchange for unquestioning completion of tasks set by the system that brought you back. At first, Dare's assignments seem trivial, inconsequential even. But as the missions progress, they produce more questions and no answers. Unexpected assailants, inexplicable tasks, and too many people Dare knows already in the system. Dare's never believed in coincidences. SC's motives are unclear. Questions aren't tolerated. Punishment is meted out arbitrarily. And SC can terminate the contract, and all participants lives with it, at any point in time. Dare's only chance is to figure out how to fight back without being deleted in the process. ~~ Rise is a Gamelit dark contemporary science fiction story set in the near future and is the first book in the Last Chance series. It touches on death, the afterlife, torture, and the lengths people can be pushed too.
Rise: Last Chance Book One