Word Count:

65000
Summary: A young man sold into servitude has his loyalties tested in ways he never imagined. Raised in an orphanage in Dickens, Daniel doesn't know who his parents were, where he comes from, or even his last name. Like all orphans, on his 16th birthday, he's sold to the highest bidder. Not knowing where he's going, who's bought him, or what they even want with him, Daniel embarks on an adventure he never thought he'd take. He finds love, a family, and a secure future - yet in a split second, makes a decision he ends up regretting the rest of his life. Brothers begins fifteen years before the Red Dog Conspiracy series. Warning: Language, smoking, use of alcohol and drugs, attempted suicide by hanging, M/M underage sexuality with consent issues, forced servitude, blood, gun violence, a man being beaten by a horsewhip, murder, discussion of child prostitution, underage M/F sexuality with age gap (female older).
Brothers
Word Count:

33000
Summary: Clarity (noun) Four definitions to inspire writers around the world and an unlimited number of possible stories to tell: 1) Coherent and intelligible 2) Transparent or pure 3) Attaining certainty about something 4) Easy to see or hear Clarity features 300-word speculative flash fiction stories from across the rainbow spectrum, from the minds of the writers of Queer Sci Fi.
Clarity
Word Count: Information not available
Summary: Dear Diary,I am a star. I've finally found the yellow brick road to fame. I could teach anyone. As long as they are willing to die for it. A bomb goes off in Buffalo, N.Y. That same day FBI agent, Daryll Peltier, receives the first of many correspondences from a serial killer calling themselves, Sam-I-Am. The gruesome torture and murders of the killer's victims are filmed and broadcast on live television. Creating a puzzling masterpiece of blood and torture which the FBI can't unravel. Daryll and her partner, Frank Zepano, began a hunt for the killer across the continental United States and into the Caribbean. The hunt involves cryptic messages, a strange and powerful cult, an unstoppable nano virus, the International Space Station, a trailer park psychic, a tabloid newspaper journalist, a computer hacker, the Oscars…and a body count of one victim per state.
Cut
Word Count:

120412
Summary: Sarah's got daddy issues. He lives in her head, built her out of fish, and killed millions of people. But he's really sorry. Honest. A father that lives in your head wouldn't be so bad if he wasn't the killer of millions. At least it's comforting to know that he didn't murder the fishes used to create your body. Or the seagull. Sarah hides her illegal nanite origins in an effort to build an ordinary life, but the legacy of dad's horrors makes it difficult. Especially when new but familiar zombie-like abominations begin to appear in the city.
Echoes of Erebus
Word Count:

62,900
Summary: A werewolf and seven vampires are all that stand between the world and complete annihilation. When Kai Richter and Ori Bier met, sparks flew. Then a train blew up. Tracking an organism deadly to not only humans, but vampires and werewolves alike, brings Kai and Ori into the Vampire Guard. Decades later, they, along with Operative Team Jack Rabbit, come face to face with the horrors that same virus produces. Dead bodies are coming back to life, and rational people are becoming violent and brutal killers. A massacre is taking place nearly a mile under the Atlantic Ocean. Two teams of The Vampire Guard are in the thick of it, fighting to survive.
Endosymbiont
Word Count: Information not available
Summary: Nurse Stitch has her mouth sewn shut and her memory erased. John Doe has undergone 'nightmare surgery', his memory also erased, replaced by crippling trauma and delusions. Mahmoud Farouz is a captured insurgent from Iraq who is going to be used by a special Black Op organization to make America feel fear again. When these three prisoners of a secret underground torture facility band together to escape, they cannot realize that not only has their torture been orchestrated, but so too will be their path to freedom.
Fear
Word Count: Information not available
Summary:
The war is over. Resources are scarce. The population is dwindling in the Forkstream Territories.
Pinnacle Officer Wilcox has created FERTS amidst the chaos, a facility designed to protect the female population from raiding hordes.
Beth 259201, a newly-demoted Epsilon Internee, suspects that there is something more that lurks beneath the carefully constructed order of the facility.
She has a gift, one that could brand her a defective. A novice fighter, she must use her intellect to survive. Her own life, and the lives of many more may be at risk. Will she succumb to the plans in store for her or will she conceal her secret long enough to discover her own path?
FERTS
Word Count:

102,000
Summary: Can you hear it? Whispering in the dark. Secrets only the dark knows. Joseph Moore, choir director for the First Baptist Church of Lenora, Nebraska, has secrets of his own. Terrible, lonely secrets. One that involves natural human desire. One that calls forth powers he cannot begin to understand. Both with the potential to destroy him and those he loves. Now the world is changing. The darkness, the shadows, the ghosts, are closing in—and Joseph and his lover, Kevin, are being stalked by a merciless demon, hell-bent on possession. Can you hear it now? There in the dark. It's whispering your name.
Hallelujah
Word Count:

36000
Summary: INK (NOUN) Five definitions to inspire writers around the world and an unlimited number of possible stories to tell: 1) A colored fluid used for writing 2) The action of signing a deal 3) A black liquid ejected by squid 4) Publicity in the written media 5) A slang word for tattoos Ink features 300-word speculative flash fiction stories from across the rainbow spectrum, from the minds of the writers of Queer Sci Fi.
Ink
Word Count:

36000
Summary: IN-NO-VA-TION (Noun) 1) A new idea, method, or device. 2) The introduction of something new. 3) The application of better solutions to meet unarticulated needs. Three definitions to inspire writers around the world and an unlimited number of possible stories to tell. Here are 120 of our favorites. Innovation features 300-word speculative flash fiction stories from across the rainbow spectrum, from the minds of the writers of Queer Sci Fi.
Innovation
Word Count: Information not available
Summary: Judy Garland is Not a Sunrise is E.F. Schraeder's new collection of poems featuring themes of addiction and creativity, inspired in part by the life and music of Amy Winehouse. "Lyrical and melancholy . . . An unsettling and compelling offering from an exceptional voice in horror poetry," writes Lee Murray, USA Today Bestselling author and double Bram Stoker Award® winner. In Judy Garland is Not a Sunrise, Schraeder "discusses how fans oftentimes marry suffering to the creation of art, all while commenting on mental health, the body, and how the heart processes pain, overstimulation, and the need to constantly produce and survive. A must-read for poets and artists alike," writes Bram Stoker Award® winner Stephanie M. Wyotovich. Cleveland poet Danne Borsenik writes, "E . F. Schraeder coaxes Amy Winehouse's life from somber shadows into a powerful klieg spotlight, with insightful poems that are both dissection and homage." Set for release in February 2023, Judy Garland is Not a Sunrise is Schraeder's third poetry chapbook. To read more advance praise, order a copy, or find  additional information about the collection visit the publisher, Finishing Line Press.
Judy Garland is Not a Sunrise
Word Count:

41000
Summary: The dream of a mad scientist has evolved into a nightmare! Jennifer will do anything to be famous. She thinks she's gotten her big break after a night at the club lands her in bed with a producer, and the next morning he offers her a jungle adventure show. But instead, she and her two friends are unwittingly trafficked to the Congo for a sinister purpose. A cult lives in the jungle that worships the dark legacy of Ilya Ivanovich Ivanov as they work to accomplish his insane life's goal. Will Jennifer escape the jungle compound, or will she fulfill their twisted vision of humanity's future and become a broodmare to make an inhuman monster?
Jungle Jitters
Word Count:

95,000
Summary: Ian Trahan is a science prodigy with a genius streak like no other. Growing up in New Orleans under the strict guidance of a Deacon with a dark side, it leaves no question as to why he chose the life of crime. His understanding and use of DNA, computer hacking and looking like the guy next door, compiles a terrifying character that you will never forget!  Magda Volkov, a native Russian, works for the BAU division of the FBI.  Her clairvoyant ability is something that her director has learned to trust and use to their advantage, especially with a seeming "Ghost Killer" at hand. The deeper she gets into his psyche, the more they are both surprised when their strange vivid dreams begin to intertwine. Childhood experiences shape both the killer and the FBI agent who urgently wants to stop the grisly murders. Delve into the surprise twists and turns of this page turning thrill ride. The occasional comedic relief provides you with a brief release of the terrorizing heart palpitations!  This series is not for the faint of heart. Personas is the first in a new thrilling psychological crime series to come. Log into www.lauralollie.com to subscribe for the updates on the releases of the books to follow.
Personas Series
Word Count:

95000
Summary: "Reality took a greasy slide off-kilter. He had to be mistaken. Please, please God let him be mistaken…" Miles Baumgartner lost his boyfriend. His house. His job. Worst of all, he lost his nephew when Ian—his almost-son—died, crushed to death in a car accident nine months ago. So how is there a recent photo of Ian on Facebook? A series of lies and half-truths leads Miles far north to a long-abandoned orphanage. Secrets slink within St. Hamelin's shadowed halls, and when Miles starts piecing the truth together, the horrors that walk within its rooms tighten their grip. They say that time heals all wounds, but time is running out for Miles. How can he start his life over now, knowing what really happened to Ian and the children of that unholy place? To have any chance, he must escape before dark forces curse him to walk eternally with the evils inhabiting St. Hamelin's.
PLANK CHILDREN
Word Count:

111,000
Summary:
New York: two years after the Third World War. Humanity is rebuilding its cities brick by brick; the damage done to the people, however, is a lot harder to repair.
Dan Hardacre is one of those people. An aspiring stage actor and experienced draft-dodger, Dan struggles to find his place within the Utopic rebuild of New York City. When he's not caught up with the duties of work, Dan lives a quiet life in mourning for his mother, Dyani, who went missing when he was a teenager.
One night, Dan experiences a vivid, terrifying nightmare that puts him right on the front lines of the war for which he dodged the draft; it ends with him facing Death itself in the form of a metallic, faceless humanoid creature that calls itself the Valkyrie. To investigate the reason behind his haunting experience, Dan seeks out a meeting with his estranged father, who reveals the startling truth about Dan's dream: it wasn't a dream.
With this newfound knowledge and the powers it brings, Dan makes it his mission to return to the scene of his nightmare. However, he soon comes to know that confronting the Valkyrie not only endangers him but the war-withstanding world he leaves behind.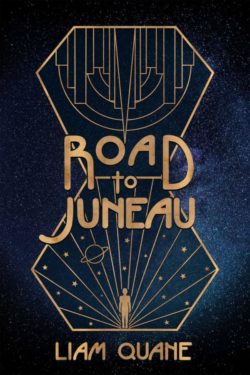 ROAD TO JUNEAU
Word Count: Information not available
Summary: Every patient zero has a doctor. Edward Taylor just killed a man. It wasn't the first time but it could be the last. For the last twenty years, he's been careful, hiding his true self behind a mask of humanity. But now someone out there knows what Edward is, and he has no idea what they're planning to do with that knowledge. When he's approached by a journalist working to bring down controversial research lab, Hunter Neurologics, Edward's personal and work life collide. Cornered, and with his paranoia growing, he's forced to take action and triggers a sequence of events that might just unleash a plague of the dead on the world. Dexter meets The Walking Dead in this gripping prequel to the brand new horror series, Serial Killer Z.
Serial Killer Z: Infection
Word Count: Information not available
Summary: "It is so packed with action that there was no place where I could say, 'Ok time for bed now. I'll finish it tomorrow.' A must read." ~Amazon Reviewer Fale doesn't know why she has visions of the queen's past life. All she knows is that her magic becomes dangerously faulty every time she sees into the past. Through the visions, the mystery of Effailya's banishment and life of slavery is solved; the reasons of her heated parting with Gryndoll are revealed, as well as who was the queen's secret lover. And how that could possibly relate the Source Wizard to the Queen of Mages, herself. The Source Wizard Gasten sends out his best efforts, but the new queen stays one step ahead of him. He may have found a way to send his spell to her. And if not, he's found the old wizard's journals, which are sure to give her weaknesses. The Final Rescue is a face-paced adventure as the wizards and mages race toward their mutual destruction. A strong female lead not only survives her dystopian society… she solves the mystery of a hidden war, only to cause a new one, then battles both sides to rule it herself. It's a conclusion for fans who fell in love with The Hunger Games, Divergent, and The Reader series. If you're hooked on genre-blending, suspenseful, fantasy romance novels, with adventure, you'll love The Final Rescue!
The Final Rescue
Word Count: Information not available
Summary: Four chilling tales of terror! Attack Cat is one mean animal on a killing spree, so Maverick takes things into his own hands. Can he end Attack Cat's reign of terror? Darlene is a girl who hears voices. Some are imagined but others are real. Is she insane or possessed by the devil? It might be both. Marissa is the Voodoodler, a cute little girl who loves to doodle. But don't cross her, as her classmates and teacher will soon find out. They Come is a modern day nod to Hitchcock's The Birds. It starts with a bang at the window near Madison's hummingbird feeder, and ends in a flurry of feathers and fear.
The Four Corners of Horror
Word Count:

24,074
Summary: While Sacrum Umbra showed us the darkness of our own shadow, and In Ventre Tuo the guts of our inner monster, The Lesser Apocrypha is still another beast altogether. Meant to gather together the stranger stories, it contains some of the more surreal and ephemeral stories, the ones that just are without much rhyme or reason. Stories like an odd moment in the park, the strange child who won't stop haunting you, an alien invasion that gets very personal, an AI born of a lolcat, monsters in the woods, and a spell gone terribly wrong.
The Lesser Apocrypha
Word Count: Information not available
Summary: Backwoods brothers, Otis and Clyde Clovis, mourn the loss of their mama by eating her. With nothing to go home to, they hit the open road. The Pigg Brother's rampage of murder, necrophilia and cannibalism begins! They soon discover the delicious taste of pig and human meat combined. Which then gives them the idea to sell burgers out of a truck. Since supplies eventually run out, they have to keep killing. Luckily, they run across a serial killer with a farm on prime real estate, so they kill him and have themselves a base of operations. The bodies pile up and people love the new 'Pigg Bros' Burgers! Hopefully they can stay in business, but the brothers aren't too smart, and start making dumb mistakes. Will the Clovis brothers stay in business, or does every good pig eventually get slaughtered?
The Pigg Brothers