Word Count: Information not available
Summary: Dear Diary,I am a star. I've finally found the yellow brick road to fame. I could teach anyone. As long as they are willing to die for it. A bomb goes off in Buffalo, N.Y. That same day FBI agent, Daryll Peltier, receives the first of many correspondences from a serial killer calling themselves, Sam-I-Am. The gruesome torture and murders of the killer's victims are filmed and broadcast on live television. Creating a puzzling masterpiece of blood and torture which the FBI can't unravel. Daryll and her partner, Frank Zepano, began a hunt for the killer across the continental United States and into the Caribbean. The hunt involves cryptic messages, a strange and powerful cult, an unstoppable nano virus, the International Space Station, a trailer park psychic, a tabloid newspaper journalist, a computer hacker, the Oscars…and a body count of one victim per state.
Cut
Word Count: Information not available
Summary: Nurse Stitch has her mouth sewn shut and her memory erased. John Doe has undergone 'nightmare surgery', his memory also erased, replaced by crippling trauma and delusions. Mahmoud Farouz is a captured insurgent from Iraq who is going to be used by a special Black Op organization to make America feel fear again. When these three prisoners of a secret underground torture facility band together to escape, they cannot realize that not only has their torture been orchestrated, but so too will be their path to freedom.
Fear
Word Count:

32,507
Summary: In Sacrum Umbra you were treated to tales from the shadows, the literary darkness that lives within all of us. Here you will find tales of another sort, the type you might find in the less wholesome end of the collective unconscious and the very depths of the gut. From stories of childhood gone horribly wrong to sex and madness with an impossible cost, this is where you'll find the more gruesome end of the spectrum.
In Ventre Tuo
Word Count:

38000
Summary: RISE (noun / verb) Eight definitions to inspire writers around the world, and an unlimited number of possible stories to tell: 1) An upward slope or movement 2) A beginning or origin 3) An increase in amount or number 4) An angry reaction 5) To take up arms 6) To return from death 7) To become heartened or elated 8) To exert oneself to meet a challenge Rise features 300-word speculative flash fiction stories from across the rainbow spectrum, from the minds of the writers of Queer Sci Fi.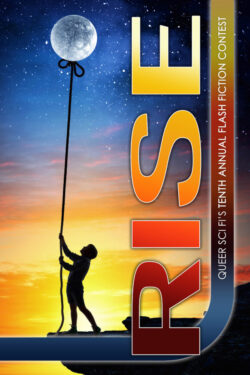 Rise
Word Count:

98000
Summary: Edward Lee meets Clive Barker… Gord is getting married to a woman he recently met, named Venus Baer. His best friend, Chris, is invited to be the best man. The bride-to-be is incredibly sexy, manipulative, and evil. Chris and Gord realize something is horribly wrong with the Baer family and soon find out escaping the family is going to be one hell of a task. The huge family stretches around the world making a clean getaway an impossibility. But that's just what Gord, Chris and Gord's sister, Elizabeth, are going to try and do. The Bride Stripped Bare takes the backwood freaks of classic Edward Lee books and slams them together with Clive Barker and his Nightbreed world. Lots of blood, drugs, sex, and violence make this a perfect addition to the Necro family. New blood extreme horror ready to take you on a drug-crazed, chaotic race against evil. Find out what happens when the bride is stripped bare.
The Bride Stripped Bare
Word Count: Information not available
Summary: Backwoods brothers, Otis and Clyde Clovis, mourn the loss of their mama by eating her. With nothing to go home to, they hit the open road. The Pigg Brother's rampage of murder, necrophilia and cannibalism begins! They soon discover the delicious taste of pig and human meat combined. Which then gives them the idea to sell burgers out of a truck. Since supplies eventually run out, they have to keep killing. Luckily, they run across a serial killer with a farm on prime real estate, so they kill him and have themselves a base of operations. The bodies pile up and people love the new 'Pigg Bros' Burgers! Hopefully they can stay in business, but the brothers aren't too smart, and start making dumb mistakes. Will the Clovis brothers stay in business, or does every good pig eventually get slaughtered?
The Pigg Brothers