Word Count:
55000
Summary: In Unsafe Words, the first full-length collection of her edgy, award-winning short stories, Loren Rhoads punctures the boundaries between horror, dark fantasy, and science fiction in a maelstrom of sex, drugs, and rock-n-roll. Ghosts, succubi, naiads, vampires, the Wild Hunt, and the worst predator in the woods stalk these pages, alongside human monsters who follow their cravings past sanity or sense. Featuring an introduction by Lisa Morton and cover art by Lynne Hansen, these never-before-collected stories come from the magazines Cemetery Dance, Space & Time, City Slab, and Instant City, the Wily Writers podcast, and from the books Sins of the Sirens, Demon Lovers, The Haunted Mansion Project: Year Two, Tales for the Camp Fire, and more. One story, "With You By My Side It Should Be Fine," is original to the collection.
Unsafe Words
September 20, 2020
Word Count:
50000
Summary: World Fantasy Award Finalist Winner of the 2nd Annual North Street Book Prize
Dwarves and golems, Fates and minotaurs, metamorphoses, murder, and Jean-Jacques Rousseau. L.S. Johnson delivers a provocative and original short story collection that ingeniously blends myth and nightmare. Whether it concerns an infertile witch constructing a golem-baby, a daughter struggling to understand her mother's supernatural infidelities, or a cafeteria worker forming an uneasy alliance with a group of possibly imaginary but nonetheless dangerous little men, each story in this remarkable collection demonstrates the limitless capacity of intelligent speculative fiction to enthrall, inspire, and amaze.
Vacui Magia: Stories
March 1, 2016
Word Count:
73000
Summary: "Your bullets can't kill me. I'm already dead. Inside and out." When his fiancée is brutally murdered on Valentine's Day, Ash Corvus is unwittingly plunged into the nightmarish world of the Arpadeem, or as the movies call them… Vampires. What begins as a personal quest for revenge becomes a struggle for the fate of the city itself as Ash's search takes him into Cedar Rapids' secret criminal underworld. Ash must cast off his humanity and become a monster himself if he hopes to bring vengeance upon the monster who murdered his love… the man with the scar. A dark, violent thriller from the author of The Weller and War of the Worlds: Goliath!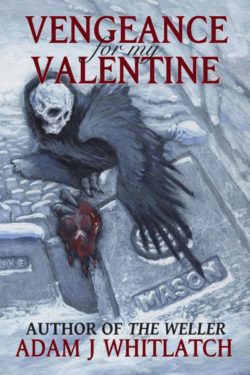 Vengeance for My Valentine
April 27, 2018
Word Count:
30k
Summary: A simple story of life, love, and the inevitable trip to Hell to save your husband's soul from eternal torture. Life is getting better for Ben and Noah until people from Ben's past come calling, making him realize one does not dabble in infernal rituals and human sacrifice without paying a price. These people worship something far worse than the Devil, and a place far worse than Hell: the Verum Malum. Now Ben and Noah must survive the murderous attempts to bring him back into the fold, leading them into the malevolent heart of the Malum itself. Published by Gloom House
Verum Malum
January 9, 2022
Word Count:
72831
Summary: A river turned black. A city under siege. A monster in charge. Is this what Ashira really wanted? The desert kingdom of Khemeret has been waiting for the legendary pharaoh to return. But soon, they'll wish he hadn't. Ashira can remember when Hapi was just a mindless little blob who only devoured people on command. But now it thinks it's the legendary pharaoh Nephtet-Ka and he's laid claim on an entire city. Lucky for the city, the citizens are all supportive of the violent new regime. Every day is a riot against the oppressive foreign empire, and Hapi's vizier Mwarthes is delighted with every new horrifying idea his monster has. Can Ashira put a stop to the madness or will everything and everyone be devoured?
Vicious
April 15, 2021
Word Count:
102000
Summary: Kerys Loring hopes an expedition to a distant alien ruin will make her career―assuming she lives long enough to still have one. Her last team made a significant find, but her bosses took all the recognition and grant money. When Avasar Biotechnology appeals to her unique combination of experience and desperation, she jumps at the chance, even if it means leaving her little brother behind for a three-year trip. At least she'll be thousands of light-years away from her abusive ex. Within minutes of arrival, her excitement shatters at the sight of her ex already there. Clinging to the hope his position with botanical sciences will keep him away from her team, she forces herself to continue. On her first day in the ruins, she makes a profound discovery… but something goes terribly wrong. Her domineering ex soon becomes the least of her problems as an unstoppable alien threat plunges Wayfarer Outpost into chaos. Trapped in an isolated facility with death stalking every corridor, Kerys finds herself up against an even more insidious threat than ancient aliens: the truth.
Wayfarer: AV494
August 24, 2018
Word Count: Information not available
Summary: When Joan's husband dies, she is forced to move with her young son, Joey, from home to home. But at each home, an evil follows, forcing Joan and Joey to move again and again, hunted. They never know why they're being hunted. All they can do is run away from the constant threat until, hopefully, it gives up the chase … or they find a savior who can either end it, or help them to fight it forever.
Widow
November 28, 2021
Word Count:
11000
Summary: A dark fairy tale in a modern Polish setting. A grandmother cares for an ailing dragon... but her compassion puts her own grandchildren in danger. This is a standalone short story of about 11,000 words, and is the second installment in the Dark Folklore series.
Within Trembling Caverns
June 7, 2022
Word Count:
113,100
Summary: Markus a wizard from a parallel Earth travels to our world in a bid to stop a blight that is destroying his own. Here he meets Alcina, a Wiccan Priestess, who is in a custody battle over her son, Tim, against Carl, the boy's sire, who abandoned her when she was pregnant eight years before. Carl has the backing of a dangerous religious cult in his bid to take Tim. Together Markus and Alcina face the forces of intolerance and hate to save a child and a world and thaw two warm harts too long trapped in the ice of betrayal. Meanwhile, Markus' best friend and his ex-fiancée, who is now a vampire, battle the authorities who are likely to hang Markus upon his return because he has done research into forbidden magics.
Worlds Apart
August 4, 2013
Word Count: Information not available
Summary: Turns out the Lycan didn't want to talk… …they wanted me dead, but I wasn't going down without a fight. I'm not the kind of guy who likes to be pushed around. I know what I like, I thrive with routines, and I'm a control freak. But after the werewolves decided I was a threat and the police harassed me for a violent crime I didn't commit, I realized my happy life was spiraling out of control and no matter what I did, it was all going to hell... literally. I've never been on the run from anyone before, but after speaking with the strange old priest, I started running from the devil himself. Wrath of the Lycan is the second book of The Snakeheart Series (Season 1), a supernatural novella series about Dante Coranguis and the ancient prophecy of the End Times.
Wrath of the Lycan
May 31, 2020