Word Count:
59337
Summary: The Brimstone. Demon owned and—mostly—demon operated. Shax, an exiled prince of Hell, has gathered only the best misfits for his motley crew. You've been with us from the rescue of a runaway angel in a psychedelic nightmare jungle to the house that Poe built. Now share some in-between moments with the Brimstone crew – flash fiction snippets plucked from various spots in each personal timeline, from Shax and Verin's youth in Hell to after the events of Beside a Black Tarn. The Brimstone Journals, Collection Two also includes an exclusive short story, never published as part of the blog series. Leopold meets his formidable grandmama, much to his father's dismay.
The Brimstone Journals: Collection Two
March 21, 2018
Word Count:
126000
Summary: YOUR NEXT READ IS NOW BOARDING She can speak all languages. He can smell evil intent. They're enemies. They crave each other. With international settings, a conspiracy plot, star-crossed lovers, and sharp writing, The Demon in Business Class is a stunning debut novel spanning continents and genres. Zarabeth travels the world for a shady executive, laying the groundwork for global war. Gabriel offers a second chance to the criminals that a visionary leader sees in dreams. One rainy night in Scotland, they meet... Now, it's complicated. There's also the investigator, the witch, the playboy, the gangster, the cultist, the pre-school teacher, the two angels… And, the demon. Fans of Jeff VanderMeer, Michel Faber, and David Mitchell will love this stylish hybrid-genre novel. The Demon in Business Class is an international story of fantasy, intrigue, and love, on the uneasy ground where the human meets the divine. "If William Gibson wrote paranormal .... weaves the dark worlds of the occult and big business into an intoxicating tale." – D. J. Butler, author of Witchy Eye "Creative spark? Anthony Dobranski ignites a creative bonfire ...A masterwork of invention." – Mary Kay Zuravleff, author of Man Alive! "... a swank cocktail of international intrigue, steeped in the supernatural, mixed with literary flair .... so sleek it flies off the page...." - Zach Powers, author of First Cosmic Velocity
The Demon in Business Class
April 30, 2020
Word Count:
54000
Summary: He was the shameful cause of his sister Elena's death and he stole state papers from England, yet Adrian Hart is feted by the best of society in Rome, and boldly dubs himself 'Iago'. Determined to avenge Elena, his unrequited love, Lieutenant Andrew Sullivan asks the advice of poet and Shakespearian John Keats, and his artist friend Severn. Soon Percy and Mary Shelley join them, then Lord Byron and his servant Fletcher. But how can the seven of them work against this man, when they can't even agree what he is? The atheist Shelley insists that Hart is an ordinary man, while Byron becomes convinced he's the Devil incarnate, and Keats flirts with the idea that he's Dionysius… As death and despair follow in Hart's wake, Sullivan knows he must do something to stop Hart before even Sullivan himself succumbs – but what…?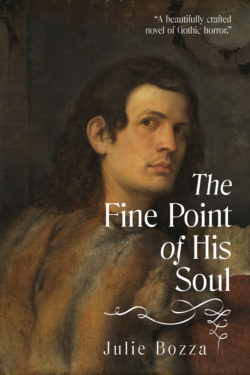 The Fine Point of His Soul
July 1, 2016
Word Count: Information not available
Summary: I thought I was done with Vampires… …but I should have known they'd come back for me. I can't trust the people around me, and it's become clear everyone is after my power. The problem is, I don't understand my power, and I certainly don't want it because it comes from the Devil himself. Ever since age thirteen, the Devil visited me in my nightmares and tormented me. Nowadays, he drops into my mind and thoughts whenever he wants to and I'm thoroughly confused. Am I Dante Coranguis, or am I this other being named Snakeheart? I need help, but I don't know who to turn believe anymore. I see plots to drain my powers or kill me, but the only thing keeping me alive is the last thing I want—the power of the Antichrist. Unfinished Business is the fifth book of The Snakeheart Series (Season 1), a supernatural novelette series about Dante Coranguis and the ancient prophecy of the End Times. Get it now.
Unfinished Business
September 30, 2020
Word Count: Information not available
Summary: I thought my boss was just another eccentric billionaire… …but I didn't realize he was the financier of a global satanic cult, too. No matter how much sleep I lose thinking about my life, I can't escape the numbing evil that surrounds me. Ever since the Vampires dragged me into this mess, my life has been an uphill battle against supernatural forces I barely understand. I'm not a religious man by any stretch of the imagination, and the mere thought of stepping into a church makes me nauseous. But the insane, unexplainable events happening in my life make me truly wonder if destiny has condemned me to an unholy fate: the Herald of Satan, or the Antichrist himself. When I found out the company I work for is nothing more than a front for a secret human organization that has been financing the end of the world (aka the apocalypse) and the coming of Lucifer Morningstar, well, that was the day I decided to foil the Devil and end it all. Unholy Alliances is the fourth book of The Snakeheart Series (Season 1), a supernatural novelette series about Dante Coranguis and the ancient prophecy of the End Times. Get it now.
Unholy Alliances
August 31, 2020
Word Count:
55000
Summary: In Unsafe Words, the first full-length collection of her edgy, award-winning short stories, Loren Rhoads punctures the boundaries between horror, dark fantasy, and science fiction in a maelstrom of sex, drugs, and rock-n-roll. Ghosts, succubi, naiads, vampires, the Wild Hunt, and the worst predator in the woods stalk these pages, alongside human monsters who follow their cravings past sanity or sense. Featuring an introduction by Lisa Morton and cover art by Lynne Hansen, these never-before-collected stories come from the magazines Cemetery Dance, Space & Time, City Slab, and Instant City, the Wily Writers podcast, and from the books Sins of the Sirens, Demon Lovers, The Haunted Mansion Project: Year Two, Tales for the Camp Fire, and more. One story, "With You By My Side It Should Be Fine," is original to the collection.
Unsafe Words
September 20, 2020
Word Count:
48000
Summary: Bound by a dark act of hate and despair, high school freshmen, Andrew and Kiernan, learn that their untimely deaths did not bring an end to their pain, but only began the suffering of those left behind. While his lost memories return, Andrew must master seemingly impossible feats, both spiritual and physical. As a dark spirit stalks Kiernan through the borderlands of life and death, he must also face the pain his actions have caused his loved ones. To save both their souls, Andrew must convince Kiernan to return to life and open his eyes to the love and beauty which had always been there.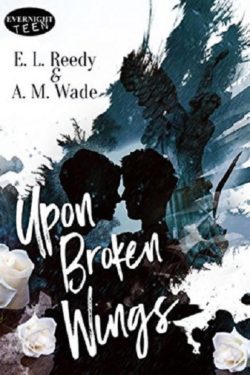 Upon Broken Wings
April 20, 2018
Word Count:
118,000
Summary: Recovering vampire Ben is discovering that life after death is hard work. It will take more than a reflection to impress his boyfriend Nate's religious mother. And Nate's twin brother, Ethan, openly resents Ben's presence at the family farm. Nate is confident they can build a normal life together, but Ben's not even sure he knows what normal is. He can't face his reflection, let alone his past, while Nate refuses to divulge his family's supernatural secret. Can they build a future on such shaky foundations? When a supernatural hunter is found dead on the family farm, Ethan becomes the main suspect in a murder investigation that puts Ben and Nate at odds. Nate wants to protect his family and stay silent about what he is, but Ben knows no one is safe until the demonic agent responsible for a string of murders is caught. Defying Nate to investigate alone, Ben can't let the demon claim another victim. But as his investigation continues, he discovers links to a past he thought he'd buried—and a past Nate refuses to acknowledge. With a desperate killer on a deadline, Ben must face the literal demons in his past if he wants to have any chance of saving himself and Nate from a fate worse than death.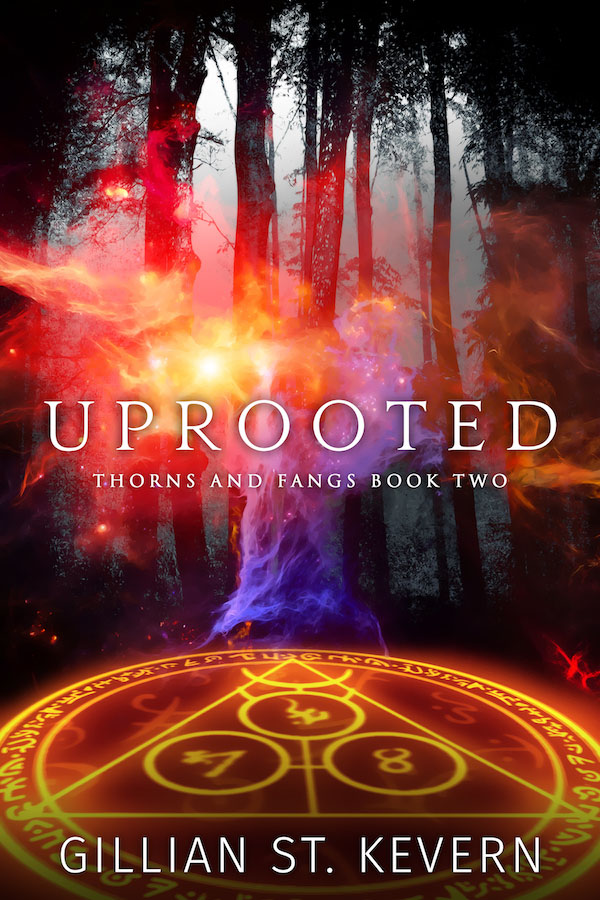 Uprooted
December 26, 2016
Word Count: Information not available
Summary: Turns out the Lycan didn't want to talk… …they wanted me dead, but I wasn't going down without a fight. I'm not the kind of guy who likes to be pushed around. I know what I like, I thrive with routines, and I'm a control freak. But after the werewolves decided I was a threat and the police harassed me for a violent crime I didn't commit, I realized my happy life was spiraling out of control and no matter what I did, it was all going to hell... literally. I've never been on the run from anyone before, but after speaking with the strange old priest, I started running from the devil himself. Wrath of the Lycan is the second book of The Snakeheart Series (Season 1), a supernatural novella series about Dante Coranguis and the ancient prophecy of the End Times.
Wrath of the Lycan
May 31, 2020
Word Count:
110000
Summary: Courage. Honor. Loyalty. All fine things, but they've led John Ringo to kill a man. He was raised right and he knows he's not a murderer, but otherwise he's a mystery even to himself. Doc Holliday claims to have some insights, but Doc is too devoted to Wyatt Earp to spare much attention for the man who's already lost his soul. Which leaves Johnny Ringo prey to the distractions of a demon. Imaginary or not, if this creature abandons him, too, then surely his sanity is forfeit – and what will his life be worth then? This Queer Weird West novel follows these three along the complex trails that lead into and out of Tombstone, Arizona in 1881.
Writ in Blood
October 26, 2021