Word Count:

33000
Summary: Clarity (noun) Four definitions to inspire writers around the world and an unlimited number of possible stories to tell: 1) Coherent and intelligible 2) Transparent or pure 3) Attaining certainty about something 4) Easy to see or hear Clarity features 300-word speculative flash fiction stories from across the rainbow spectrum, from the minds of the writers of Queer Sci Fi.
Clarity
Word Count:

4820
Summary: A love that spans centuries, violent passion, and undeniable, forbidden attraction. Gunnarr has loved Vidar since they were brothers in arms back in the Viking days. In this day and age, Vidar- now the modern, proper gentleman, Ciernan Stewart- is bound by even more expectations and obligations that make his newly awakened attraction to his old friend, Gunnarr, a shameful secret. When the two men are forced to hide their involvement with each other in a house full of guests for the holidays, will the distance make their hearts grow fonder or rip them apart forever?
Him for the Holidays
Word Count:

63000
Summary: "You can't keep running from your past, especially when it has four legs and fangs." In the exciting second installment of Tales of a Gay Witch, we return to Jason and his friends six months later as they are coming to terms with the events of last year. Jason thought he could move on with his life after Damien left in search of information about his mother, after finding out she might be alive after all, but is struggling to adjust to life without him. He is persuaded to go out and meet up with his friends at his favorite night club 1470 West, where he meets a handsome young man named Mickey. That same night, Jason is informed by Detective Miller, now a good friend of his, to be on the lookout for Jo's ex-husband Rex, who might be coming their way. There have been a number of sexual assaults and murders targeting young lesbian women up in northern Ohio, and Rex is suspected of being involved. Jo's ex-husband was always a nasty, abusive piece of work, but to make things worse Rex is a werewolf and an alpha to boot. It's up to Jason to rally his friends again, as he is tasked with protecting the people he cares about, before it's too late…
In the light of the moon
Word Count:

36000
Summary: INK (NOUN) Five definitions to inspire writers around the world and an unlimited number of possible stories to tell: 1) A colored fluid used for writing 2) The action of signing a deal 3) A black liquid ejected by squid 4) Publicity in the written media 5) A slang word for tattoos Ink features 300-word speculative flash fiction stories from across the rainbow spectrum, from the minds of the writers of Queer Sci Fi.
Ink
Word Count:

36000
Summary: IN-NO-VA-TION (Noun) 1) A new idea, method, or device. 2) The introduction of something new. 3) The application of better solutions to meet unarticulated needs. Three definitions to inspire writers around the world and an unlimited number of possible stories to tell. Here are 120 of our favorites. Innovation features 300-word speculative flash fiction stories from across the rainbow spectrum, from the minds of the writers of Queer Sci Fi.
Innovation
Word Count:

54000
Summary: "Tell me of your homeworld…" "Nope. And that's the last time you watch that movie before bed, baby boy." Talos cut off Kikoi who pouted. "Fine. Then tell me about when Uncle Majid finally stopped being so grumpy and murdery all the time." Kikoi batted his thick eyelashes. "Okay, I can tell you all about that. Well, I don't think he'll ever stop being murdery as you put it." Talos settled into his customary story telling position. "Some would say that story begins well over two thousand years ago when I first met my best friend and powerful unicorn shadow. Some others would say it started a little over a thousand years ago when tragedy struck. But I think it starts when my eldest brother, the crazy half-giant vampire that he is, retired and went on a quest for redemption."  Kikoi draped himself across Talos as he closed his eyes. "Little did Majid and Odin know that Fate sent a tough, smart, wasn't going to take lip from them polar bear to cross their path when they needed it most…" Majid's best friend, Talos, has found his mate and finally recognized his lover of the past several hundred years as his other mate. The mate Majid had spent the last eleven hundred years trying to forgive was back in his life. Will Majid rescue one mate only to lose the other? Or will the fierce polar bear, Siku, give him a chance to redeem himself? Will Odin forgive himself for the actions that tore Majid from his life? And will the not so little bear find him to be a worthy mate? Or is he doomed to die on a quest for redemption? Will Siku find his place not only within the relationship his mates clearly already have but also the entirely different world that is city life? Or is he just fooling himself that he can get over the wall between him and his mates? Bloodlines of Fate is an urban fantasy series set in a world destroyed by humans and resurrected by supernatural beings. This book contains depictions of omega polar bears who will eat you in self-defense, sturdy hair brushes that break naughty butts, timeouts for coloring and painting toes, and a family reunion for the history books. Majid is part two of a two-part story arch that tells the love story of two triads (MMM). It is necessary to read Talos to fully enjoy this book that does end in a HEA despite bickering chefs who try to burn the estate down. This is a type of omegaverse with mpreg.
Majid
Word Count: Information not available
Summary: **Also Available in "Guardians of a Giant's Treasure" anthology** William was a soldier until an IED severely wounded and scarred his body. Now he lives a quiet life in a small village in the Black Forest and is the caretaker of the church and caregiver to the local priest. He's grown fond of the two stone gargoyles on the bell tower and often speaks to them, reminding himself of Quasimodo. But on his thirty-seventh birthday he learns a stunning secret—the gargoyles aren't what they seem.
Night Guardians
Word Count:

254
Summary: Nukekubi are a form of Japanese goblin that during the day look like ordinary folk. At night they separate their head from their body and fly around scaring people to death to feed on the energies released. Ray McAndrues, a Pagan wizard/priest, encounters a Nukekubi that is feasting on the people of Toronto and decides that he has got to put a stop to it. Ray gains allies in his quest in the form of two Japanese martial artists who have made hunting Nukekubi their life's work and his on-again, off-again girlfriend Cathy, who is also a mystic. Problems arise when east and west do not communicate wall and Cathy is his on-again, off-again girlfriend. Also, what is the centuries-spanning tie that binds Ray to the Nukekubi and will it help or hinder the quest?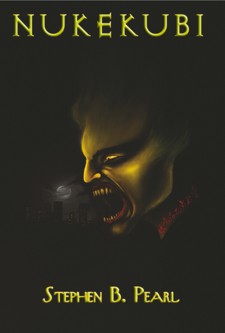 Nukekubi
Word Count:

48338
Summary: Every story has a beginning…. Dragons. Angels fear them and demons follow them. Formidable beasts of incredible power, they fight each other to the death for dominance. But dwindling dragon numbers cause alarm among the angelic ranks. Surely when the dragons have finished killing each other, the victors will search elsewhere for conquest… maybe even the Upper Realm. Roland, an angelic artist of significant talent, doesn't know what to believe. Part of him longs to see a dragon in person, and his peaceful life of contentment is wearing thin. He wants passion, desire, adventure, and love. He gets more than he bargained for when he and his sister are ambushed and captured by demons, and they bring him to a creature who surpasses Roland's wildest imaginings. But the mighty dragon Asagoroth is not all that he seems. Something sparks between him and Roland. Something neither anticipated. Something that will shake the cosmos to its core. Note to readers: this is the second edition, fully revised and updated.
On Wings of Passion
Word Count:

50963
Summary: Trystan is an unchosen angel—shunned by society, bullied, and without a future. In a hidden well, Trystan discovers a carving of a dragon, who were once the commanders of demons and now believed extinct. But Trystan learns the carving doesn't depict an ordinary dragon. Stories tell that millennia ago, the great dragon Asagoroth and his demon army nearly conquered the three realms but was killed by the five elders. The powerful angels combined their life forces to cast a spell, sacrificing their lives. But history is full of falsehoods. The five elders only managed to imprison the dragon, and Asagoroth had cast his own spell—one of releasement. It only needs the blood of a certain angel to liberate him from his cage…. Asagoroth, enemy of angels, conqueror of realms, is free. But even as the angels prepare for war, the great dragon surprises them with an ultimatum: hand over the angel who awakened him or face annihilation. Note to readers: this is the second edition, fully revised and updated. The current audiobook is based on the first edition.
On Wings of Thunder
Word Count:

20000
Summary: It should have ended with their deaths. But dying in a wash of blood was just the beginning. Sentenced to eternal life for sacrificing themselves in battle, warriors Taz and Hiro must take turns living as human and Guardian on opposing sides of the veil with only a chance to catch a glance of each other in the moment of death. Until an attack forces Taz and Hiro to make a choice. Should they cling to what little solace they've carved out for themselves? Or should they sacrifice their lives to save countless others and risk the wrath of the Judges for a second time?
Repeat Offence
Word Count:

95000
Summary: When Orion joins an established coven of powerful mages he is unsure how he will fit into the group. The four elemental mages have had centuries to build both their powers and their relationships while Orion is little more than a stranger. As a light mage, Orion has the power to heal, but as he comes to know the other members of the coven, he learns that not all wounds are visible, and healing tortured souls and broken hearts isn't as easy as fixing broken bones. Orion must bring them all together before they tear themselves apart. Only when the coven is strong will they be able to welcome the dark mage who will complete the circle and give them the power to defeat a mage who has waited centuries to exact revenge on the former members of his coven. READER ADVISORY: This story is a ménage and more story with emphasis on the more.
Soul Magic
Word Count:

48600
Summary: "Tell me a story Daddy." Kikoi, xolos wrangler by night and King Talos' snuggle monster by day, demanded. "What story do you want to hear tonight, baby boy?" Talos, Vampyr King and Supernatural Council Member, asked while he pulled Kikoi onto his lap. "I want to hear about when you met Daddy Bayne." Almost three hundred years old and Kikoi would never get tired of story time. "Again?" Talos arched an eyebrow with amusement. "Yes! It's a good one." Kikoi beamed at Talos. Talos leaned against the headboard of their bed as Bayne, former assassin but still looked damn good in armor, joined them and began… The Age of Man has passed, and a new age is upon the Earth. An age of magic and technology ruled by the supernatural beings that once hid amongst humanity has begun. Bayne is thrust into a world he thinks he knows but quickly discovers his whole life has been built on lies. Talos, perfectly happy ruling his corner of the world, is faced with an unexpected and unwelcome change that comes with the mate chosen by Fate. Together they must discover how to live and, in the end, love one another. Fate has more in store for them than learning to love someone they should hate. Will they be open to all the possibilities Fate lays out for them? Bloodlines of Fate is a new urban fantasy series set in a world destroyed by humans and resurrected by supernatural beings. Fate has many plans for the vampires, unicorns, therianthropes, elves, and humans of this new world. While their mates may be fated, love isn't that easy. This book contains depictions of gladiatorial combat, snarky fem twinks who will cut you, kings in stilettos, and awkward heats with a pinch of daddy kink. Talos is part one of a two-part story arch that tells the love story of two triads (MMM). It does end in an HFN with a HEA tied into the second part. This is a type of omegaverse with mpreg.
Talos
Word Count:

92459
Summary: Ben and Alysia, sole mates, cursed to be separated by age and social norms until they live a life and raise a child together in love, struggle to defeat the curse. Meanwhile, the originator of the curse, Dorry, hounds them from life to life in a selfish and self- destructive vendetta. Follow these souls through Albert, Bernidine and Darius, nobles in fifteen hundreds France when the curse begins. To Abigail and Bernia Sapphic lovers in the year 1774 who are hounded by Donald, a false pretender to Abigail's Estates. Later still in the Colorado Territories of the American west shortly after the civil war Ada and Bailey, a young emancipated slave and a radical Doctor from the North, struggle to love against the bias of their time and the plots of Deigo. Then in our current times, the lovers strive to break the curse and let love triumph. But is love enough when the world is against you?
The Hollow Curse
Word Count: Information not available
Summary: In Book 2 of The Fairville Woods series - the sequel to "From The Ashes" - the ghost of a little girl begins to haunt Lundy, in a stark reminder that Karel's curse has not been completely broken. Harlan is now a happy fixture in her life, unbeknownst to her parents, but the school year begins and she finds herself dealing with mean girls, popular guys, and troubled friends, as well as her developing physical relationship with Harlan. But even with Karel's coven gone, all is not right in Fairville - children are missing from the elementary school, and Harlan and Dr. Weinhelm sense an alarming presence in the town. Lundy begins to have dreams about a mad woman who has lost her children, while the little girl ghost leaves her clues she doesn't understand. The vampires from the Smoky Mountains reluctantly arrive to help defeat a creature from ancient, frightening legends - one whose existence yields an unlikely clue to the new nature of Lundy's curse.
Through The Eyes
Word Count:

86000
Summary: One merman. Two lives. A love so powerful it tore apart a city and broke the heart of a god. Caspian, the Atlantean God of Justice, has devoted his eternal life to protecting the merfolk. He has no time for romance, not even when the merman he now watches over is his former lover reincarnated. Phoebus, a merman living in the sunken city of Atlantis before the Atlanteans were banished, never intended to fall for Caspian, the most promiscuous of all the gods. Yet, when Caspian offers him immortality, Phoebus doesn't know if he can pay the price, even if refusing means breaking the heart of a god. Back in the present, Marin remembers the love he once had for Caspian, but he's not the same merman now. Caspian might have loved him as Phoebus, but he knows the god cannot give him what he needs. Marin doesn't want Caspian's protection. He wants revenge, and he is prepared to make the ultimate sacrifice to get it, even if it means breaking Caspian's heart a second time
Treacherous Seas
Word Count:

113,100
Summary: Markus a wizard from a parallel Earth travels to our world in a bid to stop a blight that is destroying his own. Here he meets Alcina, a Wiccan Priestess, who is in a custody battle over her son, Tim, against Carl, the boy's sire, who abandoned her when she was pregnant eight years before. Carl has the backing of a dangerous religious cult in his bid to take Tim. Together Markus and Alcina face the forces of intolerance and hate to save a child and a world and thaw two warm harts too long trapped in the ice of betrayal. Meanwhile, Markus' best friend and his ex-fiancée, who is now a vampire, battle the authorities who are likely to hang Markus upon his return because he has done research into forbidden magics.
Worlds Apart