Word Count: Information not available
Summary: Four members of The Vampire Guard—Forge, Blair, Declan, and Lucas—face a dangerous and elusive enemy. And this time, it's personal. When massive tech outages impact everything from Wi-Fi to traffic control, Blair, Forge, Declan, and Lucas think it's a simple matter of catching troublesome hackers. But they quickly realize far more is at stake. Millions of dollars in art are the target of a thief who's not afraid to kill---and he's no stranger. Not only has he escaped capture, twice, a decade ago, but he's had a hand in life-altering tragedies throughout their lifetimes. Once it becomes clear that art theft is just a fraction of his plan for mass destruction, they realize time is running out. The clock's ticking. Catastrophe is imminent. Can they find and disarm all the bombs in time or will countless lives be lost?
Quarry
Word Count: Information not available
Summary: Razar needs a mate but on his planet there are nine males to one female. Humans look like they are compatible but if they find out the secrets of his kind they will refuse to send them mates. Lista needs money for her mother's operation or she will die. Her sister has volunteered her to be a bride for an alien. If she wins the mating game she will be free to keep the money and return home. Can she outwit him or will he claim her heart before it's game over?
Razar
Word Count:

141270
Summary: Everything Tristan, Ushna, and Brian have fought for comes down to the moment they face Inanna and Marduk. Before then, Ushna must embrace his destiny and be transformed by Tiamat. But he returns with a fractured mind and will need the help of the new firebird or he'll be lost to the insanity of a primordial God. If he's lost, so is the balance Brian and Tristan sorely need. Tristan has vowed to care for his ex-Flame, Theo Sullivan, who is doomed to forget more and more with each use of his new ability. When not dealing with his stubborn ex, Tristan must free the warriors stolen by the government and devise a trap for Inanna. And that's only the start of the challenges, and everything that can still go wrong. Note: Releasing Chaos is the final book in the Sumeria's Sons series and features a poly (M/M/M) relationship. This book was previously released by another publisher and has been re-edited.
Releasing Chaos
Word Count:

100700
Summary: When Xavier arrives home on the last day of school, he walks into a horrifying scene of his uncle being consumed by a demon. After being rescued by a vampire named Serea, he finds himself thrust into a dark reality as a fledgling witch. Now Xavier must chart a new life while within the confines of the mysterious organization known as Zora. Can Xavier and his fellow witches protect themselves and humanity from a plot that threatens their nation?
Rising
Word Count:

75000
Summary: Waking up undead is just the start of my bad night. This night is going from bad to worse. My roommate is dead. My sexy neighbor, who I've never worked up the guts to talk to before, is standing in my living room. I have a gold amulet I just stole from the museum hidden in my pocket. Oh, and I'm dead... or undead? All the myths about vampires, were-wolves, and the like? Turns out, all true. My sexy neighbor claims I'm a vampire now. I don't quite believe him, but then again, he turned into a coyote in front of me. Jackal, whatever. Plus, you know, my fangs. Oh, did I mention my sexy neighbor is an ex-cop? And his cop buddies just knocked down my door. I'm pretty sure this night can't get any worse…
Ritual of the Ancients
Word Count: Information not available
Summary: Roar is one of the rare Phoenix tribe hunted to near extinction thousands of years ago. They have just started to emerge from isolation and he finds a female that makes him burn. What can he do? Treva has been imprisoned in the labs all her life. She likes the Phoenix, a lot. What can she do about it? Two awkward people with strong feelings. Will they figure it out amid all the danger surrounding them?
Roar
Word Count:

74000
Summary: Sarah Colby has always run from commitment. But after more than a year on the road following her musical dreams, even she yearns for a little stability. Her sister Annie is only too happy to welcome her back home. When she meets Annie's boss, Nobel Keller, she's immediately drawn to the woman's youthful good looks and dangerous charisma. The first night together leaves Sarah aching for more, but the second shows her the true price of passion.
Welcome to Columbus, where the only thing hotter than the music scene is what happens after the last note is played.
Running From Forever
Word Count:

73900
Summary: How far is too far to go to save someone you love? Brandon Lynch is magical. He's a scintilla, wielder of electricity and is in love with a werewolf—or maybe he'd just in love with the idea of loving a werewolf? Raul Fierro is a bounty hunter and a werewolf. He knows he loves Brandon. He's made a promise to always protect Brandon and will carry out that promise at all costs. When Brandon and Raul go head to head with human traffickers, Brandon's morals are stretched to their limits. Will Raul keeping his promise tear them apart?
Scintilla
Word Count:

53000
Summary: Previously on Dragon War Chronicles, we left our heroes fighting for their lives in the midst of battle... Kollin races against time to get samples of the weapon used in Canada to their lab in Oslo. Kenshin races to get Danica back home in time to save her, Aiden and Xander. Danica's allies converge in Toulouse to prepare for what may come. Will Kollin be able to help save Danica, Aiden, and Xander before all is lost? Will Matt be able to track down who's responsible for a new weapon that threatens them all? What will happen when Danica's biggest secret is revealed? Secrets are revealed that will change the future for all dragon and SLIP kind alike. Warning: This book contains explicit sexual situations that are MM, MF, and MMMF. There are romantic relationships displayed that are MM and some depictions of loving and consensual BDSM relationships. There are also bad puns, a game of tag with an invisible dragon, and lions, jaguars, and bears. Oh my! Dragon War Chronicles is a continuous series. It is best read in order. SYN Consulting Secrets Revealed First Strike Dragon's Hoard
Secrets Revealed
Word Count: Information not available
Summary: A past that won't let go… After losing his job, Chase Sarim finds himself living in a shit hole apartment. His new neighbor calls himself Seven, wears aluminum hats and carries around a ceramic rooster. He also seems to know what Chase is going to do or say before it happens, and talks about people named, Nine, Three, and Four. Chase knows better than to get involved with someone like that. But some men are just too hot to resist. A future of fear… Seven has been running for his life ever since he escaped Sub-Floor. In order to elude those hunting him he can never have a home, never have friends…and love? It's nothing but a weakness that can be used against him. Hiding had become a way of life. Until Chase. Greed, power, and corruption… Dr. David Stone knows Seven has a secret. Why else would his colleague, Dr. Radcliff, help Seven escape Sub-Floor? It wasn't the loss of a defective precog that bothered Stone, it was the fact Radcliff was willing to die to keep Stone from knowing why he did it. Or better yet, how. Two men, one love, brought together by a series of impossible circumstances and destined by fate for an entangled future. But maybe fate has nothing to do with it.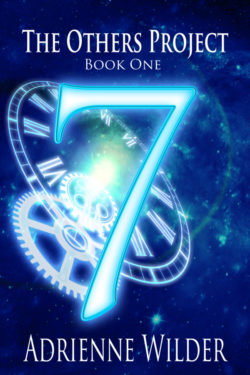 Seven
Word Count:

71513
Summary: To be soulmates they first have to survive. A serial killer stalks the streets of Boggslake, Ohio. The victims are always found in pairs, one human and one vampire. Simon Hawthorne has been a vampire for nearly a hundred years, and he has never seen anything like it. Neither have the other supernaturals he works with to keep the streets safe for both their kind and the humans. One meeting with Simon finds Ben Leyton falling for a man he knows is keeping secrets, but he can't ignore the growing attraction between them. A recent arrival in Boggslake, Ben finds it very different from his native New Zealand, but something about Simon makes Ben feel as though he's found a new home. After a close friend falls victim to the killer, Simon is torn between revealing his true nature to Ben, and walking away to avoid the reaction he fears. But with the body count rising and the murders becoming more frequent, either, or both of them, could be the killer's next target.
Shades of Sepia
Word Count:

81500
Summary: We aren't a we without all of us. Chaos reigns in The Sleepless City and it's really beginning to piss Detective Jonas Forge off. He's separated from his soulmate, Blair Turner. A separation he fears might be permanent. Nothing is going right. It's as if the universe is conspiring against him. A long closed off door buried deep within his psyche cracks open when a turn of events he never saw coming flips his world upside down. There's a monster behind that door and he's not sure where the monster leaves off and he begins. Hallucinations grip the town and everyone in it, threatening to tear the family in Boggs's Castle to shreds. The only way forward is to bare all to each other. While Forge and Declan confront horrors from their shared past, they all learn a terrible truth about vampires—one not even imagined in their worst nightmare. Demons lurk around every corner, seeking to cause havoc. Unless the tenuous thread woven between Blair and Forge is strong enough to pull Forge to safety, those demons might just be his demise. Can they turn it all around and control a monster in order to defeat a demon? If you like imperfect heroes with tarnished pasts who don't know how to quit, then you'll love Shifting Chaos by Elizabeth Noble, the action-packed, emotional conclusion to The Sleepless City. Author's note: This book was originally published in 2015. It has been rewritten with new chapters and scenes and re-edited.
Shifting Chaos
Word Count:

82000
Summary: Does a bear shift in the woods? Well, partially. That was what got grizzly shifter Ted Farnsworth into trouble. He wasn't trying to break the Secrecy Pact. He just wants people to see the real him. So he signs up with the mate-matching service Supernatural Selection — which guarantees marriage to a perfect partner. Not only will Ted never be lonely again, but once his new beaver shifter husband arrives, they'll build Ted's dream wilderness retreat together. Win-win. Quentin Bertrand-Harrington, scion of an incubus dynasty, has abstained from sex since nearly killing his last lover. When his family declares it's time for him to marry, Quentin decides the only way not to murder his partner is to pick someone who's already dead. Supernatural Selection finds him the ideal vampire, and Quentin signs the marriage agreement sight unseen. But a mix-up at Supernatural Selection contracts Quentin with Ted. What's Ted supposed to do with an art historian who knows more about salad forks than screwdrivers? And how can Quentin resist Ted's mouthwatering life force? Yet as they work together to untangle their inconvenient union, they begin to wonder if their unexpected match might be perfect after all.
Single White Incubus
Word Count:

58161
Summary: So what's a young gay boy living in the eighty's from suburbs of Dayton, Ohio to do, when he comes out to his family, only to finds out his family has been keeping their own secrets. Jason Wynwood just turned 18 finding out he is in a long bloodline of witches. As Jason searches for love, he falls for a mysterious black haired gentleman named Damien. Jason is thrown into a dangerous world of magic with witches, vampires and werewolves, and a glittery nightlife sexual pleasures. He also discovers Young gay men have been turning up dead at rest stops all over surrounding areas. Police suspect that it's the work of a serial killer. But when a friend ends up dead it becomes personal. Can Jason find the killer before anyone else turns up dead?
Skeletons in the Closet
Word Count:

14000
Summary: Being called upon to pull Santa's sleigh is an honour for any reindeer shifter, but for Dashiel the timing couldn't be worse. Stuart was looking forward to his Christmas Eve date with Dashiel, only to have him cancel at the last minute. He puts his disappointment aside and instead focuses on making his younger brother's Christmas as wonderful as it can be, despite the loss of their parents the previous winter. While flying over his home town, Dashiel spots a young boy on the streets, and he knows he has to help. When the young runaway turns out to be his date's little brother, he brings him on board the sleigh, determined to see him safely home to Stuart. Can a reindeer shifter pull Santa's sleigh, reunite two brothers, and find love this Christmas?
Sleigh Duty
Word Count:

49000
Summary: Thrust into the role of Prince of the Lycans, Tristan strives to find his footing in a life suddenly rife with secrets and lies—and danger. Betrayed by a Goddess meant to safeguard him, desperate to protect his consort and their growing tribe, he can only prepare for the worst and struggle to hope. And then the worst comes to kill them...
Songs of the Earth
Word Count:

49000
Summary: Thrust into the role of Prince of the Lycans, Tristan strives to find his footing in a life suddenly rife with secrets and lies—and danger. Betrayed by a Goddess meant to safeguard him, desperate to protect his consort and their growing tribe, he can only prepare for the worst and struggle to hope. And then the worst comes to kill them...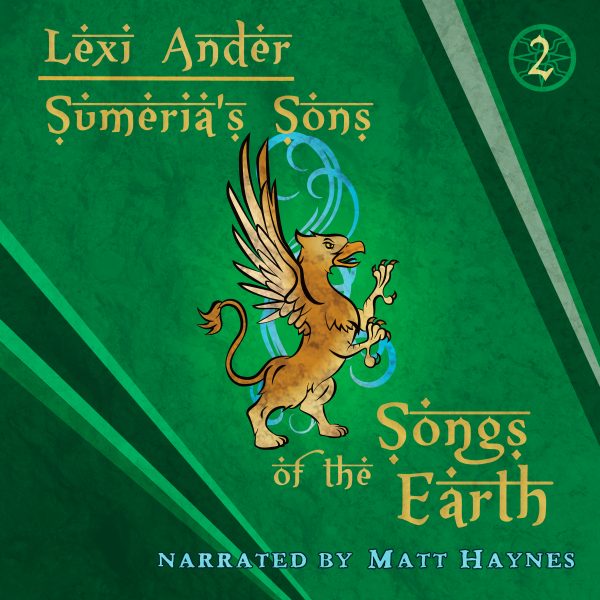 Songs of the Earth (Audiobook)
Word Count:

52000
Summary: Detective Thaddeus Ezax is in over his head. He's the only wizard in Rockshade's Paranormal Investigations Department, and it was his name that got him the job. The Ezaxs are known as some of the most powerful wizards in the world, but Thaddeus isn't your average Ezaxs. Is it any wonder his family shuns him? When a kidnapping case is dropped into his lap, Thaddeus must act fast. While most five-year-olds can cast a location spell, Thaddeus can't and is forced to get creative. When he finds himself in possession of a black market werewolf skull with a ghost trapped inside, accidentally releases the spirit, and somehow forms a connection with it, things get even crazier. Sandulf Hunter doesn't remember dying, but he remembers the last thing he saw before everything went black—a wizard. All wizards must die! The only problem is, the wizard standing next to him smells too damned good, so good Sandy thinks he might have to keep him. And since wherever Thaddeus goes, Sandulf finds himself yanked along, he might not have a choice in the matter anyway.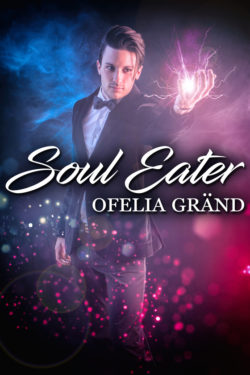 Soul Eater
Word Count:

53000
Summary: Protecting his shifter from threats is easy, but can he protect him from his own ambition? As part of the G-Force Federation, gargoyle Jude is a newly promoted pilot eager to prove himself on his first solo assignment. Unfortunately, his plans go awry when his craft is shot down, leaving him stranded in the desert. Kirby is a fennec fox shifter on the desert world of Cairo. When Jude's ship comes under attack he races to help him, and after the crash he offers to guide him back to the base. Their journey across the harsh desert is fraught with dangers, one of which is the lure of Kirby's scent as he goes into heat for the first time. Jude's protective attitude towards him pushes all the right buttons with Kirby, and it doesn't take much for him to persuade the gargoyle to be his first lover. When Kirby discovers he is pregnant they know one of them will have to make a sacrifice if they want to raise their baby together, but can either of them give up everything they have ever known?
Space Fox
Word Count:

56000
Summary: Sergeant David Lucas was an elite US Army Ranger deployed in Afghanistan until werewolves took down his unit. Caught in the middle of a fight between light and dark, Lucas finds himself the guardian of the young djinn Vash. As forces he doesn't understand circle them, Lucas struggles to make sense of everything while keeping Vash safe. He wanted to be a soldier, that was all he ever wanted to be. Shooting things he understands, but how can he survive when he runs into things bullets can't stop? Even with new friends around, turning furry might be more than Lucas can deal with. Failure could mean the end of a world he no longer comprehends. And worse, what does a strong ex-ranger do when he's forced to deal with girl's fashions for the first time in his life? Magic from the Middle East and West collide with the fate of one little djinn girl hanging in the balance.
Spark