Word Count:

63000
Summary: Xander is many things, but he isn't a vampire… yet. For now, being a vampire's daytime assistant has its perks. Hanging out with vampires is just one of them. The downsides? Well, for one, Xander and his friends getting kidnapped by a group of armed mages. They want a book they think Xander's boss has in his possession, and refusing them means torture followed by a slow death. Being a normal human among supernaturals, at the mercy of those stronger, has never frustrated Xander so much. But as the friends struggle to keep themselves alive, Xander might have a bigger advantage than anyone realizes.
Vampire's Grimoire
Word Count:

73000
Summary: "Your bullets can't kill me. I'm already dead. Inside and out." When his fiancée is brutally murdered on Valentine's Day, Ash Corvus is unwittingly plunged into the nightmarish world of the Arpadeem, or as the movies call them… Vampires. What begins as a personal quest for revenge becomes a struggle for the fate of the city itself as Ash's search takes him into Cedar Rapids' secret criminal underworld. Ash must cast off his humanity and become a monster himself if he hopes to bring vengeance upon the monster who murdered his love… the man with the scar. A dark, violent thriller from the author of The Weller and War of the Worlds: Goliath!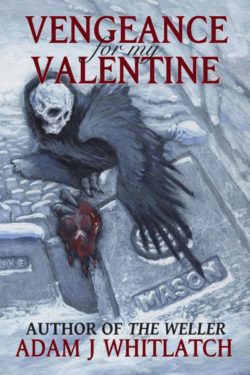 Vengeance for My Valentine
Word Count:

103,000
Summary: Humans are no longer alone; they have been joined by Arcanes, Lycans, and Vampires. It's been over a hundred years since the Earth went through The Shift. Where once almost eight billion humans lived, the population now holds at four billion. But that wasn't the only change. No one anticipated the branching of human DNA to produce new species of humans. Arcanes, Lycans, and Vampires are hidden throughout the genome, awaiting puberty before they manifest distinctly unhuman abilities. Finally, the new species of man were welcomed. No longer studied or treated as outcasts by most. People accepted these new humans and they integrated into society, albeit not easily. This allowed the UN Government to focus on colonizing space, in order to secure a future for all. Risks remain however, permitting a vampire to feed from you can cause shared memories. Tobin Corsian took such a risk. He resides in a newly reopened district of San Jose, California, where his family's old home stood. He lives there with his friend Mikel, a Lycan, and his dog Begger. Instead of making his mandatory monthly blood donation at the government blood bank for the vampire community, Tobin decides, with the help of his therapist, to visit Biter, a vampire spa. The spa allows vampires to feed from humans directly while providing spa and sexual services, granting the donor a three-month reprieve from their required donations. Tobin's encounter at Biter opens a window to his past and an experience he had as a child on the moon. Questions abound as he tries to unravel his past and make sense of his life.
Volaria
Word Count:

83000
Summary: By the end of the 21st century, the world had become a harsh place. After decades of natural and man-made catastrophes, nations fell, populations shifted, and seventy percent of the continents became uninhabitable without protective suits. Technological advancement strode forward faster than ever and it was the only thing that kept human society steady through it all. No one could have predicted the discovery of the Dream Walkers. They were people born with the ability to leave their bodies at will, unseen by the waking world. Having the potential to become ultimate spies meant the remaining government regimes wanted to study and control them. The North American government, under the leadership of General Rennet, demanded that all Dream Walkers join the military program. For any that refused to comply, they were hunted down and either brainwashed or killed. The very first Dream Walker discovered was a five year old girl named Julia. And when the soldiers came for her at the age of twenty, she was already hidden away. A decade later found Julia living a new life under the government's radar. As a secure tech courier in the capital city of Chicago, she does her job and the rest of her time avoids other people as much as she is able. The moment she agrees to help another fugitive Walker is when everything changes. Now the government wants them both and they'll stop at nothing to get what they want.
Waking the Dreamer
Word Count: Information not available
Summary: Happy ever after, pearls, and murder—what else is romance made of? After escaping his cold fish of an ex, Jody Knox had everything—a new career, his goofy dog, and the love of his life, Merik. He couldn't believe his luck... Until it changed. In the worst way. After stumbling onto the love of his life, Merik Lighthouse had a dilemna—solve the mystery of the missing mer and return to the sea, or confess his secret identity and risk losing Jody. He couldn't decide… Until someone decided for him. Permanently. Or maybe not… Wandering a Luminous Sea is for you if you love paranormal contemporary fantasy, mm romance, fairytales, and suspense. Oh… and a loveable poodle named Ellery Queen.
Wandering a Luminous Sea
Word Count:

29672
Summary:
It wasn't supposed to be REAL! Bigfoot doesn't actually exist. Yetis, shifters, creatures of the night…none of those exist. Right? Right?
There's nothing about perky—some might even say twinkie—Oliver Hughes that would make a skeptic like Sensational News' (Never Fake! We Swear!) reporter Wilson Banks think otherwise. But while pursuing soundbites for a tabloid story about Bigfoot, Wilson witnesses something he wasn't meant to see.
In Wilson's new reality, is there room for love with someone whose dreams are as big as his…er…feet?
This fun novella has a paranormal twist, a hint of mystery, and a flavorful dollop of romantic comedy. Mix it all together for a satisfying HEA!
Keywords: shifter, Bigfoot, comedy, fun, California, mystery, twink, reporter, tabloid
Weekend at Bigfoot's
Word Count: Information not available
Summary: RED: Lázhien's human. A common Imperial soldier. And my soulmate. How could fate get it so wrong? The demon in me craves this bond with every shred of his being. He pushes me to accept it. This time I won't yield to his demands. LÁZHIEN: Red's a lust demon, a whore and a stuck-up snob. The most beautiful man I've ever seen. Pain in the arse. And he hates my guts. I'd be an idiot to pursue him. Yet something about him compels me to make him mine. When I First Saw Red is a complete and standalone short novel with an HEA ending, featuring a couple of reluctant fated soulmates—a demon and a human—trying and failing to defy destiny. 
When I First Saw Red
Word Count: Information not available
Summary: With Midwinter just around the corner, Mark's Nanna decides that it is time he learnt more about his family heritage. Learning witchcraft shouldn't be too difficult, right? Balancing school, magic, and the distractions of the gorgeous new guy, should make this a very interesting winter. Free to download from most ebook retailers.
Winter Trials (Northern Witch #1)
Word Count: Information not available
Summary: Mobsters, Monsters, and Magic. It's 1929 at the height of Prohibition in Plymouth, Massachusetts. Bill Chiavo and his twin sister Millie are learning Wisdom, the family magic. Wise families should take care of their own but when the stock market crashes, their Irish Uncle Finn hoards his visions. He reaps the rewards and the Chiavos head to the poor house. Now the twins are on the outs while their uncle's got the money, the power, and the connections to take over. Bill and Millie need allies and the mob-run Supper Club just might have the muscle they need. Millie wants them to skip town but Bill refuses to leave his family or friends at Finn's mercy. The twins will need to wise up if they are to thwart their uncle's conquest. But how do you defy a man who sees the future? The Wise and crime families clash in this small town for big stakes. But who will claim the prize?
Wiser Guys
Word Count:

73000
Summary: When supernatural secrets collide, it'll take more than coffee to brew the perfect love. When Ky Hernández bonded with his familiar, Zuri, his life changed forever. Their connection turned him into a practicing witch and led him to his calling as a medimagical professional. However, it totally tanked his love life—what guy would settle for eternal second place behind a parrot? So Ky keeps his witchy nature under wraps and sticks to hookups with humans, which can never go anywhere. But the mouthwatering barista at the coffee shop next door makes him thirst for more than a caffeine fix. The charms Ewan Jones uses to appear human are inconvenient, disorienting, and . . . necessary. Ewan and his siblings are achubyddion, metaphysical healers whose powers are coveted by unscrupulous supernatural beings. And let's face it: all supes are unscrupulous, given the right incentive. He's grateful for the protections that hide his little family, and for the barista job that keeps them housed and fed. He's just so lonely. And his regular, Ky, the super-hot, commitment-averse EMT, seems like the perfect candidate for a one-night shot at intimacy. After all, humans are no threat. It takes a clumsy coffee shop intern, a mysterious werewolf epidemic, and one snarky parrot to unravel their pasts—and give them a chance at a future.
Witch Under Wraps
Word Count:

60000
Summary:
Frank's family taught him that his wolf was dangerous, unwanted. Now his best friend's brother wants him in bed and on stage. But giving into his wolf's need for love could risk the quiet life Frank has created for himself—and his heart. Settled in the small town of Waycroft Falls, Frank is content to be a lone wolf among the white picket fences and dollar book bins until he finds himself sniffing his best friend's brother. Tom smells like hot apple pie and his Broadway smile has Frank lolling his tongue. But when the visiting actor learns Frank's secret and plies him with hot kisses to get him to star in his play, Frank can't help but wonder if Tom is only acting. Tom ran away from family obligations to be a Broadway star. If he could make it there, he could make it anywhere…but he didn't. Trudging home to Waycroft Falls to open his sister's new performance space brings him face to face with a werewolf—a werewolf that would be perfect for Tom's shoestring production of Beauty and the Beast. Staying in Tiny Town USA would be worth it if he can somehow convince the sexy wolf to expose his furry condition on stage and howl privately in Tom's bed. Wolf Around The Corner, a paranormal semi-finalist in Passionate Ink's 2017 Sexy Scribbles Contest, is a full-length fairytale romance with a side of wolf shifter. If you like your romance with gorgeous men, humor, and small town magic, you'll love Wolf Around the Corner! Buy your copy now and settle in to watch the drama unfold!
Wolf Around The Corner
Word Count:

104000
Summary: Ghost, once known as the cub Luca, is finally home. Back among his kind and learning what it means to be both a man and a shaman, Ghost battles the expectations of his people, his family, and the pressures of a society that is both foreign and familiar. His power is greater than any seen before, dwarfing that of even the legendary Shaman Gray Shadow—and his union with Kane places him in the center of a controversy that rattles wolfkin society around the world. Kane, greater alpha and Heir to Black Pine Clan, has finally defeated the traitor and murderer that destroyed the heart of Black Pine years before. Freed at last from guilt and pain, Kane has a new enemy to face: his own people. Placed on trial for violation of Law and blasphemy, Kane will have to fight to the death to preserve his bond with Ghost and keep his mate and people safe. The soulbond between Ghost and Kane is forged by the creator and Goddess of the wolfkin. Usually, a sacred and treasured union that honors the pair and their clans, this soulbond is seen not as a gift, but a threat to eons of tradition and Clan Law. The union of a Shaman and Alpha is anathema—but how to reconcile that belief when it is the wolfkin Goddess who forged it? Can Ghost and Kane save themselves, preserve their bond, and find a new future when the laws of the ancient past threaten to tear them apart? **This book is part of a series and is not standalone. Prior books should be read to understand content. 104,000 words. Brief flashbacks of sexual assault and abuse. Mature content and violence.*** Gay Paranormal Shifter Romance
Wolf of the Northern Star
Word Count:

87200
Summary: What do you do when you finally prove the existence of the otherworld, but the ghosts kick your ass? For Trent Pielmeyer, the answer is run like hell—away from his hostile family, away from the disbelieving cops, and far, far, far away from anything that smacks of the supernatural. After seven years' captivity in a whacked-out alternate dimension, he is so over legend tripping. When Christophe Clavret spots Trent in a Portland bar, he detects a kindred spirit—another man attempting to outrun the darkness of his own soul. But despite their sizzling chemistry, Trent's hatred of the uncanny makes Christophe hesitant to confide the truth: he's a werewolf, one of a dwindling line, the victim of a genetic curse extending back to feudal Europe. But dark forces are at work, threatening more than their growing love. If Christophe can't win Trent's trust, and if Trent can't overcome his fear of the paranormal, the cost could be Trent's freedom and Christophe's humanity. Or it might be both their lives.
Wolf's Clothing
Word Count: Information not available
Summary: An ancient civilization long hidden from humanity is on the brink of chaos and war. Peaceful for thousands of years, the wolfkin clans are mysteriously losing packmates, kidnapped and killed by unknown foes. The nightmare begins with an ambush by humans at a gathering of their kind, and lives are lost. Among them is Luca, youngest grandson of the two most powerful wolves in the Northern Clans. Thought long dead and gone, he is forced into a half-life, hidden in the far northern wilds of Canada and cut off from his kind. Those who raised him have no idea the creature they harbor in their midst, and name him Ghost. He begins to lose himself over the long years, and though he barely recalls his true name, the one wolf he never forgets is Kane. Kane, Heir to the wolfkin clan Black Pine, is charged with hunting down the traitors who betrayed their kind to the humans. Years fly by, and more wolves are dying. He refuses to give up, and he vows to never again fail another of their kind, as he failed young Luca years before. His heart tells him Luca lives, but his mind tells him that it's foolish hope, his guilt eating him alive. Fate and magic change the course of their lives, and the two wolves long separated by the years find their paths intertwining. Though the gift of their reunion doesn't come without price. Faced by the consequences of their growing love, and the goddess-forged bond between them, Kane and Ghost are besieged on all sides. Enemies are coming for their blood, and without the steadfast loyalty and love of family and friends, they may not be safe from the very people they fight to protect.
Wolves of Black Pine
Word Count:

20000
Summary: Zeke is a hermit in his late forties who lives a quiet life in a small cabin in the Western Montana mountains, a few miles outside of Thompson Falls. He's gotten used to being alone since the end of the world, and has everything he needs. Everything but someone to talk to. Nathan is a younger man on a cross-country trek, searching the country for someone... anyone still alive. Saddled with a ghost from his old life and a case of OCD, he stumbles upon Thompson Falls and a pack of rabid dogs. Rescued by Zeke, he has to figure out how to be human again. And with Christmas just a week away, both men have to figure out if there's something left to be hopeful for, and if they might have a future together.
Wonderland
Word Count:

113,100
Summary: Markus a wizard from a parallel Earth travels to our world in a bid to stop a blight that is destroying his own. Here he meets Alcina, a Wiccan Priestess, who is in a custody battle over her son, Tim, against Carl, the boy's sire, who abandoned her when she was pregnant eight years before. Carl has the backing of a dangerous religious cult in his bid to take Tim. Together Markus and Alcina face the forces of intolerance and hate to save a child and a world and thaw two warm harts too long trapped in the ice of betrayal. Meanwhile, Markus' best friend and his ex-fiancée, who is now a vampire, battle the authorities who are likely to hang Markus upon his return because he has done research into forbidden magics.
Worlds Apart
Word Count: Information not available
Summary: Turns out the Lycan didn't want to talk… …they wanted me dead, but I wasn't going down without a fight. I'm not the kind of guy who likes to be pushed around. I know what I like, I thrive with routines, and I'm a control freak. But after the werewolves decided I was a threat and the police harassed me for a violent crime I didn't commit, I realized my happy life was spiraling out of control and no matter what I did, it was all going to hell... literally. I've never been on the run from anyone before, but after speaking with the strange old priest, I started running from the devil himself. Wrath of the Lycan is the second book of The Snakeheart Series (Season 1), a supernatural novella series about Dante Coranguis and the ancient prophecy of the End Times.
Wrath of the Lycan
Word Count:

110000
Summary: Courage. Honor. Loyalty. All fine things, but they've led John Ringo to kill a man. He was raised right and he knows he's not a murderer, but otherwise he's a mystery even to himself. Doc Holliday claims to have some insights, but Doc is too devoted to Wyatt Earp to spare much attention for the man who's already lost his soul. Which leaves Johnny Ringo prey to the distractions of a demon. Imaginary or not, if this creature abandons him, too, then surely his sanity is forfeit – and what will his life be worth then? This Queer Weird West novel follows these three along the complex trails that lead into and out of Tombstone, Arizona in 1881.
Writ in Blood