Word Count: Information not available
Summary: It was the fall of 1892 and we were two days out of Las Palmas in the Canaries. All the passengers we ferried out of the Congo were gone, off to the aerodrome or looking for other passage to Europe, and we were just Red again, and there was no reason I should have felt that way. We escaped from the Congo, we got away. Better than got away. We had our cargo and money. We won, even though they lost. They all lost everything, even their lives. I could feel the water moving past the hull, the surge of the waves, and the blessed creaking of the mast in her step, and I knew that I was home, and my Ma and Pa were there. And Knockers. She's meowed. I could see the whole crew and even Mme. Verbeeck's ghost standing on the ladder. She looked worried.
A Bad Crossing
May 19, 2018
Word Count: Information not available
Summary: In one night, change comes with the strike of a match as Leo Riley loses everything. Giacomo Bianco's hitmen burned his home to the ground with his family inside. Leo will pay any price for his revenge. He will need power. Oguina, the mythical woman turned monster, can give it to him. But at what cost? Bianco gazes into an abyss that stares back. His fall to madness is a one-way trip Leo aims to stop at all costs before Bianco kills again. In his quest for vengeance, Leo teeters over that same cliff. Monster and Mafioso fight for dominance over Fall River's streets. Bianco's got more up his sleeve than anyone suspects, including the means to make his power absolute. Even new powers and strange allies might not be enough to ensure Leo's victory. Who is the real monster? Bianco, Oguina, or Leo himself?
A Change In Crime
Word Count:
55300
Summary: Luxor City, a once lawless metropolis on the brink of civil war, is now at peace, but even in lighter times there are always shadows. In the technicolor streets of the Southern Empire, Junsu Sun, the Alpha heir to one of Luxor City's great crime families, busies himself by dealing with a blacklisted group known as the Underground. After taking down one of the Underground's notorious leaders, Junsu assumes he'll be given time to rest and recuperate, but his mother, Alpha Xijuan Sun, has a new mission for him, involving a luxury cruise and a new mate, Omega Kaito Yamaguchi, of the powerful Yamaguchi family. Ever the dutiful son, Junsu obeys his orders as if it were any other mission, but this sort of engagement isn't exactly the type of thing he's used to and Kaito Yamaguchi certainly isn't the sort of Omega he's used to either. Kaito is impatient, impassable, and impossible. He's a spoiled Omega who is pissed off that his family have reorganized his life and thrust him into this arranged mating with some Luxor City Alpha he's never met before. Kaito hasn't even seen a picture of Junsu Sun, a fact that Junsu uses to his advantage. Faced with a week spent trapped on a luxury cruise with a rude, bratty Omega who doesn't even know who he is, Junsu decides to play a little trick on his future mate. But just how far will he let things go and where is the line between a little trick and a painful deception? Meanwhile, other secrets floating between empires and continents are about to spill out onto the deck.
Between Empires and Continents
May 10, 2021
Word Count:
100000
Summary: Raka Varoule survived the events of Black Swan Planet and returns to Earth, but things have changed. What has happened to the people he knew and cared for, and is Marco still wearing assless chaps? Find out in Black Swan Antithesis [audio mp3="https://www.limfic.com/wp-content/uploads/2020/06/BSA-Audio-Sample.mp3"][/audio]
Black Swan Antithesis
August 24, 2018
Word Count:
100000
Summary: Raka Varoule is a second-rate investigative reporter, traveling between the twenty-seven worlds of the Galactic Empire exposing minor scandals. His big break comes when he weasels his way onto the Emperor's personal star-cruiser to report live, across the galaxy, how the Emperor is celebrating his birthday. When he exposes the biggest scandal in galactic history, he narrowly escapes with the help of a drug runner, a dominatrix, and a monkey wearing ass-less chaps. Together, they search for an escape from the Empire; a barbarian world outside Imperial control. Then things get weird. Black Swan Planet is a rare treat of a novel. A satirical science-fiction story told in a unique way, utilizing a variety of perspectives. This story will make you both laugh out loud and keep you guessing what will happen next. James Peters has woven a story you'll never forget, even if you lack mnemonic implants or prescription vibrating undergarments [audio mp3="https://www.limfic.com/wp-content/uploads/2020/06/BSP-Retail-Sample.mp3"][/audio]
Black Swan Planet
September 21, 2017
Word Count:
120000
Summary: U.S. Marshal James Creed has known loss, starting from the untimely death of his wife and daughter in a sudden fire. His work, chasing down and arresting outlaws across the Wild West, is all he has left to live for. Then one day, in 1876, the infamous killer Corwin Blake catches Creed by surprise and guns him down. Creed awakes after a mysterious young woman resurrects him in a basement laboratory beneath a brothel. Half alive, Creed feels torn between his need for justice and his desire to fall back into the peace of death. Creed's instincts drive him to protect the city of Santa Cruz, California, from the outlaws it harbors while searching for Blake. He uncovers a secret criminal organization, likely protecting Blake, determined to use resurrection technology for its own ends. The former marshal, now faster, stronger, and a more deadly shot than ever before, must work with a brothel madam, a bounty hunter, and the remaining marshals to uncover the criminal syndicate before they can misuse the machines of rebirth and create more mindless zombies. Meanwhile, he must also stop Blake, before the outlaw kills the only people he cares about. His own death can wait.
Bodacious Creed
August 17, 2017
Word Count:
61,000
Summary: James "Bodacious" Creed stopped a killer and helped bring peace to Santa Cruz, a coastal California city on the edge of the American frontier. Now, the undead lawman, resurrected with steam-based technology, takes on dangerous criminal cases as a private investigator. One night while riding by the wharf, Creed hears a gunshot. He and his coyote companion, Coconino, rush to the scene. In a forest clearing, he finds two dead men and a dying woman. Mechanical parts ring her neck and wrist, and as she whispers of her travails, the former Chinese slave dies in his arms. Someone in San Francisco is using illegal machinery to alter and control women like her. To hunt down the perpetrator, Creed travels to the City by the Bay. His journey takes him into the depths of Chinatown, reveals a secret society, and puts old and new friends in danger. How can Creed learn the truth before more women are changed, manipulated, or killed?
Bodacious Creed and the Jade Lake
August 7, 2021
Word Count: Information not available
Summary: Someone killed Grandfather Jefferson. Victor is sure of it. But he's the only one. Diagnosed with mirror resonance syndrome and shunned by Semiautonomous California society, Victor suffers from "blank outs," hallucinations, and vivid nightmares. He violently overreacts to even minor confrontations. Victor's grandfather devoted his life to researching and curing mentally ill Broken Mirrors like Victor, but now that he's gone, Victor must walk a narrow path between sanity and reclassification—a fate that all but guarantees he'll lose his freedom. Victor is determined to uncover the truth about his grandfather's death and grows increasingly suspicious of the medicine he must take to help manage his "symptoms." As he tries to sort his allies from his enemies, a conspiracy with global implications emerges. Can he trust his Aunt Circe, the only person in his family who's even somewhat sympathetic to his plight? His former classmate-turned-brainhacker Ozie, who wields information as damaging as any weapon and who seems intent on luring Victor away from his home? What about his old friend Elena, who reappears in his life abruptly, claiming to have miraculously overcome a devastating addiction? With its self-driving cars, global firearms ban, and a cure for cancer, the world of Broken Mirror may sound utopic, but history has taken a few wrong turns. The American Union is a weak and fractious alliance of nations in decline. Europe, a superpower, manipulates its citizens through technology. And Asia is reeling from decades of war. Amid shifting geopolitical sands, Broken Mirrors like Victor find themselves at a crossroads: evolve or go extinct. Broken Mirror is the first novel in a sci-fi cyberpunk detective saga tailor-made for fans of William Gibson, Haruki Murakami, and Neal Stephenson.
Broken Mirror
January 22, 2016
Word Count: Information not available
Summary: Unraveling myths is messy … but the lies have to die for humanity to survive. Twin spirits born a decade apart, Velia and Virgil are bored by their trivial teenage lives, sensing they're meant for so much more.  Velia's mother wants to wrap her in a straightjacket of protective love, while Virgil's father wants him to follow in his violent footsteps.  But the arrival of a mythical video game and the forced exile to a wilderness camp for troubled kids will turn their worlds upside down. Neither teen knows this is a test to see if they're ready to fulfill their destiny and join humanity's secret alien ally in preventing the end of the universe.  For these siblings of synchronicity to succeed, they'll have to capture, contain, or kill a high-value target of an opposing alien force bent on conquering Earth. Desperate for a life on their own terms, Velia and Virgil must complete brutal trials to learn why they're uniquely capable of saving all life in the universe. Will their families hold them back? And what about the sadistic one-eyed man determined to stand in their way? If he doesn't kill them, the truth will. Their lives have been a lie …, but they're about to learn that the truth is even more dangerous. Coverted is an introductory novella to the Subsumption Series, a story about humanity's pivotal position between two warring alien empires. If you enjoyed Ready Player One, Stranger Things, and Jean-Claude Van Damme movies, then Coverted and the Subsumption Series is for you!
Converted: A Sci-fi Novella to Inspire
August 18, 2020
Word Count: Information not available
Summary: A galactic war begins at dawn … so tonight they're going to party like it's 2020. Marcus is ready to put a terrible year behind him. The virus and social unrest made his first semester at University a memorable one for all the wrong reasons. It's New Year's Eve and tomorrow, he'll become a legal adult. So tonight, with his loved ones, they'll race against the darkness to summon a brighter future. But Marcus can't shake the feeling that something is off. Maybe it's conditioning, or maybe it's the series of unwelcome guests pushing the party toward chaos. Underestimating his abilities, Marcus takes a step too far, forcing his family and friends to fight over his well-being as an unidentified object appears in the sky. All celebration ends once an artificial intelligence discloses the arrival of friendly extraterrestrials sent to stop another alien force bent on enslaving the planet. Now the galactic clock is ticking, and according to the AI, Marcus is the key to humanity's defenses against the imminent invasion by these hostile outsiders. Can an artificial emissary be trusted? Or are Marcus's friends right to doubt the alien's intentions? The world has changed irrevocably as zero day begins. The party is over, and humanity is fighting for their lives. Disclosure is a short story prequel to the Subsumption Series, a story about humanity's pivotal position between two warring alien empires. If you enjoyed Armada, Signs, and the Joe Rogan Experience, then Disclosure and the Subsumption Series is for you!
Disclosure : A Sci-fi Shorty Story to Inspire
September 15, 2020
Word Count:
71,661
Summary: A dead-end job, a slob for a boyfriend, and neglectful friends: this is Kat Wallace's life. Ever since her best friend got married, Kat has been struggling to find happiness. All that changes when she meets Melody Adebayo, a field agent with the mysterious transdimensional company Clockwork & Associates. Melody's job is to send the consciousness of others to a scarier dimension in order to make them kinder and more grateful for their lives, which, in theory, will influence them to do good. But when Kat is sent to B-215, she awakes in a world beyond her wildest dreams. She's wealthy, well-liked, and has a successful career. Kat realizes she doesn't need to find happiness in her own world ... she can just steal it from her other self. Because of a certain (ahem) incident, Melody owes a lot of money to her evil ex-girlfriend, and Kat works out a deal with her in order to keep visiting B-215. With each visit, a sinister plot unfolds. Kat discovers her life is at risk, and she isn't alone in this dimension. To eliminate the threat, she must team up with Melody, but can the two uncover the truth before Kat loses her life? More important, will they be able to move on from the mistakes they made in the past and find love with each other?
Duality
April 4, 2020
Word Count:
80000
Summary: What if there were a place that nobody else knew about – a secret place – where everyone was queer?" That's the question Guy, an elderly, lonely gay anthropologist asks Richard, his young psychiatrist, as he searches for his tolerable truth. During each session, Guy tells Richard a story in which he survives the sinking of a cargo ship and is washed ashore on an uncharted tropical island along side the ship's first mate, Luca. There, the two young men discover a world counter to everything they have ever known – a complex society in which almost everyone is homosexual and sex is considered the most basic form of communication. In his naive, awkward way, Guy attempts to integrate himself and win the love of a local man but first he must undergo a brutal initiation ritual, endure a crazed shaman, and swim across shark-infested waters. Meanwhile, Luca, who is unable to accept his sexuality, becomes obsessed with being rescued and degenerates into drug dependency. When Luca attempts to steal a large stash of gold salvaged from an old Spanish galleon and leave the island, Guy is forced choose between staying with the man he loves, or saving the life of the man who saved his. For more than 40 years Guy has been consumed by his longing to return to the island and recapture what he believes he has left behind. Although enthralled by his tale, Richard must be constantly wary of Guy's attempts to manipulate him and meddle in his personal life, threating to upend his own sense of truth, leaving him to question if there could really be such a society, or does it only exist within the fantasy of a lonely old gay man? Rich with legends inspired by ethnography, this is a story within a story; the two collide when the depth of Guy's subterfuge is revealed.
Eating the Moon
May 3, 2021
Word Count:
81000
Summary: H2LiftShips Anti-Dystopian SciFi Sentients beyond the next 3 pandemics SolarSails, nuclear boosts, coal for steel No aliens, but an Octopus 1st Mate No blasters, but spinning meat bola weapon
H2LiftShips, a tech manual for a future
February 29, 2020
Word Count:
36000
Summary: IN-NO-VA-TION (Noun) 1) A new idea, method, or device. 2) The introduction of something new. 3) The application of better solutions to meet unarticulated needs. Three definitions to inspire writers around the world and an unlimited number of possible stories to tell. Here are 120 of our favorites. Innovation features 300-word speculative flash fiction stories from across the rainbow spectrum, from the minds of the writers of Queer Sci Fi.
Innovation
August 8, 2020
Word Count:
98997
Summary: We were stranded in Brussels, practically thrown out of music school even as we first walked in the door. They wouldn't listen to anything except the newspapers and the British. "The scandal" they moaned. So we were stuck thousands of miles from home and six months until my parents return. What were we going to do? Do what we set out to do of course, go to music school - this time in Paris! But then the Institution, damn them, blew up Vic.
Paris!
July 11, 2018
Word Count:
92000
Summary: He wants to rule the world. She was born to stop him. Fale secretly began having visions of things before they happen when she turned 18. But when she uses the vision of a deadly encounter to save the life of her hot, biomechanical crush in a fight, she sets into motion the race of their lives. Henchmen emerge from the shadows, and Fale and Keron battle to stay alive. When Fale's only remaining family disappears, leaving a kidnapper's note, they go into hiding. There, they discover a hidden romance that steams up their hideaway. Fale searches for clues to discover why she is being hunted, and how to get her family back. When the answers come, no one could have expected the role Fale is called to be, or the impossible task she must fulfill. Fale's powers awaken as she learns who her true enemy is and why they want the antique key her father gave her as he lay dying, saying it was her destiny. The human citizens of Alloy City have believed the lies they were fed, and magic has been forgotten, though the war between wizards and mages has been brewing for centuries. If Fale can accept the identity she's been given and the power that runs in her veins, a greater fate awaits her, but the war has awakened with her in the center. Rebellion is in her blood, but can she admit that she has the strength to be a warrior princess? Can she defeat the greatest evil her world has ever known? Can she love a man who is part machine? ♥ For fans of Sarah J Maas's Throne of Glass and Suzanne Collins's The Hunger Games. Are you ready for the adventure?
Princess of the Blood Mages
September 14, 2019
Word Count:
197690
Summary: It's 1892, the fourth and nastiest year of the Civil War. With war prices for some things going through the roof, there are some cargoes that are too tempting, tucked down in places too risky, and a ship captain has to weigh both if he wants to make a profit and stay afloat. Last I saw my parents, they were going to do the sugar run to Jamaica. Up in the cold North sugar cane simply doesn't grow. You have to go where it's warm and for us in the U.S., that means the Caribbean, which is unfortunately down next to the Confederate States of America and we have to sail right past Florida with its people doing their best to be unpleasant. I won't kid you. It's a dangerous run. Normally, they would have been back in port a week ago, but they're overdue. Nothing to worry about yet – much.
Red Jacket
December 27, 2014
Word Count:
111,000
Summary:
New York: two years after the Third World War. Humanity is rebuilding its cities brick by brick; the damage done to the people, however, is a lot harder to repair.
Dan Hardacre is one of those people. An aspiring stage actor and experienced draft-dodger, Dan struggles to find his place within the Utopic rebuild of New York City. When he's not caught up with the duties of work, Dan lives a quiet life in mourning for his mother, Dyani, who went missing when he was a teenager.
One night, Dan experiences a vivid, terrifying nightmare that puts him right on the front lines of the war for which he dodged the draft; it ends with him facing Death itself in the form of a metallic, faceless humanoid creature that calls itself the Valkyrie. To investigate the reason behind his haunting experience, Dan seeks out a meeting with his estranged father, who reveals the startling truth about Dan's dream: it wasn't a dream.
With this newfound knowledge and the powers it brings, Dan makes it his mission to return to the scene of his nightmare. However, he soon comes to know that confronting the Valkyrie not only endangers him but the war-withstanding world he leaves behind.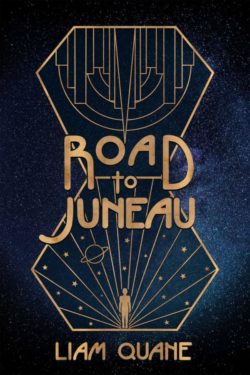 ROAD TO JUNEAU
May 18, 2021
Word Count:
70000
Summary: Do you know what your problem is? Celestine, the fifth of seven sisters, is tired of hearing about hers. Father thinks she's frivolous because she likes pretty clothes and caters to the crowds in the taverns who adore her music. Mother thinks that because she's the most social daughter in the family, she can't keep quiet about anything. They're both wrong. Celestine hides a secret she has kept for most of her life. As the family beauty and a talented musician with a lyrical voice, she has the best prospects for marriage to a prince. When such a liaison never happens, people assume Celestine is too choosy. But even in somewhat tolerant Ilari, a daughter hates to disappoint her family. How can she tell them she's in love with a princess instead? Lucky for Celestine, all her sisters are obsessed with an invading army headed to their realm. Celestine would rather ignore the threat and enjoy the freedom their lack of attention gives her. But, her voice can unlock a power that may help save Ilari. And the woman she loves is determined to fight these invaders. And her family, for all their talents, seems clueless about how to motivate the masses. Celestine knows she can inspire the citizens of Ilari to do what needs to be done. Is it time to put her inhibitions aside and use her voice to save those she cares about?
She's the One Who Can't Keep Quiet
January 14, 2022
Word Count: Information not available
Summary: Trusting an alien is hard ... figuring out which alien is trustworthy might be impossible. Marcus carries the weight of the cosmos on his shoulders. Still, he loves being one of the chosen enrolled in the alien-driven education tract at his university. This extraterrestrial Federation always said he was important, so they're taking the next logical step by inviting him to join their mysterious research Cohort. If he survives selection, Marcus will solidify himself as one of the elites tasked with preparing humanity to face an alien Confederation bent on enslaving Earth. The simulated realities he experiences during this Subsumption research creates critical data the Federation needs to understand human nature, choice, and to integrate worlds. But the alien experimentation proves more physically, mentally, and emotionally taxing than Marcus ever imagined, pushing him to the breaking point. As the doomsday clock continues its countdown to the Confederation's invasion, Marcus is running out of time to get his personal life in order. Can he live up to his family's idea of always moving forward? Or will he sink humanity's chance to reach the stars? Either way, Marcus is learning what the Federation already knows: the ability to choose is the most powerful force in the universe. If the conspiracy theories are right, though, he might be aligning with the wrong aliens. Subsumption is the first novel in the Subsumption Series, a story about humanity's pivotal position between two warring alien empires. If you enjoyed Ender's Game, Ready Player One, and the Amazon Prime series Upload, then the Subsumption Series is for you!
Subsumption: A Sci-Fi Novel to Inspire
October 13, 2020