Word Count:

65000
Summary: A young man sold into servitude has his loyalties tested in ways he never imagined. Raised in an orphanage in Dickens, Daniel doesn't know who his parents were, where he comes from, or even his last name. Like all orphans, on his 16th birthday, he's sold to the highest bidder. Not knowing where he's going, who's bought him, or what they even want with him, Daniel embarks on an adventure he never thought he'd take. He finds love, a family, and a secure future - yet in a split second, makes a decision he ends up regretting the rest of his life. Brothers begins fifteen years before the Red Dog Conspiracy series. Warning: Language, smoking, use of alcohol and drugs, attempted suicide by hanging, M/M underage sexuality with consent issues, forced servitude, blood, gun violence, a man being beaten by a horsewhip, murder, discussion of child prostitution, underage M/F sexuality with age gap (female older).
Brothers
Word Count:

38000
Summary: RISE (noun / verb) Eight definitions to inspire writers around the world, and an unlimited number of possible stories to tell: 1) An upward slope or movement 2) A beginning or origin 3) An increase in amount or number 4) An angry reaction 5) To take up arms 6) To return from death 7) To become heartened or elated 8) To exert oneself to meet a challenge Rise features 300-word speculative flash fiction stories from across the rainbow spectrum, from the minds of the writers of Queer Sci Fi.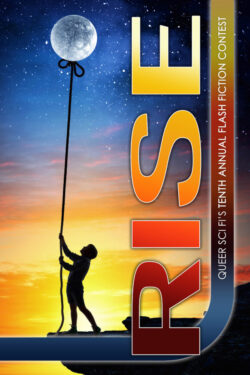 Rise
Word Count:

43000
Summary: What if the man you swore to protect ordered you to commit genocide? Fifteen hundred years after the Catastrophe, Inventor Benjamin Kerr built the domed neo-Edwardian city-state of Bridges in the center of the former U.S. Three hundred years later, Bridges is in trouble. King Taylor Kerr is elderly, the economy is struggling, and corruption is rampant. Forty years ago, a fence was built outside of the "Pot of Gold" — the city proper — to keep out the growing numbers of homeless. This number has increased to over a hundred thousand, whole generations knowing nothing but life in the tent camps. Xavier Alcatraz is head of the Palace Guard. When King Taylor is assassinated by his son, who then gives the order to slaughter everyone outside the fence, Xavier must choose between his vows and his conscience, making a choice which will affect Bridges for generations to come. Set 100 years before the Red Dog Conspiracy series, this dark, violent story brings you a collision of science fiction, steampunk, and war fiction - Downton Abbey meets Black Hawk Down in a city gone mad.
The Alcatraz Coup
Word Count:

91000
Summary: She barely survived the last round. As the Red Dog Gang closes in on her Family, can she survive the next? After the devastating events of our last chapter, all private eye and mafia wife Jacqueline Spadros wants is to get her life back. Then a missing person she thought she'd never track down falls into her lap. Jacqui is thrown into a series of events which not only puts her and everyone around her into danger, but changes her life forever. Warning: on-screen murder, major consent issues, smoking, language, infidelity, betrayal, description of injury, gore, on-screen suicide, child injury This is chapter 9 of a 13-part serial novel. Please read these books in order: * The Jacq of Spades * The Queen of Diamonds * The Ace of Clubs * The King of Hearts * The Ten of Spades * The Five of Diamonds * The Two of Hearts * The Three of Spades * The Knave of Hearts <-- you are here Book 10 coming October 2023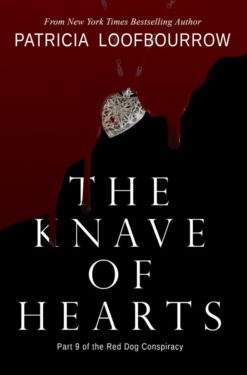 The Knave of Hearts