Word Count:

25000
Summary: Exiled to Earth for perhaps the worst failure in Irasolan history, General Teer must assimilate or die. Earth is too warm, too wet, too foreign, but he does the best he can even though human males are loud, childish louts whom he can't imitate successfully. When a grieving seaplane pilot strikes up a strange and uneasy friendship with him, he finds he may have been too quick to judge human males. They are strange to look at, but perhaps not as unbearable as he thought.
A Christmas Cactus for the General
Word Count:

115000
Summary: Aaron Okonkwo, a Nigerian scientist, travels with a crew in the 24th century to evaluate Viridis, which proves to be a beautiful and fabulous world. There, Aaron discovers a strange, alien species and amazing machines and technology left in a vast underground complex by a mysterious race called the Creators. Aaron soon falls under the irresistible, seductive spell of Nightsong, a green alien female with ominous and bewitching powers. However, an even greater danger rises. He will be forced to fight for the planet's survival against a ruthless invasion of many ships to conquer and enslave the planet – just as Africa itself was once enslaved. Aaron knows it's A Senseless Act of Beauty to try to reclaim his ancient warrior heritage and fight back against such overwhelming odds, but he knows he must try.
A Senseless Act of Beauty - John B. Rosenman
Word Count:

80,0-00
Summary: MIKE CHRISTOPHER RETURNS TO EARTH TO BATTLE AN OLD NEMESIS! Mike Christopher, an artificial Human spurned and abused by much of Earth society, left Earth to become a Galactic explorer. Now, 25 years later, he returns to battle the Jenregar, an alien enemy he's fought before. But the key to defeating the alien threat also presents a soul-crushing moral dilemma!
ALL HUMAN THINGS
Word Count:

67000
Summary: Androids & Aliens is Scott's third short story collection - eight sci fi and sci-fantasy shorts that run the gamut from cyborgs to (comedic) alien invasions: Rise: The rise in sea levels caused by climate change swallowed Venice beneath the lagoon half a century ago. But what if we could bring it back? Ping: I was a real estate agent by day, and a museum curator in the evening at a sci-fi museum. What I saw one night changed everything. What the Rain Brings: Miriam struggles to make a living in post-climate-change Vancouver. But her friend Catalina has it even worse in the Arizona desert. So Miri hatches a plan. High Seven: Zan dreams of making full reals - immersive live virtual reality skins - but his low score may doom him to a life of cheap coding. Full Real: Dek's given up his life of spying for the city. But one more case awaits him. Will he regret it more if he takes it, or turns it down? Shit City: The Bay Area is being walloped by a hurricane, and seventeen-year-old Jason Vasquez has been relocated to a refugee city in the Nevada Desert. Will it be temporary shelter, or change his life? Firedrake: Kerry has always wondered about his deadly powers. But a mysterious bunch of violet roses starts him on the path to discovery - even if he's not sure he's going to like what he finds. The Last Human Heart: I'm one of the Remainers, the few cyborg humans still living on this busted planet. But if my still-human heart finally gives out, I may not live to find out the truth about who I am. This is the first time all of these stories have all been collected in one place, and the first publication of the Pacific Climate Tryptich - What the Rain Brings, High Seven, and Full Real - in any form.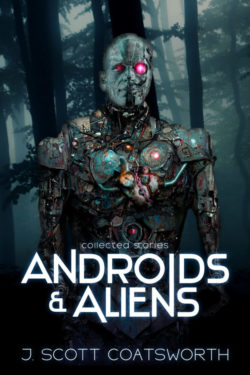 Androids & Aliens
Word Count: Information not available
Summary: How does a world armed with bows, arrows and catapults, where steam power is just beginning to replace horses and sailing ships, avert a conquest from beyond the stars? Prince Regilius has been engineered to combat the Dalthin, a predatory alien species that enslaves worlds telepathically, and to do so he must unite his people. But when his mother murders his father, the land descends into chaos and his task may prove impossible. Faced with slaying the one who gave him life in order to protect his world, he seeks a better way. Set in a vast and varied land where telepaths and those with unusual mental abilities tip the course of events, Awakening goes to the heart of family, friendship and betrayal. "In AWAKENING Raymond Bolton presents us with an intricate and interesting problem, characters you care for, aliens who -are- alien, and a carefully-thought-out future."—Mike Resnick "Raymond Bolton's genre shattering Awakening is a skillfully woven hybrid of science fiction and fantasy that brings cultural conflict to a whole new, thoroughly believable level that goes straight to the heart of what really matters."—Matthew J. Pallamary – author of Land Without Evil and Spirit Matters. "Bolton navigates through the plot lines and the mixed genres (Science Fiction but not exactly, Fantasy but not entirely, Paranormal but not completely) with the clear gesture of the conductor of a large orchestra. A new voice and author who is bound to grow a faithful readership."—Massimo Marino, international award-winning author of The Daimones Trilogy "it's a grand debut. An ambitious and well considered SF crossover [that] breathes originality into the genre"—BookViral
Awakening
Word Count:

73000
Summary: ::The Seignso have our own plans for the remains of Genghis Khan.:: Alien warmongers have cloned an ancient emperor to lead an unstoppable army. Gifted with superhuman powers and advanced technology, he sets his sights on his home planet, Earth, and then... the stars! However, countermeasures have already been set in place. A young Iowa farm boy, oblivious to his powers or destiny, is thrust into a battle that will decide the fate of humanity against the new and improved Genghis Khan! A thrilling, interstellar adventure from the author of The Weller and War of the Worlds: Goliath!
Birthright
Word Count:

88400
Summary: On planet Earth, it's aliens against humans and humans are losing the battle. While a few brave humans are ready to fight to regain their freedom from their alien conquerors, the future of the human race falls on Khara, a woman whose sole focus is her personal fight for survival. As the human population dwindles toward extinction, will the strange and reluctant friendship that develops between Khara and an alien show them all a new way - coexistence? Or will the human race finally be eliminated once and for all? This gritty alien invasion story is told from both human and alien points of view, a la C.J. Cherryh, and puts a new twist on the idea of "first contact."
Carapace
Word Count: Information not available
Summary: He needs a payday. He'll settle for payback. Betrayed and left to rot on the edges of the galaxy, Caspian Robeaux is deep in debt and stuck flying courier missions in an old rustbucket he can barely keep afloat. His only friends are an annoying robot named Box and a bottle of booze. It's a far cry from his once-promising military career, but Cas stopped caring a long time ago. Things start to look up, though, when a stranger arrives and offers a lucrative job that Cas can't refuse, with a payday big enough to change his fortunes permanently. His luck gets even better when Cas learns that the job might offer him the one thing he wants more than his next drink: A chance to clear his name. But nothing in his life is ever that simple, and for a man trying to buy his way out of debt, the price of redemption might be too steep. From bestselling author Eric Warren, Caspian's Fortune is the first book in the Infinity's End series. With a rich universe full of quirky characters and breathtaking adventure, it's perfect for fans of JN Chaney and Michael Anderle.
Caspian's Fortune
Word Count:

117,600
Summary: The Action Packed Conclusion to the Peridot Shift Trilogy Peridot is on the edge of annihilation. Once life-giving, the world's Trade Winds are transforming people into soulless monsters. The surviving Alchemist gods neglect their followers or take advantage of them. Even worse, a delicate peace has been wasted, and everything and everyone is at stake, especially Meran, the mistreated embodiment of the planet. Captain Talis and the crew of Fortune's Storm must try to do some good with what's left of Peridot in the hope that, together, they'll reclaim the hidden pieces of Meran's soul before the chaos seals her disastrous fate.
Cast Off
Word Count:

112,000
Summary: Chanda Kasmira devotes years of her life and career to saving the inhabitants of the planet Splendor from the planet's coming destruction. Her latest effort fails. Life on Splendor faces more danger than ever before. Disheartened, Chanda places herself into a "long sleep," intending to awaken decades later to a brighter future for Splendor and its people. She doesn't. Instead, an even more difficult path lies ahead after CHANDA'S AWAKENING.
CHANDA'S AWAKENING
Word Count:

50000
Summary: Fourteen-year-old Samantha spends her days exploring the shallow reef behind her island home. With her world locked in a battle against rising seas, scientists deploy genetically modified corals to rebuild reefs and protect the coastline. No one expects the reefs to be a hotbed of evolution, but they are. When an octopus flows off a rock in her lagoon, Samantha is startled. When he purposefully arranges pieces of coral on the sand, trying to communicate, she is shocked. How she responds may determine the fate of life on Earth. The year is 2045, and fourteen-year-old Samantha lives in a world where ocean levels are rising, destroying coastal cities and swallowing islands. Millions of displaced people are homeless. The planet is in a climate tailspin that threatens civilization. Researchers deployed genetically modified corals that can grow in warmer waters. They aimed to sequester carbon dioxide and stabilize the climate. The successful project produced an extensive barrier reef system along the coasts of Georgia and Florida. Samantha lives on a research island off the coast of Georgia with her scientist parents. She becomes obsessed with the ocean, spending all her time exploring the reef. One day, she encounters an octopus attempting to communicate with her. The story dives deep into an exploration of species' intelligence and the quest to save the planet.
Charlie's Story
Word Count:

126,000
Summary: A little blue world, the third planet from the sun. It's home to 7 billion people with all manner of faiths, beliefs and customs, divided by bigotry and misunderstanding, who have been told they are not alone in the universe. Anyone watching from the outside would pass by this fractured and tumultuous world, unless they had no other choice. It's been a little over a year since Todd Landon's life changed with the arrival of the Nentraee. Continuing his duties as Special Envoy for Terran Affairs, Todd finally feels at home with the aliens; gaining more responsibility and influence with both races. Plans are underway for two Interplanetary spaceports and additional solar exploration. It's an exciting time for both the humans and the Nentraee. Not everything is as perfect as some hope. Speaker General Mirtoff and Vice-Speaker Mi'ko of the Nentraee are worried that the Liberi Dei plot additional terrorist attacks and may have inside help. Threats are clear, but who can they trust? Could Todd be helping them unknowingly or worse covertly? Will these new space endeavors continue to bring the human and the Nentraee together or will a conspiracy hiding in the shadows fracture an already shaky alliance?
Conspiracy
Word Count:

71800
Summary: A little blue world, the third planet from the sun. It's home to 7 billion people with all manner of faiths, beliefs and customs, divided by bigotry and misunderstanding, who will soon be told they are not alone in the universe. Anyone watching from the outside would pass by this fractured and tumultuous world, unless they had no other choice. Todd Landon is one of these people, living and working in a section of the world called the United States of America. His life is similar to those around him: home, family, work, friends and a husband. On the cusp of the greatest announcement humankind has ever witnessed, Todd's personal world is thrown into turmoil when his estranged brother shows up on his front porch with news of ships heading for Earth's orbit. The ships are holding the Nentraee, a humanoid race who have come to Earth in need of help after fleeing the destruction of their homeworld. How will one man bridge the gap for both the Humans and Nentraee, amongst mistrust, terrorist attacks and personal loss? Will this be the start of a new age of man or will bigotry and miscommunication bring this small world to its knees and final end?
Contact
Word Count: Information not available
Summary: Unraveling myths is messy … but the lies have to die for humanity to survive. Twin spirits born a decade apart, Velia and Virgil are bored by their trivial teenage lives, sensing they're meant for so much more.  Velia's mother wants to wrap her in a straightjacket of protective love, while Virgil's father wants him to follow in his violent footsteps.  But the arrival of a mythical video game and the forced exile to a wilderness camp for troubled kids will turn their worlds upside down. Neither teen knows this is a test to see if they're ready to fulfill their destiny and join humanity's secret alien ally in preventing the end of the universe.  For these siblings of synchronicity to succeed, they'll have to capture, contain, or kill a high-value target of an opposing alien force bent on conquering Earth. Desperate for a life on their own terms, Velia and Virgil must complete brutal trials to learn why they're uniquely capable of saving all life in the universe. Will their families hold them back? And what about the sadistic one-eyed man determined to stand in their way? If he doesn't kill them, the truth will. Their lives have been a lie …, but they're about to learn that the truth is even more dangerous. Coverted is an introductory novella to the Subsumption Series, a story about humanity's pivotal position between two warring alien empires. If you enjoyed Ready Player One, Stranger Things, and Jean-Claude Van Damme movies, then Coverted and the Subsumption Series is for you!
Converted: A Sci-fi Novella to Inspire
Word Count:

103900
Summary: A little blue world, the third planet from the sun. It's home to 7 billion people with all manner of faiths, beliefs and customs, divided by bigotry and misunderstanding, who will soon be told they are not alone in the universe. Anyone watching from the outside would pass by this fractured and tumultuous world, unless they had no other choice. Todd Landon is one of these people, living and working in a section of the world called the United States of America. His life is similar to those around him: home, family, work, friends and a husband. After the attack on San Jose, Todd is appointed to Special Envoy for Terran Affairs by the nentraee, a position many world leaders question. Undeterred Todd wants to build bridges between both people. However, this new position brings with it a new set of problems that not only he, but his new allies Mi'ko and Mirtoff must overcome. Will the humans and nentraee learn to work together despite mistrust and threats of more attacks by a new global terrorist group, or will the terrorists win? Will this bring an end to an already shaky alliance between nentraee and humans?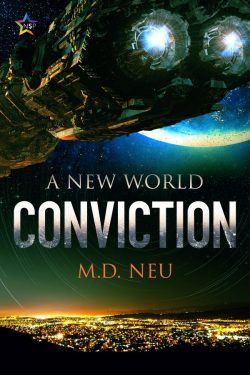 Conviction
Word Count: Information not available
Summary: He tried to bury it. But some things refuse to stay hidden. Having survived his encounter with the mysterious Sil race, Caspian and the crew of the USCS Tempest receive a new assignment: investigate the threat emerging far beyond the Coalition's borders. With its advanced engines, Tempest is the only ship fast enough to reach whatever is out there before they cross into Coalition territory. But just because Cas is part of the mission now doesn't mean the crew has to like it. Being back on board a starship hasn't been easy, and now that he's been tasked with keeping their new ally from killing the crew, it isn't getting any easier. It seems his only option is to bury what the Coalition did to him and return to the model officer he used to be. Tensions and tempers rise when the ship gets stuck at the edge of a seldom-traveled nebula, costing them precious time and energy. But is there something more to this dark edge of space? As the mystery unfolds, Caspian realizes not only is this unlike anything he's ever seen before, but he may not be able to bury his past as deep as he hoped. Brand new from bestselling author Eric Warren, DARKEST REACH is the third installment in the INFINITY'S END SAGA. Fans of Star Trek, Firefly and The Twilight Zone will enjoy this illuminating look into what really resides in the darkest corners of space and our minds.
Darkest Reach
Word Count: Information not available
Summary: A galactic war begins at dawn … so tonight they're going to party like it's 2020. Marcus is ready to put a terrible year behind him. The virus and social unrest made his first semester at University a memorable one for all the wrong reasons. It's New Year's Eve and tomorrow, he'll become a legal adult. So tonight, with his loved ones, they'll race against the darkness to summon a brighter future. But Marcus can't shake the feeling that something is off. Maybe it's conditioning, or maybe it's the series of unwelcome guests pushing the party toward chaos. Underestimating his abilities, Marcus takes a step too far, forcing his family and friends to fight over his well-being as an unidentified object appears in the sky. All celebration ends once an artificial intelligence discloses the arrival of friendly extraterrestrials sent to stop another alien force bent on enslaving the planet. Now the galactic clock is ticking, and according to the AI, Marcus is the key to humanity's defenses against the imminent invasion by these hostile outsiders. Can an artificial emissary be trusted? Or are Marcus's friends right to doubt the alien's intentions? The world has changed irrevocably as zero day begins. The party is over, and humanity is fighting for their lives. Disclosure is a short story prequel to the Subsumption Series, a story about humanity's pivotal position between two warring alien empires. If you enjoyed Armada, Signs, and the Joe Rogan Experience, then Disclosure and the Subsumption Series is for you!
Disclosure : A Sci-fi Shorty Story to Inspire
Word Count:

30000
Summary: Flee. Scatter. Take your mates and your offspring and run. The escape pods fall to Earth one by one over the course of weeks, a mysterious and diverse alien diaspora, each pod containing a different alien race and leaving the world's governments scrambling to deal with this unexpected immigration. Serge Kosygin, still grieving and isolated after his husband's death, watches events with gray disinterest until one day he witnesses a pod crash for himself while driving home. Two of the alien visitors have died, but one survives, badly injured, and Serge is determined that if this alien is also going to die, it won't be under the harsh lights of a government facility. Devastated by the loss of his life mates in their desperate effort to reach safety, the knowledge that Een is the last Aalana in this sector of the galaxy only compounds his sorrow. He wakes in an alien dwelling under the care of one of the native dominant builder species, a being who appears to share nothing with Een besides a bipedal structure. Slowly, with the help of his patient and kind host, he discovers they are more similar than he imagined as they share harmonies and his host assists him with language acquisition. Their tentative first contact soon evolves into a deepening friendship, a balm for two grief-weary souls. They'll need each other and their growing bond for the troubles lurking just ahead. Publisher's Note: Eating Stars was previously published as part of Meteor Strike: Serge & Een as a novelette. It has undergone extensive rewrites and edits with over 10,000 words of new content added.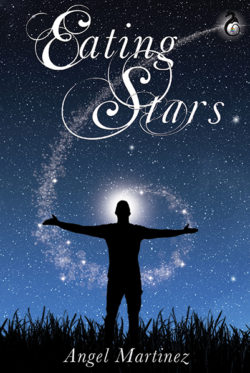 Eating Stars
Word Count:

83000
Summary: Desperate for a cure, Amanda will trade anything. Even her supernatural echo power. Plagued by schizophrenia, Amanda often has trouble distinguishing her delusions from the insights of her supernatural echo power. When her case catches the interest of a Cordovan geneticist, she soon discovers there's a fine line between a patient and a test subject. Even worse, the treatment for her disease might also erase her power. With Amanda left vulnerable by her treatment, the crew is in a race to save both her and the other test subjects. But their lone ship is no match for the Cordovan's advanced technology.  Can Amanda use her power to save them before her consciousness is erased? Echo is the thrilling continuation of the New Dawn science fiction series. If you like complex characters, clashing cultures, and supernatural powers, you'll love this multi-realm space opera.
Echo
Word Count: Information not available
Summary: The Dissolution approaches, and all will change. "Science fantasy with fantastic queer rep" -J.S. Fields, Author of the Ardulum Series The Dissolution approaches. Sam has saved the Assembly of Species, but at a terrible cost. Locked in his apartment, his memories gone and his best friend abducted, he is once again crippled with anxiety. Meanwhile, Enos struggles to free her brother from imprisonment, alone for the first time in her life. Her true species has been revealed, and there are hints the deadliest of her kind survived an ancient war. But the Nether contains more secrets. A musical chime disrupts daily life, signaling changes to its very fabric. To solve this mystery, Sam must face his anxiety and confront truths about his memories and unique abilities. Only then can he save his friends from the machinations of the Life Coalition, by understanding the reality behind the Facets of the Nether. If you like epic fantasy, space opera and music-based magic, you'll love William C. Tracy's Dissolution Cycle. Download Facets of the Nether today and discover the diverse cultures, genders, and alien species of an epic science fantasy space opera! The Dissolution Cycle (Epic Space Opera, LGBT): Book 1: The Seeds of Dissolution Book 2: Facets of the Nether Book 3: Fall of the Imperium Book 4: Tales of the Dissolutionverse (Novella collection)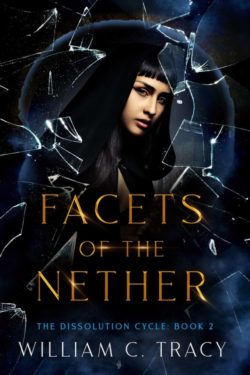 Facets of the Nether