Word Count:

11500
Summary: Jey awakens to find himself in the care of a handsome stranger - a cheff from one of the mouuntain tribes, enemies of his own people. Afraid for his life, Jey has no choice but to let the man take care of him and his broken leg. Avain is on his Aud'ling - his coming-of-age test that requires him to spend a couple months alone, away from his own people. When he finds the steader trapped under his aur with a broken leg, he knows he has to help. But not being allowed to speak during his test makes things... difficult. The two of them will have to come to an understanding if they're not going to kill one another. And Avain has a secret to share with Jey, one that that will change his life forever.
The Emp Test
Word Count:

77400
Summary: In the aftermath of his father's funeral, Dom Wesa, the new Alpha of Luxor City's Central Empire, stumbles upon an Omega in desperate need of help. The Omega, Lin Vasiliev, wakes to find he's been taken into Dom's home to be rehabilitated. Dom thinks the young addict may have information about the illicit drug trade going on in his Empire. He gets Lin sober to question him only to discover that Lin is new in town and ignorant of Luxor's laws. Dom and Lin are both suspicious of each other at first for their own reasons, but as that wariness wears away a deep attraction develops between them. Dom dotes on Lin, leaving the once stone-broke Omega bathed in finery he never could have imagined. They start planning for Lin's upcoming heat, when they will be driven together by their kindling bond and strong compatibility as an Alpha and Omega pair. However, in the midst of their swelling romance, Luxor's most notorious Alpha reappears sparking a gang war that threatens to turn the entire city into a battleground.
The Empires of Luxor City
Word Count:

56,000
Summary: Welcome back to Charybdis Station and the crew of the Blue Solace: (Fifth Book in the series) Beck Brackenstone is a simple Grell. He loves his family and friends and enjoys tinkering in his shop. His greatest dream is to meet his life-mate, settle down, and raise a bunch of babies. When he finally does meet his mate, he realizes how completely unprepared he really is. How do you court an assassin? How do you keep your brain from melting when your mate smiles? Guild Master Beol is not a simple man. He runs one of the most prominent assassins guilds in the galaxy and has a troubled past. He has responsibilities and contracts to worry about and no time for a mate. When he meets Beck, that all changes. His Grell completely bewitches him and sparks something inside him that he thought died a long time ago. The problem is that Beck has secrets that even his most trusted friends don't know, and Beol has some major trust issues. The two men may appear to be a horrible match, but in truth, they are perfect for one another. Unfortunately the Crellic Queen and Humans First are terrorizing the galaxy and Charybdis Station is their next target. They will need to trust in one another and their friends to end the Queen's path of destruction once and for all.
The Engineer's Mate
Word Count:

75000
Summary: A storm is coming ... One year has passed since the unpopular second Diamond Purge began. When the trains in Bridges mysteriously stop running, tensions among the populace rise to the point that the other three Families decide something must be done. Private investigator Jacqueline Spadros gets an unusual request: mediate with Cesare Diamond so that Inventors from all Four Families may meet to find a solution to the crisis. But Jacqui has more pressing problems. Her best friend is dying, she has a missing-persons case that she can't seem to solve, and her teenage sister-in-law is out of control. When her lawyer blackmails her for the enormous amount she owes him, Jacqui does something no one would ever have expected.
The Five of Diamonds: Part 6 of the Red Dog Conspiracy
Word Count:

70255
Summary: Dr. Bryce Nicholson has found the source he's been searching for, and the capture is sweeter than he ever anticipated. His hunter has fallen in love with the girl, and claimed her for his own. The next phase of his experiment is ready to begin, but forces outside his control are working against him. The alien is roaming the halls of Milton High and he's ready to take Claudia home with him. He's ready to take her from her life and make her remember who she truly is, but her connections to this world are too strong. There's only one with the power to make her leave. Only the shadow man can return to her what she's lost, and for that she's willing to give up everything. Everything is on the line as Claudia's enemies come at her from all directions. Will her friends be able to keep her safe or will she wind up taken by one of the men who are out to get her?
The Foreigner
Word Count:

75000
Summary: Enjoy the next chapter in this dark, psychological, steam-powered future mystery series from New York Times bestselling author Patricia Loofbourrow. Recovering from the tremendous losses she's suffered in our last chapter, private eye and mafia wife Jacqueline Spadros gets a new case from an unlikely source: her mobster husband. But when a mutual friend goes missing, Jacqui and her husband must join forces on a case which quickly turns deadly.
The Four of Clubs
Word Count:

96,000
Summary: A guard and a thief. What could go wrong? Aik has fallen hopelessly in love with his best friend. But Raven's a thief, which makes things … complicated. Oh, and Raven has just been kidnapped by a dragon. Now Aik is off on a quest of his own, to hunt down the foul beast and make them give back his … friend? Lover? Soulmate? The whole not-knowing thing just makes everything harder. Meanwhile, the world of Tharassas is falling apart, besieged by earthquakes, floods, and strange creatures no one has ever seen before. Aik's ex, Silya has gone back to Gullton to try to save her people as the Hencha Queen, and Aik's stuck in a caravan with her mother and a damnable magical gauntlet that won't let him be. He has to find Raven, before it's too late. Things were messy before … but now they're much, much worse.
The Gauntlet Runner
Word Count:

60000
Summary: Welcome back to the Blue Solace: (Sequel to "The Mercenary's Mate") Leti Ando and Will Hackett are certain about one thing in all the galaxy. They love one another. Now that they are mated, it's time to meet Hack's parents and settle into their new home. In a normal courtship, the two would spend time getting to know one another and reveling in their love. Normal isn't what they get. Leti struggles to understand the artifact Dr. Morrick left them, but what he's discovering is unbelievable and completely frightening. If his theories are true, then the entire galaxy is at risk. Meanwhile, he tries to adjust to Charybdis Station, deal with his parents, and worse of all, learn to cook. Luckily he has friends, old and new, to help him. Hack comes home to Charybdis Station, expecting a break from the hectic adventures of the past few months. What he gets are changes, more responsibilities, and a war with the Concord. He'll deal with it, though. All he has to do is look around him to understand why it's time to fight back. Together, the new couple must learn to stand together, to accept and support one another. Their happiness isn't the only thing at risk. Author's Note: 60,000+ words. This is a m/m love story with no angst and no cheating, just a HEA. There is lots of action, a little sex, mpreg, and a few potty mouths involved in the story. 18+ readers only, please. It is also the second book in a series that is best read in order. Read "The Mercenary's Mate" first!
The General's Mate
Word Count:

115,000
Summary: SECOND EDITION When Captain Rafe Lancaster is invalided out of the Britannic Imperium's Aero Corps after crashing his aerofighter during the Second Boer War, his eyesight is damaged permanently, and his career as a fighter pilot is over. Returning to Londinium in late November 1899, he's lost the skies he loved, has no place in a society ruled by an elite oligarchy of powerful Houses, and is hard up, homeless, and in desperate need of a new direction in life. Everything changes when he buys a coffeehouse near the Britannic Imperium Museum in Bloomsbury, the haunt of Aegyptologists. For the first time in years, Rafe is free to be himself. In a city powered by luminiferous aether and phlogiston, and where powerful men use House assassins to target their rivals, Rafe must navigate dangerous politics, deal with a jealous and possessive ex-lover, learn to make the best coffee in Londinium, and fend off murder and kidnap attempts before he can find happiness with the man he loves.
The Gilded Scarab
Word Count:

110,000
Summary: Rafe Lancaster is reluctantly settling into his role as the First Heir of House Stravaigor. Trapped by his father's illness and his new responsibilities, Rafe can't go with lover Ned Winter to Aegypt for the 1902/03 archaeological digging season. Rafe's unease at being left behind intensifies when Ned's fascination with the strange Antikythera mechanism and its intriguing link to the Aegyptian god Thoth has Ned heading south to the remote, unexplored highlands of Abyssinia and the course of the Blue Nile. Searching for Thoth's deadly secrets, Ned is out of contact and far from help. When he doesn't return at Christmas as he promised, everything points to trouble. Rafe is left with a stark choice – abandon his dying father or risk never seeing Ned again.
The God's Eye
Word Count:

92460
Summary: Conundrum is a guilty pleasure, M/M fantasy novel that asks what you would sacrifice to save your family and closest friends. That's the question Takoda Freeman, a young Native American witch, faces. Takoda puts his complete trust in Russell Sands, a werewolf, who says he can help save his loved ones, ignoring that fact that Russell was his father's nemesis. Takoda risks it all to save his friend and mentor, Jared Mason, from two vengeful Puritans from the past. The ordeal left Jared with the singular longing to change his past. Jared vowed to make it so that he and his father never went to the 17th century when he was a teenager. If Jared successfully changed that event, a new reality would emerge, and Takoda would cease to exist. That sends Takoda on a frightening philosophical journey where he must ultimately decide whether saving his own life is greater than the lives of his friends and family.
The Hallowed Bloodline: Conundrum
Word Count:

153,500
Summary: The Guardian is a guilty pleasure, time travel, erotic M/M fantasy novel about twin witches Robbie and Rowan, who take a job at a mineral mining company. They soon discover something is lurking in the darkened mine. Robbie and Rowan are thrown back in time and find themselves stranded in the year 1647 with no foreseeable way back. Robbie is maliciously catapulted forward in time to the year 1918. Separated from Rowan for the first time in his life, Robbie is scared and alone. Robbie finds his young grandfather in post-war Connecticut. He is forced to witness a secret relationship between his grandfather and a man. Robbie learns of the existence of werewolves and knows he will need his brother to help him fight in the battle that has the potential of becoming the next apocalypse.
The Hallowed Bloodline: The Guardian
Word Count:

150,500
Summary: A guilty pleasure novel that combines a thrilling tale of time travel, magic, erotic M/M fun, and adventure. Follow Ehane Freeman, a native American witch, as he journeys back to 1636, right before the Mystic massacre, the darkest time in Connecticut's history. Ehane is determined to save his ancestor, Sassascus, the sachem of the Pequot tribe, from the massacre. However, his brother, Dohate, is against the idea. He is more concerned with the ramifications of tampering with the timeline. Ehane goes against his brother's counsel and travels back in time and inadvertently destabilizes the natural course of history, leaving Dohate to clean up his mess, yet again. Dohate and his friends have to assimilate into the 17th century to help nudge history back on course. They fight on the side of the Native Americans as their battle with the Puritans grows to a fever pitch.
The Hallowed Bloodline: Us vs. Them
Word Count:

43000
Summary: Shax can't walk away from an abandoned, hungry kitty. The fact that she can eat him in three bites is irrelevant. Someone abandons a pedigree hellcat right where Shax can conveniently claim her and sets off a cataclysmic domino line of events. It's time for the other shoe to drop since the Brimstone has a shadow cabal after them—partly due to Shax's own, er, interesting decisions and partly due to the presence of Agent Julian Parallax onboard. As ship security officer, Ness has a lot on his mind—a dangerous new pet, even more dangerous criminals tracking the Brimstone, and yet another unexpected rescued guest. The last thing he needs is a distraction and Julian, who confuses and confounds him more every moment, is exactly the distraction he doesn't need. Between Shax's reckless gambits and Julian's disregard for his own safety, how is Ness supposed to keep anyone safe? The Brimstone and her intrepid crew do all they can to stay one step ahead, but this time the hunters are closing in.
The Hunt for Red Fluffy: Brimstone 6
Word Count:

161800
Summary: Following the dramatic events in The Starchild Compact, the starship Starchild departs on a 185-year interstellar journey. Meanwhile, the Iapetus Federation in cooperation with the Founders, descendants of the people who originally constructed Iapetus, expands to include the Mirs Complex at L-4, the Lunar Complex, a new habitat being constructed at L-5, the growing Mars settlements, and several asteroids including Daphne and Ceres. On Earth, America turns away from its world leadership position to focus on internal matters and the idea of an all-inclusive, multicultural society. Saeed Esmail, the stowaway Jihadist who played a significant role in The Starchild Compact, becomes the guiding prophet of a new form of Islam that quickly dominates the vanquished Persian Caliphate territories, and threatens the rest of the planet. Aided by Founder Asshur, the besieged Israelis reluctantly forge a new homeland on Mars, while the United States balkanizes into a half-dozen smaller units dominated by the Lone Star Conservancy under the leadership of Texan Sam Houston, who had earlier established the Lone Star Settlement on Mars. Science does not stand still. Founder researchers develop a longevity treatment that has the potential to extend human life indefinitely. The Starchild Institute, headed by former U.S. President Marc Bowles, develops advanced spacecraft, and a new form of transportation based on artificial wormholes. As the global Jihad on Earth heats up, most of the planet falls under the domination of Saeed Esmail, with only the Lone Star Conservancy, Columbia Freehold, Australia, and New Zealand left as independent territories. The Institute opens evacuation portals between Earth and Iapetus to rescue as many people as possible. While Earth sinks into medieval barbarism, the focus of human activity shifts from Earth to the Iapetus Federation as humans settle virtually every potentially habitable spot in the Solar System and begin planning for expansion into the rest of the Galaxy.
The Iapetus Federation: Exodus From Earth
Word Count:

111,600
Summary: **First Place Winner 2019 Rainbow Awards: Best Gay Historical Romance. ** **Third Place Winner 2019 Rainbow Awards: Best Gay Book.** SECOND EDITION: Something is stalking the Aegyptian night and endangering the archaeologists excavating the mysterious temple ruins in Abydos. But is it a vengeful ancient spirit or a very modern conspiracy… Rafe Lancaster's relationship with Gallowglass First Heir, Ned Winter, flourishes over the summer of 1900, and when Rafe's House encourages him to join Ned's next archaeological expedition, he sees a chance for it to deepen further. Since all the Houses of the Britannic Imperium, Rafe's included, view assassination as a convenient solution to most problems, he packs his aether pistol—just in case. Trouble finds them in Abydos. Rafe and Ned begin to wonder if they're facing opposition to the Temple of Seti being disturbed. What begins as tricks and pranks escalates to attacks and death, while the figure of the Dog—the jackal-headed god Anubis, ruler of death—casts a long shadow over the desert sands. Destruction follows in his wake as he returns to reclaim his place in Abydos. Can Rafe and Ned stand against both the god and House plots when the life of Ned's son is on the line?
The Jackal's House
Word Count:

75000
Summary: The once-beautiful domed neo-Victorian city of Bridges is split between four crime families in an uneasy cease-fire. Social disparity increasing and its steam-driven infrastructure failing, a new faction is on the rise: the Red Dogs. Jacqueline Spadros has a dream life: a wealthy husband, a powerful family. But her life is not what it seems. Kidnapped from her mother's brothel and forced to marry, the murder of her best friend Air ten years before haunts her nightmares. She finds moments of freedom in a small-time private eye business, which she hides in fear of her sadistic father-in-law. Air's little brother disappears off his back porch and the Red Dogs are framed for it. With the help of a mysterious gentleman investigator hired by the Red Dogs to learn the truth, Jacqui pushes her abilities to their limits in hope of rescuing the child before the kidnapper disposes of him.
The Jacq of Spades: Part 1 of the Red Dog Conspiracy
Word Count:

75000
Summary: What if the person who hated you most was the only one who could save you? Thousands of gentlemen have gone bankrupt in Bridges and trouble brews between the Diamond and Spadros crime families. Yet the city is united in its desire to exact vengeance for those murdered in the zeppelin disaster. Penniless and alone, private eye Jacqueline Spadros confronts the lowest point of her life. Seen as an accomplice in the financial crisis and accused of a crime she didn't commit, Jacqui faces trial in front of a hostile jury - and could receive the death penalty. Jacqui knows she's been framed by the illusive Red Dog Gang. But will the jury believe her?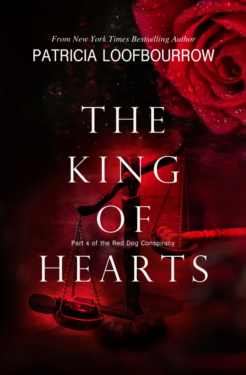 The King of Hearts: Part 4 of the Red Dog Conspiracy
Word Count:

91000
Summary: She barely survived the last round. As the Red Dog Gang closes in on her Family, can she survive the next? After the devastating events of our last chapter, all private eye and mafia wife Jacqueline Spadros wants is to get her life back. Then a missing person she thought she'd never track down falls into her lap. Jacqui is thrown into a series of events which not only puts her and everyone around her into danger, but changes her life forever. Warning: on-screen murder, major consent issues, smoking, language, infidelity, betrayal, description of injury, gore, on-screen suicide, child injury This is chapter 9 of a 13-part serial novel. Please read these books in order: * The Jacq of Spades * The Queen of Diamonds * The Ace of Clubs * The King of Hearts * The Ten of Spades * The Five of Diamonds * The Two of Hearts * The Three of Spades * The Knave of Hearts <-- you are here Book 10 coming October 2023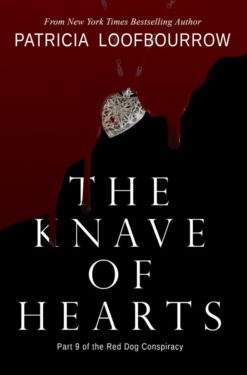 The Knave of Hearts
Word Count:

155000
Summary: Eighteen years after the Chromodec Uprising in Children of the Stars, the world is a very different place. Kaelen Ra-Evon lands on Earth, a planet where aliens exist and refugees are fast-tracked to citizenship in many countries. Her tale encompasses the age-old notions of loss, love, and found family. Kaelen tries to navigate her new life on Earth, as well as a romance with genius CEO, Lea Lockheed-Tuck, all while honoring her family's legacy as the last of her house. She's wary of the Chromodec Office of Restraint and Protection, a US agency tasked with policing people of power regardless of their race or planet of origin. In an attempt to protect the woman she loves, Kaelen becomes a vigilante: Scion. She won't let laws or the CORP stop her from doing what's right.
The Last Scion of Ra