Word Count:

88000
Summary: Claustrophilia is a genre-bending sci-fi Gothic that dives deep into the psyche's need for love and control while exploring the darker side of human (and non-human) relationships. After the tragic death of his entire family, Thomas lives under a conservatorship overseen by his lover, Ethan. But Ethan's job keeps him away. Isolated in the family's decaying Connecticut mansion, Thomas lives a monotonous life under the watchful eye of a live-in security firm until one day, he discovers an alien hiding on the grounds of his estate. Confronted with the challenge of helping to save an alien species from extinction, Thomas must overcome the forces that control him in his own home. In a world where reality is not always what it seems, and trust is a double-edged sword, one wrong move could turn his whole world upside down… again.
Claustrophilia
Word Count:

72000
Summary: Vampires and werewolves live long lives. The Sleepless City saga might have ended but the story continues… Welcome to the Vampire Guard, where legend and myth meet science and technology.   Vampires make the best spies. Throw a smart-mouthed werewolf in with three vampires, mix well, and The Vampire Guard's newest team is bound to become one of their greatest assets. Super spies with a full range of skills. Warrior, hacker, thief, and scientist.  They get in, do the job and get out before the bad guys ever know what hit them. Forge, Blair, Declan, and Lucas are thrust into the world of high-tech spies and top-secret espionage conspiracies. Recruited into the world's most elite and secret organization with one singular mission. Protect those who can't defend themselves from ruin. Life becomes complicated when an impending Presidential visit to their town, Boggslake, throws them headlong into the world of the vampires and werewolves of the Vampire Guard. Very quickly they uncover and confront a werewolf terrorist organization known as the Qiguan. Together they must thwart an assassination attempt on the open waters of Lake Superior while tracking a previously unknown biological weapon controlled by the Qiguan—a weapon which may very well mean death for one of them.
Code Name Jack Rabbit
SALE
Word Count: Information not available
Summary: Eclectic, imaginative, and unexpected, Community of Magic Pens features forty genre-spanning flash and short stories--including fantasy, humor, science fiction, romance, historical fiction, satire, and mystery--bringing together a rich group of diverse voices from a wide range of backgrounds and intersections. Fountain pens, markers and ink, charcoals, spy pens, a braille writer, a printing press, virtual reality, and a supernatural pizza: whether revealing unspoken truths, fighting injustice, or finding friendship and love, our pens have power. Join us as a recent graduate of superhero school struggles to understand her gift, a disabled android interviews for a job, a queen's conscripted artist must pull reality from illustrations on parchment, and a grandmother's secret room is…better kept a secret. Tales of struggle and triumph, compassion and hope: Community of Magic Pens is a celebration of our shared story.
Community of Magic Pens
Word Count:

52,000
Summary: A secret unicorn, a desperate family, and a cop dead set on hunting them down. Lem and the rag-tag gang of galactic adventurers on the starship Teapot are set to become roadies for the galaxy's hottest band – but an urgent call from Bexley's family means the rock stars will have to wait. Bexley's soon-to-be-born sibling has a big secret: wings. On planet Hwin, skeledivergence is outlawed, so the Teapot crew swoop in to help the family escape. But their planet won't let them go that easily. Hunted across the galaxy by a fanatical and eerily familiar cop, the Teapotters must find a way to outwit their pursuer and secure a future for skeledivergent people everywhere. Dive into the next adventure in this satirical space opera series. Artfully intertwining deep themes with tongue-in-cheek humour and intergalactic ridiculousness, Consider Pegasus is a must-read for fans of Ryka Aoki's Light from Uncommon Stars or TJ Berry's Space Unicorn Blues.  Scroll up and grab your copy now!
Consider Pegasus
Word Count:

126,000
Summary: A little blue world, the third planet from the sun. It's home to 7 billion people with all manner of faiths, beliefs and customs, divided by bigotry and misunderstanding, who have been told they are not alone in the universe. Anyone watching from the outside would pass by this fractured and tumultuous world, unless they had no other choice. It's been a little over a year since Todd Landon's life changed with the arrival of the Nentraee. Continuing his duties as Special Envoy for Terran Affairs, Todd finally feels at home with the aliens; gaining more responsibility and influence with both races. Plans are underway for two Interplanetary spaceports and additional solar exploration. It's an exciting time for both the humans and the Nentraee. Not everything is as perfect as some hope. Speaker General Mirtoff and Vice-Speaker Mi'ko of the Nentraee are worried that the Liberi Dei plot additional terrorist attacks and may have inside help. Threats are clear, but who can they trust? Could Todd be helping them unknowingly or worse covertly? Will these new space endeavors continue to bring the human and the Nentraee together or will a conspiracy hiding in the shadows fracture an already shaky alliance?
Conspiracy
Word Count:

250000
Summary: Can a Warlord and a Prince find love when the galaxy is on the brink of war? Chief Warlord Sohm'lan has a job he loves protecting the family who claims him as one of their own. He has known the loss of a mate and believed he would walk alone for the rest of his life… that is until Prince Mestor demanded more from him than duty. Unable to fathom why Mestor would want a widowed older warrior, Sohm'lan maintains his distance believing Mestor will eventually choose an amor closer in age and experience, even though the thought causes him more pain than it should. Prince Mestor is tired of pretending and his patience is eroding. He needs Sohm'lan to see past their respective ranks and duties to who Mestor is underneath it all. Worried Sohm'lan will be lost to him if he pushes too hard, Mestor and Sohm'lan are caught in a dance of denied desires and tangled obligations. Warlord Sohm'lan and Prince Mestor struggle to find a way to their heart's desire against the backdrop of galactic conspiracies, the dangerous mission escorting the Fal'Amoric royals, and discoveries within the Vondorian family that threaten to tear apart everything they hold dear. The two of them must stand together to fight the coming battle whatever the consequences. *Note: Constant is 250,000 words and is the third book in the series that must be read in order.
Constant
Word Count:

71800
Summary: A little blue world, the third planet from the sun. It's home to 7 billion people with all manner of faiths, beliefs and customs, divided by bigotry and misunderstanding, who will soon be told they are not alone in the universe. Anyone watching from the outside would pass by this fractured and tumultuous world, unless they had no other choice. Todd Landon is one of these people, living and working in a section of the world called the United States of America. His life is similar to those around him: home, family, work, friends and a husband. On the cusp of the greatest announcement humankind has ever witnessed, Todd's personal world is thrown into turmoil when his estranged brother shows up on his front porch with news of ships heading for Earth's orbit. The ships are holding the Nentraee, a humanoid race who have come to Earth in need of help after fleeing the destruction of their homeworld. How will one man bridge the gap for both the Humans and Nentraee, amongst mistrust, terrorist attacks and personal loss? Will this be the start of a new age of man or will bigotry and miscommunication bring this small world to its knees and final end?
Contact
Word Count: Information not available
Summary: Their connection was immediate. Was it destined or pre-programmed? Kenner Ford is trying not to panic. After his beautiful girlfriend suddenly disappeared from Beijing, he hops on a ballistic rocket to New York to begin a global search. And after a whirlwind romance filled with passionate sex and unsurpassed creativity, he's distraught to think she's gone forever. When warnings about Chinese intrusions get a cyberwarfare guru killed, Kenner and his missing lover become embroiled in a worldwide conflict. And after he learns they've both been surveilled for years by ambitious AIs, the troubled man flees from a deadly assassin while terrified for his woman's life… Can he reunite with his dream girl before they're permanently deleted? Control Theory is a thrilling science fiction romance. If you like compelling visions of the future, the evolution of advanced technology, and a sexy love story, then you'll adore Timothy Bult's futuristic roller coaster.
Control Theory
Word Count:

103900
Summary: A little blue world, the third planet from the sun. It's home to 7 billion people with all manner of faiths, beliefs and customs, divided by bigotry and misunderstanding, who will soon be told they are not alone in the universe. Anyone watching from the outside would pass by this fractured and tumultuous world, unless they had no other choice. Todd Landon is one of these people, living and working in a section of the world called the United States of America. His life is similar to those around him: home, family, work, friends and a husband. After the attack on San Jose, Todd is appointed to Special Envoy for Terran Affairs by the nentraee, a position many world leaders question. Undeterred Todd wants to build bridges between both people. However, this new position brings with it a new set of problems that not only he, but his new allies Mi'ko and Mirtoff must overcome. Will the humans and nentraee learn to work together despite mistrust and threats of more attacks by a new global terrorist group, or will the terrorists win? Will this bring an end to an already shaky alliance between nentraee and humans?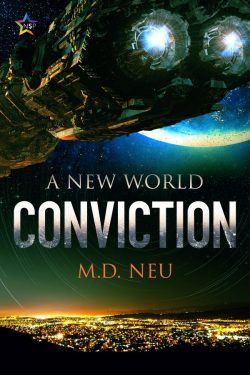 Conviction
Word Count:

26000
Summary: Wilderness tour guide, Patrick Morgan, wakes to discover Harlan Quinn—the man he'd invited home for the night—has left, with no traces of his presence. Disconcerting as that might be, Patrick is shocked when the police turn up a week later, demanding to know Harlan's whereabouts. He's an ex-patrol officer, accused of manslaughter. Harlan Quinn is desperate. Not only has he been dismissed from the Space Patrol, on a charge he strongly denies, but now he is on the run.   He can't find a legitimate job. With no money and no prospects, what's left? When Patrick's tour group is caught up in a kidnapping plot, the last person he expects to run into is Harlan. With everything he knows, can Patrick dare to trust him?
Dangerous Love
Word Count:

16500
Summary: Spaceship Captain Luke Matthews has kept his sexuality a secret. What happens when the crew finds out? Is Lieutenant Kent as straight as he always believed? Will he hit him or kiss him, or both?
Dangerous Tension
Word Count: Information not available
Summary: He tried to bury it. But some things refuse to stay hidden. Having survived his encounter with the mysterious Sil race, Caspian and the crew of the USCS Tempest receive a new assignment: investigate the threat emerging far beyond the Coalition's borders. With its advanced engines, Tempest is the only ship fast enough to reach whatever is out there before they cross into Coalition territory. But just because Cas is part of the mission now doesn't mean the crew has to like it. Being back on board a starship hasn't been easy, and now that he's been tasked with keeping their new ally from killing the crew, it isn't getting any easier. It seems his only option is to bury what the Coalition did to him and return to the model officer he used to be. Tensions and tempers rise when the ship gets stuck at the edge of a seldom-traveled nebula, costing them precious time and energy. But is there something more to this dark edge of space? As the mystery unfolds, Caspian realizes not only is this unlike anything he's ever seen before, but he may not be able to bury his past as deep as he hoped. Brand new from bestselling author Eric Warren, DARKEST REACH is the third installment in the INFINITY'S END SAGA. Fans of Star Trek, Firefly and The Twilight Zone will enjoy this illuminating look into what really resides in the darkest corners of space and our minds.
Darkest Reach
Word Count:

106,300
Summary: 2018/19 RAINBOW AWARD WINNER First Place: Best LGBTA Book First Place: Best Contemporary General Fiction, Fantasy & Sci-Fi / Futuristic The Taking Shield series comes to its shattering conclusion in Day of Wrath, the fifth and final book. In less than a week, Bennet will finally return to the Shield Regiment, leaving behind the Gyrfalcon, his father, his friends… and Flynn. Promotion to Shield Major and being given command of a battle group despite the political fallout from Makepeace the year before is everything he thought he wanted. Everything he's worked towards for the last three years. Except for leaving Flynn. He really doesn't want to leave Flynn. There's time for one last flight together. A routine mission. Nothing too taxing, just savouring every moment with the best wingman, the best friend, he's ever had. That's the plan. Bennet should know better than to trust to routine because what waits for them out there will change their lives forever.
Day of Wrath
Word Count:

80000
Summary: Other stories will take you to Mars. This one will take you inside the boardroom, the pub, and the bedroom with the people planning the mission. Gurdeep is an engineer and a soldier. Georgie's a food scientist. One is pragmatic with a tough outer shell; the other's an optimist, a person of ideas and compassion. In the span of a single afternoon, the couple find themselves in charge of planning a self-sustaining colony on Mars. Together, they're humanity's last hope for survival. They have 160 slots to fill with experts from all over the world as they set about designing an all-new society with its own government, economy, and culture – and that's just the tip of the iceberg. Among those chosen for the mission is Devon, an autistic scientist with a unique skill set who finds life on Earth strange and alienating. Maybe a whole new planet is exactly what's needed. With 1,114 days until the launch, excitement and tensions run high. Earth's second chance hangs in the balance. Between strict genetic requirements and the dangers of the dystopian almost-present, will everyone make it to the final countdown? This is a work of neurodiverse, culturally diverse, gender-bendy, socio-politico-economic, drunken-arguments-in-the-pub science fiction – not bang-bang-pew-pew science fiction.
Devon's Island
Word Count: Information not available
Summary: Murmur and Fable are left reeling after Somnia's servers crash, and nothing is quite the same. Even as they challenge new dungeons, Murmur is haunted by an old enemy who seeks to take her down a dark path. Meanwhile, Laria and Shayla struggle to hide Wren's prolonged immersion in the game from coworkers and sponsors alike, forcing them to seek out unlikely allies. As more people are made aware of Wren's predicament, freeing her from Somnia becomes even more crucial. But it seems the game has other plans for her, and not even the AIs know what they are.
Dissonance: Somnia Online Book 4
Word Count:

132,000
Summary: Rules were made to be broken. From terraformed outposts to magical realms, journey to worlds where deadly plants, rampant biodiversity, or failed colonies have created irresistible opportunities for those brave enough to seize them. New worlds, found family, mystical secrets, and deadly science weave together in this lesbian-centric anthology focusing on a very different kind of first time—a first encounter with a world, or being, entirely unlike our own. If you like diverse stories with lesbian heroines practicing science, magic, and seduction, buy Distant Gardens today!
Distant Gardens
N.L. Bates , Sara Codair , Robin C.M. Duncan , J.S...
Word Count: Information not available
Summary: Well, she's not dead. That's better than Murmur expected. But after Telvar cast her out of the game with all her strings attached, Murmur has more than in-game death to deal with. When some of the abilities of Somnia remain with her, Murmur must figure out where she ends and the game begins. But even as she realizes the complicated nature of her connection to Somnia, more elements of the virtual reality begin to snag. The race for keys continues, and time is running out. Murmur begins to suspect Fable can't manage the next tier of dungeons alone before the system's instabilities risk inescapable cascades. While Fable struggles to keep their head start, game elements run off script and leave Laria and Shayla floundering for answers. For every problem they solve, two more appear in its place. If they're not careful, the whole of Somnia will be corrupted.
Distortion: Somnia Online Book 5
Word Count:

51700
Summary: The Mythric Kingdom has raided the Five Cities. Sebastian has been rescued and Christopher is now the one in chains. The leader of the rescue team, the ice dragon Prince Azanel, says that Sebastian is his Mate. The face Sebastian dreamed while he was in captivity belongs to Azanel, but he still loves Christopher – but is that love real, or is it only conditioning? A soldier named Cavan claims to be Sebastian's closest friend, and the King of Mythria, Goxtli, has sent him and a strange creature named Kliyo to bring Sebastian home. Nothing feels familiar, and Sebastian knows that he's surrounded by lies. His time in the Countess's custody is over, but the battle for Sebastian's soul is just beginning. And the Countess and Lord Ashmar cast a very long shadow... This is a dark LGBT science fiction/fantasy romance not suitable for anyone under 18 years of age. Contains dark, adult themes, graphic gay sex and BDSM elements.
Dragon's Gambit
Word Count:

51200
Summary: Sebastian is a cryptomorph, a lab-created creature blending the DNA of man and beast. He is not a man. He is an object. A pet. A product. This is the story he's been told, but his heart tells him it's a lie. The truth is out there somewhere, and if he can escape from the Countess and the Community that wants to breed more golden dragonels like him, he might be able to find it. Christopher is a veterinarian tasked with the care of the dragonel, and he's not supposed to see the man behind the dragon. Sebastian calls to a part of him that he thought was long dead, and he would do anything for him now. Anything but tell him the truth. "Dragonel" is a M/M dystopian science fantasy intended for mature audiences. Not suitable for anyone under 18 years old.
Dragonel
Word Count:

130000
Summary: Life after the Crash. Over a century after the end of the Earth, life goes on in Redemption, the sole remaining Lunar colony, and possibly the last outpost of humankind in the Solar System. But with an existential threat burrowing its way into the Moon's core, humanity must recolonize the homeworld. Twenty brave dropnauts set off on a mission to explore the empty planet. Four of them—Rai, Hera, Ghost and Tien—have trained for two-and-a-half years for the Return. They're bound for Martinez Base, just outside the Old Earth city of San Francisco. But what awaits them there will turn their assumptions upside down—and in the process, either save or destroy what's left of humanity.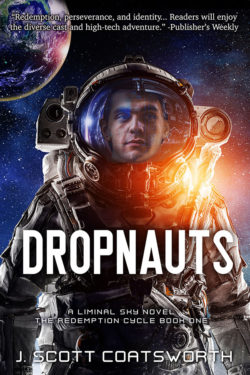 Dropnauts