Word Count:
165000
Summary: What does a former assassin do when he's not out there… well… assassinating? Saving his species from extinction, of course. At least, that's what Leopold wants to do with every molecule in his body. But the task won't be fast or easy, and he can't do it alone. Enter Mastrodai—a mrrog prince who has absolutely no desire to rule, much to his father's exasperation. He craves the ability to prove his worth as a mate and to somehow atone for his actions that led to Leopold's torture at the hands of an enemy. Making humans official would be a good start. But politics rule no matter what the species, and Mastrodai has to maneuver carefully and risk what he has built to give his mate what he deserves. And when he realizes both he and Leopold have deeper feelings for Alex, one of Mastrodai's human slave women, he knows his future is out among the stars with his humans, not planet-bound with his kin. Unfortunately, before they can set their plan into motion, Leopold receives a vision that sends him reeling and questioning everything he knows about himself. A vision he must investigate, back to where he began—Lex, the backwater planet where he spent his early years, and where he swore never to return. Trigger Warning: Includes violence throughout, PTSD, a scene of graphic torture, and the start of a consensual menage relationship.
Legacy
SALE
October 27, 2020
Word Count:
170000
Summary: The enemy hunts him, but not for the reason he thinks. How does a human survive in an alien dominated InterGalactic Community? By becoming an assassin, of course. At least, that's what Leopold thought when he became an assassin for the elite. Pretending to be an alien known as Voidstriker, Leopold feeds his appetite for vengeance, killing aliens as well as taking their money. It's a win-win to his mind. That is, until a bounty is placed upon his head. With his true identity now revealed to the IG Community, Leopold knows it's only a matter of time before the powerful family members of his victims come for blood. Far worse is the fact that the one who put the bounty on his head, is the one he most fears. A routine job three cycles ago brought him face-to-face with Mastrodai, a prince of the powerful Mrrog Nation. Not only did Leopold—accidentally—destroy part of Mastrodai's moon, but one glimpse of the mighty alien had him feeling desire for the first time in his life. He ran, and like predator after prey, Mastrodai never stopped hunting him. Leopold is convinced that Mastrodai wants bloody revenge.  But when he finally confronts the mrrog, he is stunned to realize Mastrodai wants something very different. Something surprisingly intimate—the one thing that scares Leopold more than torture. Trigger Warning: Off page torture and abuse, and aftermath of rape. While the intimacy between Leopold and Mastrodai is always consensual, there are others who wish to break Leopold into as many pieces as possible.
Leopold
SALE
October 9, 2018
Word Count: Information not available
Summary: Love defies time, crosses the infinite distance of space, and sparks formidable magics in the hearts of those it touches. And immortality? Yeah, it's got that covered, too. In this powerful volume, Pop Seagull Publishing presents twelve science fiction and fantasy short stories on the theme of love and its role as a force of nature. Follow an ambitious 1930's journalist and her high-society boyfriend as they defend the world from evil beings that hide in shadows. Can love prevail when science fails? Take a wild ride with Zephraim Cochrane as he searches for his long lost love through inter-dimensional travel. After all, the best inventions are always made to get dates. Embark on a whirlwind romance with a creature of the Fey in seven days, a beautiful story of friendship and finding self-love before all else. Descend into a very Torontonian sort of hell in search of lost love in Melanie in the underworld... just don't forget to pet the corgi. You'll find these adventures, and many more, inside.
Love, Time, Space, Magic
March 29, 2015
Word Count:
87800
Summary:
Logan McRae never expected to see two aliens when he woke from cryogenic sleep. He has lost his ship and his people and he questions whether he has lost his mind. As he gets to know Halor and Kit he realises he might just lose his heart as well.
Logan expected to wake on the spacecraft Mercury, ready to pilot the ship down to New Earth. Instead he comes out of cryogenic stasis to find he is on another ship with two alien beings, neither of whom can understand anything he says. Unfortunately, they are all the help he has if he wants to find his people and resume his journey.
Kit doesn't know what sort of creature he has accidentally purchased, but it is definitely male and isn't so very different from him and his lover, Halor. The language barrier might be a problem, but Kit knows the language of love doesn't always need words.
Prince Halor of the Hawk Clan has always been reluctant to expand his nest beyond himself and Kit, but it is obvious from the start that his feline lover is attracted to their unexpected guest. Halor will do anything to give Kit the happiness he deserves, even invite another man into their bed.
Logan has no idea that Kit isn't quite like other men until their passion results in unexpected consequences. Now he must choose between his mission and the two men who have given him everything he ever wanted, as well as things he never dreamed of.
Loving Kit
June 2, 2019
Word Count: Information not available
Summary: Agents of SHIELD meets Ancient Aliens After Dina Ranger loses telepathic contact with her twin brother, Duncan, she breaks into his apartment and stumbles onto a special government unit responsible for monitoring the psychic population. She's offered a job where she can use her psionic gifts to help people. Stranded on earth over a hundred years ago, Liam of Shria is searching for a metal needed to repair his ship when he finds Dina inside an alien escape pod and narrowly saves her after she trips the alarm. As the mystery and their relationship deepens, Liam helps Dina learn the truth behind her abilities while uncovering a plot to rebuild an ancient weapon, exposing dangerous secrets about the alien presence on earth that may change the future forever.
MIND: The Beginning
November 5, 2015
Word Count:
11000
Summary: What if you staged the best haunted house in the history of the holiday, but nobody came? Brady is prepared with mounds of treats, stellar special effects, and an extraordinary welcome for the throngs of trick-or-treaters he expects in his first year at his new place—a gloriously gothic house with the reputation for really being haunted! But the trick's on Brady: Halloween is almost over and not one person has knocked on his door. Once a top Interdimensional Law Enforcement agent, Rej was busted down to Creature Control after a run-in with his arch-nemesis. When he tracks a non-sentient construct across the dimensional barrier, he's sure he's about to confront Gorvenath again. But the person who bursts onto the porch in a swirl of tuxedo coattails is a monster of a very different sort—but is he Gorvenath's accomplice or his victim? Monster Till Midnight is an 11,000-word gay romance featuring a hopeful samhainophile, a suspicious LEO, gratuitous candy corn, and a relationship that threatens to be really, really, really long distance.
Monster Till Midnight
October 26, 2018
Word Count:
75000
Summary: Can an alien with no knowledge of humans or concept of sex find lasting love with a human man? Zak, an alien from the planet Trimmeron, is a member of a race of beings who transform into other species during their years of puberty. It's customary for the youngsters to be fostered to the worlds native to their new forms, to study and learn about the races who will play an important part in their lives. When Zak turns into a human, it comes as a surprise to everyone, for only one other before him has ever done so. Nevertheless he is sent to Earth, a world he views as primitive and barbaric. He arrives with a chip on his shoulder and attitude to spare. He does not believe that anyone on Earth could have anything to teach him. When Zak meets college student Sam he soon discovers he has a lot to learn, not only about humans, but also about himself. Trapped on an unfamiliar world and in a strange body that seems to have a mind of its own, Zak has no idea what is happening to him—only that Sam seems to be the key to the strange afflictions he is suffering from. But can an alien find love with a human being?
My Boyfriend's an Alien
January 24, 2014
Word Count:
101000
Summary: Brey would rate himself least likely to survive a zombie apocalypse. Yet here he is. True, it was a viral apocalypse not zombies, but still… Gone from spoiled rich kid to convict in sixty seconds flat. Stuck in prison with his family three thousand miles away. But not for long. Soon everyone is on the run from the virus. When guards set the convicts loose, Brey vows to reunite with his family no matter what it takes. So what if he sucks at keeping promises? He's damned if he's breaking this one. Getting home is his only goal. Too bad there's somebody who won't make that easy for him… Hank is a cop. He enforces the law. Even the toxic ones. Waterfall, a small city that made it through the apocalypse, survives on the sale of human beings. Nobody's getting in the way of Hank's plans to stop them. Nobody but the rich kid he once arrested for murder. Now the guy's up for sale, and Hank's plans go south in a hurry. On the spot to make a quick decision, he buys him. What else can he do?… Dark with snark and crazy romantic. Want to tag along with Brey and Hank while they figure out how to reconcile the irreconcilable? For heart-stopping drama, heart-breaking scenes, swoon-worthy love, and a happy-ever-after to last a lifetime, read now or buy On the Eve of Forever and enjoy! NOTE: On the Eve of Forever was previously published as Backbone by Pride Publishing. It has been rewritten and expanded by approximately 25,000 words.
On the Eve of Forever
October 6, 2020
Word Count:
101000
Summary:
When the cure for a deadly disease is stolen, two misfits are all that stands between greed and intergalactic tragedy.
Luka Foxe can't let anyone know about his secret mental abilities. Debilitated by their influence when faced with violence, the brilliant forensic investigator now only takes assignments involving theft. But when he has to hunt down a hijacked vaccine for a galaxy-wide pandemic, the tragic first clue is his best friend's brutal murder.
Nightshift guard Mairwen Morganthur knows she must keep a low profile. The product of illegal genetic alteration, she's a lethal weapon with no social graces. But when she's tasked to protect a detective with frightening intuition, she finds herself falling for him even though he could expose her.
Racing to recover the cure for a galaxy-wide pandemic, Luka is surprised by his developing feelings for the capable-but-mysterious guard. And Mairwen may have to risk everything by revealing her identity, with deadly mercenaries hot on their tail.
Can the unlikely pair survive an interplanetary conspiracy long enough to save lives and find love?
Overload Flux is the first novel in the sweeping Central Galactic Concordance space opera series. If you like haunted characters, compelling mysteries, and interstellar romance, then you'll enjoy Carol Van Natta's epic tale.
Overload Flux
October 18, 2014
Word Count:
80,000
Summary: Cherokee attorney Baylie Smith hates pushing paper at the Bureau of Indian Affairs. When Baylie learns time travel exists, she goes to 1787 to guide her people westward to safety before the Trail of Tears. Baylie becomes a warrior woman, where her intelligence, cunning and logic help the tribe win a decisive battle against the Chickamauga Cherokees. She earns ownership of enslaved Kirk O'Malley, who the Cherokees believe is the white devil, Tsul Kalu. Baylie and Shadow Wolf fall in love and are about to marry when O'Malley manages to go forward in time. The village orders her to retrieve O'Malley to his correct time. But Kirk finds love with Mellie Henderson, and refuses to return to the past as Baylie learns she is pregnant with Wolf's 'different-abled' child. Will Baylie be able to rejoin Shadow Wolf, claim her destiny, and fulfill her part of the prophecy?
Path of the Guiding Light
December 23, 2020
Word Count:
20,000
Summary: Aled is a gay man in a soldier's uniform. Unhappy with the turn his country is taking, Aled seizes the opportunity to enter a mysterious portal into the strange, primitive world of Thera. Finding himself trapped there, Aled discovers Marius, a man left to wander blindly in the wilderness. Surrounded by intrigue, Aled and Marius must find a way to trust each other, to save both themselves and Thera's Lady. Gay Romantic Sci-Fi Novella
Portal
June 27, 2020
Word Count:
25745
Summary: When a steel trap of celestial and infernal politics threatens to close around them, Shax and Verin flee Earth's system in a stolen ship, leaving everything behind. It's an elegantly simple plan, with a new ship and a new life as carefree brigands among the stars. But the ship seems to hate them, and in order to have any sort of life they need funds. A frightened man offering them a contract to deliver three mysterious crates comes just in time, and Shax is sure their troubles are over. Out of his environment and in over his head, Shax scrambles to understand the players and the consequences of his new life. With cargo that's not what it seems, shadowy motives around every turn, and a gorgeous rogue named Julian for a dash of added confusion, Shax's grand schemes of a new start may be his demise before he can even begin.
Potato Surprise: Brimstone 1
August 29, 2015
Word Count:
68810
Summary: Variant children are vanishing at an alarming rate. It will take a uniquely mismatched pair of trackers to untangle a web of conspiracy and misdirection to find them. In his isolated cabin, variant Damien Hazelwood avoids human contact as much as possible to prevent attacks of blind berserker panic. But his rare talent as a locator makes him the go-to contractor for tricky missing person's cases and when agents bring him a troubling contract involving missing variant children, he finds it impossible to refuse. Licensed tracker Blaze Emerson can't help being irritated when he's expected to follow the strange, twitchy locator's lead on his latest case. He works alone, he's damn good, and as a variant sparker, he has both the fire and the firepower to take on anything out there. Though he has to admit there's something intriguing about a man who can find people with his brain. ​ With vastly different temperaments and backgrounds, Damien and Blaze need to negotiate quickly how to work together if they're going to crack this case. Add in the sudden appearance of Blaze's outlaw ex, the perils of tracking in the wilds, and a maddening lack of discernible motive or method, and they soon find themselves in as much danger as the kids they're trying to rescue. Variant Configurations takes place in a future Earth where humanity is reclaiming its spot in a gradually healing world. This book contains mentions of past abuse, action-adventure style mayhem, and the beginning sparks of a slow burn, series-spanning relationship.
Rarely Pure And Never Simple
June 28, 2022
Word Count: Information not available
Summary: Razar needs a mate but on his planet there are nine males to one female. Humans look like they are compatible but if they find out the secrets of his kind they will refuse to send them mates. Lista needs money for her mother's operation or she will die. Her sister has volunteered her to be a bride for an alien. If she wins the mating game she will be free to keep the money and return home. Can she outwit him or will he claim her heart before it's game over?
Razar
Word Count:
77500
Summary: After the disaster of global warming, the world has gotten its act together. People are positive, sensible, and intent on creating a better future and a just present. And it's working! So, in a world where everyone makes good decisions, what could possibly go wrong? Well, other people. Mardy is a 26-year old gay man who dreams of being a full-time machine-tool artist. He brims with ideas, puts in the hours, and has a solid circle of friends—both fellow artists and the artificial intelligences he works with. But he's always coming in second to another machine-tool artist at his makerspace. He's dealing with that, thanks to the highly effective psychotherapy of the future, but then he meets his irritatingly successful rival's twin—and falls for him hard. Consequences ensue, and fast, driving Mardy not just to pursue his artistic dreams, but to try to liberate his AI friends from servitude, and find love in the process.
Red Dot
November 1, 2021
Word Count:
101000
Summary: What happens when a woman loses her memory but gains a conscience? Dr. Alexandra Turing is a roboticist whose intellect is unrivaled in the field of artificial intelligence. While science has always come easy, Alexandra struggles to understand emotional cues and responses. Driven by the legacy of her late great-uncle, she dedicates her life to the Synthetica project at her father's company, Organic Advancement Solutions (OAS).​ Her life is rebooted when she wakes from a coma, six months after being struck by a car. Traumatic brain injury altered Alex's senses, her memory, and her personality. Despite the changes, she feels reborn as she navigates her way back into her old life. Part of her new journey includes dating the alluring Doctor of Veterinary Medicine, Emily St. John. Emily is enamored with the hyper-intelligent scientist, but there are things about Alex and OAS that don't add up. With Emily's prompting, Alex undergoes testing that leaves her with more questions than answers. What she discovers changes more than her life, it will change the world around her.
Remember Me, Synthetica
July 1, 2020
Word Count: Information not available
Summary: Spaceship captain Tom lost his copilot and lover to a slipstream accident, but he refuses to accept Briak is dead. As he loses himself to his obsession, his ship begins to exhibit technical glitches and personality traits not normal for a shipboard computer. It gets worse as Tom finds a new pilot and decides to manipulate the slipstream to go back in time and stop the accident from happening. But if Tom can't figure out the problem, the space-time jumps may tear the ship—and his dreams of reunion with Briak—apart.
Renegade
June 1, 2012
Word Count: Information not available
Summary: Roar is one of the rare Phoenix tribe hunted to near extinction thousands of years ago. They have just started to emerge from isolation and he finds a female that makes him burn. What can he do? Treva has been imprisoned in the labs all her life. She likes the Phoenix, a lot. What can she do about it? Two awkward people with strong feelings. Will they figure it out amid all the danger surrounding them?
Roar
December 9, 2016
Word Count:
14000
Summary: As a security officer on an interspecies ship, Growlan Raskli's experienced in heading off species-specific aberrant behaviors in order to keep the peace. But when her captain asks her to find out what's bothering their sole human crew member, Raskli's out of her depths. She hardly knows anything about humans and she's not a psych doctor. Something's definitely upset Human Jen, something to do with human holidays. The more time Raskli spends studying humans and interacting with the intriguing Human Jen, the more personal the assignment becomes. Determined to lift the dark cloud from Human Jen, Raskli will do whatever it takes—within safe parameters, of course.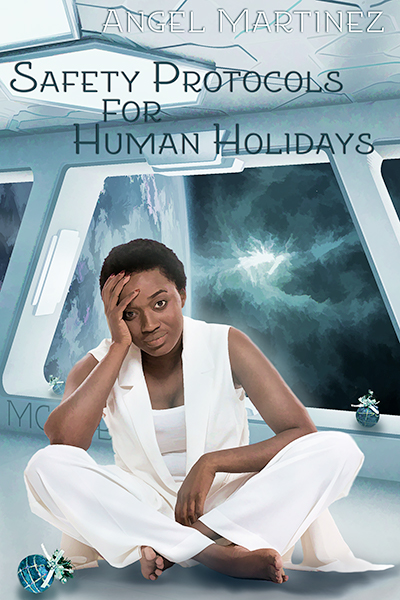 Safety Protocols For Human Holidays
December 9, 2017
Word Count:
79000
Summary: Jax has made mistakes in his life, the biggest of which was falling for Lyndon. His love died when Lyndon refused to claim him as his mate after Jax discovered he was pregnant. His feelings turned to hate when his babies were stolen from his care the day they were born. Reliant on Lyndon for the cream he needs to survive, Jax does everything he can to keep him happy and he lives for the day when he will be reunited with his children. When Jax discovers he is pregnant for a second time, he is terrified his second litter will be taken from him, too. Ty is a dual-gendered feline who dreams of carrying his own babies one day. If they are fathered by Cal, the sexy feline he feeds from, it would be even better. Ty's parents have other ideas. They don't wish the public to know that their high-born son is dual-gendered, and arrange for a mating festival to take place so Ty can choose a dual-gendered mate of his own. Although Ty has no intention of submitting to his parents' wishes, something about Jax draws Ty to him and when he and Cal discover Jax's secret, they know they must help. Ty and Cal offer Jax a way to escape Lyndon's clutches, but Jax knows almost nothing about the two felines who have offered to claim him. The stakes have never been higher and Jax must learn to trust again, or risk losing everything.
Saving Jax
December 1, 2018