Word Count:
108000
Summary: Now what? As Kendra recovers from her wounds, Artemis is planning their next strike. But so are others. Artemis has been too corrupt for too long; their own people are ready to take control. It's just going to take a little encouragement...
A Quiet Revolution
April 16, 2021
Word Count:
115000
Summary: Aaron Okonkwo, a Nigerian scientist, travels with a crew in the 24th century to evaluate Viridis, which proves to be a beautiful and fabulous world. There, Aaron discovers a strange, alien species and amazing machines and technology left in a vast underground complex by a mysterious race called the Creators. Aaron soon falls under the irresistible, seductive spell of Nightsong, a green alien female with ominous and bewitching powers. However, an even greater danger rises. He will be forced to fight for the planet's survival against a ruthless invasion of many ships to conquer and enslave the planet – just as Africa itself was once enslaved. Aaron knows it's A Senseless Act of Beauty to try to reclaim his ancient warrior heritage and fight back against such overwhelming odds, but he knows he must try.
A Senseless Act of Beauty - John B. Rosenman
April 13, 2018
Word Count: Information not available
Summary: He needs a payday. He'll settle for payback. Betrayed and left to rot on the edges of the galaxy, Caspian Robeaux is deep in debt and stuck flying courier missions in an old rustbucket he can barely keep afloat. His only friends are an annoying robot named Box and a bottle of booze. It's a far cry from his once-promising military career, but Cas stopped caring a long time ago. Things start to look up, though, when a stranger arrives and offers a lucrative job that Cas can't refuse, with a payday big enough to change his fortunes permanently. His luck gets even better when Cas learns that the job might offer him the one thing he wants more than his next drink: A chance to clear his name. But nothing in his life is ever that simple, and for a man trying to buy his way out of debt, the price of redemption might be too steep. From bestselling author Eric Warren, Caspian's Fortune is the first book in the Infinity's End series. With a rich universe full of quirky characters and breathtaking adventure, it's perfect for fans of JN Chaney and Michael Anderle.
Caspian's Fortune
May 12, 2019
Word Count:
416800
Summary: Colonists struggle to build their lives, but first they have to survive. Read the complete series through generations.
Glory on Mars - Emma joins the first settlers amid death and betrayal. She must learn the truth before Mars kills them all.
Born on Mars - Jake didn't ask to be born into a failing habitat, but new arrivals bring hope and peril. Can he save his friends and family?
Hermit on Mars - Sig will rescue the ungrateful Martian prospectors, even if it kills him.
Water on Mars - Scoundrels on Mars and Earth drag Bliss into their lethal schemes.
Storm on Mars - An AI may be a psychopath's only friend. Zeker's always close by when something weird happens.
Colony on Mars - All 5 Books
January 12, 2018
Word Count: Information not available
Summary: He tried to bury it. But some things refuse to stay hidden. Having survived his encounter with the mysterious Sil race, Caspian and the crew of the USCS Tempest receive a new assignment: investigate the threat emerging far beyond the Coalition's borders. With its advanced engines, Tempest is the only ship fast enough to reach whatever is out there before they cross into Coalition territory. But just because Cas is part of the mission now doesn't mean the crew has to like it. Being back on board a starship hasn't been easy, and now that he's been tasked with keeping their new ally from killing the crew, it isn't getting any easier. It seems his only option is to bury what the Coalition did to him and return to the model officer he used to be. Tensions and tempers rise when the ship gets stuck at the edge of a seldom-traveled nebula, costing them precious time and energy. But is there something more to this dark edge of space? As the mystery unfolds, Caspian realizes not only is this unlike anything he's ever seen before, but he may not be able to bury his past as deep as he hoped. Brand new from bestselling author Eric Warren, DARKEST REACH is the third installment in the INFINITY'S END SAGA. Fans of Star Trek, Firefly and The Twilight Zone will enjoy this illuminating look into what really resides in the darkest corners of space and our minds.
Darkest Reach
June 10, 2019
Word Count: Information not available
Summary: It's the find of a lifetime – an ancient alien spaceship hanging in a forgotten corner of space. For Song this could change everything. She's got as many problems with her finances as she does in her marriage, but maybe at last her passion for wreck-diving will pay off. One piece of unknown tech could set her whole crew up for life. The ship conforms to nothing in their records and dwarfs the largest human vessels. Battle-scarred and old before humanity ever reached the stars, it's a mausoleum of an unknown, long-dead species. And it's just winked at her.
Falling Dark
December 3, 2021
Word Count:
82500
Summary: A mysterious distress call draws the crew of courier ship Hermes to what appears to be an empty, drifting troop vessel--empty except for the blood and gore spattered corridors and a lone survivor locked in a holding cell. Drawn to the handsome, traumatized man, the crew's comm officer, Isaac Ozawa, makes Turk his personal responsibility, offering him the kindness and warmth he needs after the horror he experienced. Isaac knows firsthand what it's like to be different and an outcast, and this cements their bond. Once a promising pilot, Isaac was left with a damaged body when his brain didn't meld with the high-tech implant needed to fly fighter ships. Turk's brain is no better. The result of a military experiment gone wrong, his natural abilities have been augmented to a dangerous degree. When an amoral, power-hungry admiral kidnaps Isaac and uses him to convince Turk to become the cataclysmic weapon he's hungered for, it will take Turk's strength, the ingenuity of the Hermes crew, the help of the enigmatic Drak'tar, and Isaac's own stubborn will to save them.
Gravitational Attraction
May 11, 2021
Word Count:
36000
Summary: IN-NO-VA-TION (Noun) 1) A new idea, method, or device. 2) The introduction of something new. 3) The application of better solutions to meet unarticulated needs. Three definitions to inspire writers around the world and an unlimited number of possible stories to tell. Here are 120 of our favorites. Innovation features 300-word speculative flash fiction stories from across the rainbow spectrum, from the minds of the writers of Queer Sci Fi.
Innovation
SALE
August 8, 2020
Word Count: Information not available
Summary:
The Past doesn't easily Forgive. Or Forget.
Distraught over the loss of his crewmates, Caspian Robeaux no longer believes he can pretend to be part of the crew of the
USCS Tempest
. He has to face the fact he's become an outsider and that's who he'll always be. He has no place on a Coalition starship anymore. But the mission must continue and until it's complete, he's stuck on board. Will he find a way to cope, or will the ghosts of his mistakes drive him mad first? Meanwhile Commander Evelyn Diazal is dealing with her own issues. After a visit with her infirmed father goes horribly wrong, she begins to see and hear things that aren't really there. Afraid her father somehow passed his madness on to her; Evie does everything she can to cover up her problems until it puts another crewmember in mortal danger. Amidst all of this, the
Tempest
has traveled far beyond the borders of Coalition space, searching for the mysterious
Andromeda
threat. However what they find is far more dangerous and destructive than they ever could have imagined. Will Cas and Evie manage to pull the crew together to survive, or will their ailments cripple them before the
Tempest
can escape?
Full of action, humor and characters you can't help but root for, JOURNEY'S EDGE is the rousing fourth chapter in the hugely popular INFINITY'S END saga!
Journey's Edge
July 10, 2019
Word Count:
56000
Summary: This time, the universe puts the cat in catastrophe. Plucked from her home on Earth and ending up aboard a strange spaceship in an even stranger universe, Lem and the misfit crew of the Teapot have more than enough trouble on their hands… and then they receive an urgent last-minute call to save a race of cat-people from certain destruction. Stuck with a disaster-platypus of a project manager and an entire race of people seemingly determined to thwart their own rescue, the Teapot's crew face the impossible job of herding cats and helping evacuate the planet before it's blown to smithereens. Can Lem and the gang avert disaster and save this race of infuriating cat-people? Perfect for fans of wacky and imaginative sci-fi stories, this satirical space opera is a ridiculous adventure that will delight readers of John Scalzi's take on Fuzzy Nation or TJ Berry's Space Unicorn Blues.
Judgement Dave
January 25, 2022
Word Count: Information not available
Summary: Kal has always been considered too "fragile" to participate in the village activities. Her lithe stature links her to her father and distances her from everyone else. He left the village to fight in the Teristaque Wars and never returned. She meets Sarge, a strange star species of the human race who seems to know the secret of the patch from her father's uniform. Kal has always known she is different than her fellow villagers, and finally she may be closer to finding out why.
Kal's Fall
December 6, 2014
Word Count:
270000
Summary: Liminal Sky chronicles humankind's first journey to the stars. The first three books - the Ariadne Cycle - cover the creation and launch of Ariadne (aka Forever) as she was grown from seed on an asteroid and then launched across the interstellar void. The books are told in epic fashion, with each broken into three parts that span generations. THE STARK DIVIDE Some stories are epic. The Earth is in a state of collapse, with wars breaking out over resources and an environment pushed to the edge by human greed. Three living generation ships have been built with a combination of genetic mastery, artificial intelligence, technology, and raw materials harvested from the asteroid belt. This is the story of one of them—43 Ariadne, or Forever, as her inhabitants call her—a living world that carries the remaining hopes of humanity, and the three generations of scientists, engineers, and explorers working to colonize her. From her humble beginnings as a seedling saved from disaster to the start of her journey across the void of space toward a new home for the human race, The Stark Divide tells the tales of the world, the people who made her, and the few who will become something altogether beyond human. Humankind has just taken its first step toward the stars. THE RISING TIDE The Earth is dead. Five years after the Collapse, the remnants of humanity travel through the stars inside Forever: a living, ever-evolving, self-contained generation ship. When Eddy Tremaine and Andrissa "Andy" Hammond find a hidden world-within-a-world under the mountains, the discovery triggers a chain of events that could fundamentally alter or extinguish life as they know it, culminate in the takeover of the world mind, and end free will for humankind. Eddy, Andy, and a handful of other unlikely heroes must find the courage and ingenuity to stand against the rising tide. Otherwise they might be living through the end days of human history. THE SHORELESS SEA Rise of the Inthworld. The fight for the future isn't over yet. It could lead to a new beginning, or it might spell the end for the last vestiges of humankind. The generation ship Forever has left Earth behind, but a piece of the old civilization lives on in the Inthworld—a virtual realm that retains memories of Earth's technological wonders and vices. Lilith leads the uprising, and if she sets its inhabitants free, they could destroy Forever. But during the ship's long voyage, humanity has evolved. Liminals with the ability to connect with the world mind and the Inthworld provide a glimmer of hope as they face not only Lilith's minions, but the mistrust of their own kind as homotypicals fear what they can't understand. The invasion must be stopped, the Inthworld healed, sothe people of Forever can let go of their past and embrace their future.
Liminal Sky: Ariadne Cycle Complete Box Set
SALE
March 17, 2021
Word Count: Information not available
Summary: She wanted to meet aliens… … she wasn't expecting to die for them. Life on Unity space station is tough but so is Kayla. When Kayla learns that her half-human friend Salfera is being treated as a slave, Kayla jumps to her defense. But, Kayla doesn't understand the consequences of her activism. A genetically-engineered hybrid, Salfera has spent her life as a science experiment. She knows Kayla needs to end her crusade before she gets hurt . . . or worse. When Kayla starts hearing voices, it's too late. She is part of the experiment now. Join Kayla's fight to save her friend and avoid dissection. -- Advanced Review Copies are available here. Pre-orders are available here.
Nebula's Edge
April 12, 2021
Word Count:
111000
Summary: Most Citizens hold Outcasts in dim regard, but Sima never expected they'd throw her off the planet. In 2411, overpopulation has spread a plaque of filthy, congested city to the corners of the Earth. Government has raised corruption to an art form, and no one hears the cries of those left to die in the dark passageways of civilization. Following the End of Nations, people cling to the only division left: social status. Since running away from home four years ago, she's managed to stay a step ahead of death―or worse. At sixteen, she's getting too old to survive from begging, despite her best effort to pretend she's younger. Worse, the sidewalks teem with little kids edging in on her turf, monopolizing Citizens' charity with their wide, pleading eyes and genuine innocence. A chance meeting with suspiciously nice cops leaves her more confused than ever. Between deadly gangs, unforgiving security forces, and a terrifying madam eager to exploit a girl her age, merely getting older is the biggest threat to her life. With no good choice to make, she risks the least of three evils. Sima thought her life on Earth had been dangerous… She hasn't seen anything yet.
Out of Sight
August 13, 2018
Word Count:
101000
Summary:
When the cure for a deadly disease is stolen, two misfits are all that stands between greed and intergalactic tragedy.
Luka Foxe can't let anyone know about his secret mental abilities. Debilitated by their influence when faced with violence, the brilliant forensic investigator now only takes assignments involving theft. But when he has to hunt down a hijacked vaccine for a galaxy-wide pandemic, the tragic first clue is his best friend's brutal murder.
Nightshift guard Mairwen Morganthur knows she must keep a low profile. The product of illegal genetic alteration, she's a lethal weapon with no social graces. But when she's tasked to protect a detective with frightening intuition, she finds herself falling for him even though he could expose her.
Racing to recover the cure for a galaxy-wide pandemic, Luka is surprised by his developing feelings for the capable-but-mysterious guard. And Mairwen may have to risk everything by revealing her identity, with deadly mercenaries hot on their tail.
Can the unlikely pair survive an interplanetary conspiracy long enough to save lives and find love?
Overload Flux is the first novel in the sweeping Central Galactic Concordance space opera series. If you like haunted characters, compelling mysteries, and interstellar romance, then you'll enjoy Carol Van Natta's epic tale.
Overload Flux
October 18, 2014
Word Count:
100000
Summary: In the 2100s mankind is about to embark on a mission to save the human species. Earth is dying and time is running out. Liam Donovan and Ann Caldwell work at the construction site where one of eight ships is being built that will carry thousands to the nearest potentially habitable planet, Proxima b. But not everyone wants them to leave. A terrorist attack on the construction site of one of the ships leaves dozens dead. Why attack those wanting to save them? And who are they? Before those questions can be answered another threat looms on the horizon. An alien fleet has been spotted at the edge of the solar system heading their way. But are they coming to help a broken world...or to destroy it?
Proxima
July 6, 2020
Word Count:
109000
Summary: It appears out of nowhere—one moment the sky is empty, the next, there's a rent in the fabric of space itself. And nothing in the system will ever be the same.  In the far reaches of the Rim Mountains, itinerant field-scientist Aran Romeu is searching desperately for the cure to an incurable disease—one that's slowly killing his best friend. He's sworn to do whatever it takes to find it. But when the portal opens, and something comes through, he realizes that 'whatever it takes' will involve travelling into the uncharted space beyond the portal. And he's not the only one after the cure, and willing to do whatever it takes to get to it first … In the weighty halls of government, Chief Justice Alba Espina is preparing a political gamble that could change the shape of the system itself. The appearance of the portal shatters her carefully-laid plans and hands her political rival a weapon he could use destroy her—unless she can delay him with the promise of a diplomatic mission through the portal. But the stakes of the mission are higher than just her personal ambition. If her diplomatic mission doesn't succeed, it might just spell the end of humanity itself. In a remote spaceport, Savina Moya, the system's most talented assassin-for-hire, is on the run again after her latest murder. But when a deadly government agent is sent after her, with instructions to bring her back dead or alive, the diplomatic mission heading into the portal may hold the key to Savina's survival—if she's brave enough, or desperate enough, to take it. No one knows what's beyond the portal. And as the three of them are drawn inexorably together in uncharted space, with no idea who is an ally and who is an enemy—it's an open question if any of them will live long enough to find out. 
Redshift
October 27, 2021
Word Count:
111,000
Summary:
New York: two years after the Third World War. Humanity is rebuilding its cities brick by brick; the damage done to the people, however, is a lot harder to repair.
Dan Hardacre is one of those people. An aspiring stage actor and experienced draft-dodger, Dan struggles to find his place within the Utopic rebuild of New York City. When he's not caught up with the duties of work, Dan lives a quiet life in mourning for his mother, Dyani, who went missing when he was a teenager.
One night, Dan experiences a vivid, terrifying nightmare that puts him right on the front lines of the war for which he dodged the draft; it ends with him facing Death itself in the form of a metallic, faceless humanoid creature that calls itself the Valkyrie. To investigate the reason behind his haunting experience, Dan seeks out a meeting with his estranged father, who reveals the startling truth about Dan's dream: it wasn't a dream.
With this newfound knowledge and the powers it brings, Dan makes it his mission to return to the scene of his nightmare. However, he soon comes to know that confronting the Valkyrie not only endangers him but the war-withstanding world he leaves behind.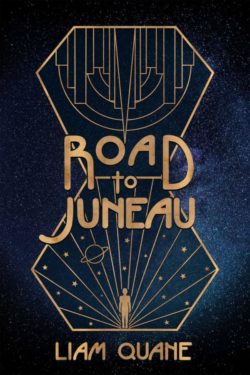 ROAD TO JUNEAU
May 18, 2021
Word Count: Information not available
Summary:
Beyond the Edge Things get Weird.
Having barely survived their encounter with the mysterious race known only as Andromeda, the crew of the
USCS Tempest
now must find a way to repair the ship if they ever want to get back to the Coalition to warn them of what's coming. Their comms are down, their engines are shot and unless the god Kor himself makes an appearance, they'll have to rely on local help if they want a way out of this mess. But finding friendly species in an uncharted region of space is easier said than done. They've already captured one pirate attempting to take advantage of their ship and have spent the last few weeks fending off even more. If this doesn't let up soon, there won't be anything left of the
Tempest
to save. However, their new prisoner offers a solution. He knows where to find exactly what they need, if they're willing to let him out. If that weren't enough, he knows where they can find out more about Andromeda before returning to the Coalition. The catch is they have to put their trust in a bunch of strangers they know nothing about.
If you love space adventure, robots, aliens and a bevy of characters with more mystery than Pandora, you'll love SECRETS PAST and the INFINITY'S END series!
Secrets Past
August 10, 2019
Word Count:
85000
Summary: When Tabitha first whispered to the ship, she never expected it to answer. A pilot yearning for adventure, Tabitha proudly flies missions scavenging supplies for her space-borne city. But when the Navicorp sends her to scavenge a derelict ship, it triggers a psychic link to the ship and the alien enemy that drove her people from their home planet. The unexpected connection puts Tabitha and her people in the crosshairs of the telepathic invaders who are determined to exterminate the human race. Her rapidly evolving ability to communicate with the alien ship unlocks a chain of secrets about her past that shakes her identity. The Captain's eagerness to push her into danger challenges her loyalty. Can she use her new ability to save them? Will they turn on her and leave her at the mercy of the aliens? If you love technopaths, psychics, AI friends, and thrilling heroics, you'll love this military sci-fi adventure. Pick up this page-turner today.
Ship Whisperer
October 14, 2021