Word Count:
67000
Summary: The Marann recounts one woman's journey through loneliness, shattering revelations, and attempted assassination on a world where everyone can read her emotions. Marianne Woolsey is a high school Spanish teacher in rural Iowa, when Earth Central Command decides her linguistic talents would be better exercised if she spent 26 years teaching the daughter and heir of an alien ruler on a planet 24 light years from Earth. Now she's alone on a planet of aliens so humanlike that she has to keep telling herself her student's noble father is just her boss. Handsome – and deadly – the Sural has ruled his province and led his planet far longer than he can admit to his daughter's human tutor. He hides much more from the space-faring races of the Trade Alliance than he is willing to reveal. What he doesn't want Central Command to know, he has to conceal from Marianne, but Marianne is concealing her own secrets from him – and as an empath, he knows it. This first novel in the Tales of Tolari Space series explores what could happen when you put an unsuspecting human on a planet full of empaths.
The Marann
October 6, 2012
Word Count: Information not available
Summary: Douglas Best is in trouble. Seven weapons of mass destruction have been removed from a planet he has setup as Jefivah's newest colony. But they've gone missing. They hold Best responsible. Now his only hope to avoid prison is a cult to Marilyn Monroe.
The Marilynists: Seeds of War Book 2
July 27, 2018
Word Count: Information not available
Summary: An intriguing collection of short stories, from Space Opera to harder sf. Life can be hard when your papers suddenly aren't valid anymore and you are forced to leave your home for another planet. How do you cope? Friendly aliens come in all shapes, as do the ones you don't want in your mind. You will find some futuristic social science and a speculative one thrown in for good measure. The characters are younger and some are older, some are strange and some perhaps, are more familiar. This collection of short stories reveals capable humans, intriguing aliens, and new areas of trade.
The Mars Vintage and other stories
December 15, 2020
Word Count:
112000
Summary: The first battles against Artemis ended with both sides bloodied. Six months have passed, six months of meaningless negotiations but no hostilities. What is Artemis up to now? To a degree, it doesn't matter. Cass and Ken can't stop building, improving, tinkering:
A new, larger, more capable habitat, a true city in space.
An improved starship
A true space fighter, not just a shuttle with popguns
And they're expanding their reach onto Luna itself, trying to discover and disrupt from the inside. But a secret is about to emerge, a secret so dark and devastating even Kendra doesn't know she's been carrying it her entire life. One which could smash their plans without a shot being fired.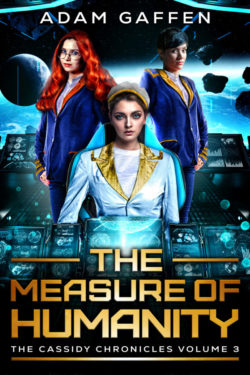 The Measure of Humanity
December 20, 2020
Word Count: Information not available
Summary: Merculian is usually a peaceful world of artistic, fun-loving and sensual hermaphrodites. The planet has always been safe, most Merculians blissfully unfamiliar with the dark powers that lurk beneath the surface of familiar things. The trouble starts when the aliens arrive. Celebrity dancer Triani picks up a mysterious Terran male in the Pleasure Gardens, and an Ultraati rope dancer dies. Seemingly unrelated, these two events unleash powerful forces that disrupt the lives of everyone around him. Secrets from his carefully hidden past boil to the surface, flooding him with fear. When his beloved Giazin is threatened, he risks his life to save his child. Yet the mysterious group known as the Watchers will not let go. Can Triani free himself from the grip of these formidable beings or will they force him to betray his human lover?
The Memory Dance
July 26, 2019
Word Count:
41000
Summary: Welcome to the mercenary ship, The Blue Solace: Leti Ando needs off planet and fast. He has a best friend and a new half-sister to rescue, and he needs to be sneaky about it. Unfortunately sneaky isn't really his thing. With the help of a friend, Leti and his menagerie, along with his two companions, stow away aboard a mystery ship. Little does he know that The Blue Solace belongs to the infamous mercenary, Captain Will Hackett, a man he'll come to love with everything inside him. Will has been in a bitchy ass mood for the past six months. He's restless and grumpy, but doesn't know why. He knows he needs something and he can't find it, but his crew are out of patience and insist on some R &R back home at Charybdis Station. Then Hack finds a stow away angel and everything changes. Leti is his mate and he'll do anything to keep him safe and happy, even smile. The galaxy's not a safe place, though, and The Blue Solace has a job to do: pick up a renowned scientist and his mysterious artifact. Then get them safely back to Charybdis Station. Hack and Leti don't realize their romance story is about to get hijacked by Concord mercenaries. Their love is easy, it happens just like that. Staying alive and keeping the galaxy safe? That's a little harder. Author's Note: 41,801 words. (Previously published as "Happens Just Like That"). This is a m/m love story with no angst and no cheating, just a HEA. There is lots of action, sex, mpreg, and a few potty mouths involved in the story. 18+ readers only, please. It is also the first of two books about this specific couple.
The Mercenary's Mate
October 5, 2018
Word Count:
93000
Summary: A militia officer on the hunt for a murderer. A scientist with the key to humanity's future. A girl locked in a glass tank. One seeking justice. One seeking fame. One seeking answers. With the galaxy on the brink of war, time is not on their side. Join them in their battle for survival.
The Parallels
March 10, 2020
Word Count:
55,000
Summary: Welcome back to Charybdis Station and the crew of the Blue Solace: (Seventh Book in the series) Finn Sterling is still adjusting to becoming the lieutenant of the blue fleet of Charybdis Station. As an orphan on Cardinal Hold, he never imagined he would have a position of authority as an adult and the trust his friends put in him makes failure impossible. When he is given the monumental task to find a large number of missing Vextonians, he'll take all the help he can get. When Finn's journey brings him to his mate, he discovers that finding the missing is only one part of the quest ahead of him. Aiden Crow has spent the last year consumed with grief and his search for vengeance. When he meets Finn, he knows instantly that the man is his mate, but what could he possibly offer the beautiful, smiling Cardinal? As the search for the missing draw the two men together, Crow realizes that the greatest risk he faces is losing his heart. Crow and Finn must work together to gather information so they can find the innocent before they are lost forever.
The Rebel's Mate
January 24, 2020
Word Count:
141000
Summary: The starstream is beautiful. But beauty turns deadly when an ancient AI bent on destruction uses it to travel uptime, to our near-future. The Mindaru are dead. Or so exiled-Earthman John Bandicut and his alien companions believe, when they return to Shipworld after saving the Orion Nebula and countless inhabited worlds. But now another horde from this ancient and malicious AI colony is swarming toward the present from its birthplace deep in the past. Their opening: a temporal disturbance in the starstream, a hyperspatial thoroughfare used by myriad civilizations. The disturbance emanates from the planetary defenses of nearby Karellia, whose people know nothing of the starstream or the galaxy-threatening Mindaru. Only Bandicut and his friends have the knowledge and experience to act. But several of Bandicut's company have gone missing. Bandicut and Li-Jared must team with the pandimensional Ruall and her gokat—the oddest aliens Bandicut has met since the shadow-people—and journey to Karellia to find a way to cut off the timestream. Meanwhile, on Shipworld, the "missing" Ik meets another human of Earth—a former lover of Bandicut's—and embarks with her on a perilous mission far back into deep time, seeking a way to stop the Mindaru at their source. The Chaos Chronicles returns at last in The Reefs of Time, part one of a heartstopping, two-part adventure. Concluded in Crucible of Time—from Nebula-nominated Jeffrey A. Carver! PRAISE FOR THE REEFS OF TIME / CRUCIBLE OF TIME: "Classic science fiction with engaging characters and richly imagined worlds!" --Greg Bear; author of The Unfinished Land and The War Dogs Trilogy "Jeffrey A. Carver's remarkable long-awaited duology The Reefs of Time / Crucible of Time is a welcome addition to The Chaos Chronicles, certifying his continuing mastery of action and adventure at the boundaries of space opera and hard SF." --Steve Miller, co-author of The Liaden Universe "Rich, dignified prose wedded to excellent and imaginative storytelling on the grandest scale. If you've grown weary of the hasty, hyperkinetic stories and styles that typify so many other independently-published novels, come home to Jeffrey Carver's timeless and triumphant The Reefs of Time." --Charles E. Gannon, author of the Caine Riordan world "Mind-blowing in its complexity... I settled in to enjoy a wild ride." --Ann Tonsor Zeddies, author of Riders of Leviathan and Steel Helix "Underpins its stunning science fiction and character-driven narrative with a strong theme of 'coming home'... As narratives intertwine at separate ends of the timescale, Carver's talent for weaving incredible technology and worldbuilding with meaningful character moments is a standout." --Terence MacManus, Aurealis Magazine PRAISE FOR THE CHAOS CHRONICLES: "Remarkably expansive vision." --Analog "Masterfully captures the joy of exploration." -- Publishers Weekly "Master craftsman of compelling hard science fiction." -- Booklist One of the best SF novels of the year -- Science Fiction Chronicle "A dazzling, thrilling, innovative space opera." --Kirkus "Fertile imagination and... a host of engagingly sympathetic characters." --Library Journal
The Reefs of Time
July 23, 2019
Word Count:
115000
Summary: The Earth is dead. Five years after the Collapse, the remnants of humanity travel through the stars inside Forever: a living, ever-evolving, self-contained generation ship. When Eddy Tremaine and Andrissa "Andy" Hammond find a hidden world-within-a-world under the mountains, the discovery triggers a chain of events that could fundamentally alter or extinguish life as they know it, culminate in the takeover of the world mind, and end free will for humankind. Eddy, Andy, and a handful of other unlikely heroes must find the courage and ingenuity to stand against the rising tide. Otherwise they might be living through the end days of human history. "Quality, innovative worldbuilding grounds this volume in the "Liminal Sky" series. Fans of The Expanse will find plenty to enjoy here as different groups with widely varying goals and beliefs come together in a struggle to survive the vastness of space and one another." -Library Journal
The Rising Tide
SALE
August 10, 2020
Word Count:
110000
Summary: Five years later, and the living is easy. Well, it would be if you were anyone except Cass and Kendra. Yes, they inherited enough money so they can pursue their dreams. Cass's teleportation system is becoming accepted all over the planet, and Kendra's starship is nearly ready for its first flight. Throw in a pair of precocious daughters and what more could they want? Except the universe has other plans for them. A global crisis is brewing, one which the United Earth government has kept under wraps, one which will end up with 9 billion dead in 20 years. And a brilliant bureaucrat at the UE has decided the Cassidy's are exactly the people to help. Now they have another project: helping the UE break the crippling Artemis Accords. Unfortunately, Artemis and the Solarian Union don't want to give them up. This time it's going to take more than quick talking and a fast car if they're going to continue their dreams.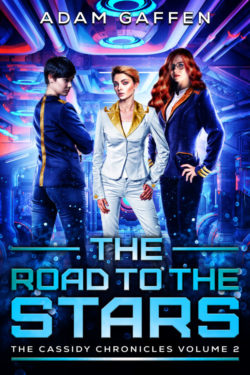 The Road to the Stars
September 15, 2020
Word Count:
23,454
Summary: First contact with an alien race calling themselves Humans. Kai and Tishla face a food crisis, and the humans offer a solution, a plant they call "Potato". But will this root be the cure the humans claim, or will it make things worse?
The Roots of War: Seeds of War Book 1
June 18, 2018
Word Count: Information not available
Summary:
Music and magic. Steampunky science. The Dissolution is coming.
Eighteen year old recluse Sam van Oen lives with his aunt, takes online college courses, works in technical support, and tries not to remember the freak storm that killed his parents ten years ago. But anxiety and reclusion bring up memories he doesn't want. Just as Sam gathers courage to send in his application for college away from home, the temperature drops and the sun goes dim. Ice forms in August, and a portal opens in his fireplace. This time, Sam can't run. This time he's sucked in. Now Sam must survive in the flourishing capital of ten alien species, home to thousands who can change the Symphony underlying the universe and alter reality. Sam's anxiety attacks and fear of crowds transforms the Nether into a frightening, expansive city. To find his home again, Sam must learn to control the music inside him, while devastating voids threaten to destroy the Nether and everyone he has grown to love. "
Simply Put, This is a Brilliant Book. Read it Now.
" -Scattered Thoughts and Rogue Words Blog If you're looking for an awesome ride across multiple homeworlds filled with magic, science, music, and diverse alien species, don't miss the first book in William C. Tracy's Dissolution Cycle! The Dissolution Cycle (Epic Space Opera, LGBT): Book 1: 
The Seeds of Dissolution
Book 2: 
Facets of the Nether
Book 3: 
Fall of the Imperium
Book 4: 
Tales of the Dissolutionverse
 (Novella collection)
The Seeds of Dissolution
December 19, 2017
Word Count:
131000
Summary: As the epic trilogy hurtles toward its conclusion, the fight for the future isn't over yet. It could lead to a new beginning, or it might spell the end for the last vestiges of humankind. The generation ship Forever has left Earth behind, but a piece of the old civilization lives on in the Inthworld—a virtual realm that retains memories of Earth's technological wonders and vices. A being named Lilith leads the uprising, and if she succeeds in setting its inhabitants free, they could destroy Forever. But during the generation ship's decades-long voyage, humanity has evolved. Liminals with the ability to connect with the world mind and the Inthworld provide a glimmer of hope. They'll have to face not only Lilith's minions, but also the mistrust of their own kind and persecution from a new government as homotypicals continue to fear what they can't understand. The invasion must be stopped, the Inthworld must be healed, and the people of Forever must let go of their past and embrace what they're meant to become.
The Shoreless Sea
SALE
September 10, 2020
Word Count:
55,000
Summary: Morgan Murray is an easy, fun-loving guy. He excels at being a soldier, but never wanted more out of life. Somehow, he ends up in a position of authority on Dru's new ship, the Blue Sparrow. Now he has to deal with what he dreads most. Responsibilities. Dru and her crew are given the task of finding Wyatt Morrick and telling him about his father's death. Along the way, Morgan soon learns that responsibility can be painful, difficult, and frightening. It can also lead to something very special. Dr. Wyatt Morrick is in trouble. Big trouble. He and his medical crew are stuck on a planet under attack. He may not be a soldier, but he has patients and friends to worry about. With very few supplies left, something has to give for them to survive. The whole planet's future is at stake and he is stuck hiding in a cave. When Morgan saves Wyatt and his friends, the two men are given a gift, each other. Their love can't stop the Concord, though, and someone has to. Morgan has to grow and accept his responsibilities, and Wyatt has to move on from his father's death. That death just happens to be a little more complicated then Wyatt expected.
The Soldier's Mate
January 11, 2019
Word Count:
24000
Summary: Chief Engineer Shandi Leavenworth has been crushing on Major Tyra Sur ever since she joined station staff, though the laconic customs officer doesn't give up personal information easily. A few scraps of information lead Shandi to the perfect Solstice present, until of course everything goes horribly wrong. Major Sur took the job on Onwa Station for the stability, the quiet, and out of a need to be useful. It's been all of those things up until the moment the woman she's been quietly flirting with at the bar puts in a desperate call for help. There's no question they need to save the station, but Tyra's not so sure about saving their budding relationship.
The Solstice Pudding
December 17, 2019
Word Count:
87200
Summary: Some stories are epic. The Earth is in a state of collapse, with wars breaking out over resources and an environment pushed to the edge by human greed. Three living generation ships have been built with a combination of genetic mastery, artificial intelligence, technology, and raw materials harvested from the asteroid belt. This is the story of one of them—43 Ariadne, or Forever, as her inhabitants call her—a living world that carries the remaining hopes of humanity, and the three generations of scientists, engineers, and explorers working to colonize her. From her humble beginnings as a seedling saved from disaster to the start of her journey across the void of space toward a new home for the human race, The Stark Divide tells the tales of the world, the people who made her, and the few who will become something altogether beyond human. This book is not a romance per se, but does have queer relationships.
The Stark Divide
SALE
July 10, 2020
Word Count: Information not available
Summary: The fallout from Derrick's union with Rhaegar and Blake's aid in his son's elopement has been intense, to say the least. After a blistering brawl between Blake and Davos, Davos leaves Blake, because he isn't ready to forgive him, and most shockingly of all, he says he isn't sure he even wants to. Blake is frightened and hurt by his actions, but terribly angry. He follows the king back to Tygeria, if only because Davos had the gall to take their two younger children with him when he left. His ship is slower than the king's, though, and when he arrives back on Tygeria, he finds the king has left again, on a wild chase after his errant son and his pirate mate. Even worse, he makes a unilateral decision to send their son Larz to a faraway planet for military training, against Blake's express wishes. When Davos, Derrick and Larz all go suddenly missing, Blake attempts a rescue mission, but encounters a strange wormhole in space, and is flung through it to crash on an unknown planet called Tveir. Strangest of all the planet is populated by Tygerians and their handsome king. Injured and disoriented, Blake begins to feel as if he's trapped in some crazy story. Except this isn't any kind of story at all—this is Blake's life, and the plot has just taken an unexpected, heartbreaking and totally infuriating twist.
The Tyger Kings
October 31, 2018
Word Count:
86000
Summary:
Eight hundred years ago, the Zhen Empire discovered a broken human colony ship drifting in the fringes of their space. The Zhen gave the humans a place to live and folded them into their Empire as a client state. But it hasn't been easy. Not all Zhen were eager to welcome another species into their Empire, and humans have faced persecution. For hundreds of years, human languages and history were outlawed subjects, as the Zhen tried to mold humans into their image. Earth and the cultures it nourished for millennia are forgotten, little more than legends.
One of the first humans to be allowed to serve in the Zhen military, Tajen Hunt became a war hero at the Battle of Elkari, the only human to be named an official Hero of the Empire. He was given command of a task force, and sent to do the Empire's bidding in their war with the enigmatic Tabrans. But when he failed in a crucial mission, causing the deaths of millions of people, he resigned in disgrace and faded into life on the fringes as a lone independent pilot.
When Tajen discovers his brother, Daav, has been killed by agents of the Empire, he, his niece, and their newly-hired crew set out to finish his brother's quest: to find Earth, the legendary homeworld of humanity. What they discover will shatter 800 years of peace in the Empire, and start a war that could be the end of the human race.
The Widening Gyre
March 14, 2019
Word Count:
84000
Summary: Someone's hunting the Ungovernable. And they're not going to stop until every one of the crew is dead. When an enemy from ex-smuggler pilot Jez's past reappears, determined to extract revenge, the crew of the Ungovernable have two options: fight, or run. But when a hyperjump gone wrong leaves the Ungovernable crippled, her weapons down and her cloaking disabled, their options become scarce indeed. As they scramble to repair the ship with rapidly-dwindling supplies and even more rapidly-dwindling oxygen, their pursuers are inexorably closing in. And if they're going to survive, each of the crew will have to confront dangerous secrets from their past, before those secrets come back to destroy them. Time Bomb is the third book in R.M. Olson's science fiction space opera series The Ungovernable. With a crazy, close-knit crew, plenty of humour, and loads of action, Firefly meets Ocean's Eleven in this fast-paced, kick-ass, wickedly fun series.
Time Bomb
July 15, 2020