Word Count: Information not available
Summary: How much must one sacrifice for the sake of friendship? Lady Claire Trevelyan has had to deal with betrayal before, but none is quite so painful as the belief that Gloria Meriwether-Astor deserted her and her friends and left them to die under the waters of Venice. But when she learns that Gloria has vanished, can she do the right thing and attempt to find the missing heiress? Of course she must. But this does not sit well with the gentlemen in her life, who had every reason to believe she planned to settle down at last. Suddenly Claire finds herself without a career, a fiancé, or the confidence in her own abilities that has carried her this far.  Worse, Captain Ian Hollys is suffering from the megrims and cannot seem to recover from his dreadful experience as a prisoner. Alice's dream of captaining her own ship in England is scuttled. Tigg is struggling with a revelation that has turned his life upside down—and may result in a betrayal more harrowing than any the flock has yet seen. Will the bond of friendship that has brought Claire and the flock together be the very thing that separates them for good? Or will love tip the balance and prove that what really defines a gentleman of means is none other than a lady of resources?
A Gentleman of Means
Word Count: Information not available
Summary:
When two sky pirates survive an attempt on their lives, they must ask themselves, who can they trust?
Magda keeps her emotions in check and her life in order. Beneath her cool exterior she battles with personal loss that has her questioning everything and everyone. Ascara's enthusiasm and passion cannot be contained by the army she once trained with. They became pirates to help people who have no one else, and now, the stakes are much higher. This is a mission they cannot refuse. A notorious slaver has acquired the latest in airship design, an Imperial Condor Class airliner. A ship designed to change the world, and if the slaver transforms it into an advanced warship then no one will be safe, anywhere. Magda and Ascara promise one more mission to free hundreds of slaves and prevent a world at war. Can they rescue the slaves and stop the creation of a super warship?
A Hint of Hope
is the second prequel in the fantasy adventure Towers of the Earth series. If you like exciting adventures that have you hooked from the start, then you'll love this imaginative, enthralling story from Nita Round.
A HInt of Hope
Word Count: Information not available
Summary: Will a daring rescue put a wedding and a future at risk? Lady Claire Trevelyan and renowned scientist Andrew Malvern are looking forward to domestic felicity in London—until a desperate and fugitive Alice Chalmers turns up seeking help. Her ship has been seized in the Duchy of Venice and worse, her navigator Jake has been thrown into the dreaded underwater prison from which no one ever escapes. Even the innocent. Lady Claire is about to embark on her career in Munich at the Zeppelin Airship Works. The Mopsies are beginning their final year at school. Andrew Malvern begins to despair of his fiancée ever choosing a wedding gown. But when help is denied from official quarters, the close bonds of friendship and shared adventure demand that they set sail in the airship Athena. There is a brooding evil waiting for them in Venice … an evil that would put an end to the flock's interference once and for all. With an innocent friend's unexpected return and a pair of secret agents who don't want their help … the situation clearly calls for the inner resources of a lady of integrity.
A Lady of Integrity
Word Count: Information not available
Summary: You can choose your friends, but you cannot choose your family ... or can you? Now sixteen, Lizzie and Maggie are educated young ladies who have not been called "the Mopsies" in years … except by their guardian, Lady Claire Trevelyan. With the happy prospect of choosing their own future, the girls can leave their dodgy past behind, and Lizzie can bury her deepest childhood memories where they can do no harm. But is she ready to be separated from Maggie and become the woman she believes she was meant to be? Or will old habits tempt her into defiance—like picking the wrong man's pocket—and plunge her into disaster? But sometimes disaster leads to dreams coming true—dreams of family and a place in the world. Lizzie must decide whether her true family is the one she was born to … or the one she chose long ago when the Lady of Devices steamed into their lives …
A Lady of Resources
Word Count: Information not available
Summary: You can choose your friends, but you cannot choose your family … or can you? Under normal circumstances, Maggie and Lizzie would be delighted to meet their long-lost relatives and be reunited with those who had believed them dead, but when are the Mopsies' circumstances ever normal? With her half-brother Claude Seacombe, Lizzie travels to Cornwall to meet her mother's parents. Maggie goes along, too, since she is part of the family … or so one might assume. But the more time she spends in her grandparents' clifftop mansion, the more she realizes that something is not right, and the events surrounding her own mother's death are more mysterious—and dangerous—than anyone alive suspects. For an old nemesis is preying on the weak and proud, and she cannot stand by and watch. Maggie must straighten her spine, plunge into danger for Lizzie's sake … and prove that no matter the name she bears, she is first and foremost what the Lady of Devices believes her to be … a lady of spirit.
A Lady of Spirit
Word Count: Information not available
Summary: A survivor with no memory and a warrior looking for her path unite against the pirate horde. Two hundred soldiers walk into the burning sands of Gypta, but only a handful make it out. When Magda Stoner wakes in an infirmary halfway across the world, she discovers her memories of the desert are gone. Something happened that tore her mind and soul apart, and the only thing keeping her sane is the fact that she can't remember a thing. Ascara d'Jharaena ael Korphen is a warrior, not a soldier, and trying to fit herself into the lesser role at Veritas Traders has left her body battered and broken in the same infirmary where Magda recovers. As they both mend, they meet a survivor of a pirate attack that included gifted attackers. Finding themselves without a unit or mission, they propose a daring plan to infiltrate the pirate horde and bring them to justice. Can the pirates be stopped? Or will Magda and Ascara be caught before they even begin? This is the first prequel in the Towers of the Earth fantasy adventure series.
A Pinch of Salt
Word Count: Information not available
Summary: In the shadows, treachery and betrayal grow unseen. The state funeral of Princess Olivia at Port Ruth marks the end of the Queen of the Desert's reign of terror. As Lucinda, Magda and Ascara attend this grand ceremony, all is not as it seems. A storm of secrets and lies emerge from the shadows and the darkness threatens to destroy them all. No matter where Magda goes, her heritage calls to her. Even when they make their way home, peace and safety are still not theirs. Malice and betrayal, hidden and out of sight, finds the three women and threatens to pull them under the waves of death and pain once more. For the Trinity of Truth: Raven, Fire and Ice, there can be only one way forward, but at what price? This is the third in the Towers of the Earth fantasy adventure series.
A Touch of Darkness
Word Count: Information not available
Summary: As foretold, the Trinity of Truth must finally face the Mistress of the Night. Lucinda, Ascara, and Magda have survived several dangerous encounters with the various agents of Sh'Na. It is time for them to brave the beast herself in the pyramid from Lucinda's dreams. Magda, however, has met this Queen of the Desert before. Now her past history has risen to confront her with the evidence of her mistakes, and brings new dangers to the trinity. Although she can draw strength from her bonds with Lucinda and Ascara, she fears that even the power of the three of them will not be enough to withstand Sh'Na's evil. But there is more to face than just the desert beast. There are other dangers directed at the three women, and they must act with care and forethought, or be caught in the traps of others. From the city of Port Ruth, their troop travels into the burning lands of sand and sun, where they will face Sh'Na in a battle for more than their lives. Failure will mean the end of the world as they know it. Success will bring a new truth, and the revelation of a new path for all three of them. The trinity must continue to work together, not only to save the world, but also the very nature of time itself. "When the Hours are true, the gates of time will open". In the end, will the trinity prevail? Or will darkness rise again? This is the second in the Towers of the Earth fantasy adventure series.
A Touch of Rage
Word Count: Information not available
Summary:
Three women. One bloody mystery, and a prophesy that transcends time.  People have gone missing and no one knows where they've gone. The only clue left behind is blood, lots of blood, and a single silver brooch. Magda Stoner, captain of the airship Verity, has questions, and the Order for which she works has no answers to give. She has been directed to enlist assistance from Lucinda Ravensburgh, a tower witch and truthsayer. Lucinda sees truth in everything she touches, a gift, or curse, enhanced by the magic of the tower in which she resides. It's a gift that comes with great responsibility and a duty to those she serves. When Magda asks for aid, Lucinda cannot refuse. Whilst Magda and Lucinda seek the evil behind the disappearances, all manner of threats imperil their lives. Ascara is the warrior who must protect them as their search becomes more and more dangerous. At the moment Lucinda touches the silver brooch, all three lives are changed forever.  Three must become one if these strong women are to succeed when traversing the path of justice. But the path they tread is littered with lies, deception, betrayal, and dark forces. No matter what, the Trinity of Truth must form and hold strong. "Wise birds whisper, Rage of Fire, Strength of Ice". This is the first in the Towers of the Earth fantasy adventure series. (Note previously released as Raven, Fire and Ice in 2018)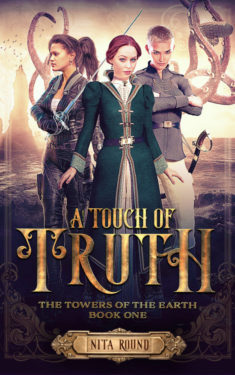 A Touch of Truth
Word Count: Information not available
Summary:
Kimolijah Adani—Class 2 gridTech, beloved brother, most promising student the Academy's ever had the privilege of calling their own, genius mechanical gridstream engineer, brilliantly pioneering inventor... and dead man. But that's what happens when a whiz kid messes with dynamic crystals and, apparently, comes to the attention of Baron Petra Stanslo. Killed for his revolutionary designs, Kimolijah Adani had been set to change the world with his impossible train that runs on nothing more than gridstream locked in a crystal. Technically it shouldn't even be possible, but there is no doubt it works. Bas is convinced the notoriously covetous and corrupt Stanslo had something to do with Kimolijah Adani's tragic and suspicious end. A Directorate Tracker, Bas has finally managed to catch the scent of Kimolijah Adani's killer, and it leads right into Stanslo's little desert barony. For almost three years, Bas has tried to find a way into Stanslo's Bridge, and when he finally makes it, shock is too small a word for what—or, rather, whom—he finds there.
Blue on Black
Word Count:

120000
Summary: U.S. Marshal James Creed has known loss, starting from the untimely death of his wife and daughter in a sudden fire. His work, chasing down and arresting outlaws across the Wild West, is all he has left to live for. Then one day, in 1876, the infamous killer Corwin Blake catches Creed by surprise and guns him down. Creed awakes after a mysterious young woman resurrects him in a basement laboratory beneath a brothel. Half alive, Creed feels torn between his need for justice and his desire to fall back into the peace of death. Creed's instincts drive him to protect the city of Santa Cruz, California, from the outlaws it harbors while searching for Blake. He uncovers a secret criminal organization, likely protecting Blake, determined to use resurrection technology for its own ends. The former marshal, now faster, stronger, and a more deadly shot than ever before, must work with a brothel madam, a bounty hunter, and the remaining marshals to uncover the criminal syndicate before they can misuse the machines of rebirth and create more mindless zombies. Meanwhile, he must also stop Blake, before the outlaw kills the only people he cares about. His own death can wait.
Bodacious Creed
Word Count:

61,000
Summary: James "Bodacious" Creed stopped a killer and helped bring peace to Santa Cruz, a coastal California city on the edge of the American frontier. Now, the undead lawman, resurrected with steam-based technology, takes on dangerous criminal cases as a private investigator. One night while riding by the wharf, Creed hears a gunshot. He and his coyote companion, Coconino, rush to the scene. In a forest clearing, he finds two dead men and a dying woman. Mechanical parts ring her neck and wrist, and as she whispers of her travails, the former Chinese slave dies in his arms. Someone in San Francisco is using illegal machinery to alter and control women like her. To hunt down the perpetrator, Creed travels to the City by the Bay. His journey takes him into the depths of Chinatown, reveals a secret society, and puts old and new friends in danger. How can Creed learn the truth before more women are changed, manipulated, or killed?
Bodacious Creed and the Jade Lake
Word Count: Information not available
Summary: A lady of resources has the power to change the world—if she can stay alive long enough to do it. Lady Claire Trevelyan had been looking forward to glittering balls, congenial society, and relief from pursuit during her stay with Lord and Lady Dunsmuir in the Canadas. Though being pursued by a handsome airship captain is rather satisfying, especially when it appears Andrew Malvern is becoming distracted by a certain blond mechanic. But a shot fired in the night puts an end to such diversions, and instead plunges her and her orphaned band of children into a fight for their very survival. Between secret conversations at the highest levels of society and skullduggery in the diamond mines, Claire must discover who is behind the attempts on her friends' lives—before her mother is compelled to make funeral arrangements yet again.
Brilliant Devices
Word Count:

65000
Summary: A young man sold into servitude has his loyalties tested in ways he never imagined. Raised in an orphanage in Dickens, Daniel doesn't know who his parents were, where he comes from, or even his last name. Like all orphans, on his 16th birthday, he's sold to the highest bidder. Not knowing where he's going, who's bought him, or what they even want with him, Daniel embarks on an adventure he never thought he'd take. He finds love, a family, and a secure future - yet in a split second, makes a decision he ends up regretting the rest of his life. Brothers begins fifteen years before the Red Dog Conspiracy series. Warning: Language, smoking, use of alcohol and drugs, attempted suicide by hanging, M/M underage sexuality with consent issues, forced servitude, blood, gun violence, a man being beaten by a horsewhip, murder, discussion of child prostitution, underage M/F sexuality with age gap (female older).
Brothers
Word Count:

117,600
Summary: The Action Packed Conclusion to the Peridot Shift Trilogy Peridot is on the edge of annihilation. Once life-giving, the world's Trade Winds are transforming people into soulless monsters. The surviving Alchemist gods neglect their followers or take advantage of them. Even worse, a delicate peace has been wasted, and everything and everyone is at stake, especially Meran, the mistreated embodiment of the planet. Captain Talis and the crew of Fortune's Storm must try to do some good with what's left of Peridot in the hope that, together, they'll reclaim the hidden pieces of Meran's soul before the chaos seals her disastrous fate.
Cast Off
Word Count:

33000
Summary: Clarity (noun) Four definitions to inspire writers around the world and an unlimited number of possible stories to tell: 1) Coherent and intelligible 2) Transparent or pure 3) Attaining certainty about something 4) Easy to see or hear Clarity features 300-word speculative flash fiction stories from across the rainbow spectrum, from the minds of the writers of Queer Sci Fi.
Clarity
Word Count: Information not available
Summary: This short novella follows Fixit, a worker on the surface of Tau Ceti Prime in another adventure. As Prime comes out of its perihelion orbit at the end of the pass, a new peril raises its head and only Fixit, Vega, is in any position to save the star system from calamity. Vega and Glitch must put all of their knowledge, skills, and creativity to the test to go off world to save Vashon and the population of the floating cities of Prime from certain death. Familiar friends and new enemies abound as Fixit races against time in the harshest environment she has ever faced... space!
Descent
Word Count:

70000
Summary: What secrets lie beneath the streets of Paris? When a malfunctioning automaton runs full force into their locomotive on the new Paris-Orléans railway, Jacqueline Duval and her bohemian twin sister Angélique Laforge become embroiled in a mystery deeply rooted in their tragic past. A polytech and famed engineering prodigy, Jacqueline is fascinated by the metal man, even more so when she discovers that it is powered not by steam, but by the supernatural. Her investigation puts the sisters on a path both dangerous and mysterious as they must foil a plot to employ the dead to power a mechanical army aimed at international conquest. Aid comes from unexpected sources as the twins rush to avert this engineered war, but will they be in time?
Esprit de Corpse
Word Count: Information not available
Summary: The Dissolution approaches, and all will change. "Science fantasy with fantastic queer rep" -J.S. Fields, Author of the Ardulum Series The Dissolution approaches. Sam has saved the Assembly of Species, but at a terrible cost. Locked in his apartment, his memories gone and his best friend abducted, he is once again crippled with anxiety. Meanwhile, Enos struggles to free her brother from imprisonment, alone for the first time in her life. Her true species has been revealed, and there are hints the deadliest of her kind survived an ancient war. But the Nether contains more secrets. A musical chime disrupts daily life, signaling changes to its very fabric. To solve this mystery, Sam must face his anxiety and confront truths about his memories and unique abilities. Only then can he save his friends from the machinations of the Life Coalition, by understanding the reality behind the Facets of the Nether. If you like epic fantasy, space opera and music-based magic, you'll love William C. Tracy's Dissolution Cycle. Download Facets of the Nether today and discover the diverse cultures, genders, and alien species of an epic science fantasy space opera! The Dissolution Cycle (Epic Space Opera, LGBT): Book 1: The Seeds of Dissolution Book 2: Facets of the Nether Book 3: Fall of the Imperium Book 4: Tales of the Dissolutionverse (Novella collection)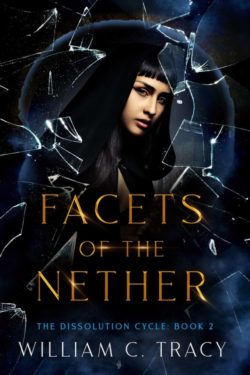 Facets of the Nether
Word Count: Information not available
Summary: The Dissolution is here. It is both an end, and a beginning. "Science fantasy with fantastic queer rep" -J.S. Fields, Author of the Ardulum Series The Dissolution has begun. Sam is finally reunited with Enos and Inas, only to see his new home under siege by beings that dissolve reality at a single touch. Even as they battle their personal demons, the three apprentices must also fight to save their home. Enos lashes out at those she loves, plagued by voices she's consumed, and Inas must risk his sanity to access ancient memories of the Nether. Sam must learn how he uniquely affects the Symphony, but there is little time to master what usually takes a lifetime. The Nether is leaderless and the Assembly is in chaos. The three apprentices must counter an invasion by aliens who rip the Symphony, and the very universe, apart. Ancient antagonists will resurface, a battle must be fought, and the secrets of the Nether and the universe will be laid bare in this final book of the Dissolution Cycle. If you like epic fantasy, space opera and music-based magic, you'll love William C. Tracy's Dissolution Cycle. Download Fall of the Imperium today and discover the diverse cultures, genders, and alien species of an epic science fantasy space opera! The Dissolution Cycle (Epic Space Opera, LGBT): Book 1: The Seeds of Dissolution Book 2: Facets of the Nether Book 3: Fall of the Imperium Book 4: Tales of the Dissolutionverse (Novella collection)
Fall of the Imperium