Word Count: Information not available
Summary: They had one choice… …lie or become lab rats. It was supposed to be an uneventful camping trip before the start of another grueling year in high school. Days later, when the enigmatic agent Victor Kraze confronts Quinn and Blake, they realize they must never speak about what they found in the woods. But now, something is different. Why are the basic elements unpredictably reacting to Quinn and Blake at home and in school? What changed? What really happened in the woods? They need help, but they don't have much time. Can the boys discover the key to controlling their self-proclaimed superpowers before they accidentally hurt someone they love? Before the nosy and relentless Agent Kraze changes his mind? ACCIDENTAL AWAKENING is the first book of The Guardian Series and is part of the Spekter Superhero Universe. Get it now.
Accidental Awakening
March 3, 2018
Word Count: Information not available
Summary: They aren't above killing… …and now his family and boyfriend are missing. Everyone thinks The Order's dangerous new super villain Nightmare wants to destroy the world, but Quinn knows better. This is different. This time, it's personal. The stakes have never been higher, and Quinn—as the superhero Blue Spekter—has a crazy plan that just might work. Can he defeat Nightmare and The Order before it's too late? If he fails and Nightmare slaughters him, who will stop the maniacal super villain from destroying everything and everyone they love? BALANCE OF POWER is the fifth book of The Guardian Series and is part of the Spekter Superhero Universe. Remember all those cool things that happened before? Well, this book wraps all that stuff up. Read it now! You know you want to!
Balance of Power
December 1, 2018
Word Count:
130000
Summary: The world was forever changed when a government genetic experiment created the Chromodecs from a dead alien in 1952. Decades later, when it became apparent that society needed a way to deal with a hybrid humans with unheard of powers, the CORP was created. The Chromodec Office of Restraint and Protection was a special government police agency formed to keep track of the Chromodecs. This particular tale involves two refugees, young babies who were sent down to Earth to escape being used as pawns in an interplanetary war, despite the fact that Earth itself wasn't so safe. Destined to be Q'sirrahna, or soul mates as the humans called it, Amari Losira Del Rey and Zendara Inyri Baen-Tor would grow to be more powerful than any other beings on the planet, if they could find each other first. After being forced to hide from the CORP when it's realized their powers could level entire cities, Amari and Zen will have to answer one question. Who will save the world when it all falls apart?
Children of the Stars
January 31, 2020
Word Count:
28000
Summary: Monty has a special power that no one else possesses. And he hates it. He just wants to live a quiet cheese sandwich and tap water life. Fate, being the fickle bitch it is, has other plans. His best friends, Lark and Sean, have abilities as well and the trio encounter three mysterious people who show them, they are not alone. It would be nice if any of them had useful abilities, but take what you can get, right? As a result, Monty is forcibly dragged into a world of coffee-addicted villains, half-competent goons, and pompous windbags. Monty must use his wits against the witless to save himself and his friends. To do so he must embrace being the DICK WIGGLER.
Dick Wiggler and Other Useless Superpowers
April 25, 2022
Word Count:
65000
Summary: Will Logan and Luke Warren are still running, with no refuge in sight. After stopping in Tennessee to meet up with teammates Ron Perry and Jake Wilson, they head for Atlanta, to rendezvous with the remaining member of their team, Todd Jackson. Kowalski told Logan he murdered Jackson, but Logan knows all too well how hard it is to kill any of them now. He's hopeful that Jackson survived and is waiting to meet them. Once they arrive in the city, they find Jackson easily enough. They soon discover, however, that he's involved in a strange and savage situation, a member of a vicious fight club in the basement of an Atlanta club. When he tells Logan he's in trouble and can't extricate himself, Logan finds an oppressive atmosphere of evil in the club, seeming to center around the club's owner, a charismatic man named Austell. Logan is disgusted by the illegal fighting, but Luke and the others are all inexplicably drawn to it. Something or someone is influencing the men, infusing them with violence and cruelty. A chain of events begins to unfold that will test Logan and Luke's bond to the breaking point. Logan's life is turned upside down as he has to fight for the lives of his friends and the man he can't live without. When they're kidnapped, and everything Logan holds dear is in deadly danger, will he be strong enough to save them all? In this book, the second in a three part series, new clues and revelations emerge as to what happened to Logan and his friends in book 1, Origins, Gods of War, to change their lives. They face a new and savage threat to their safety, and receive intervention from Heaven itself? Or could it be Hell?
Dread
January 10, 2019
Word Count:
41000
Summary: A yuletide wedding brings tidings of comfort, joy… and peril. Eighteen months ago, Tarik Jaso, Duke of Arles, would have been thrilled if Sander Fiala, Duke of Roses, sank beneath the waves along with his stupid boat. That was then. Now, Tarik can't wait to head out on a private sail with Sander—a sail that will culminate in a highly public, politically significant wedding. Their union will be the first one between North and South Abarran royalty in centuries. If all goes to plan, it will usher in a new era of peace and cooperation between their countries. But as the big day approaches, their meticulous arrangements begin to fall apart. Can Sander and Tarik weather the storm of political opposition, familial objection, and outright betrayal to reach the altar at last? Duke the Hall is a 41,000-word M/M superhero rom-com featuring two dukes determined to tie the knot, relatives both helpful and annoying, spiteful thunderstorms, superhero sabotage, and hints that things are not all they seem. Note: Duke the Hall is not a stand-alone story. It's the sequel to Duking It Out and as such contains spoilers for the earlier book.
Duke the Hall
November 17, 2020
Word Count:
46000
Summary: Royal dukes from rival countries, shipwrecked on a deserted island. The grudge match of the century—or a love story of super-heroic proportions? Sander Fiala, Duke of Roses, is fourth in line to the South Abarran throne, even though his rogue power earned him the nickname "The Monster of Roses" and got him banished from the Castle. But right before he's about to set off on his annual birthday sailing trip, the Queen asks him to meet with the notoriously volatile North Abarran Duke of Arles. Tarik Jaso, Duke of Arles, expects the worst from people because—let's face it—people are the worst. His superpower bombards him with any and all electronic transmissions, which…yeah, people suck. So when he's attacked and wakes up in the cabin of a stranded boat, he knows he's royally screwed. Because the man looming over him—the man he'd gone toe-to-toe with right before the attack—is the infamous Monster of Roses. Tarik is positive the Monster is behind his kidnapping. Sander is sure the whole thing is Tarik's fault. As they work toward rescue, Tarik realizes that the disturbingly hot Sander is no monster, and Sander discovers that Tarik's temper masks a caring soul wrapped in a cantankerous (though undeniably sexy) body. tt For their burgeoning connection to endure, they'll have to duke it out with political factions, dark conspiracies, and centuries of traditions that keep them on opposite sides of the border. But first? They have to get off this damn island. Duking It Out is a 46,000-word M/M enemies to lovers, opposites attract, superhero rom-com, featuring Only One Bed, a grumpy duke who should know better than to jump to conclusions, a self-doubting duke who's good with his hands (heh), gossipy seagulls, competent assistants, a guaranteed HEA, and (unfortunately) capes.
Duking It Out
July 6, 2020
Word Count:
19298
Summary: Emily Monroe may be a lot of things, but one thing is for sure, she is NOT the Chosen One. Emily is a normal girl working at Big Burger who has the unfortunate luck to look exactly like Big City's superhero darling, the Chosen One. It has been the bane of her existence as it disrupts her life and those around her when super villains come knocking, wanting to prove their mettle by fighting the Chosen One. Nobody listens when she insists she isn't who they think she is. With common sense and years of rage built up inside, she usually serves their butts to them on a platter, asking "Did you want fries with that?" No cape required.
Emily Monroe is NOT the Chosen One
May 8, 2018
Word Count:
80000
Summary: Cling to the edge of your seat in this high-finance, high-stakes adventure. What do we do with knowledge of the future? Clairvoyant Ariel has been doing her best to ignore it, finding the whole thing a nuisance. But when she comes across people using similar abilities to get extremely rich, her interest is piqued. Then she discovers a second collection of gifted people. Their cause is less about money and more about ensuring the survival of the human race. That doesn't stop them from being as dangerous and crazy as the first group, however. Soon Ariel finds herself the object in a game of tug of war as each faction fights to have her--and her particular talents--on their side. She can't possibly help both groups. Aligning with either could be a terrible idea. But how can she stay out of it when so much is at stake?
Flickers of Fortune
December 21, 2014
Word Count:
54,646
Summary: Kaede Hiyashi is sick and tired of living in the shadow of his father, supervillain Doctor Terror. Brilliant but crazy, Doctor Terror sends his son to Corwyn, California, for reasons Kaede can't imagine. Sent to accompany and protect him is Ash, a genetically modified supersoldier raised and trained by an infamous death cult. Corwyn is lousy with superheroes, led by the obnoxious Dark Justice. Kaede finds himself dancing around Dark Justice as he digs into his father's mysterious business and teaches his socially awkward—but physically lethal—bodyguard to acclimate to "normal" life. Can these two wacky supervillains figure out what Doctor Terror wants them to do, solve the riddle of the villain known as Black Hand, and keep Dark Justice from raining on their bloody parade? The course of love—and world domination—never did run smooth.
Hearts of Darkness
November 8, 2016
Word Count:
36000
Summary: IN-NO-VA-TION (Noun) 1) A new idea, method, or device. 2) The introduction of something new. 3) The application of better solutions to meet unarticulated needs. Three definitions to inspire writers around the world and an unlimited number of possible stories to tell. Here are 120 of our favorites. Innovation features 300-word speculative flash fiction stories from across the rainbow spectrum, from the minds of the writers of Queer Sci Fi.
Innovation
August 8, 2020
Word Count: Information not available
Summary: Kal has always been considered too "fragile" to participate in the village activities. Her lithe stature links her to her father and distances her from everyone else. He left the village to fight in the Teristaque Wars and never returned. She meets Sarge, a strange star species of the human race who seems to know the secret of the patch from her father's uniform. Kal has always known she is different than her fellow villagers, and finally she may be closer to finding out why.
Kal's Fall
December 6, 2014
Word Count:
52000
Summary: To escape an arranged marriage, the king needs a fake fiancé. Stat. King Bastien's father locked him into an ironclad betrothal contract with Lady Helena Rey when the two of them were only seven years old. Bas and Helena have never been friends—and not only because she marked their first meeting by dropping a frog down his shirt. He's been unsuccessfully petitioning Parliament to annul the damn contract ever since he took the throne nine years ago. But with the deadline for officially confirming the engagement rapidly approaching, Bas is getting desperate. Enter commoner Nico Pereira, manager of the Royal Crest Vineyards, who nurses a secret crush on the king. He's at the New Palace to unveil a  wine that's the first joint venture between North and South Abarra. No problem, right? Except Nico has a secret: He has a superpower. Not a very strong superpower, but because powers are a privilege reserved for Royals, it still puts him at risk for arrest and prosecution. Nico can usually mask his limited foresight gift under the guise of being an incredibly efficient administrator. But when King Bastien asks him to be his fake fiancé? Well. Nico never saw that coming. Nothing if not loyal, Nico accepts the faux-posal, although close proximity to Bastien makes him more than a little… uncomfortable, and the increased scrutiny of government officials threatens to expose his illegal ability. Good thing this engagement is temporary, because being the king's ex will be a lot less onerous than prison or exile. Or, if the attacks from a shadowy conspiracy continue, with being dead. King's Ex is a 52,000-word M/M superhero rom-com featuring a fake engagement, class differences, improbably pristine clothing, dueling secrets, a guaranteed HEA, and a kitten.
King's Ex
February 26, 2021
Word Count:
80000
Summary: Celebrate those who light a candle in the darkness in this compelling and eye-opening tale. Teddie is into country music, her old pick-up truck and getting through high school with as little drama as possible. Yet somehow her best friend, Michelle, talks her into spending a semester in Darjeeling, India. The thrilling adventure turns treacherous when she uncovers a seedy underworld in which young women are bartered and sold—including her friends. As she fights to understand a depravity she never dreamed existed, a stranger makes her an unexpected offer. He will train her to find her missing friends, but she will need to have trust in abilities she barely believes exist and more courage than she ever thought she could summon. And there will be no going back. Given the choice between this and abandoning her friends to their horrifying fate, the decision is simple. She must rise to the challenge. But how can she be a superhero when she doesn't know what her power is? (Layers of Light is part a collection of interrelated stand-alone novels. It contains some non-graphic mature content and references to human trafficking and the sex trade.)
Layers of Light
January 29, 2014
Word Count:
80000
Summary: Celebrate the superhero in each of us in this unique exploration of the connections we forge. A young Nigerian telepath faces a crisis when her sister is forced into a frightening marriage, then disappears. Once Somadina cannot locate her sibling's thoughts, she seeks another telepath to help. What she finds is Lola, a busy Texan scientist who has ignored the disturbing phenomenon in her mind for decades, and has no intention of embracing this nonsense now. Yet these two women have more in common than they know, and a powerful link will be forged. When Somadina discovers her sister is a pawn in a dangerous political game, the stakes rise for everyone, including an ancient organization of telepaths compelled to intervene. For both women are stronger than they realize, and they have ignited the wrath of a fanatic willing to kill anyone to alter his nation's future.
One of One
February 20, 2012
Word Count:
90000
Summary: Join an extraordinary family on a heart-pounding adventure as they face mortal danger. Telepathy creates as many problems as it solves, as everyone in the secret organization x0 would admit. Those problems become much worse when budding psychic Lola discovers another group of telepaths associated with a powerful media empire. This group is willing to destroy anyone capable of challenging them. Soon, Lola's family and friends are in danger. Fortunately, they are gifted with astonishing abilities of their own. Yet, none of them know how to fight. It will take every power they possess, and the allegiance of a helpful warrior, to bring down the arrogant adepts who do the bidding of a man hell-bent on promoting destruction. Can the talented people Lola cares about learn to trust each other and work together in order to save the world?
One of Two
November 22, 2017
Word Count:
68810
Summary: Variant children are vanishing at an alarming rate. It will take a uniquely mismatched pair of trackers to untangle a web of conspiracy and misdirection to find them. In his isolated cabin, variant Damien Hazelwood avoids human contact as much as possible to prevent attacks of blind berserker panic. But his rare talent as a locator makes him the go-to contractor for tricky missing person's cases and when agents bring him a troubling contract involving missing variant children, he finds it impossible to refuse. Licensed tracker Blaze Emerson can't help being irritated when he's expected to follow the strange, twitchy locator's lead on his latest case. He works alone, he's damn good, and as a variant sparker, he has both the fire and the firepower to take on anything out there. Though he has to admit there's something intriguing about a man who can find people with his brain. ​ With vastly different temperaments and backgrounds, Damien and Blaze need to negotiate quickly how to work together if they're going to crack this case. Add in the sudden appearance of Blaze's outlaw ex, the perils of tracking in the wilds, and a maddening lack of discernible motive or method, and they soon find themselves in as much danger as the kids they're trying to rescue. Variant Configurations takes place in a future Earth where humanity is reclaiming its spot in a gradually healing world. This book contains mentions of past abuse, action-adventure style mayhem, and the beginning sparks of a slow burn, series-spanning relationship.
Rarely Pure And Never Simple
June 28, 2022
Word Count:
111,000
Summary:
New York: two years after the Third World War. Humanity is rebuilding its cities brick by brick; the damage done to the people, however, is a lot harder to repair.
Dan Hardacre is one of those people. An aspiring stage actor and experienced draft-dodger, Dan struggles to find his place within the Utopic rebuild of New York City. When he's not caught up with the duties of work, Dan lives a quiet life in mourning for his mother, Dyani, who went missing when he was a teenager.
One night, Dan experiences a vivid, terrifying nightmare that puts him right on the front lines of the war for which he dodged the draft; it ends with him facing Death itself in the form of a metallic, faceless humanoid creature that calls itself the Valkyrie. To investigate the reason behind his haunting experience, Dan seeks out a meeting with his estranged father, who reveals the startling truth about Dan's dream: it wasn't a dream.
With this newfound knowledge and the powers it brings, Dan makes it his mission to return to the scene of his nightmare. However, he soon comes to know that confronting the Valkyrie not only endangers him but the war-withstanding world he leaves behind.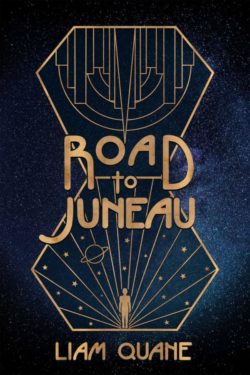 ROAD TO JUNEAU
May 18, 2021
Word Count:
80000
Summary: Sail the Pacific in this mystery adventure where things are not always as they appear. Zane, a young man who can change his physical appearance, is starting his first job at Penthes Pharmaceuticals. It's nothing like what he expects. Soon he is drawn into a world of corporate secrets and dangerous knowledge. But the deceptions are only beginning. Sent on a sales trip to the South Pacific, Zane finds new friends with abilities as surprising as his own. Too bad an unsolved murder sends them all fleeing, as issues from back home threaten to destroy lives half a world away. Can Zane use his unique talents to unravel the mysteries he's encountered? Can he find love in a world so different from his own? More importantly, can he find out who framed his friend for murder before it's too late?
Shape of Secrets
September 1, 2012
Word Count:
47,000
Summary: A collection of tales filled with monsters, be they human or beast, ranging in setting from dystopia to pitch black noir and even general silliness. From the ludicrous to the frighteningly plausible; from deep space to after the end of the world. There are clumsy werewolves and bloody revenge, monster sleep overs and a dieting fad sure to kill your appetite. Whether looking into the past or the future, you're sure to find that stuff gets really weird.
Shotgun Bastards and Other Stories
July 18, 2018