Word Count: Information not available
Summary: Welcome to the last of the great flying Cities! It's 9172, YE (Year of the Empire), and the future has forgotten its past. Soaring miles over the Earth, Autumn, the sole surviving flying city, is filled to the brim with the manifold forms of humankind: from Human Plus "floor models" to the oppressed and disfranchised underclasses doing their dirty work and every imaginable variation between. Valerius Bakhoum is a washed-up private eye and street hustler scraping by in Autumn. Late on his rent, fetishized and reviled for his imperfect genetics, stuck in the quicksand of his own heritage, Valerius is trying desperately to wrap up his too-short life when a mythical relic of humanity's fog-shrouded past walks in and hires him to do one last job. What starts out as Valerius just taking a stranger's money quickly turns into the biggest and most dangerous mystery he's ever tried to crack – and Valerius is running out of time to solve it. Now Autumn's abandoned history – and the monsters and heroes that adorn it – are emerging from the shadows to threaten the few remaining things Valerius holds dear. Can the burned-out detective navigate the labyrinth of lies and maze of blind faith around him to save the City of Autumn from its greatest myth and deadliest threat as he navigates his feelings for his newest client, the handsome golem Alejandro?
A Fall in Autumn
Word Count:

110000
Summary: Mistakes were made. The future is uncertain. And Time doesn't care. As the story ends, we'll finally learn how it started. The world is breaking apart. Only the combined willpower of Hades and Hel can save it. But Love has other plans. Meanwhile, the gods need to deal with the outcomes of their choices; everyone else needs to survive them. And Psyche must finally face her greatest foe. Can free will cheat fate, or is fate the consequence of free will?
Anamnesis
Word Count:

150000
Summary: What if first contact happened, and nobody even noticed? Light-years away, years ago, something insignificant happened. Now, the spirits are restless. Loki has returned, seeking help for his people. Entire stations are being consumed, populations lost. No one understands why, and the threat continues to spread. Can Jack, Marsha, and teenager Po carry the weight of saving Loki's civilization? This time, it may break them all.
Consortium
Word Count:

45000
Summary: A mordant, smirking collection; rife with life in a grim future Florida, notions of Christianity and its cousin Satanism—spies, mercenaries, magic, asteroid-belt drillers, and above all else, a universe bent forever by the powers of pleasure and pain.
Forsaken, Fantastic!
Word Count:

80000
Summary: A fresh start, a queer social liberal dream, and a planet that wants to kill you. Carving out a life on Mars is no easy feat. With Earth in the throes of a devastating pandemic, autistic scientist Devon and her fellow colonists are faced with the momentous task of establishing a new society – one that learns from the past and prioritises sustainability over short-term gain. Noble aspirations are easier said than done, though – especially when the entire planet wants to kill you. Grappling with the realities of human nature and with their batteries slowly dying, the colony's 150 women and 10 men must overcome their differences to create a lasting community. But things aren't always what they seem and maybe the colonists aren't as alone as they thought… Perfect for fans of Mary Robinette Kowal's 'Lady Astronaut' series and the writing styles of Robert J. Sawyer and Becky Chambers. This thought-provoking sci-fi novel blends classic science fiction ideas with neurodiverse and LGBTQIA+ themes.
Livid Skies
Word Count:

26000
Summary: Jealous angels with no genitals discover the passion and ecstasy that humans experience through sex. In revenge, the frustrated but impotent celestial beings banish the men to the wilderness. Will the women save the human race, or will they become the mothers of great evil?
Not Far from Eden
Word Count:

82000
Summary: Royal Orders is Book 3 of the Suicide Arc. This time, it's Mitsuko Yamato-Windsor's turn in the spotlight. Since leaving the Navy, Mitsuko has become chief of King Edward's personal security, not to mention resuming her engagement. When a would-be assassin nearly kills Edward, she goes on the warpath, following a trail leading to a cult known as the Cubists. Except the founder and leader of the Cubists is no angry cleric running a jihad from the shadows. Master Ansel is, in fact, an affable space engineer who found an interesting philosophy. Someone else has coopted his legacy for violence. To find that person, he suggests she travel to sultry, war-torn Aphrodite with his most brilliant follower: Suicide. Their journey will bring them face-to-face with Gerard Kurz, a man who isn't the fanatic he seems to be. He's worse. And he plans to unleash an ancient technology. He will kidnap Suicide to bend Mitsuko to his will. Only that summons the other Children of Amargosa and the full might of the Navy. It all comes to an explosive head on the peak of Aphrodite's most sacred mountain.
Royal Orders
Word Count:

170000
Summary: In the not so distant future…  Kiah Hasan, a young, talented computer scientist haunted by her war-torn past, is reaching for something just past the edge of theoretical possibility. Her best friend, physicist Nigel Evans, is obsessed with pushing the boundaries of space travel. And Captain Josh Walker? He's just out here for the adventure – and Kiah. Together with the crew of Trinity Station, they head toward the Kuiper Belt and disappear just as simmering political tension on Earth erupts into outright war. A hundred years later… Admiral Darren Winters leads a mission to the Kuiper Belt to find out what happened to Trinity Station. To his, and Earth's, surprise, not only have the Trinity Station scientists survived, but have reached levels of advanced technology due to the success of Dr. Hasan's AGI experiments. After shaky negotiations with Earth that ends with the birth of the new nation of Survey, Admiral Winters is offered a new position with the AI ship Musashi. His first mission is to figure out what happened to the youngest AI, Loki, whose first crew was killed in a tragic accident. With psychologist Dr. Alex Campos, they uncover a secret that could endanger the newly formed Survey nation and its AIs. Can Darren and Alex find Loki before it's too late?
Survey
Word Count:

13000
Summary: Poems written by Cyborgs in the future, melding sci-fi and poetry, human and machine. The Cyborg Anthology takes place in a future where there was a thriving world of Robots and Cyborgs living peacefully beside Humans, but a disaster destroyed all Robot and most Cyborg life. The book is organized like a typical anthology of literature, split into sections that include a biography of each poet and a sample of their poetry. It covers early Cyborg poetry, political, celebrity, and pop culture poets, and ends with the next generation of Cyborg poets. The narrative takes place in the time after a cataclysmic event, and the collection wrestles with this loss. Through the lives of the poets, the book chronicles the history of personhood for technological beings, their struggle for liberation, and demonstrates different ways a person can be Cyborg. The poems and biographies together tell the story of a complex and enthralling world-to-come, exploring topics that are important in the future, and also urgent right now. "With mordant wit and a playful satiric touch, these Cyborg poems showcase a dazzling range of poetic forms and ideas: imaginative and charmingly subversive. Move over Norton Anthology of Poetry, there's a new force in town, and they are a delight." —Renée Sarojini Saklikar, author of Listening to the Bees and Children of Air India "The premise of this collection alone is fabulous. The poems are potent and powerful. With echoes of Le Guin, Brunner and Monáe, Lindsay B-e's debut is layered and smart, provocative, and deeply satisfying. I was moved and fascinated. Speculative poetry at its best." —Hiromi Goto, author of Chorus of Mushrooms and Darkest Light
The Cyborg Anthology
Word Count: Information not available
Summary: The enemy is defeated. The gods strike a truce. And the Dharkan strike against the gods. Victory has cost both gods and mortals dearly. The veil between life and death in Niflheim is thinner than ever. Try as they might, the gods are powerless against the influence of Time, and their past mistakes threaten not only their future but their very existence. Now the fate of eternity rests in the unlikely alliance between the goddess of the soul and a soulless Dharkan, as they must work together to achieve peace between the living and the dead in Aegea. And although their goals may seem similar, the motivations behind them couldn't be more at odds with each other. Meanwhile, a greater enemy approaches. Or maybe it's already here...
The Dharkan
Word Count:

140000
Summary: Jack Kirby just wants peace. Deeply scarred from a failed mission and struggling with the loss of his lover, Jack takes a job  as a Religious Program Specialist on a remote PreCol station. There, he finds what he never expected: a family. Marsha, a complicated woman with a deep connection to the spiritual world. Jenny, a cheerful ensign with a dangerous past. Mark, driven to demolish the atavistic cult he was born into. Can Jack protect them all as they become entangled in an espionage game with galactic stakes?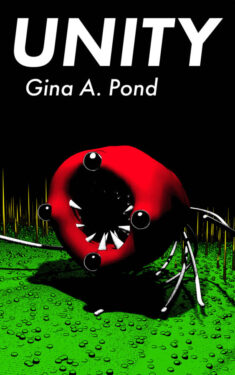 Unity