Word Count: Information not available
Summary: Eclectic, imaginative, and unexpected, Community of Magic Pens features forty genre-spanning flash and short stories--including fantasy, humor, science fiction, romance, historical fiction, satire, and mystery--bringing together a rich group of diverse voices from a wide range of backgrounds and intersections. Fountain pens, markers and ink, charcoals, spy pens, a braille writer, a printing press, virtual reality, and a supernatural pizza: whether revealing unspoken truths, fighting injustice, or finding friendship and love, our pens have power. Join us as a recent graduate of superhero school struggles to understand her gift, a disabled android interviews for a job, a queen's conscripted artist must pull reality from illustrations on parchment, and a grandmother's secret room is…better kept a secret. Tales of struggle and triumph, compassion and hope: Community of Magic Pens is a celebration of our shared story.
Community of Magic Pens
Word Count:
83000
Summary: Desperate for a cure, Amanda will trade anything. Even her supernatural echo power. Plagued by schizophrenia, Amanda often has trouble distinguishing her delusions from the insights of her supernatural echo power. When her case catches the interest of a Cordovan geneticist, she soon discovers there's a fine line between a patient and a test subject. Even worse, the treatment for her disease might also erase her power. With Amanda left vulnerable by her treatment, the crew is in a race to save both her and the other test subjects. But their lone ship is no match for the Cordovan's advanced technology.  Can Amanda use her power to save them before her consciousness is erased? Echo is the thrilling continuation of the New Dawn science fiction series. If you like complex characters, clashing cultures, and supernatural powers, you'll love this multi-realm space opera.
Echo
July 15, 2021
Word Count: Information not available
Summary: Elderly, unarmed, and extremely dangerous. Ajay Andersen was the best hacker the NSA had ever hired. He sank corporations, toppled governments, and broke cryptography. All of it. Retirement hasn't slowed him down one bit, thank you very much. When his estranged daughter shows up on his doorstep with his two granddaughters, Ajay will do anything to keep them safe. He'll hack biotech corporations and criminal enterprises alike. He'll brave the woods of Minnesota. Nobody after his girls will be safe, but the more he digs, the more he dredges up the shadows of his own dangerous past. He only needs to know one thing: What makes his granddaughters so darn dangerous?
Grandfather Anonymous
July 5, 2021
Word Count: Information not available
Summary: Retired, reclusive, and too smart to die. Hacker Ajay Andersen knows his retirement isn't always going to be sunshine and roses. He's committed to protecting those he loves, and sometimes that's not going to be easy. But things get complicated fast when he finds Silas Cardoso's body in his living room. An environmentalist entrepreneur threatens the very wilderness he once protected. Mercenaries hold information that could endanger Ajay's granddaughter Kylie. If he's going to make things right, Ajay will need to venture somewhere he never wants to go during the harsh Minnesota winter: Outside. Too old to race a snowmobile through a dense forest? Maybe. Too old to be a pain in the butt? Not this Grandfather.
Grandfather Ghost
February 7, 2022
Word Count:
101000
Summary:
When the cure for a deadly disease is stolen, two misfits are all that stands between greed and intergalactic tragedy.
Luka Foxe can't let anyone know about his secret mental abilities. Debilitated by their influence when faced with violence, the brilliant forensic investigator now only takes assignments involving theft. But when he has to hunt down a hijacked vaccine for a galaxy-wide pandemic, the tragic first clue is his best friend's brutal murder.
Nightshift guard Mairwen Morganthur knows she must keep a low profile. The product of illegal genetic alteration, she's a lethal weapon with no social graces. But when she's tasked to protect a detective with frightening intuition, she finds herself falling for him even though he could expose her.
Racing to recover the cure for a galaxy-wide pandemic, Luka is surprised by his developing feelings for the capable-but-mysterious guard. And Mairwen may have to risk everything by revealing her identity, with deadly mercenaries hot on their tail.
Can the unlikely pair survive an interplanetary conspiracy long enough to save lives and find love?
Overload Flux is the first novel in the sweeping Central Galactic Concordance space opera series. If you like haunted characters, compelling mysteries, and interstellar romance, then you'll enjoy Carol Van Natta's epic tale.
Overload Flux
October 18, 2014
Word Count:
83000
Summary: Seeing the future is not the same as saving it. When the first premonition hits, Amanda thinks it's a hallucination. She doesn't have psychic power; she echoes the powers of others. No one on the ship has that power, but the Confluence stones they acquired on Terrana seems to have extended her range. Her sudden ability to see the future has done little to help her crew prepare. Led off course, their ship finds Nola, a peaceful farming town celebrating their annual Festival. The moment she enters the city, Amanda feels more echoes of power than she can control. Overwhelmed by both the Festival and the spirit power in the city, Amanda begins a hunt for a powerful human-spirit half-breed that can help her, and finds herself at the center of the city's battle to purge spirit-kind from their midst. Can Amanda's borrowed powers give the crew the edge the need? Find out in this epic sci-fi thriller, because knowing the future is only half the battle.
Premonition
December 5, 2020
Word Count:
111,000
Summary:
New York: two years after the Third World War. Humanity is rebuilding its cities brick by brick; the damage done to the people, however, is a lot harder to repair.
Dan Hardacre is one of those people. An aspiring stage actor and experienced draft-dodger, Dan struggles to find his place within the Utopic rebuild of New York City. When he's not caught up with the duties of work, Dan lives a quiet life in mourning for his mother, Dyani, who went missing when he was a teenager.
One night, Dan experiences a vivid, terrifying nightmare that puts him right on the front lines of the war for which he dodged the draft; it ends with him facing Death itself in the form of a metallic, faceless humanoid creature that calls itself the Valkyrie. To investigate the reason behind his haunting experience, Dan seeks out a meeting with his estranged father, who reveals the startling truth about Dan's dream: it wasn't a dream.
With this newfound knowledge and the powers it brings, Dan makes it his mission to return to the scene of his nightmare. However, he soon comes to know that confronting the Valkyrie not only endangers him but the war-withstanding world he leaves behind.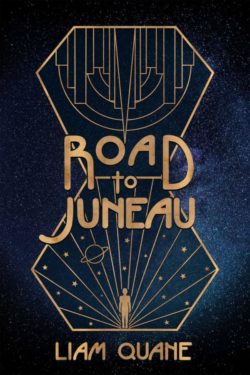 ROAD TO JUNEAU
May 18, 2021
Word Count:
85000
Summary: When Tabitha first whispered to the ship, she never expected it to answer. A pilot yearning for adventure, Tabitha proudly flies missions scavenging supplies for her space-borne city. But when the Navicorp sends her to scavenge a derelict ship, it triggers a psychic link to the ship and the alien enemy that drove her people from their home planet. The unexpected connection puts Tabitha and her people in the crosshairs of the telepathic invaders who are determined to exterminate the human race. Her rapidly evolving ability to communicate with the alien ship unlocks a chain of secrets about her past that shakes her identity. The Captain's eagerness to push her into danger challenges her loyalty. Can she use her new ability to save them? Will they turn on her and leave her at the mercy of the aliens? If you love technopaths, psychics, AI friends, and thrilling heroics, you'll love this military sci-fi adventure. Pick up this page-turner today.
Ship Whisperer
October 14, 2021
Word Count:
99,800
Summary: The Storm has arrived. For Davra Andraste, redemption comes as she accompanies the resistance commander to confront the human warlord fighting against both sides. And the newest overlord on Amargosa. For an ambitious politician, control of human evolution is almost in his grasp. Only a very old foe threatens to undo his plans. For Laral Farad, it is his family's last hope to tame the "rogue colony" called Cyal, which humans call Amargosa. For JT Austin, it's a now or never moment to prove himself as he trains to liberate his adopted homeworld. For Amargosa, it's a chance to end a year-long nightmare. The Amargosa Trilogy comes to a thrilling conclusion!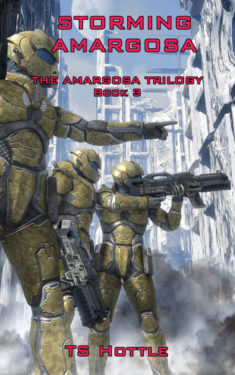 Storming Amargosa (The Amargosa Trilogy Book 3)
September 13, 2020
Word Count:
83,000
Summary: Life on Amargosa was supposed to be quiet for Cui Yun, better known by her call sign Suicide. But when a baby is dropped on her doorstep, the mother's disappearance leads her across the galaxy to a world of Neanderthals, a colony devoted to Marilyn Monroe as a goddess, and a planet still in a post-apocalypse and rife with monster plants. She and her protege will find themselves above the galactic plain facing down an enemy that wants control of human evolution itself. Suicide Run marks the return of one of TS Hottle's most popular characters. Find out where she came from, how she became a pilot, and why her call sign is 'Suicide".
Suicide Run
August 13, 2021
Word Count:
38,700
Summary: Douglas Best investigates the mysterious Juno, a bizarre biotech startup that once burrowed its way into the Compact's biggest corporation and was present on three colonies that fell to a previously unknown enemy. Together with his wife, Carolyn, and an unexpected ally in a high cleric of the Marilynist Temple, they follow a thread that leads from Antarctica to the Neanderthal homeworld of Gohem to the industrial hellscape of Bromdar. As people die around them, they learn Juno is not a company at all. It's a conspiracy to hijack the future of human evolution itself.
The Amortals (Gathering Storm Arc 1)
May 6, 2020
Word Count:
13000
Summary: Poems written by Cyborgs in the future, melding sci-fi and poetry, human and machine. The Cyborg Anthology takes place in a future where there was a thriving world of Robots and Cyborgs living peacefully beside Humans, but a disaster destroyed all Robot and most Cyborg life. The book is organized like a typical anthology of literature, split into sections that include a biography of each poet and a sample of their poetry. It covers early Cyborg poetry, political, celebrity, and pop culture poets, and ends with the next generation of Cyborg poets. The narrative takes place in the time after a cataclysmic event, and the collection wrestles with this loss. Through the lives of the poets, the book chronicles the history of personhood for technological beings, their struggle for liberation, and demonstrates different ways a person can be Cyborg. The poems and biographies together tell the story of a complex and enthralling world-to-come, exploring topics that are important in the future, and also urgent right now. "With mordant wit and a playful satiric touch, these Cyborg poems showcase a dazzling range of poetic forms and ideas: imaginative and charmingly subversive. Move over Norton Anthology of Poetry, there's a new force in town, and they are a delight." —Renée Sarojini Saklikar, author of Listening to the Bees and Children of Air India "The premise of this collection alone is fabulous. The poems are potent and powerful. With echoes of Le Guin, Brunner and Monáe, Lindsay B-e's debut is layered and smart, provocative, and deeply satisfying. I was moved and fascinated. Speculative poetry at its best." —Hiromi Goto, author of Chorus of Mushrooms and Darkest Light
The Cyborg Anthology
October 1, 2020
Word Count:
144000
Summary: Risa Black will decide the fate of an entire planet. After all, an angel told her so. Orphaned young, she grows up among the resistance, fighting to give the people of Mars command of their own destiny. Two governments from Earth vie for control of the Red Planet. She wants them gone, regardless of how many explosives it takes. To the outside world, she's an emotionless, broken marionette. Inside, her father's fiery end haunts her every waking moment. She never cared for destiny or politics, until the angel Raziel focused her anger. Both friend and foe alike believe her grip on sanity tenuous, but she knows he is real, and pities those who will never feel his divine presence. Whenever her adrenaline wears off, guilt at what her bombs did cuts deep, as does the apathy of the citizens she fights to liberate. The pain worsens after unexpected love cracks open her armored heart, causing her to question the role she plays in the bloody conflict. Torn between duty and desire, she learns change never comes without loss. Even to the Hand of Raziel.
The Hand of Raziel
August 24, 2018
Word Count:
112000
Summary: The first battles against Artemis ended with both sides bloodied. Six months have passed, six months of meaningless negotiations but no hostilities. What is Artemis up to now? To a degree, it doesn't matter. Cass and Ken can't stop building, improving, tinkering:
A new, larger, more capable habitat, a true city in space.
An improved starship
A true space fighter, not just a shuttle with popguns
And they're expanding their reach onto Luna itself, trying to discover and disrupt from the inside. But a secret is about to emerge, a secret so dark and devastating even Kendra doesn't know she's been carrying it her entire life. One which could smash their plans without a shot being fired.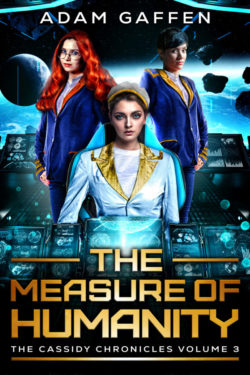 The Measure of Humanity
December 20, 2020