Word Count:

130,000
Summary: Under the dirty streets of Ismae's greatest port city, an old nightmare waits for Sylandair and Aliara, one that is stealing Dockhaven's children, one only they can end. When the pair escaped their owner and abuser years ago, they left him behind in a ball of blue flame, but as more children disappear near the city's desalinization plant, their suspicions turn to the predator they believed dead. Accompanied by their less-than-reliable puka scout Schmalch, they delve into the forgotten depths of the patchwork city. Their search will lead to a twisting world of corruption and experimentation, uncover horrors greater than any they imagined, and summon memories they never wanted to exhume. A dark science fantasy action-adventure horror, Things They Buried is the first full-length novel of Ismae, a world where science sometimes appears as magic and history as myth, where monsters make themselves and heroes are wholly unintentional. This novel contains adult themes and violence.
Named to Kirkus Reviews' Best Books of 2019
Imadjinn Awards Best Fantasy Novel, Imaginarium Con 2020
Independent Book Publishers Awards (IPPY) Gold Medalist (Fantasy)
Things They Buried
Word Count:

284
Summary: Dalí Tamareia has the terrorist Skadi in their sights – but bringing her in may cost them everything. Dalí's role as an undercover operative is compromised, putting a target on their back and threatening the close-knit team aboard Thunder Child. A new lead on Miriam Skadi's activities forces them back to Luna, where they must confront everything they tried to run from…including their changed relationship with Rion Sumner, who insists on backing up Dalí for this investigation. But Dalí is not the only one searching for Skadi. An alien presence hunts the terrorist as well, taking over Sumner's body to ensure Dalí's cooperation. With their team on the other side of the solar system Dalí must depend on this questionable ally to complete the mission, which takes a deadly turn when an old nemesis resurfaces. If there is any chance for a future with Sumner and their chosen family, Dalí must exorcise the demons haunting them, or they will burn in the heart of a star.
Third Front
Word Count:

36000
Summary:
"Wanna know what sucks most about an apocalypse? You don't get to pick which kind you get!"
Surviving a worldwide plague can lead to unlikely alliances, especially in Hanning County.
It's hard enough for Ashley Korrs keep the tribe of young survivors alive and together, but the pressure is on to learn all she can from their unlikely sage, Toby Cracken, the handyman, before he succumbs to his mental decline. When Toby is snatched by a violent gang, Ashley must consider cozying up with old adversaries to rescue him. Adversaries like the notorious MacKenzie Tanner—a girl as manageable as a wolverine stuck in a water bucket with the lid on—and her twin outlaw boyfriends who may be the chaos needed to free Toby... if Ashley can keep the whole thing from going off the rails.
Dirty secrets are exposed as the truth comes to light in this story of small town reputations, rivalries, and survival.
"Rich with pulpy apocalyptic dysfunction, 'gritty' is not a raw enough description—put on your grown-up pants before taking this journey."
Reader Advisory: This novella contains violence, explicit language, graphic sexual content, and gritty, adult situations; kinda like life.
This'n Apocalypse Or Not?
Word Count: Information not available
Summary: In the Hybrid Nation, the only thing worse than showing weakness is being born a little too human. Jode is a throwback, given up by his parents and raised in an institute that was never meant to serve his needs. All he wants is to get free and find his mother, and when Rowla Arl shows up to study the children in the facility, he sees his chance. Jode tries to convince the wolf to help him, but Rowla has her own agenda. And her own secrets. The kid's atypical blood might hold the answers to her genetic problems, too. But if she wants to unlock the kid's DNA, Rowla's going to have to convince him to trust her, to drop everything, and to take a chance so big it could shake the whole Hybrid Nation. They're going to have to work together to keep Jode out of enemy hands, to keep his DNA away from a psychotic monkey, and to keep the biggest secret in Hybrid Nation history from destroying them both.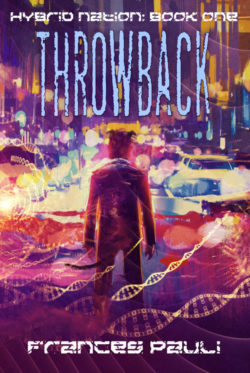 Throwback
Word Count:

55000
Summary: With great burrito comes great responsibility. Pete's food truck at the University of New Mexico isn't going well. Seniors dare freshman to eat his burritos. Frats use them for pledges and pranks. Rumors fly around campus that they are chupacabra ground up with rat. Pete needs a change, and it comes in the form of a physics experiment gone awry. After being sucked into the past, he stumbles across an ingredient that goes great in one of his creations. First, there was Marty McFly. Then there was Bill and Ted. And now Pete--
Time Burrito
Word Count:

39000
Summary: How many ways could civilisation, mankind or even the whole world come to an end? Is time travel something that can be controlled? But what if time travel controls you? Here are eighteen short stories from the author of Time Portals of Norwich and Splinters that seek to explore both themes, some with humour, others nightmarishly horrifying. Some stories even manage to combine both themes.
Time Enough for the World to End
Word Count:

89000
Summary: Cassie's life has never been simple. Orphaned at nine and raised by her grandfather, the past never left her alone. By the time she is seventeen she sees ghosts, hears disembodied voices, and events from history have a habit of rising up to haunt her. On a visit to the Castle Mall shopping centre in Norwich (UK), the past crashes on top of her. Cassie finds herself transported back to the early 1990s in the company of a woman she's never met. And the woman not only looks familiar but claims she's encountered Cassie many times before.
Time Portals of Norwich
Word Count:

99600
Summary: After her adventures in Time Portals of Norwich, Cassie Fox makes a promise to both her grandfather and her best friend, Georgia, never to time travel again. So, how did she end up in the deep past with her recent memories wiped, and her time travelling abilities gone? Is she being punished? Did she press the big red button? Will she ever see her grandfather and friends again? And what has Robert Kett and his rebellion got to do with it all? Of more immediate concern, though, are the pains in her stomach.
Time's Revenge
Word Count:

80000
Summary: History is a fragile thing. Haakon's job with Timekeepers is to prevent Deviations that change the past and devastate the future. But saving humanity comes at a high cost, especially now when destiny forces him to choose between the man he loves and the future he's sworn to protect. Haakon arrives in 1066 Yorkshire at the start of a Viking invasion, just weeks prior to the Battle of Hastings. While there, he discovers evidence of twenty-first century meddling in history. He flees attackers and lands in a serene, twenty-first century Iowa college campus, where Viking marauders pursue him. When an arrow strikes him down, a passing physics student, Nathan, helps him escape. This begins an adventure--and romance--that ranges from the Pleistocene, to the 1962 Missile Crisis, to the drizzly streets of 1933 London. Throughout, escalating Deviations threaten Reality, and space-time hangs by a thread. Worse, they come to realize that Haakon and Nathan are from divergent futures with a shared past. If Haakon does his duty, then he knows Nathan's future, along with Nathan himself, will vanish, having never been. Haakon's choice is between destroying his own future or his one true love. Nathan has other ideas, drawn from the depths of quantum mysteries, but can he convince Haakon?
Timekeepers
Word Count:

99,000
Summary: Oil reserves depleted. Society collapsed. A few places cling to modern technology. For everywhere else, there are the Tinkers. In southern Ontario, Novo Gaia uses sustainable energy to support its citizens in comfort. From there, Novo Gaia sends Doctors of Applied General Technology, tinkers, into the Dark Lands to install everything from solar stills to televisions—and make a profit. Brad Cooper is a tinker on his route in Guelph when he finds himself at the epicentre of a plague outbreak. Stranded without support in a tenuously-held quarantine zone, he must use his limited medical training in a desperate search for a treatment against an insidious relic from an age of excess. Meanwhile, fuelled by panic, other townspeople caught within the quarantine zone conspire to sabotage relief efforts. Distrusted by the people he's trying to help, hampered by political rivals, under-supplied, over-worked, and with his own risk of infection increasing, Brad seems to be fighting a losing battle as the casualties mount...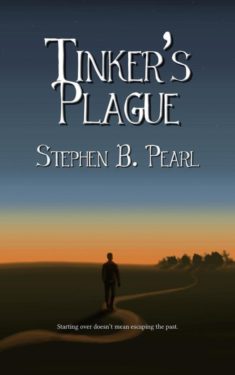 Tinker's Plague
Word Count:

115,674
Summary: Oil reserves depleted. Society collapsed. A few places cling to modern technology. For everywhere else, there are the Tinkers. In southern Ontario, Novo Gaia uses sustainable energy to support its citizens in comfort. From there, Novo Gaia sends Doctors of Applied General Technology, tinkers, into the Dark Lands to install everything from solar stills to televisions—and make a profit. After twenty years as an E.R. nurse, Tabitha "Tabby" Drivensky's failing marriage sent her into the tinker program and the open waters of the Great Lakes. While fulfilling her Coast Guard service obligation, she rescues a boy named Andy Camble from a sinking ship. Andy turns out to have vital information on Packer, a pirate captain who has been plaguing the Great Lakes for generations in an ancient, nuclear-powered submarine. Using Andy's intelligence, Tabby sets out ostensibly to scout out a new aquatic tinker route along Lake Huron but secretly assigned by Novo Gaia to find and put an end to Packer once and for all.
Tinker's Sea
Word Count:

81000
Summary: A hijacked spaceship... kidnapped colonists... their destiny changed forever Award-winning first book of the Titan trilogy follows a family whose torn loyalties threaten doom on a strange world that real-life science has only begun to explore. What if you awoke on a shadowy moon where water freezes as hard as granite and lakes fill with liquid methane? On Titan, a bizarre cult seeks utopia, but what will be different on this distant world? Real readers say: Dynamic story - Engaging characters - Feel like you were there - Devoured this book Discover a riveting mix of science and society on Saturn's deadly frozen moon. If you love gripping science fiction with twists and turns, you won't want to put it down.kk
Titan
Word Count: Information not available
Summary: Forty years after landing on Lida, the colony still isn't finished. Agetha has survived many more battles than she anticipated when she first landed on her new home planet. She's older and wiser, has gained family and lost loved ones. And yet her reward for four decades of service is to be pushed to the colony's outer edges with the other aging Generationals. But that was only the beginning of her adventure. The biomass has spent years studying the intruders who landed on its surface, carving a new home from its very essence. Never satisfied in its attempt to communicate with this new and invasive species, finally it has found a way to express its intentions. The colonists may never be the same. Discover the fate of the colony in the second book of The Biomass Conflux trilogy!
To a Fungus Unknown
Word Count:

93765
Summary: Home, a place where we belong and are safe and loved. Home, the house in which we grew up, a neighborhood, a culture, even a country. Home is a state of mind, it is a place of the heart, and in the heart. Finding home, coming home, and bringing home the one we love is a journey, a journey that can be a dangerous adventure. For the lovers in these stories, adventures can include quests and fighting dragons and demons, past and present, physical as well as mental and emotional. Rocket launchers need to be dodged, the Wild Hunt needs to be outrun. For some of the lovers here, home has been lost, or they have been forced to leave, as is too common for LGBT+ youth. In this collection queer positive speculative fiction stories, explore the idea of what and where home is in the lives of these lovers. Will they survive their quests, defeat their monsters? Will they find a place to call home?  
To Bring Him Home and Other Tales
Word Count:

34985
Summary: By the year 2060, mankind is on the verge of bringing Terra to her knees. The population has exploded, and land for cattle and crops has been sacrificed for housing and employment for the more than fifteen billion souls now living on the planet. Synthetic food is created in plants, and the remaining animals are kept in zoos and game preserves of the wealthy. In an effort to insure the survival of mankind, spaceships are sent to explore Terra's nearest neighbors, Mars and Venus, but will it be too little too late? The four men who took the MRM to Mars have high hopes, until on their return home they travel through a magnetic field that crashes them… somewhere. As they explore the unknown world with its dangers, Doc, Nick, Hank, and Ed will struggle to come to terms with their new reality and find their own paths to happiness.
To Love Through Space and Time
Word Count:

61424
Summary: Todd Ruger is a sentry, a very good one, some might say the best. He was eleven when he and Nick were bound as master and slave. Todd spent the years Nick lived in the slave village waiting for the day Nick could leave and they'd be together, bit by bit building a life for both of them. He took his role of master seriously. It was his responsibility to provide for Nick, protect him and along the way he learned to love him. Todd loved Nick deeply and completely. They were more than a pair of sentries. Todd and Nick were friends, lovers, mates. Eighteen months ago, Nick left the small village where he'd spent his entire life being raised and trained as a slave. Blessed with a unique skill set, Nick became a sentry. He took his place beside his master, Todd Ruger, defending society against the many paranormal threats that abound. They became more than master and slave, they became mates. Nick had found a home with Todd and together they became a family. Eventually, Nick's special abilities and skills attract the attention of the second most powerful man in New Colorado Protectorate's government, Vice Chancellor Clarke. Or, maybe certain people knew of Nick all along and just now had cause to use him. He believes Nick might be the answer to explaining Chancellor Shaffer's sudden, unusual behavior. Forced to go undercover at the Chancellor's Estate, Todd and Nick discover an ancient and deadly creature preying on residents of the estate. The same creature that is radically effecting Chancellor Shaffer. A creature only Nick can see in its true form. It hunts using specialized skills and has Todd and Nick in its crosshairs. Even if they defeat the creature and survive, they still face the possibility of being torn from each other when their lives are thrown into chaos by the thing they're hunting.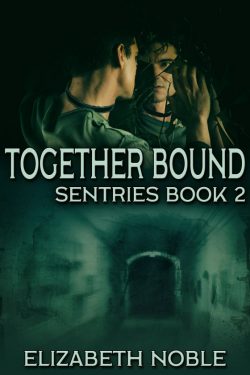 Together Bound
Word Count: Information not available
Summary: Bioinformatics whiz Victor Eastmore at long last gains control over his frightening mirror resonance syndrome, but he still believes his grandfather was murdered. Victor's best hope for finding justice lies in New Venice, a tourist town in the Louisiana Territories where his family's company is exploring new treatment options for so-called "Broken Mirrors" and the stim addicts who experience similar symptoms–blank outs, synesthesia, and euphoria. Only by confronting Samuel Miller, the MRS "patient zero" who was responsible for the Carmichael Massacre, can Victor learn the truth. To do that, Samuel must first be weaned off Personil, the drug that keeps his mirror resonance syndrome in check. Can Victor learn the data egg's darkest secrets without unleashing a violent madman? Meanwhile, a cult dedicated to the sanctity and purity of human life disrupts New Venice with protests and vandalism. When they take an interest in stopping BioScan from medicating MRS patients, including Samuel Miller, Victor finds himself with unlikely allies and divided loyalties. As pressure builds for the nations of the American Union to pass new legislation to control Broken Mirrors, Victor must become an effective advocate for people with MRS or risk being institutionalized along with them. A fast-paced sequel to Broken Mirror, Tortured Echoes continues the sci-fi detective saga of Resonant Earth. In this installment, fans of Broken Mirror will finally get answers to their questions: Why was Jefferson Eastmore killed? How did it happen? Who was responsible? Revisit the world of self-driving cars, stunsticks, brainhackers, and herbalism with Victor, Elena, Ozie, Tosh, and Karine, and several new figures that might help Victor chart a new course for his future, or condemn him to madness.
Tortured Echoes
Word Count:

96000
Summary: Fourteen Ways to Change the Planet Income inequality is worse than it was in the Roaring Twenties. Corporations are moving fast and breaking things, and the social contract seems to be falling apart, aided by social media disruption and division on steroids. There has to be a better way. We asked fourteen sci-fi writers to come up with innovative ways the world could work better. Universal basic income, smaller communities, AI voting, and learning to live in harmony with nature are just a few of the ideas explored inside these pages. So buckle up and settle in for a look at the world of the future. The world's not going to transform itself.
Transform the World
Word Count:

8000
Summary: Tucker has spent his entire life as an interstellar trash man. But ever since his mother died, he's been alone, and certainly lonely. So when he discovers the derelict ship he scooped up has an occupant—a beautiful young man named Ronan—Tucker is thrilled. Ronan is royalty and running from his tyrannical mother, determined to keep a powerful object out of her hands. But when he strikes a deal with the adorable Tucker, he wonders if it's time to stop running. Also Available in "Guardians of a Giant's Treasure" anthology
Trash and Treasures
Word Count:

41000
Summary: NO ONE FIGHTS DIRTIER THAN AN ARCHAEOLOGIST ​Foul-mouthed Dr. Nel Bently has every archaeologist's dream: a pristine site, new crew, and a private patron to fund her passion for dirt. With her trowel barely into the dry earth of Chile's coast, however, Nel learns their work is being sabotaged. The local activists Los Pobladores take issue with anyone brave or stubborn enough to set boots on their land. Nel refuses to give up the site that will make her career to vandals and looters, but she must protect both her friends and her life's work. With a benefactor playing chess with their lives, radiocarbon dates that are downright supernatural, and angry militants who may actually have a point, Nel is ready to fight dirty.
Travelers