Word Count:
50,139
Summary:
They have to find him…but how?
A former member of an elite military special forces unit, Leo Bailey can handle anything life throws at him. Except maybe approaching a certain gorgeous, purple mohawk-wearing, heavily pierced artist. Not without his three eye-rolling wingmen along to push him in the right direction.
One look at the mouthwateringly muscled, military buzzcut-sporting man with the endearing blush, and Vincent Noland is in love. Or at least in lust. Love comes later. Then marriage…and sweet, adorable Oscar.
Life is perfect—the stuff of fairy tale happily ever afters—except for Arthur Fletcher, whose unsettling reactions to them threaten to upset the happy balance of their lives. But it isn't Arthur who throws their lives into turmoil.
A freak event causes Oscar to go missing and leaves both men frantic to rescue their son. As they piece together the clues, they discover that Oscar isn't somewhere. He's somewhen. And Arthur Fletcher holds the key—or rather the glass beads—to their one chance of finding Oscar.
Will Leo's training, Vinnie's determination, and Arthur's knowledge help them rescue Oscar, or is the little boy doomed to spend the rest of his life at the mercy of a primitive civilization? Could there be a third possibility?
Keywords: time travel, lost child, happy ending, novel, ebook, print, paperback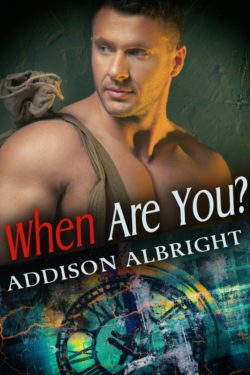 When Are You?
March 7, 2020
Word Count:
80000
Summary: KurtisP385XL47Ruth: Game Changer. Prodigal daughter. Spy. The Cyber entities control a peaceful but static galaxy–until they detect unsanctioned developments on the low-tech planet Poindros. They force rebellious Ruth Kurtis to leave the bright lights of Casino to return to her fundamentalist Poindran homeworld as their secret agent to investigate possible Changers. For reluctant Agent Kurtis, the Cybers' threat of the memory-erasing Steps of Healing would be less dangerous than facing the repression and simmering angers she escaped as a teenager. But Ruth won't run from this fight. The Cybers have calculated all the odds. Except they've just unleashed a wild card. "Stamey puts feeling into this tale of the Prodigal Daughter." (Publishers Weekly)
Wild Card Run
November 1, 2015
Word Count: Information not available
Summary: Mobsters, Monsters, and Magic. It's 1929 at the height of Prohibition in Plymouth, Massachusetts. Bill Chiavo and his twin sister Millie are learning Wisdom, the family magic. Wise families should take care of their own but when the stock market crashes, their Irish Uncle Finn hoards his visions. He reaps the rewards and the Chiavos head to the poor house. Now the twins are on the outs while their uncle's got the money, the power, and the connections to take over. Bill and Millie need allies and the mob-run Supper Club just might have the muscle they need. Millie wants them to skip town but Bill refuses to leave his family or friends at Finn's mercy. The twins will need to wise up if they are to thwart their uncle's conquest. But how do you defy a man who sees the future? The Wise and crime families clash in this small town for big stakes. But who will claim the prize?
Wiser Guys
Word Count:
20000
Summary: Zeke is a hermit in his late forties who lives a quiet life in a small cabin in the Western Montana mountains, a few miles outside of Thompson Falls. He's gotten used to being alone since the end of the world, and has everything he needs. Everything but someone to talk to. Nathan is a younger man on a cross-country trek, searching the country for someone... anyone still alive. Saddled with a ghost from his old life and a case of OCD, he stumbles upon Thompson Falls and a pack of rabid dogs. Rescued by Zeke, he has to figure out how to be human again. And with Christmas just a week away, both men have to figure out if there's something left to be hopeful for, and if they might have a future together.
Wonderland
December 2, 2020
Word Count:
113,100
Summary: Markus a wizard from a parallel Earth travels to our world in a bid to stop a blight that is destroying his own. Here he meets Alcina, a Wiccan Priestess, who is in a custody battle over her son, Tim, against Carl, the boy's sire, who abandoned her when she was pregnant eight years before. Carl has the backing of a dangerous religious cult in his bid to take Tim. Together Markus and Alcina face the forces of intolerance and hate to save a child and a world and thaw two warm harts too long trapped in the ice of betrayal. Meanwhile, Markus' best friend and his ex-fiancée, who is now a vampire, battle the authorities who are likely to hang Markus upon his return because he has done research into forbidden magics.
Worlds Apart
August 4, 2013
Word Count:
81,000
Summary: In the last surviving cities of a ruined world, the concept of "woman" has been forgotten to history. Those unfortunate enough to lack a Y chromosome live as second-class citizens in a world dominated by mascs. Ember is Y negative. He is scorned, bullied, abused by every masc he encounters, at work and at the gym. Not even his Y negative roommate cuts him any slack. He wants so desperately to be accepted as a masc that he'd rather buy black market testosterone than food. Something's gotta give—he needs a change in his life, but has no idea how to find it. Jess is a masc with a passion for studying the recovery of their devastated world. His boyfriend is pressuring him for more commitment, and his father expects him to take over the family business. He can't wait to get away from civilization for his seasonal research out in the wild. When Jess offers Ember a job, their lives collide in the isolated wasteland, and their initial attraction turns into a relationship that horrifies those around them. Soon their struggle to stay together and to be who they are turns into a fight for their lives.
Y Negative
June 8, 2019
Word Count:
84500
Summary: It's just another day in the Transdimensional Authority, with teams of investigators doing what they do best (well, after breakdancing) – investigating. Bob Blunt is en route through a Dimensional Portal™ to Earth prime 4-7-5-0-0-7 dash iota to investigate cars exhibiting most uncarlike behaviours – ribbit! (Breaking all of the Transdimensional Authority rules…number 127, he is without his partner, 'Breakfront' Balboa, who is on leave after an unfortunate incident with the Vulvar Ambassador to Earth Prime and a staple gun). Beau Beaumont and Biff Buckley have already arrived on Earth Prime 5-9-2-7-7-1 dash theta to find themselves surrounded by machines whose only intention is to serve human masters – even if it kills them! Recently recruited TA investigator Noomi Rapier, with her partner 'Crash' Chumley, is on Earth Prime 6-4-7-5-0-6 dash theta where all matter at all levels of organisation (from sub-atomic particles to the universe itself) has become conscious. Meanwhile Barack Bowens and Blabber Begbie, taking the Dimensional DeLorean™ to Earth prime 4-6-3-0-2-9 dash omicron, face multiple apocalypses (already in progress), and Bertrand Blailock and Bao Bai-Leung are having trouble travelling to their intended destination: the home of the digital gods. At first, they all appear to be looking for unauthorised and probably counterfeit Home Universe Generator™s, but could what's really happening be more sinister? (Yes. Yes, it could. We wouldn't want to leave you in suspense…)
You Can't Kill the Multiverse (But You Can Mess With its Head)
January 9, 2014
Word Count:
29000
Summary: Sofia Cancino is tired of her mundane life, her artificial environment and her large, boisterous family descending every holiday season. She's promised herself this year will be different and books a stay on the exclusive—and expensive--holiday-themed resort, Yule Planet. She looks forward to being pampered while reconnecting with Old Earth traditions steeped in the magic and mysticism of nature. Everything will be perfect and she'll leave as a more authentic human, better connected to her roots. Naturally, things go horribly wrong. Sofia's landing pod goes off course and instead of stepping out on the landing pad at the resort, she finds herself in the snow-swept perpetual winter of the planet's hinterlands. If that wasn't bad enough, she's "rescued" by a band of criminals on work release who run deliveries to the resort from far-flung shuttle delivery sites. They refuse to take her, a paying customer, to the resort and insist on dragging her along on their parcel run. Riding giant monsters. In frigid weather. Not to mention, Marta, who handles the monsters, obviously hates her. If Sofia survives her vacation, she's definitely yelling at someone's supervisor until she gets a refund.
Yule Planet
December 22, 2018
Word Count: Information not available
Summary: Grounded after a rescue attempt in Earth orbit goes bad, Commander Martin Atkins of the Confederation Navy is approached by the Interscission Project, a consortium of civilian corporations on the verge of perfecting the technology to travel to another star. Despite his misgivings, the chance to get back in the pilot's seat is too much to pass up, and he convinces his best friend and crewmate, Charles Davenport, to leave the military temporarily and join him as part of the crew of the Zenith, humanity's first starship. Edward Harlen is a brilliant young engineer, and a key player in the construction of the Zenith to take advantage of the untested technology of foldspace drive. But Edward has his own agenda in joining the project, and a bitterly personal score to settle with his boss, Trevor Sutton, a vendetta of which Trevor is entirely ignorant. But when Edward's sister Stella enters the picture and manages to secure a position on the project, all of Edward's careful plotting is upset, and she might spell the downfall not only of his plans for revenge, but of the entire Zenith mission. The spark of attraction between Edward and Martin is a complication that Edward can't afford, but of which he can't let go. For Edward knows the secret at the heart of the Interscission Project, the hidden potential of the technology that in the wrong hands could become the ultimate assassin's weapon: the ability to rewrite history, not just once, but many times. As an unseen enemy moves to destroy them, and the body count multiplies in their wake, Martin and Edward must choose whether they will allow the possibility of love to challenge their destinies, or will they instead take up arms in a war to control the most ancient and terrible power in the universe. Time, itself.
Zenith
March 10, 2014
Word Count:
78000
Summary: She's lost her ship, lost her job, lost her reputation, and is on the run from the law. Jez is a damn good pilot, and she's always worked alone. Until she got picked up for smuggling, that is. Now she's an ex-con and ex-employed, and there are plenty of people with old scores to settle. So when a mysterious stranger in a battered pilot's coat comes to her with an offer that sounds too good to be true, she reluctantly agrees to listen. All she has to do is fly one little job. Four ex-convicts. One charismatic mastermind. And the most dangerous heist the System has ever seen. Firefly meets Ocean's Eleven in R.M. Olson's fast-paced, kick-ass, wickedly fun space opera series, The Ungovernable. Grab a copy and join the crew.
Zero Day Threat
May 15, 2020
Word Count: Information not available
Summary: The resurrection of one world will mean the destruction of another. The homeworld of the alien Noigel has been annihilated. Their existence as a species is on a razor's edge. But they have found a replacement: Earth. But it must be changed to suit their needs. If they succeed, all of humanity will perish. When an alien secret agent is killed, his technology and mission are given to Hina Takamachi. The Japanese schoolgirl discovers the alien's battle suit gives her incredible powers, just like the anime heroines she admired as a kid. The battle suit's artificial intelligence, whom Hina names Voice, informs her that only she can save the world from the Noigel.With Voice training and guiding her, Hina must overcome her own self-doubts and find the courage to stop the Noigel's plan. For one world to win, the other must lose.
Zero Sum Game
September 2, 2022