Word Count:
67000
Summary: In the interstellar kingdom of Valoris, everyone knows the royal family is watching. They can be anyone and anywhere with their shapeshifting abilities—they are Truthspoken and to be feared. Of course, that doesn't stop the high houses from trying to take them down by any means they can. Arianna is the perfect Truthspoken Heir: beautiful, intelligent, and a master of her shapeshifting craft, determined to one day rule with the same control as her father. Her dreams come crashing down, though, when she's attacked by a rogue Green Magicker at her betrothal to a rival high house prince, when it's known that magickers can't do violence. Was it treachery, was it personal, or was it something else? Arianna has been slowly getting ill for weeks, and Truthspoken don't get sick. Dressa is the second Truthspoken heir and would like to stay that way, thank you very much. She's the glittering socialite of her father's court, more loved than feared. But when her older sister falls ill and is secretly sent away from court, there's still the matter of a much needed marriage alliance with a rival high house—and an absolutely gorgeous prince, who her sister wasn't keen on marrying anyway. When her father orders her to take her sister's place until she returns—her name, her appearance, everything—can Dressa carry on the act without falling for her sister's intended bride? Paranoia around Green Magickers is growing, noble plots are closing in, and in deep space, the only aliens humans have met are showing signs of not being pacifists after all. Can the Truthspoken hold their kingdom against the coming storm when it's already crumbling from within? The Truthspoken Heir collects the first season of The Stars and Green Magics, an epic space fantasy serial set in a diverse, queernorm universe with shapeshifting royals, glittering court intrigue, and space magic! This book has main characters who are queer, nonbinary, trans, agender, genderfluid, ace and/or aro, lesbian, fat, POC, disabled, ND, and generally awesome. (Not all rep is stated, some is implied.) Barring the occasional burst of strong language, this book is PG-13.
The Truthspoken Heir
SALE
July 26, 2022
Word Count:
70000
Summary: Jacqui faces her biggest mystery yet - and her greatest fear. A drive-by shooting leaves Jacqueline Spadros with little remaining support for the life she's built apart from her estranged husband Tony. As evidence grows that the Hart Family is behind the attacks, which up to now have been laid on the doorstep of the notorious Red Dog Gang, Tony brings formal charges against the Harts before the Commission. Jacqui wants to stop the Red Dog Gang and learn the truth about Charles Hart's obsession with her. But the truth is stranger than she ever imagined. And what she learns changes everything. This is chapter 7 of a 13-part future steampunk noir series. Please begin with The Jacq of Spades and read the books in order.
The Two of Hearts
June 1, 2021
Word Count: Information not available
Summary: The fallout from Derrick's union with Rhaegar and Blake's aid in his son's elopement has been intense, to say the least. After a blistering brawl between Blake and Davos, Davos leaves Blake, because he isn't ready to forgive him, and most shockingly of all, he says he isn't sure he even wants to. Blake is frightened and hurt by his actions, but terribly angry. He follows the king back to Tygeria, if only because Davos had the gall to take their two younger children with him when he left. His ship is slower than the king's, though, and when he arrives back on Tygeria, he finds the king has left again, on a wild chase after his errant son and his pirate mate. Even worse, he makes a unilateral decision to send their son Larz to a faraway planet for military training, against Blake's express wishes. When Davos, Derrick and Larz all go suddenly missing, Blake attempts a rescue mission, but encounters a strange wormhole in space, and is flung through it to crash on an unknown planet called Tveir. Strangest of all the planet is populated by Tygerians and their handsome king. Injured and disoriented, Blake begins to feel as if he's trapped in some crazy story. Except this isn't any kind of story at all—this is Blake's life, and the plot has just taken an unexpected, heartbreaking and totally infuriating twist.
The Tyger Kings
October 31, 2018
Word Count:
70000+
Summary: Is there redemption after mass murder? Is there redemption after genocide? Is there redemption when one isn't even seeking it? Brianna'Tal had been running for years, running from her past, from her sister She found peace and Isolation She was content and happy, or so she thought Until a freak accident brought a mysterious woman into her life Love was not part of the plan, nor was it something she understood, And certainly not something she deserved But it is what she got You may remember Brianna from M.R. Gross' first novel The Malevolent Witch. The Unfolding takes place some 5 years after The Malevolent Witch. We hear Brianna's story, her side of events, does her reasoning justify her actions? This is a stand alone novel, it can be completely enjoyed without reading The Malevolent Witch. Author Note: I've read books, watched tv and movies that supposedly had autistic characters, but the vast majority of them were written by non-autistic people/writers. Brie is autistic, and I believe I represented a Neurodiverse woman authentically.
The Unfolding
May 25, 2019
Word Count:
65000
Summary: Can home be a place you've never been, a place no one has ever been? The White Cloud is the most audacious experiment the human species has ever undertaken—to search for a new Earth. The ship and its crew exist for a solitary purpose—to reach a distant planet and establish a colony. However, the vast majority of people undertaking this journey will not live to see its result, nor were they part of the decision-making process to leave. A novel-in-stories, following the many generations who make the journey, The Voyage of the White Cloud asks how you can find meaning as a slave to destiny, a mere stepping-stone in history.These are the stories of the most ordinary people on a most extraordinary journey.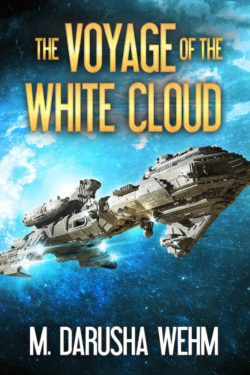 The Voyage of the White Cloud
November 27, 2018
Word Count:
52000
Summary: Never in our wildest dreams did we imagine it could happen to us... In the years since the Twelve-Minute War, the world has fallen into darkness and chaos. The combined impact of nuclear, biological, and chemical agents has rendered the majority of the world's water unfit for human consumption. Only the bravest men and women dare to venture out into the desolate, radioactive wasteland to collect this precious commodity. Matt Freeborn is one such man... a weller. A lone drifter, Freeborn's gaze is fixed ever east, away from the horrors of his past. Danger is always one step behind, however, as the weller's precious cargo makes him a prime target for attack. Savage road pirates, grotesque mutants, ravenous cannibals, and ruthless private armies all lurk behind every dune. Armed with his trusty sidearm, the Well Digger, Freeborn is fully prepared to handle any of these terrors, but there are still things even the weller fears: the bogeymen of the wastes... distillers. A high-octane, post-apocalyptic thrill ride from the author of Birthright and War of the Worlds: Goliath!
The Weller
October 9, 2015
Word Count:
59000
Summary: THE WELLER IS BACK! Still healing from his battle with the distillers in Iowa City, legendary weller Matt Freeborn crosses into Missouri, where foes both old and new await him. Finding himself dangerously low on precious ammunition for the Well Digger, the desperate weller accepts a perilous job on the mighty Mississippi. Armed with only his wits and experience, Freeborn must descend into places no sane man would dare go and face unknown terrors that hunger and hunt in absolute darkness. From the author of Vengeance for My Valentine and War of the Worlds: Goliath!
The Weller - Fear of the Dark
March 21, 2020
Word Count:
86000
Summary:
Eight hundred years ago, the Zhen Empire discovered a broken human colony ship drifting in the fringes of their space. The Zhen gave the humans a place to live and folded them into their Empire as a client state. But it hasn't been easy. Not all Zhen were eager to welcome another species into their Empire, and humans have faced persecution. For hundreds of years, human languages and history were outlawed subjects, as the Zhen tried to mold humans into their image. Earth and the cultures it nourished for millennia are forgotten, little more than legends.
One of the first humans to be allowed to serve in the Zhen military, Tajen Hunt became a war hero at the Battle of Elkari, the only human to be named an official Hero of the Empire. He was given command of a task force, and sent to do the Empire's bidding in their war with the enigmatic Tabrans. But when he failed in a crucial mission, causing the deaths of millions of people, he resigned in disgrace and faded into life on the fringes as a lone independent pilot.
When Tajen discovers his brother, Daav, has been killed by agents of the Empire, he, his niece, and their newly-hired crew set out to finish his brother's quest: to find Earth, the legendary homeworld of humanity. What they discover will shatter 800 years of peace in the Empire, and start a war that could be the end of the human race.
The Widening Gyre
March 14, 2019
Word Count:
115,756
Summary: In a post-apocalyptic world where tyranny and medieval torture reign supreme and witch burnings are an everyday occurrence, a top Witchfinder must confront the very Church he serves when he learns of its dark past and twisted plans for the future. The Church of the Deiparous rules with an iron fist and its rising star, Witchfinder Imperator Malachi Thorne, is committed to leading its cause. Thorne is a man on the fast track to greater things so when a convicted traitor and heretic escapes his grip, he won't tolerate it marring his perfect record. As he pursues his quarry, he must confront demons, sorcery, and a cult of witches out for his blood. But when Thorne comes face to face with the Church's dark past and its twisted present, his faith is tested to its limits. Now Thorne must decide who and what he believes in—and what he will do about it.
The Witchfinder
September 23, 2021
Word Count:
81,000
Summary: Explore the birth of a new world! Journey through time and space to the intricate biosphere of Juno, where three species have been birthed by the gods. First the Kuhifadi, inheritors of sun magic, able to do great deeds with magic stored in their bodies. Second the fearsome Uchafumlaji, technological savants who live in the depths of the ground. Third the weird Ngisikaa, a species uplifted from animals through communal memories. Small decisions and single individuals will affect the tide of history. Learn of the first Ngisikaa to meet death, whether a Kuhifadi will make the sacrifice to become a mage, and if an Uchafumlaji can build a bridge to the past. These stories and more will create The World of Juno! With content by: Nick Bright and Brent Lambert, C.J. Hosack, Nate Battalion, Daniel Eavenson, Malcolm F. Cross, Katie Cordy, William C. Tracy, N.L. Bates, Reese Hogan, Cedan Bourne, Robin C.M. Duncan, and X.M. Moon Genres: Science Fiction / Fantasy / Adventure / LGBT and Non Binary Market: Adult
The World of Juno
November 8, 2022
Word Count: Information not available
Summary: "Everything I knew about the Were was wrong" A Were of no fixed form, a Random, able to Turn into any warm-blooded creature it sees... A young Random whose failure to Turn forces him into taking his destiny into his own hands and becoming full Lycan in the name of pride and fury, learning things he never thought were possible... A true Shifter, the wild card, Turning into anything he chooses at will... First Jazz Marsh Turns into something unprecedented, throwing her family and the Were authorities into a spin. Then her brother Mal, frustrated beyond reason by his own delayed Turn, takes matters into his own hands and chooses his own destiny, inflitrating the shadowy Lycan clan in order to help expiate his perceived guilt in his older sister's death. He's helped by his friend, Chalky, a true Shifter who is capable of Turning into anything he pleases unconstrained by the rules of Were kind. Together, they work to turn back a shattering tragedy, solve a conspiracy-shrouded mystery rooted in their own kind, and work to preserve their own existence against a rising tide of superstition and hatred. All they wanted to do, in the end, was save a life. Instead... they started a war.
TheWere Chronicles omnibus
December 8, 2020
Word Count:
78,000
Summary: A new year has begun, and the annual Sower's Festival gala is brimming with Dockhaven's elite and their entourages. Some attend for the spectacle, some for the exotic indulgences, some to augment or gamble away fortunes. Others come to play opening moves in more subtle competitions, ones that will not realize their endgames for months to come. After a winter of convalescence, Aliara Rift wonders whether she is ready to return to the Thung Toh and if her remade body will betray her. Her mate, Duke Sylandair Imythedralin, has many concerns, the foremost being the looming destruction of the only home in which the two of them have truly felt safe. Together they will thwart land barons, politicians, and assassins as they navigate their way through a single day in Ismae's greatest port city. They Eat Their Own is the second Thung Toh Jig, a science fantasy action adventure following members of Ismae's preeminent covert organization as they execute contracts for Dockhaven's most powerful and ruthless citizens.
They Eat Their Own
May 19, 2020
Word Count:
130,000
Summary: Under the dirty streets of Ismae's greatest port city, an old nightmare waits for Sylandair and Aliara, one that is stealing Dockhaven's children, one only they can end. When the pair escaped their owner and abuser years ago, they left him behind in a ball of blue flame, but as more children disappear near the city's desalinization plant, their suspicions turn to the predator they believed dead. Accompanied by their less-than-reliable puka scout Schmalch, they delve into the forgotten depths of the patchwork city. Their search will lead to a twisting world of corruption and experimentation, uncover horrors greater than any they imagined, and summon memories they never wanted to exhume. A dark science fantasy action-adventure horror, Things They Buried is the first full-length novel of Ismae, a world where science sometimes appears as magic and history as myth, where monsters make themselves and heroes are wholly unintentional. This novel contains adult themes and violence.
Named to Kirkus Reviews' Best Books of 2019
Imadjinn Awards Best Fantasy Novel, Imaginarium Con 2020
Independent Book Publishers Awards (IPPY) Gold Medalist (Fantasy)
Things They Buried
February 19, 2019
Word Count:
284
Summary: Dalí Tamareia has the terrorist Skadi in their sights – but bringing her in may cost them everything. Dalí's role as an undercover operative is compromised, putting a target on their back and threatening the close-knit team aboard Thunder Child. A new lead on Miriam Skadi's activities forces them back to Luna, where they must confront everything they tried to run from…including their changed relationship with Rion Sumner, who insists on backing up Dalí for this investigation. But Dalí is not the only one searching for Skadi. An alien presence hunts the terrorist as well, taking over Sumner's body to ensure Dalí's cooperation. With their team on the other side of the solar system Dalí must depend on this questionable ally to complete the mission, which takes a deadly turn when an old nemesis resurfaces. If there is any chance for a future with Sumner and their chosen family, Dalí must exorcise the demons haunting them, or they will burn in the heart of a star.
Third Front
October 18, 2022
Word Count:
36000
Summary:
"Wanna know what sucks most about an apocalypse? You don't get to pick which kind you get!"
Surviving a worldwide plague can lead to unlikely alliances, especially in Hanning County.
It's hard enough for Ashley Korrs keep the tribe of young survivors alive and together, but the pressure is on to learn all she can from their unlikely sage, Toby Cracken, the handyman, before he succumbs to his mental decline. When Toby is snatched by a violent gang, Ashley must consider cozying up with old adversaries to rescue him. Adversaries like the notorious MacKenzie Tanner—a girl as manageable as a wolverine stuck in a water bucket with the lid on—and her twin outlaw boyfriends who may be the chaos needed to free Toby... if Ashley can keep the whole thing from going off the rails.
Dirty secrets are exposed as the truth comes to light in this story of small town reputations, rivalries, and survival.
"Rich with pulpy apocalyptic dysfunction, 'gritty' is not a raw enough description—put on your grown-up pants before taking this journey."
Reader Advisory: This novella contains violence, explicit language, graphic sexual content, and gritty, adult situations; kinda like life.
This'n Apocalypse Or Not?
July 16, 2014
Word Count: Information not available
Summary: In the Hybrid Nation, the only thing worse than showing weakness is being born a little too human. Jode is a throwback, given up by his parents and raised in an institute that was never meant to serve his needs. All he wants is to get free and find his mother, and when Rowla Arl shows up to study the children in the facility, he sees his chance. Jode tries to convince the wolf to help him, but Rowla has her own agenda. And her own secrets. The kid's atypical blood might hold the answers to her genetic problems, too. But if she wants to unlock the kid's DNA, Rowla's going to have to convince him to trust her, to drop everything, and to take a chance so big it could shake the whole Hybrid Nation. They're going to have to work together to keep Jode out of enemy hands, to keep his DNA away from a psychotic monkey, and to keep the biggest secret in Hybrid Nation history from destroying them both.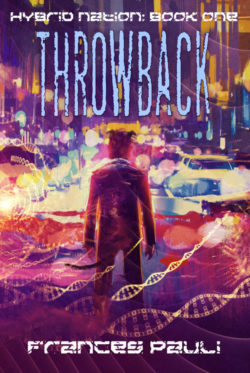 Throwback
June 5, 2022
Word Count:
84000
Summary: Someone's hunting the Ungovernable. And they're not going to stop until every one of the crew is dead. When an enemy from ex-smuggler pilot Jez's past reappears, determined to extract revenge, the crew of the Ungovernable have two options: fight, or run. But when a hyperjump gone wrong leaves the Ungovernable crippled, her weapons down and her cloaking disabled, their options become scarce indeed. As they scramble to repair the ship with rapidly-dwindling supplies and even more rapidly-dwindling oxygen, their pursuers are inexorably closing in. And if they're going to survive, each of the crew will have to confront dangerous secrets from their past, before those secrets come back to destroy them. Time Bomb is the third book in R.M. Olson's science fiction space opera series The Ungovernable. With a crazy, close-knit crew, plenty of humour, and loads of action, Firefly meets Ocean's Eleven in this fast-paced, kick-ass, wickedly fun series.
Time Bomb
July 15, 2020
Word Count:
55000
Summary: With great burrito comes great responsibility. Pete's food truck at the University of New Mexico isn't going well. Seniors dare freshman to eat his burritos. Frats use them for pledges and pranks. Rumors fly around campus that they are chupacabra ground up with rat. Pete needs a change, and it comes in the form of a physics experiment gone awry. After being sucked into the past, he stumbles across an ingredient that goes great in one of his creations. First, there was Marty McFly. Then there was Bill and Ted. And now Pete--
Time Burrito
March 20, 2017
Word Count:
39000
Summary: How many ways could civilisation, mankind or even the whole world come to an end? Is time travel something that can be controlled? But what if time travel controls you? Here are eighteen short stories from the author of Time Portals of Norwich and Splinters that seek to explore both themes, some with humour, others nightmarishly horrifying. Some stories even manage to combine both themes.
Time Enough for the World to End
November 22, 2021
Word Count:
89000
Summary: Cassie's life has never been simple. Orphaned at nine and raised by her grandfather, the past never left her alone. By the time she is seventeen she sees ghosts, hears disembodied voices, and events from history have a habit of rising up to haunt her. On a visit to the Castle Mall shopping centre in Norwich (UK), the past crashes on top of her. Cassie finds herself transported back to the early 1990s in the company of a woman she's never met. And the woman not only looks familiar but claims she's encountered Cassie many times before.
Time Portals of Norwich
August 22, 2020