Word Count:
71300
Summary: Space pirates harass interstellar shipping. On the frozen world of Gulag--where, for centuries, the Empire's worst traitors have been exiled--dangerous plots are hatching. Time is running out for agents of the Imperial Special Investigation Service to save the Empire from the most serious revolt in its centuries-long history.
Traitors' World
Word Count:
8000
Summary: **Also Available in "Guardians of a Giant's Treasure" anthology** Tucker has spent his entire life as an interstellar trash man. But ever since his mother died, he's been alone, and certainly lonely. So when he discovers the derelict ship he scooped up has an occupant—a beautiful young man named Ronan—Tucker is thrilled. Ronan is royalty and running from his tyrannical mother, determined to keep a powerful object out of her hands. But when he strikes a deal with the adorable Tucker, he wonders if it's time to stop running.
Trash and Treasures
November 9, 2021
Word Count:
41000
Summary: NO ONE FIGHTS DIRTIER THAN AN ARCHAEOLOGIST ​Foul-mouthed Dr. Nel Bently has every archaeologist's dream: a pristine site, new crew, and a private patron to fund her passion for dirt. With her trowel barely into the dry earth of Chile's coast, however, Nel learns their work is being sabotaged. The local activists Los Pobladores take issue with anyone brave or stubborn enough to set boots on their land. Nel refuses to give up the site that will make her career to vandals and looters, but she must protect both her friends and her life's work. With a benefactor playing chess with their lives, radiocarbon dates that are downright supernatural, and angry militants who may actually have a point, Nel is ready to fight dirty.
Travelers
February 27, 2015
Word Count:
53400
Summary: Hundreds of thousands of people have visited the pleasure moon Vesa and simply vanished without a trace. Is this part of some vast galactic conspiracy? To find out, the Imperial Special Investigation Service dispatches its two best agents to look into the matter--and the shocking truth they reveal leads to a chain of discoveries that eventually threatens the stability of humanity's entire interstellar Empire.
Treacherous Moon
Word Count:
80000
Summary: In this groundbreaking work of science fiction, one man attempts to return to Earth after years of living in an off-planet structure. Twenty-five-year-old Bryan is a student scientist living off-planet with the two men he loves. But when he senses that danger is about to befall his adopted home, Bryan wants to evacuate. Convincing one of his lovers to board a spaceship toward home, Bryan is soon confronted with the truth about his life. His journey through the void of space not only exposes his current troubled relationships but also threatens to uncover the secrets about his past. Now, Bryan must finally come to terms with who he is and how his origins might put his lovers in danger. A story of three polyamorous lovers and one man's secrets, Trials on the Hard Way Home is an intense and dramatic journey embracing the best in science fiction and LGBTQ+ literature.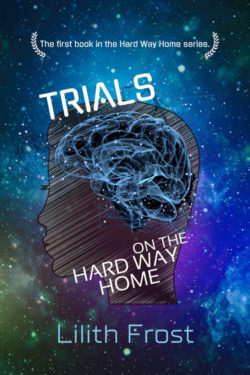 Trials on the Hard Way Home
June 7, 2021
Word Count:
143365
Summary: Viva la revolucion! The Primus, Vasilia Newling, is facing her worst nightmares: A revolution on Luna Titan and the Asteroids abandoning the Solarian Union. Defections from within her own government. All because of those damned Cassidys! But she's still as ruthless as ever. And if Aiyana and Kendra thought she was playing dirty before? They're going to see how filthy she really can get. There isn't room for both the Terran Federation and the Union. This time, one is going down. For good. Return to the future for the fifth installment of The Cassidy Chronicles: Triumph's Ashes.
Triumph's Ashes
August 15, 2021
Word Count:
63000
Summary: With humanity scattered across the galaxy on hundreds of worlds, the Empire is the only force for order across the stars. Without it, interstellar conflicts would bring chaos and billions of deaths. But the tsar has been in a coma for five years now, and his grand-niece, the only apparent heir, is only 14 years old. In this hour of crisis, the task of preserving the Empire falls to two untrained--but far from unskilled--agents of the Imperial Special Investigation Service. Can they make a difference against the vast forces arrayed against them?
Tsar Wars
Word Count: Information not available
Summary: Being too close to the truth got Jon Xiong's mother killed. While searching for answers, a murderous cult shows up at his door. A secretive organization called the Tuners comes to his aide and teaches him about his rare ability to travel between worlds called tuning. He grapples with his new superpower and is stuck between those who would maintain order in the multiverse and those who would destroy it. Jon must avoid the same gruesome fate as his mom and figure out what happened to his family.
Tuners
March 25, 2020
Word Count:
454
Summary: For 60 years, the "Founders" have been secretly infiltrating every aspect of the American government, law enforcement, military and judiciary, influencing government policy and biding their time for the day they can seize power, in the chaos that has followed the Covid Pandemic, the Founders believe that day has come... A titanic power struggle is taking place between the western democracies; China and Russia and a new Cold War with hotspots of proxy-wars, such as the American led Anglo-American-French coalition in Iran, where British SAS Colonel Elizabeth Brooks commands an elite unit of Anglo-American Special Forces. Following a mission behind enemy lines, Elizabeth's brother-in-law, John Crane of "Crane Technologies" shows up in Iran. Crane Tech has developed a cloaking device, but the secret's out, the Founders know about it and they want it desperately and will stop at nothing to get it. Fearing he will be murdered, John needs a contingency plan. Elizabeth and her team are that plan… FBI Special Agent Dexter Quills is in Virginia hunting a vicious serial killer, the "Three-Sixty Strangler" when he receives a call that will change his life forever when he's ordered to the Crane Mansion, where the entire family with the exception of John's youngest son Adam (Elizabeth Brooks's biological son) have been murdered by Founder terrorists who want the "Perseus II" cloaking device in order to detonate a nuclear weapon over Washington DC to wipe out the Government. Fate bring Elizabeth and Dexter together and the fate of millions of Americans and the free world itself is in their hands, in a violent race against time to prevent the greatest tragedy in American history…
Twisted Maze
June 6, 2020
Word Count:
80000
Summary: Uncover the startling truth before time runs out in this complex search for an ancient treasure. Alex is a former basketball player who has always been able to bend time. These days he teaches physics and parents three quirky children alongside his unusual wife. When the administration at his high school wants to resume its connection with organized hate groups, Alex can no longer remain the quiet bystander. He must stand up and fight for what he believes is right. Just when he has his hands full at school, Alex is drawn into a treasure hunt. An old high school rival and a handful of his grad students lost an obsidian box years ago containing partial directions to a big discovery. The box has mysteriously reappeared and Alex's code-cracking skills can help locate hidden relics containing remaining clues to the treasure. But can he do it fast enough to beat another unknown team of treasure seekers? As both of Alex's situations grow more dire, it becomes clear he must tap into the abilities he left behind. Can he manipulate time for the people and causes he cares about most?
Twists of Time
January 26, 2013
Word Count: Information not available
Summary: He must make the hard choice… …flee or fight. Becoming the superhero Blue Spekter was supposed to be fun for Quinn, the realization of a childhood dream. But the insidious Order hijacked his dream-come-true by twisting his best friend Blake into the feared supervillain Dark Flame. Now, The Order wants Dark Flame to kill Quinn and erase Blue Spekter from history. For Quinn, junior year is no longer about surviving high school; it's about survival and protecting the ones he loves. But can he? Does Quinn have the courage to stop Blake and take down The Order, no matter the cost? ULTIMATE SACRIFICE is the fourth book of The Guardian Series and is part of the Spekter Superhero Universe. Get it now.
Ultimate Sacrifice
November 3, 2018
Word Count:
60000
Summary: Mid-twenty-first century time traveler Sierra Waters, fresh from her mission to save Socrates from the hemlock, is determined to alter history yet again, by saving the ancient Library of Alexandria - where as many as 750,000 one-of-a-kind texts were lost, an event described by many as "one of the greatest intellectual catastrophes in history." Along the way she will encounter old friends such as William Henry Appleton the great 19th century American publisher and enemies like the enigmatic time travelling inventor Heron of Alexandria. And her quest will involve such other real historic personages as Hypatia, Cleopatra's sister Arsinoe, Ptolemy the astronomer, and St. Augustine - again placing her friends, her loved-ones, and herself in deadly jeopardy. In this sequel to the THE PLOT TO SAVE SOCRATES, award winning author Paul Levinson offers another time-traveling adventure spanning millennia, full of surprising twists and turns, all the while attempting the seemingly impossible: UNBURNING ALEXANDRIA.
Unburning Alexandria
May 1, 2013
Word Count: Information not available
Summary: The manhunt is on… …but no one knows who—or what—to look for. Impossibly heroic superhuman saves, wanted criminals vanishing into thin air, and thugs washing up with unexplainable third-degree burns can mean only one thing: someone has taken the law into their own hands. But who? And why? With the Department of Homeland Security breathing down the necks of city officials, Quinn and Blake must hide their superpowers from everyone, even their families. Time is running out. How long can they outrun the growing pile of damning evidence against them? UNIDENTIFIED PHENOMENON is the second book of The Guardian Series and is part of the Spekter Superhero Universe. Get it now.
Unidentified Phenomenon
May 5, 2018
Word Count:
55000
Summary: In Unsafe Words, the first full-length collection of her edgy, award-winning short stories, Loren Rhoads punctures the boundaries between horror, dark fantasy, and science fiction in a maelstrom of sex, drugs, and rock-n-roll. Ghosts, succubi, naiads, vampires, the Wild Hunt, and the worst predator in the woods stalk these pages, alongside human monsters who follow their cravings past sanity or sense. Featuring an introduction by Lisa Morton and cover art by Lynne Hansen, these never-before-collected stories come from the magazines Cemetery Dance, Space & Time, City Slab, and Instant City, the Wily Writers podcast, and from the books Sins of the Sirens, Demon Lovers, The Haunted Mansion Project: Year Two, Tales for the Camp Fire, and more. One story, "With You By My Side It Should Be Fine," is original to the collection.
Unsafe Words
September 20, 2020
Word Count:
63220
Summary: Alan Stewart, First Lieutenant on the space ship Qatar, and Captain Robin Lang of the Huan Police Force, have been best friends since their days in the Space Academy, despite the fact that Stewart is homosexual and Lang has a wife and son, Max. However Max is growing up and their friendship is threatened when Lang believes Stewart has designs on his son. When Max, now an adult and a recent recruit to the Qatar, is assaulted in a gay bar, Lang accuses Stewart.  In an attempt to protect his son at all costs, Lang finds himself drawn into a dark conspiracy of murder and blackmail. Meanwhile, Stewart has his own battles to fight.  Apart from defending himself against Lang's accusations, he discovers the young man he is falling in love with, Michael Banner, is the one man on the ship who is out of bounds, untouchable. Lives and love hang in the balance as Lang and Stewart search for the truth.
Untouchable
October 17, 2014
Word Count: Information not available
Summary: An anthology of stories combining two or more fairy tales.
Upon A Thrice Time
Word Count: Information not available
Summary: The Valkyrie Kara stood alone against the Ragnarok horde on Earth to ensure that the Asgard race and Valhalla could escape.  For five thousand years she has fought and evaded the Ragnarok race on Earth, just waiting for her people to return. A human woman, Kate, joins her fight against the invading race, showing as much conviction and valor as any Valkyrie.  Their friendship quickly becomes something more as they hold the line on Earth in battle to herald the return of the Asgard.
Valkyrie Chronicles: Return of the Asgard
July 13, 2013
Word Count:
19522
Summary: This short novella follows Fixit, a worker on the surface of Tau Ceti Prime in another adventure. As Prime approaches Perihelion as the moons align, the surface of the planet is plunged into a period of monster storms and tectonic shifts. When coming to Fixit's aid, Vashon is injured, and all of her secrets come out as Fixit races against time to save the woman she loves.
Vashon
January 2, 2018
Word Count:
69300
Summary: Vassily Belikov, composer and pampered son of privilege, suffered neurological damage in the accident that killed his father. Resentful of being treated as an invalid, he lives as a recluse, dependent on his mother. That changes the day she brings home a new husband with two sons of his own. When deep-space pirates capture Vassily's mother, he's left to the mercy of his cruel, amoral stepfather. Fighting addiction and his physical shortcomings, he's forced to seek out the criminal mastermind Baba Yaga for a crucial piece of equipment. While she agrees to deal with him if he beats his Exoticus addiction, paranoia and mysterious intentions infuse her household. Drawn to her fierce, suspicious youngest son, certain his actions are all carefully observed, Vassily must find the courage to face both his fears and his desires if he expects to survive.
Vassily The Beautiful
June 11, 2014
Word Count:
103061
Summary: SISTER. ASSASSIN. VESSEL. Echo Rodrigal isn't just a survivor; she's a success. But in a land where the law is there are no laws, the terms of success rest on a knife's edge, and Echo's luck is about to change. The Vindicata are one of the top vengeance crews in the Ten Realms of Interra. Their oaths to only commit crimes of justice have earned them the respect of their peers. But the Vindicata are more than a crew, they're a family. And ever since they adopted Echo, she's cared about one thing: making her family proud. For years, that's meant becoming the continent's most feared assassin. But each kill wreaks havoc on her soul, no matter how justified. Echo's unraveling fast, complicated by the mysterious rift growing between her and her beloved sister. Miyala's keeping dangerous secrets, and Echo cannot find the key to unlock her sister's trust. When the Warlord orders the Vindicata to transport foreign dissidents to a new prison, they must put their personal issues aside to face an impossible choice: die for defying orders, or die for breaking their oaths to uphold justice. Between meddling gods returning to the continent, mercenaries around every corner, and an ancient prophecy that foretells the end of all worlds, the pressure on Echo is mounting fast. Can she make enough right moves to save her family? The fate of many worlds rests in Echo's next choice.
Vessel of Starfire
September 22, 2020