Word Count:

29000
Summary: Sofia Cancino is tired of her mundane life, her artificial environment and her large, boisterous family descending every holiday season. She's promised herself this year will be different and books a stay on the exclusive—and expensive--holiday-themed resort, Yule Planet. She looks forward to being pampered while reconnecting with Old Earth traditions steeped in the magic and mysticism of nature. Everything will be perfect and she'll leave as a more authentic human, better connected to her roots. Naturally, things go horribly wrong. Sofia's landing pod goes off course and instead of stepping out on the landing pad at the resort, she finds herself in the snow-swept perpetual winter of the planet's hinterlands. If that wasn't bad enough, she's "rescued" by a band of criminals on work release who run deliveries to the resort from far-flung shuttle delivery sites. They refuse to take her, a paying customer, to the resort and insist on dragging her along on their parcel run. Riding giant monsters. In frigid weather. Not to mention, Marta, who handles the monsters, obviously hates her. If Sofia survives her vacation, she's definitely yelling at someone's supervisor until she gets a refund.
Yule Planet
Word Count: Information not available
Summary: Grounded after a rescue attempt in Earth orbit goes bad, Commander Martin Atkins of the Confederation Navy is approached by the Interscission Project, a consortium of civilian corporations on the verge of perfecting the technology to travel to another star. Despite his misgivings, the chance to get back in the pilot's seat is too much to pass up, and he convinces his best friend and crewmate, Charles Davenport, to leave the military temporarily and join him as part of the crew of the Zenith, humanity's first starship. Edward Harlen is a brilliant young engineer, and a key player in the construction of the Zenith to take advantage of the untested technology of foldspace drive. But Edward has his own agenda in joining the project, and a bitterly personal score to settle with his boss, Trevor Sutton, a vendetta of which Trevor is entirely ignorant. But when Edward's sister Stella enters the picture and manages to secure a position on the project, all of Edward's careful plotting is upset, and she might spell the downfall not only of his plans for revenge, but of the entire Zenith mission. The spark of attraction between Edward and Martin is a complication that Edward can't afford, but of which he can't let go. For Edward knows the secret at the heart of the Interscission Project, the hidden potential of the technology that in the wrong hands could become the ultimate assassin's weapon: the ability to rewrite history, not just once, but many times. As an unseen enemy moves to destroy them, and the body count multiplies in their wake, Martin and Edward must choose whether they will allow the possibility of love to challenge their destinies, or will they instead take up arms in a war to control the most ancient and terrible power in the universe. Time, itself.
Zenith
Word Count:

78000
Summary: She's lost her ship, lost her job, lost her reputation, and is on the run from the law. Jez is a damn good pilot, and she's always worked alone. Until she got picked up for smuggling, that is. Now she's an ex-con and ex-employed, and there are plenty of people with old scores to settle. So when a mysterious stranger in a battered pilot's coat comes to her with an offer that sounds too good to be true, she reluctantly agrees to listen. All she has to do is fly one little job. Four ex-convicts. One charismatic mastermind. And the most dangerous heist the System has ever seen. Firefly meets Ocean's Eleven in R.M. Olson's fast-paced, kick-ass, wickedly fun space opera series, The Ungovernable. Grab a copy and join the crew.
Zero Day Threat
Word Count: Information not available
Summary: The resurrection of one world will mean the destruction of another. The homeworld of the alien Noigel has been annihilated. Their existence as a species is on a razor's edge. But they have found a replacement: Earth. But it must be changed to suit their needs. If they succeed, all of humanity will perish. When an alien secret agent is killed, his technology and mission are given to Hina Takamachi. The Japanese schoolgirl discovers the alien's battle suit gives her incredible powers, just like the anime heroines she admired as a kid. The battle suit's artificial intelligence, whom Hina names Voice, informs her that only she can save the world from the Noigel.With Voice training and guiding her, Hina must overcome her own self-doubts and find the courage to stop the Noigel's plan. For one world to win, the other must lose.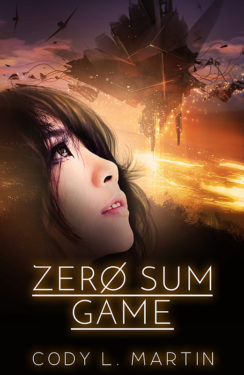 Zero Sum Game