Word Count:

80000
Summary: Uncover the startling truth before time runs out in this complex search for an ancient treasure. Alex is a former basketball player who has always been able to bend time. These days he teaches physics and parents three quirky children alongside his unusual wife. When the administration at his high school wants to resume its connection with organized hate groups, Alex can no longer remain the quiet bystander. He must stand up and fight for what he believes is right. Just when he has his hands full at school, Alex is drawn into a treasure hunt. An old high school rival and a handful of his grad students lost an obsidian box years ago containing partial directions to a big discovery. The box has mysteriously reappeared and Alex's code-cracking skills can help locate hidden relics containing remaining clues to the treasure. But can he do it fast enough to beat another unknown team of treasure seekers? As both of Alex's situations grow more dire, it becomes clear he must tap into the abilities he left behind. Can he manipulate time for the people and causes he cares about most?
Twists of Time
Word Count: Information not available
Summary: He must make the hard choice… …flee or fight. Becoming the superhero Blue Spekter was supposed to be fun for Quinn, the realization of a childhood dream. But the insidious Order hijacked his dream-come-true by twisting his best friend Blake into the feared supervillain Dark Flame. Now, The Order wants Dark Flame to kill Quinn and erase Blue Spekter from history. For Quinn, junior year is no longer about surviving high school; it's about survival and protecting the ones he loves. But can he? Does Quinn have the courage to stop Blake and take down The Order, no matter the cost? ULTIMATE SACRIFICE is the fourth book of The Guardian Series and is part of the Spekter Superhero Universe. Get it now.
Ultimate Sacrifice
Word Count:

60000
Summary: Mid-twenty-first century time traveler Sierra Waters, fresh from her mission to save Socrates from the hemlock, is determined to alter history yet again, by saving the ancient Library of Alexandria - where as many as 750,000 one-of-a-kind texts were lost, an event described by many as "one of the greatest intellectual catastrophes in history." Along the way she will encounter old friends such as William Henry Appleton the great 19th century American publisher and enemies like the enigmatic time travelling inventor Heron of Alexandria. And her quest will involve such other real historic personages as Hypatia, Cleopatra's sister Arsinoe, Ptolemy the astronomer, and St. Augustine - again placing her friends, her loved-ones, and herself in deadly jeopardy. In this sequel to the THE PLOT TO SAVE SOCRATES, award winning author Paul Levinson offers another time-traveling adventure spanning millennia, full of surprising twists and turns, all the while attempting the seemingly impossible: UNBURNING ALEXANDRIA.
Unburning Alexandria
Word Count: Information not available
Summary: The manhunt is on… …but no one knows who—or what—to look for. Impossibly heroic superhuman saves, wanted criminals vanishing into thin air, and thugs washing up with unexplainable third-degree burns can mean only one thing: someone has taken the law into their own hands. But who? And why? With the Department of Homeland Security breathing down the necks of city officials, Quinn and Blake must hide their superpowers from everyone, even their families. Time is running out. How long can they outrun the growing pile of damning evidence against them? UNIDENTIFIED PHENOMENON is the second book of The Guardian Series and is part of the Spekter Superhero Universe. Get it now.
Unidentified Phenomenon
Word Count:

140000
Summary: Jack Kirby just wants peace. Deeply scarred from a failed mission and struggling with the loss of his lover, Jack takes a job  as a Religious Program Specialist on a remote PreCol station. There, he finds what he never expected: a family. Marsha, a complicated woman with a deep connection to the spiritual world. Jenny, a cheerful ensign with a dangerous past. Mark, driven to demolish the atavistic cult he was born into. Can Jack protect them all as they become entangled in an espionage game with galactic stakes?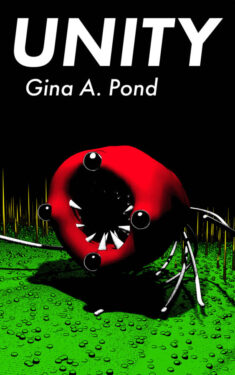 Unity
Word Count:

55000
Summary: In Unsafe Words, the first full-length collection of her edgy, award-winning short stories, Loren Rhoads punctures the boundaries between horror, dark fantasy, and science fiction in a maelstrom of sex, drugs, and rock-n-roll. Ghosts, succubi, naiads, vampires, the Wild Hunt, and the worst predator in the woods stalk these pages, alongside human monsters who follow their cravings past sanity or sense. Featuring an introduction by Lisa Morton and cover art by Lynne Hansen, these never-before-collected stories come from the magazines Cemetery Dance, Space & Time, City Slab, and Instant City, the Wily Writers podcast, and from the books Sins of the Sirens, Demon Lovers, The Haunted Mansion Project: Year Two, Tales for the Camp Fire, and more. One story, "With You By My Side It Should Be Fine," is original to the collection.
Unsafe Words
Word Count:

63220
Summary: Alan Stewart, First Lieutenant on the space ship Qatar, and Captain Robin Lang of the Huan Police Force, have been best friends since their days in the Space Academy, despite the fact that Stewart is homosexual and Lang has a wife and son, Max. However Max is growing up and their friendship is threatened when Lang believes Stewart has designs on his son. When Max, now an adult and a recent recruit to the Qatar, is assaulted in a gay bar, Lang accuses Stewart.  In an attempt to protect his son at all costs, Lang finds himself drawn into a dark conspiracy of murder and blackmail. Meanwhile, Stewart has his own battles to fight.  Apart from defending himself against Lang's accusations, he discovers the young man he is falling in love with, Michael Banner, is the one man on the ship who is out of bounds, untouchable. Lives and love hang in the balance as Lang and Stewart search for the truth.
Untouchable
Word Count: Information not available
Summary: An anthology of stories combining two or more fairy tales.
Upon A Thrice Time
Word Count: Information not available
Summary: The Valkyrie Kara stood alone against the Ragnarok horde on Earth to ensure that the Asgard race and Valhalla could escape.  For five thousand years she has fought and evaded the Ragnarok race on Earth, just waiting for her people to return. A human woman, Kate, joins her fight against the invading race, showing as much conviction and valor as any Valkyrie.  Their friendship quickly becomes something more as they hold the line on Earth in battle to herald the return of the Asgard.
Valkyrie Chronicles: Return of the Asgard
Word Count:

90000
Summary: A new generation of vampires embarks on a quest to save humanity. Opening a forgotten crypt during a military exercise, Dr. Jane Heckman is made a vampire and begins a journey to unlock the secret origins of her new kindred. Elsewhere, solitary vampire Marcella DuBois emerges from the shadows and uncovers a government plot to create vampire-like super soldiers. Daniel McKee, a vampire working as an astronomer, moves to a new town where he's adopted by a family, only to have government agents strip those he loves away from him. All three vampires discover the government is dabbling in technologies so advanced they'll tap into realms and dimensions they don't understand. To save humans and vampires alike, Jane, Marcella, and Daniel must seek out the legendary master vampire Desmond, Lord Draco and encourage him to resurrect his band of mercenaries, the Scarlet Order.
Vampires of the Scarlet Order
Word Count:

19522
Summary: This short novella follows Fixit, a worker on the surface of Tau Ceti Prime in another adventure. As Prime approaches Perihelion as the moons align, the surface of the planet is plunged into a period of monster storms and tectonic shifts. When coming to Fixit's aid, Vashon is injured, and all of her secrets come out as Fixit races against time to save the woman she loves.
Vashon
Word Count:

69300
Summary: Vassily Belikov, composer and pampered son of privilege, suffered neurological damage in the accident that killed his father. Resentful of being treated as an invalid, he lives as a recluse, dependent on his mother. That changes the day she brings home a new husband with two sons of his own. When deep-space pirates capture Vassily's mother, he's left to the mercy of his cruel, amoral stepfather. Fighting addiction and his physical shortcomings, he's forced to seek out the criminal mastermind Baba Yaga for a crucial piece of equipment. While she agrees to deal with him if he beats his Exoticus addiction, paranoia and mysterious intentions infuse her household. Drawn to her fierce, suspicious youngest son, certain his actions are all carefully observed, Vassily must find the courage to face both his fears and his desires if he expects to survive.
Vassily The Beautiful
Word Count:

103061
Summary: SISTER. ASSASSIN. VESSEL. Echo Rodrigal isn't just a survivor; she's a success. But in a land where the law is there are no laws, the terms of success rest on a knife's edge, and Echo's luck is about to change. The Vindicata are one of the top vengeance crews in the Ten Realms of Interra. Their oaths to only commit crimes of justice have earned them the respect of their peers. But the Vindicata are more than a crew, they're a family. And ever since they adopted Echo, she's cared about one thing: making her family proud. For years, that's meant becoming the continent's most feared assassin. But each kill wreaks havoc on her soul, no matter how justified. Echo's unraveling fast, complicated by the mysterious rift growing between her and her beloved sister. Miyala's keeping dangerous secrets, and Echo cannot find the key to unlock her sister's trust. When the Warlord orders the Vindicata to transport foreign dissidents to a new prison, they must put their personal issues aside to face an impossible choice: die for defying orders, or die for breaking their oaths to uphold justice. Between meddling gods returning to the continent, mercenaries around every corner, and an ancient prophecy that foretells the end of all worlds, the pressure on Echo is mounting fast. Can she make enough right moves to save her family? The fate of many worlds rests in Echo's next choice.
Vessel of Starfire
Word Count: Information not available
Summary: Our visions of the future - whether dark or hopeful, thrilling or mundane - have always challenged us to examine our world. How can we improve? What challenges will we face? Are we even ready? Top Science Fiction authors, collectively holding 25 Hugo, Nebula, Locus, and Sturgeon awards (a few for Vital stories!), employ the power of engaging fiction to explore these questions and today's most critical issues in medicine. But Vital doesn't stop at speculation. Proceeds will be donated to the COVID-19 Solidarity Response Fund for the World Health Organization, the global guardian of public health, coordinating the worldwide pandemic response. Read on to build a better future of Healthcare! Featuring stories by Paolo Bacigalupi, David Brin, Tananarive Due, Sally Wiener Grotta, Congyun ("Mu Ming") Gu, James Patrick Kelly, Justin C. Key, Seanan McGuire, Annalee Newitz, Julie Nováková, Lola Robles, Eric Schwitzgebel, Alex Shvartsman, Caroline M. Yoachim Edited by RM Ambrose
Vital: The Future of Healthcare
RM Ambrose , Paolo Bacigalupi , David Brin , Tanan...
Word Count:

12000
Summary: If The Little Mermaid were set in the twenty-second century... In the aftermath of climate change, humans have abandoned the flooded coasts. Underwater, people of another kind struggle to rehabilitate the polluted seas. After one rescues a human engineer, she realizes he might hold the key. If she can learn how to interact with the world like a human, if she can understand them, if she can become enough like them, maybe they will help. Maybe he will help. But to reach him, she may need to sacrifice who she is...
Voice of the Sea
Word Count:

103,000
Summary: Humans are no longer alone; they have been joined by Arcanes, Lycans, and Vampires. It's been over a hundred years since the Earth went through The Shift. Where once almost eight billion humans lived, the population now holds at four billion. But that wasn't the only change. No one anticipated the branching of human DNA to produce new species of humans. Arcanes, Lycans, and Vampires are hidden throughout the genome, awaiting puberty before they manifest distinctly unhuman abilities. Finally, the new species of man were welcomed. No longer studied or treated as outcasts by most. People accepted these new humans and they integrated into society, albeit not easily. This allowed the UN Government to focus on colonizing space, in order to secure a future for all. Risks remain however, permitting a vampire to feed from you can cause shared memories. Tobin Corsian took such a risk. He resides in a newly reopened district of San Jose, California, where his family's old home stood. He lives there with his friend Mikel, a Lycan, and his dog Begger. Instead of making his mandatory monthly blood donation at the government blood bank for the vampire community, Tobin decides, with the help of his therapist, to visit Biter, a vampire spa. The spa allows vampires to feed from humans directly while providing spa and sexual services, granting the donor a three-month reprieve from their required donations. Tobin's encounter at Biter opens a window to his past and an experience he had as a child on the moon. Questions abound as he tries to unravel his past and make sense of his life.
Volaria
Word Count:

113400
Summary: Something is hunting mercenary commander Romenel Devar, a monster disguised as friends and loved ones, so he can't even describe it. He knows it's slowly killing him, though, and he desperately needs help. Marya and Roke have retired to their house on the steppes, their lives finally peaceful and uneventful. When Romenel collapses on their front doorstep, Marya reminds her husband that no one retires from being a hero. Their journey takes them to the other side of the world where hordes of monsters lurk and the rules of society are turned on their heads. Romenel needs to understand both this strange new world and the hints from a distant, shared past to unravel the means to stop the monsters' deadly hunts.
Voyage Into Twilight
Word Count:

83000
Summary: By the end of the 21st century, the world had become a harsh place. After decades of natural and man-made catastrophes, nations fell, populations shifted, and seventy percent of the continents became uninhabitable without protective suits. Technological advancement strode forward faster than ever and it was the only thing that kept human society steady through it all. No one could have predicted the discovery of the Dream Walkers. They were people born with the ability to leave their bodies at will, unseen by the waking world. Having the potential to become ultimate spies meant the remaining government regimes wanted to study and control them. The North American government, under the leadership of General Rennet, demanded that all Dream Walkers join the military program. For any that refused to comply, they were hunted down and either brainwashed or killed. The very first Dream Walker discovered was a five year old girl named Julia. And when the soldiers came for her at the age of twenty, she was already hidden away. A decade later found Julia living a new life under the government's radar. As a secure tech courier in the capital city of Chicago, she does her job and the rest of her time avoids other people as much as she is able. The moment she agrees to help another fugitive Walker is when everything changes. Now the government wants them both and they'll stop at nothing to get what they want.
Waking the Dreamer
Word Count: Information not available
Summary: Red-haired questing knight Sir Percival and ailing King Arturus, both of the Green Land, are captured after the Battle of the River Colum and face slavery in the Lucian Empire. Victorious General Robert Dardarius forces thousands of Viridian captives on a death march to the Lucian capital, but he offers Arturus a deal: Turn over information about the Viridian Grail, and he will stop his invasion of Viridiae and its capital, Camelot. Merlin appears in the Lucian capital with something better, a second Grail. Percival, Arturus, and Merlin escape the Lucians, but when they reach the reorganized Viridian army under Mordred Lothian, a new battle with the Lucians takes shape. Will Percival restore the true Grail to the Green Land and face down the Lucian threat? And how will Queen Guinevere, on a mission with Percival's artist sister Dee, help her country? War for the Green Land, the second novel in the fantasy series The Future History of the Grail, re-imagines the King Arthur legends, placing them a thousand years in the future. The first and third books are Fall of the Green Land and Return to the Green Land.
War for the Green Land (The Future History of the Grail Book 2)
Word Count:

65000
Summary: "Whenever someone asks me if I believe in heaven and hell, I tell them I don't know about heaven, but on hell... I'm an expert." On the eve of World War I, the Martians from the original H.G. Wells classic have returned to finish what they started, but this time humanity is ready. Armed with steam-powered battle machines created from reverse-engineered alien technology, the global defense force A.R.E.S. prepares for the coming conflict as tensions rise in Europe. Captain Eric Wells, an orphan of the first War of the Worlds, commands Earth's newest, most formidable weapon... the colossal battle tripod GOLIATH. Includes new and deleted scenes not included in the film. Based on the award-winning animated film from director Joe Pearson and Tripod Entertainment, starring Adrian Paul, Peter Wingfield, Elizabeth Gracen, Jim Byrnes, Beau Billingslea, Mark Sheppard, and Adam Baldwin. Adapted from the screenplay by David Abramowitz. 2015 Scribe Award Finalist (Best Adapted Novel Category)
War of the Worlds: Goliath