Word Count:

117,600
Summary: The Action Packed Conclusion to the Peridot Shift Trilogy Peridot is on the edge of annihilation. Once life-giving, the world's Trade Winds are transforming people into soulless monsters. The surviving Alchemist gods neglect their followers or take advantage of them. Even worse, a delicate peace has been wasted, and everything and everyone is at stake, especially Meran, the mistreated embodiment of the planet. Captain Talis and the crew of Fortune's Storm must try to do some good with what's left of Peridot in the hope that, together, they'll reclaim the hidden pieces of Meran's soul before the chaos seals her disastrous fate.
Cast Off
Word Count: Information not available
Summary: This book is concurrent with Sunset (Pact Arcanum: Book 1) in story continuity. Child of Twilight Venice, Italy, 2039. When Michael Danvers witnesses a vampire attack, his latent ability to shapeshift awakens. Revealed as a Sentinel, the natural enemy of Nightwalkers, 13-year-old Michael must turn his back on his family and his safe, predictable life. But a supernatural battlefield is no place for a child, not even a genius like Michael. Betrayed by his own kind, he leaves Earth behind, hoping to find a new path with the Spacer Guild – and the stars. Tempered by Moonlight Relocating to the Citadel, Michael quickly makes a name for himself at the Spacer Guild Academy. But each advancement means less to him than the friendships he acquires, of fellow cadets William and Ariel, even as Michael is promoted above them. Forged in Starlight Everyone had plans for Michael's future: his parents, the Sentinels, the Guild—even his best friend, Will. But Michael takes control of his destiny, and when called upon to make a fateful decision with countless lives hanging in the balance, the only sense of honor that matters is his own.
Cathedral of the Sky
Word Count:

52,500
Summary: The cerebral interface has revolutionised society. Need a ride? With a thought, the cab is on its way. Want an adventure? Enter a VR 5 computer game nearly indistinguishable from reality. Amanda arranges for her Big Sisters Program little sister, Rachel, to spend a day gaming as a fourteenth birthday present. Amanda never suspects that her insane ex-boyfriend, Jim, will use a computer virus to trap her and her companions in the game. A pleasant diversion becomes a life and death struggle as her party seek a way to come back to the real world without triggering a program that will cause nanobots to rip their brains to shreds. To complicate matters, in the game scenario the adventurers have been transformed into cats. Will the party survive? Will Amanda admit that Rachel's older brother, Tyrell, might just be her future? Will the computer virus Jim used to trap them become a cyber plague that could kill thousands?
Cats
Word Count:

16200
Summary: "Lancer Kind takes F Scott Fitzgerald's sensibility and gives it backbone." "Completely convincing passing details about life in Mesopotamia, 30,000 years ago..." Betrayal not just by one individual, but his whole tribe. This is what fourteen-year-old Akiya faces when the Elders force him to leave and friends drive him away with branches and rocks. Despite this, when strangers from afar arrive with magic that inspires Mesopotamian youth to leave their peoples, Akiya wants to help those he love. First, learn the stranger's magic, he decides. Master it; then his people must welcome him back. But magic this powerful carries with it many troubles.
Caveman Funk
Word Count:

139,000
Summary: In a condemned hotel, an intelligence operation to retrieve a DNA-altering bioweapon goes horribly wrong, sparking a scandal that could bring down an agency ... and a city along with it. Adasha Denali resolves disputes for Naion—using words, not weapons. But with her agency under fire and her mentor fed to the wolves, she'll have to get her hands dirty. Racing to discover who's undermining Naion's security and why, Adasha runs headlong into corporate mercs, an engineered spy, and a man losing his mind to a new form of intelligence. Meanwhile, the once-great immersion hacker Neon Nik is on the ugly side of broke, struggling to pay off circling loan sharks. When he inherits a piece of advanced tech that throws him into Adasha's path, threats of dismemberment become the least of his problems. Now he's got a vortex of hired killers on his heels and a decision to make: sell out or suit up.
Centricity
Word Count:

63,700
Summary: Todd and Nick Ruger are on the run after narrowly escaping the war in New Colorado, where they were implicated in the assassination of Chancellor Shaffer. Todd is gravely ill and Nick has serious injuries, but that's the least of their problems. They're alone with dwindling supplies and facing the harsh winter bearing down on them far north in Yellowknife Protectorate. Just when it seems they're trapped between the proverbial rock and hard place, they are offered refuge with a doctor in the isolated town of Elk's Ridge. As they heal, they're offered a fresh start in Elk's Ridge. But just as they begin to rebuild their lives, tragedy strikes. Victor Raleigh, the new Vice-Chancellor of New Colorado, knows all about Nick's psychic abilities, and he'll settle for nothing less than total control over Nick. He's aligned himself with a vicious creature, a type of psychic vampire capable of wielding control over individuals such as Nick. When Nick is betrayed and captured, Todd sees no alternative but to head back into the war zone to rescue him. Will Nick be the same man Todd loves after Raleigh's pet psychic vampire is through with him? Can Nick accept the fact Todd can love him after what Raleigh forces him to do, or will his guilt consume and destroy him?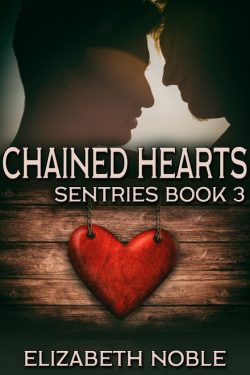 Chained Hearts
Word Count:

112,000
Summary: Chanda Kasmira devotes years of her life and career to saving the inhabitants of the planet Splendor from the planet's coming destruction. Her latest effort fails. Life on Splendor faces more danger than ever before. Disheartened, Chanda places herself into a "long sleep," intending to awaken decades later to a brighter future for Splendor and its people. She doesn't. Instead, an even more difficult path lies ahead after CHANDA'S AWAKENING.
CHANDA'S AWAKENING
Word Count:

50000
Summary: Fourteen-year-old Samantha spends her days exploring the shallow reef behind her island home. With her world locked in a battle against rising seas, scientists deploy genetically modified corals to rebuild reefs and protect the coastline. No one expects the reefs to be a hotbed of evolution, but they are. When an octopus flows off a rock in her lagoon, Samantha is startled. When he purposefully arranges pieces of coral on the sand, trying to communicate, she is shocked. How she responds may determine the fate of life on Earth. The year is 2045, and fourteen-year-old Samantha lives in a world where ocean levels are rising, destroying coastal cities and swallowing islands. Millions of displaced people are homeless. The planet is in a climate tailspin that threatens civilization. Researchers deployed genetically modified corals that can grow in warmer waters. They aimed to sequester carbon dioxide and stabilize the climate. The successful project produced an extensive barrier reef system along the coasts of Georgia and Florida. Samantha lives on a research island off the coast of Georgia with her scientist parents. She becomes obsessed with the ocean, spending all her time exploring the reef. One day, she encounters an octopus attempting to communicate with her. The story dives deep into an exploration of species' intelligence and the quest to save the planet.
Charlie's Story
Word Count:

75400
Summary: JT Austin. Hero of Amargosa's liberation. One of the Children of Amargosa. Now a Navy pilot. Serving with his comrade, Mitsuko Yamato, aboard the Queen Maria Sophia, he is handed what should be a milk run: Retrieve Lt. Cmdr. Edward Windsor from his garrison on a remote – and smelly – planet as he has just become king of Bonaparte, the Compact's only planetwide monarchy. However, an unknown attacker disables the Sophie, boards the ship with killer mechs, and sends JT with the new king and his entourage fleeing their ship. He will have to talk fast to make a deal with the enemy Gelt, summon his mentor Suicide for help, and get the king to safety. He will also discover he has at least one traitor in his midst. He will also discover his surrogate mother has a secret that will shatter his world.
Checkmate
Word Count:

197000
Summary: Saving a life can change the course of history. Destin is torn away from his chicks and his bonded when the Terrens invade Aries 7. Experimented on in Terren labs, and made to work their mines, the GyrFalconi struggle to survive. Destin becomes their caretaker, endeavoring to save as many as possible, despite the emotional toll. Amidst the battle for survival, the universe shines on him and he bonds with not one but four people who give him a reason to keep fighting. When Valespia sends its Legions to the GyrFalconi's aid, Destin and his bonded are eventually freed, only to face new cruelties from their own people. Freedom comes with its own trials, though, as a divide forms in GyrFalconi society between the winged and the wingless. Destin and his bonded are given a chance at true happiness and they keep what they claim, no matter what. Tags: The Twenty-Year War where Terrens really mucked things up, so many hatchlings, Love not Lust (yes, using caps there seemed necessary), survivors, bisexual characters, all the cute hatchlings, talking to spirits, low heat, protective chantelle, evil empress, courageous stags, polyamorous, Destin keeps collecting bonded, avian species screech... a lot, non-human ace spectrum characters, found family, underestimated batore, so many stags, Mar'Sani mentor, did I mention the cutest chicks ever? CHERISH is the fourth book in the award-winning Valespian Pact series. Trigger warnings can be found in the Author's Note. Please download a sample of this book or use the Look Inside feature. 196,000 words.
Cherish
Word Count: Information not available
Summary: Readers' Favorite gave CHILDREN of the FUTURE five-stars. "...children will enjoy the twists and turns, and suspense and mystery. The story is refreshingly original… " A bus of missing children, and a ticking clock – no one knows where they have gone… A small yellow school bus pulls up in front of the little red brick schoolhouse. Telly, the bus driver, discovers all of the children are missing -- all except one very frightened Billy who has hidden in a cabinet. Where is everyone? Telly and Billy are determined to find the answers. The little town of Rocky Flats is stirred into a frenzy. Nothing like this has ever happened before! Where have the children gone? Why? As the clock ticks and the little town rallies together in the search, will they find the children before it's too late?
Children of the Future
Word Count:

130000
Summary: The world was forever changed when a government genetic experiment created the Chromodecs from a dead alien in 1952. Decades later, when it became apparent that society needed a way to deal with a hybrid humans with unheard of powers, the CORP was created. The Chromodec Office of Restraint and Protection was a special government police agency formed to keep track of the Chromodecs. This particular tale involves two refugees, young babies who were sent down to Earth to escape being used as pawns in an interplanetary war, despite the fact that Earth itself wasn't so safe. Destined to be Q'sirrahna, or soul mates as the humans called it, Amari Losira Del Rey and Zendara Inyri Baen-Tor would grow to be more powerful than any other beings on the planet, if they could find each other first. After being forced to hide from the CORP when it's realized their powers could level entire cities, Amari and Zen will have to answer one question. Who will save the world when it all falls apart?
Children of the Stars
Word Count:

88000
Summary: Sierra and Max arrive in 2062, and find the world has somewhat changed. Joe Biden was President from 2009-2017, and train travel is much more prominent. Was this due to the scrolls that she rescued from the Library of Alexandria? Heron's Chronica, which describes how to build a time travel device and was one of the texts Sierra saved from burning, has not yet been published, and Sierra soon realizes that Heron is doing everything in his lethal power to prevent that from happening. Her attempt to safeguard the Chronica, which she left in William Henry Appleton's keeping, takes her to the end of the 1890s, where she dines, plots, and otherwise interacts with John Jacob Astor IV, Nikola Tesla, Thomas Edison, J. P. Morgan, film pioneers William Dickson and Edwin Porter, and other denizens of The Gilded Age.
Chronica
Word Count: Information not available
Summary: Every night the monsters hunt. A city that is the whole world: Theosophy and her companions in the City militia do their best to protect the civilians from the monsters, but they keep crawling from the Rift and there's nowhere to run. Theosophy knows she'll die fighting. It's the best kind of death she's seen, and at least she can save lives in the meantime. They say the Scarred carve you up while you're still alive. A village in the shadow of a forest: Refugees from the border whisper about the oncoming Scarred, but Briony can't convince her brother to relocate his children to safety. Briony will do anything to protect them. She owes them that much, even if it means turning to forbidden magic. When Theosophy and Briony accidentally make contact across the boundaries of their worlds, they realize that solutions might finally be within reach. A world beyond the City would give Theosophy's people an escape, and the City's warriors could help Briony protect her family from the Scarred. Each woman sees in the other a strength she lacks—and maybe something more. All they need to do is find a way across the dimensions to each other before their enemies close in.
City of Hope and Ruin
Word Count:

33000
Summary: Clarity (noun) Four definitions to inspire writers around the world and an unlimited number of possible stories to tell: 1) Coherent and intelligible 2) Transparent or pure 3) Attaining certainty about something 4) Easy to see or hear Clarity features 300-word speculative flash fiction stories from across the rainbow spectrum, from the minds of the writers of Queer Sci Fi.
Clarity
Word Count:

88000
Summary: Claustrophilia is a genre-bending sci-fi Gothic that dives deep into the psyche's need for love and control while exploring the darker side of human (and non-human) relationships. After the tragic death of his entire family, Thomas lives under a conservatorship overseen by his lover, Ethan. But Ethan's job keeps him away. Isolated in the family's decaying Connecticut mansion, Thomas lives a monotonous life under the watchful eye of a live-in security firm until one day, he discovers an alien hiding on the grounds of his estate. Confronted with the challenge of helping to save an alien species from extinction, Thomas must overcome the forces that control him in his own home. In a world where reality is not always what it seems, and trust is a double-edged sword, one wrong move could turn his whole world upside down… again.
Claustrophilia
Word Count:

130000
Summary: When the slightest touch triggers visions of horror, you learn not to let anyone close. After more than a decade hiding from society, Seth Albright is sheltered. His visions make it a necessary evil. After a precocious emergence as a seer when he was eight, his mother took him to live in the woods. To protect him. When he can't take another day of isolation, Seth turns to SPIRE. There, he gets partnered with Roy Merchant as his anchor. Enough inexperienced psions have burned Roy by using him as a stepping stone to last a lifetime. Roy has seen scandals come and go in his time with SPIRE. Seth has seen atrocities most people couldn't imagine. But neither of them has seen anything like what's coming for them next. This is MM urban fantasy containing some mild BDSM elements and an age gap.
Clear Sight
Word Count: Information not available
Summary: Actually, this is your mom's video game. Daria Jackson hasn't entered NeuroNet to play Challenge of Vircon since her tanking husband passed away. A newly single mom, she quit VR esports to develop biofarming hardware for deep space exploration. For ten years Daria's cheered her kids on as they fought their way up CoV leaderboards. While cleaning their VR cabinets, a forgotten login protocol drops her at level one in the game world she almost ruled. Strange glitches and odd throwbacks from her past hint at a ghost in the machine related to her family. Daria's weekend project is supposed to be writing a speech to present her Perpetual Biofarming Unit at Earthsplorer Command. But now she's caught up in CoV, leveling up to unearth a mystery. Can Daria choose between the game and her real-world responsibilities?
Clerical Error
Word Count:

106,000
Summary: In the early 21st century, Rowan is fighting a secret war against alien pirates bent on subjugating all of mankind. At least, that's what she thinks. In reality, it's a thousand years later, Earth has long been part of an interstellar and interspecies republic, and she's a character on Angel Black, an e-entertainment that allows viewers a complete sensory experience through her perspective. Who needs actors when you can clone famous performers and splice in some alien DNA? Since studio clones have no rights, their lives and experiences can be tailor-made for the program. It's just too bad the clones don't know that. Ryan Chandler was a decorated war hero until he was cloned to save his life. His career options died with his original body and the best job he can get is a technician on Angel Black. He's planning to escape to a newly colonized system when Rowan is scheduled to be killed off. With help from unexpected allies, Ryan stages Rowan's rescue, but getting her off the set is only the beginning. To succeed, they must evade a manhunt supported by the state that fears Rowan's liberation might be the triggering event of a clone rights movement that could cost the establishment billions and shake the foundations of human society. Can two clones find their freedom in a society that treats them as second-class citizens?
Cloning Freedom
Word Count:

72000
Summary: Vampires and werewolves live long lives. The Sleepless City saga might have ended but the story continues… Welcome to the Vampire Guard, where legend and myth meet science and technology.   Vampires make the best spies. Throw a smart-mouthed werewolf in with three vampires, mix well, and The Vampire Guard's newest team is bound to become one of their greatest assets. Super spies with a full range of skills. Warrior, hacker, thief, and scientist.  They get in, do the job and get out before the bad guys ever know what hit them. Forge, Blair, Declan, and Lucas are thrust into the world of high-tech spies and top-secret espionage conspiracies. Recruited into the world's most elite and secret organization with one singular mission. Protect those who can't defend themselves from ruin. Life becomes complicated when an impending Presidential visit to their town, Boggslake, throws them headlong into the world of the vampires and werewolves of the Vampire Guard. Very quickly they uncover and confront a werewolf terrorist organization known as the Qiguan. Together they must thwart an assassination attempt on the open waters of Lake Superior while tracking a previously unknown biological weapon controlled by the Qiguan—a weapon which may very well mean death for one of them.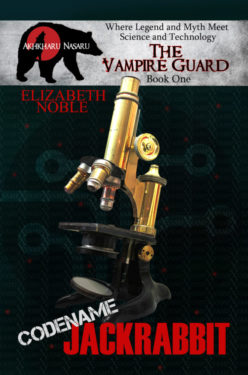 Code Name Jack Rabbit