Anna was a communications specialist for many years, working in various UK government departments on everything from marketing employment schemes to organizing conferences for 10,000 civil servants to running an internal TV service. These days, though, she is writing full time. She recently moved out of the ethnic and cultural melting pot of East London to the rather slower environs of a quiet village tucked deep in the Nottinghamshire countryside, where she lives with her husband and the Deputy Editor, aka Molly the cockerpoo.
Sign up for Anna's quarterly newsletter
This author has been favorited by 5 users.
Contact Information:
Email Address: annabutlerfiction@gmail.com
Books By Anna Butler
Word Count: Click here to reveal110,000 (Click here to hide)

Summary: Rafe Lancaster is reluctantly settling into his role as the First Heir of House Stravaigor. Trapped by his father's illness and his new responsibilities, Rafe can't go with lover Ned Winter to Aegypt for the 1902/03 archaeological digging season. Rafe's unease at being left behind intensifies when Ned's fascination with the strange Antikythera mechanism and its intriguing link to the Aegyptian god Thoth has Ned heading south to the remote, unexplored highlands of Abyssinia and the course of the Blue Nile. Searching for Thoth's deadly secrets, Ned is out of contact and far from help. When he doesn't return at Christmas as he promised, everything points to trouble. Rafe is left with a stark choice – abandon his dying father or risk never seeing Ned again.
The God's Eye
Word Count: Click here to reveal489,500 (Click here to hide)

Summary: In this Rainbow Award-winning space opera/military sci-fi series, Earth is a dead planet, dark for thousands of years; lost for so long no one even knows where the solar system is. Her last known colony, Albion, has grown to be regional galactic power in its own right. But its drive to expand and found colonies of its own has threatened an alien race, the Maess, against whom Albion is now fighting a last-ditch battle for survival in a war that's dragged on for generations. Taking Shield charts the missions and adventures of Shield Captain Bennet, scion of a prominent military family. Bennet, also an analyst with the Military Strategy Unit, uncovers crucial data about the Maess to help with the war effort. Against the demands of his family's 'triple goddess' of Duty, Honour and Service, is set Bennet's relationships with lovers and family—his difficult relationship with his long term partner, Joss;  his estrangement from his father, Caeden, the commander of Fleet's First Flotilla; and Fleet Lieutenant Flynn, who, over the course of the series, develops into Bennet's main love interest. Over the Taking Shield arc, Bennet will see the extremes to which humanity's enemies, and his own people, will go to win the war. Some days he isn't able to tell friend from foe. Some days he doubts everything, including himself, as he strives to ensure Albion's victory. And some days he isn't sure, any longer, what victory looks like.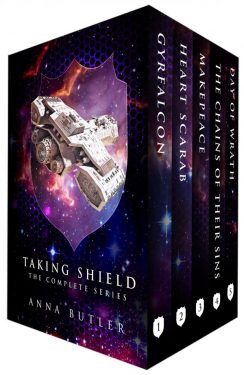 Taking Shield : The Complete Series
Word Count: Click here to reveal115,000 (Click here to hide)

Summary: SECOND EDITION When Captain Rafe Lancaster is invalided out of the Britannic Imperium's Aero Corps after crashing his aerofighter during the Second Boer War, his eyesight is damaged permanently, and his career as a fighter pilot is over. Returning to Londinium in late November 1899, he's lost the skies he loved, has no place in a society ruled by an elite oligarchy of powerful Houses, and is hard up, homeless, and in desperate need of a new direction in life. Everything changes when he buys a coffeehouse near the Britannic Imperium Museum in Bloomsbury, the haunt of Aegyptologists. For the first time in years, Rafe is free to be himself. In a city powered by luminiferous aether and phlogiston, and where powerful men use House assassins to target their rivals, Rafe must navigate dangerous politics, deal with a jealous and possessive ex-lover, learn to make the best coffee in Londinium, and fend off murder and kidnap attempts before he can find happiness with the man he loves.
The Gilded Scarab
Word Count: Click here to reveal111,600 (Click here to hide)

Summary: **First Place Winner 2019 Rainbow Awards: Best Gay Historical Romance. ** **Third Place Winner 2019 Rainbow Awards: Best Gay Book.** SECOND EDITION: Something is stalking the Aegyptian night and endangering the archaeologists excavating the mysterious temple ruins in Abydos. But is it a vengeful ancient spirit or a very modern conspiracy… Rafe Lancaster's relationship with Gallowglass First Heir, Ned Winter, flourishes over the summer of 1900, and when Rafe's House encourages him to join Ned's next archaeological expedition, he sees a chance for it to deepen further. Since all the Houses of the Britannic Imperium, Rafe's included, view assassination as a convenient solution to most problems, he packs his aether pistol—just in case. Trouble finds them in Abydos. Rafe and Ned begin to wonder if they're facing opposition to the Temple of Seti being disturbed. What begins as tricks and pranks escalates to attacks and death, while the figure of the Dog—the jackal-headed god Anubis, ruler of death—casts a long shadow over the desert sands. Destruction follows in his wake as he returns to reclaim his place in Abydos. Can Rafe and Ned stand against both the god and House plots when the life of Ned's son is on the line?
The Jackal's House
Word Count: Click here to reveal106,300 (Click here to hide)

Summary: 2018/19 RAINBOW AWARD WINNER First Place: Best LGBTA Book First Place: Best Contemporary General Fiction, Fantasy & Sci-Fi / Futuristic The Taking Shield series comes to its shattering conclusion in Day of Wrath, the fifth and final book. In less than a week, Bennet will finally return to the Shield Regiment, leaving behind the Gyrfalcon, his father, his friends… and Flynn. Promotion to Shield Major and being given command of a battle group despite the political fallout from Makepeace the year before is everything he thought he wanted. Everything he's worked towards for the last three years. Except for leaving Flynn. He really doesn't want to leave Flynn. There's time for one last flight together. A routine mission. Nothing too taxing, just savouring every moment with the best wingman, the best friend, he's ever had. That's the plan. Bennet should know better than to trust to routine because what waits for them out there will change their lives forever.
Day of Wrath
Word Count: Click here to reveal97,600 (Click here to hide)

Summary: **First Place Winner 2017 Rainbow Awards: Best Gay Sci-fi//Futuristic. ** **Third Place Winner 2017 Rainbow Awards: Best Gay Book.** Shield Captain Bennet arrives on the Gyrfalcon to take up his final year's posting before returning to the Shield Regiment after his rotation out. On Gyrfalcon he faces up to the fallout from Makepeace—ethical, political and above all, personal. Will he be able to accept necessity: that knowing what the Maess are up to outweighs the humanitarian issues surrounding the prisoners he rescued from Makepeace? Can he ride out the political furore that follows the loss of the dreadnought Caliban? How will he cope with an entire year of serving under his father, Caeden? And worst of all, how in the name of every god in the Pantheon can he stand to see Flynn every single day, with the Fraternisation Regs standing between them and keeping them apart? It will be an interesting year. Bennet can hardly wait for it to be over. Of course, things never really do go to plan…
The Chains of Their Sins
Word Count: Click here to reveal20,900 (Click here to hide)

Summary: One day, someday soon, Jeeze Madrid was going to wake up and realize just what he'd been passing up; he'd see what Cal Paxton was offering him so faithfully—"Faithfully, Jeeze! Even you can't deny that!"—and grab it. And they'd finally have what Cal wanted. Cal Paxton and Jeeze Madrid are the top scouting team on the Pathfinder-class starship, the Carson, on the very outer edge of Earth's expansion across the galaxy. Cal and Jeeze find the uninhabited planets, the Carson evaluates them for colonization. Cal and Jeeze are wingmen, best friends... and lovers. Cal wants more than a casual relationship but Jeeze, recently divorced, is wary of commitment. When Jeeze's scout ship is shot down over a planet inhabited by a race Earth has never before encountered, what will Cal find when the Carson can finally mount a rescue mission? Will he ever succeed in persuading Jeeze to take up his offer of hand and heart?
FlashWIred
Word Count: Click here to reveal29,400 (Click here to hide)

Summary: Li Liang has found a berth to suit her: chief pilot and first officer of the all-female crew of an old space freighter, the Sappho. Then one ordinary, unremarkable morning, Liang retunes the Sappho's communications systems just in time to catch the breathless, terrible accounts from Mars of the total destruction of Earth. Earth's a cinder. The unknown alien race that destroyed it has left Mars, too, in flames and is ravening outward from the solar system, devouring every human colony on the way. Liang's one of the few survivors, racing ahead of the Devourers, rescuing as many frightened, shocked people as she can. Will Liang and the pitiful remnants of humanity find a new haven, somewhere to start again? Or will she, too, echo the dreadful last message coming out of their dead home? They're coming. Oh God, they're coming.
Passing Shadows
Word Count: Click here to reveal94,500 (Click here to hide)

Summary: Returning to duty following his long recovery from the injuries he sustained during the events recounted in Heart Scarab, Shield Captain Bennet accepts a tour of duty in Fleet as flight captain on a dreadnought. The one saving grace is that it isn't his father's ship—bad enough that he can't yet return to the Shield Regiment, at least he doesn't have the added stress of commanding former lover, Fleet Lieutenant Flynn and knowing the fraternisation regulations will keep them apart. Bennet's new mission takes him behind the lines to Makepeace, once a human colony but under Maess control for more than a century. The mission goes belly up, costing Albion one of her precious, irreplaceable dreadnoughts and bringing political upheaval, acrimony and the threat of public unrest in its wake. But for Bennet, the real nightmare is discovering what the Maess have in store for humanity. It's not good. It's not good at all
Makepeace
Word Count: Click here to reveal93,900 (Click here to hide)

Summary: Shield Captain Bennet is on Telnos, a unpleasant little planet inhabited by religious fanatics and unregistered miners running illegal solactinium mines. It's about to be about to be overrun by the Maess. Bennet's job is to get out as many civilians as he can, but the enemy arrives before the evacuation is complete. Caught in a vicious fire fight, Bennet is left behind, presumed dead. His family is grieving. Joss, his long-term partner, grieves with them; lost, unhappy, remorseful. First Lieutenant Flynn has no official 'rights' here. He isn't family. He isn't partner or lover. All he is, is broken.
Heart Scarab
Word Count: Click here to reveal95,100 (Click here to hide)

Summary: Earth's last known colony, Albion, is fighting an alien enemy. In the first of the Taking Shield serial, Shield Captain Bennet is dropped behind the lines to steal priceless intelligence. A dangerous job, and Bennet doesn't need the distractions of changing relationships with his long-term partner, Joss, or with his father—and with Flynn, the new lover who will turn his world upside-down. He expects to risk his life. He expects the data will alter the course of the war. What he doesn't expect is that it will change his life or that Flynn will be impossible to forget.
Gyrfalcon