Award-winning author and editor Danielle Ackley-McPhail has worked both sides of the publishing industry for longer than she cares to admit. In 2014 she joined forces with Mike McPhail and Greg Schauer to form eSpec Books (www.especbooks.com).
Her published works include six novels, Yesterday's Dreams, Tomorrow's Memories, Today's Promise, The Halfling's Court, The Redcaps' Queen, Daire's Devils, and Baba Ali and the Clockwork Djinn, written with Day Al-Mohamed. She is also the author of the solo collections Eternal Wanderings, A Legacy of Stars, Consigned to the Sea, Flash in the Can, Transcendence, Between Darkness and Light, The Fox's Fire, The Kindly One, Dawns a New Day, and the non-fiction writers' guides, The Literary Handyman, Build-a-Book Workshop, and More Tips from the Handyman. She is the senior editor of the Bad-Ass Faeries anthology series, Gaslight & Grimm, Side of Good/Side of Evil, After Punk, Footprints in the Stars, and Devilish & Divine. Her short stories are included in numerous other anthologies and collections.
In addition to her literary acclaim, she crafts and sells original costume horns under the moniker The Hornie Lady, and homemade flavor-infused candied ginger under the brand of Ginger KICK! at literary conventions, on commission, and wholesale.
Danielle lives in New Jersey with husband and fellow writer, Mike McPhail, and four extremely spoiled cats.
This author has been favorited by 1 user.
Books By Danielle Ackley-McPhail
Word Count: Information not available
Summary: There are creatures lurking in our world. Obscure creatures long relegated to myth and legend. They have been sighted by a lucky-or unlucky-few, some have even been photographed, but their existence remains unproven and unrecognized by the scientific community. These creatures, long thought gone, have somehow survived; creatures from our nightmares haunting the dark places. They swim in our lakes and bays, they soar the night skies, they hunt in the woods. Some are from our past, and some from other worlds, and others that have always been with us-watching us, fearing us, hunting us. These are the cryptids, and Systema Paradoxa tells their tales. *** Life and Death and Family Secrets... Sheridan Cascaden faces more than memories when she receives a call in the darkest hours summoning her home. Sent away five years prior to safeguard her from the evil that claimed her mother, Sheridan hasn't been back since. She returns to find her home in a disturbing state and her father straddling the Veil, with no explanation of what happened. Not only must she deal with her own demons, but she will have to delve into his if she is to unlock the mystery and save Papa's life. But where lies the line between truth and madness among the shifting shadows? And can Sheridan navigate it before it's too late... for both of them?
The Play of Light
Word Count: Information not available
Summary: Give the Enemy Hell! At the ass-end of the galaxy, Allied Forces-including the 142nd Mobile Special Ops Team, better known as Daire's Devils-stand ready to defend the contested colony planet Demeter from military invasion and corporate exploitation. But when the Allied Forces are infiltrated by those determined to secure the top-secret designs of AeroCom's new prototype flagship, the Cromwell, the newest member of the Devils, Corporal Katrion Alexander, finds herself facing off against an unexpected menace, synthetic operatives indistinguishable from living beings. She and the Devils must neutralize this new threat, but how when the enemy wears a trusted face?
Daire's Devils
Word Count: Information not available
Summary: No (battle) plan survives contact with the enemy. Winning a war has never been just a cold collection of numbers on a tally sheet. The Faiths always play their part in fifteen stories exploring when things go wrong. With stories by James Chambers, Nancy Jane Moore, Maria V. Snyder, Jack Campbell (John G. Hemry), Bud Sparhawk, Peter Prellwitz, John L. French, Jeff Young, Keith R.A. DeCandido, David Sherman, Jeffrey Lyman, Judi Fleming, Danielle Ackley-McPhail, Eric V. Hardenbrook, and CJ Henderson.
Best Laid Plans
Word Count: Information not available
Summary: Come, Best Beloved, and sit you by my feet. I shall tell you a tale such as sister Scheherazade could have scarce imagined... In the Nejd there is nothing at all...except secrets. A band of thieves wishes such secrets to remain hidden. In England, far from his desert home, Ali bin-Massoud serves as apprentice to the famed Charles Babbage. One night a mysterious box is delivered by a clockwork falcon and Ali's world is never the same again. Heartache, danger, and thieves mark his journey as Ali is summoned home at the death of his father. It will take faith, knowledge, and yes, love to realize his destiny, and more than a little skill with steam-driven technology. Can he unravel the mystery of the puzzle box and the clockwork djinn before it is too late? An ancient legacy and Ali's very life depend on his success. Hear you the tale of Baba Ali and the Clockwork Djinn.
Baba Ali and the Clockwork Djinn
Word Count: Information not available
Summary: When fire and steel meet flesh and bone, a soldier learns a hard truth: you're not fighting for Glory and Honor, but for survival, for you and your comrades, and you will be damned if you're going to leave any of them behind. Join us for twelve tales of military heroism and courage in the face of a hostile enemy. With stories by Brenda Cooper, Bud Sparhawk, David Sherman, Robert E. Waters, Jeff Young, James Chambers, Lisanne Norman, Robert Greenberger, Aaron Rosenberg, Christopher M. Hiles, Eric V. Hardenbrook, and Danielle Ackley-McPhail
In Harm's Way
Word Count: Information not available
Summary: Mortal. Immortal. Musician. Mage. On a journey from the boroughs of New York to the heart of Tir na nÓg, from innocence to the deepest darkest crevices of her soul, Kara O'Keefe found power and strength in the discovery of self. But with that peace came a hard truth. As a bridge connecting many worlds, none of them held a place for her. She must find her own way, forge her own path. To honor a vow to Granddame Rose, a matriarch of the Kalderaš Clan, Kara joins the Romani caravan, only to find herself even more of an outsider than before. While she strives for acceptance, and to honor her vow, little does she know she has once more become a lure to an ancient and deadly enemy, drawing danger into the midst of her unsuspecting hosts. Once savior of the world, Kara must now save herself and the innocents around her. She has come into her legacy, but where will destiny take her? **** Based on the Eternal Cycle Series of Novels: Yesterday's Dreams Tomorrow's Memories Today's Promise **** Includes six bonus short stories.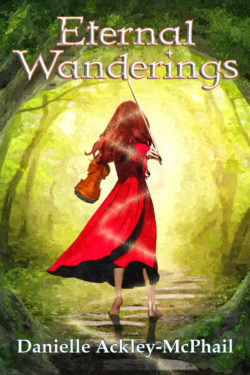 Eternal Wanderings
Word Count: Information not available
Summary: The Hunt is On! When strength becomes weakness… And hope becomes doubt… As the past collides with the future…hard… Can Suzanne—Wild Hunt biker chick and one-time member of the fae High Court—stand strong as her world falls apart? She survived an assault by redcaps, an all-out battle with the High King's armies, and her first encounter with roller derby… but how will she fare against her inner demons? Caught in the midst of a transformation she scarcely realizes and does not understand, her hard-won convictions are tested as never before. Suzanne is left with only one question—what if they're wrong? The truth could mean the difference between saving her sanity and losing her soul…
The Redcaps' Queen
Word Count: Information not available
Summary: Get Your Bad-Ass On! The rumble of a Harley... The gleam of black leather... The shine of polished chrome... The freedom of the open road.... Motorcycles meet magic and mayhem as Lance Cosain, the halfling leader of The Wild Hunt MC, protects his turf and his people from attacks ordered by Dair na Scath, the high king of the fae. Holding his own against rogue fae, redcaps, and pissed-off road gremlins, all Lance wants to do is settle down with his lady. Instead he goes toe-to-toe with the high king's champion over an ancient dagger and his claim to the throne. Who will triumph? The king of the road or the king of the realm? Either way, the Hunt is on!
The Halfling's Court
Word Count: Information not available
Summary: The plan had been to un-man the battlespace, replacing flesh and blood with steel and carbon fiber. Machines, both remote-controlled and autonomous A.I.s, would fight and be destroyed in the name of freedom; sparing the troops at the cost of the nation's treasure. However, as with any arms race, the opposing side's technology eventually catches ups to yours, resulting in the need to put lives back in harm's way on the frontline; to deal with, and adapt to the unknown, as only humans can. With stories by Brenda Cooper, Bud Sparhawk, Jennifer Brozek, Ronald T. Garner, Aaron Rosenberg, James Chambers, Nancy Jane Moore, Patrick Thomas, Jeff Young, Eric V. Hardenbrook, Robert E. Waters, Anton Kukal, and Danielle Ackley-McPhail, and an afterword by the late CJ Henderson.
Man and Machine
Word Count: Information not available
Summary: Animals have fought for us for centuries, not because of the ideals of service to King and Country, but out of unwavering loyalty and devotion to their human Masters. The future, it would seem, is no better than the past, as some animals become expendable weapons or augmented semi-machines, while others receive the honor and dignity of being treated as fellow soldiers. In tribute, we bring you seventeen stories of our animal comrades-in-arms.
Dogs of War
Word Count: Information not available
Summary: The embers of War still glow as memories of strange skies over an alien landscape, light-years from home, bring back the sensations of battle; a time when personal sacrifice meant the difference between salvation for all, or total destruction. Gathered here is a cross-section of stories from the first decade of the award-winning Defending The Future series. Written by the known and up-and-coming in the military science fiction genre, these stories represent the fan-requested highlights from the series.
The Best of Defending the Future