Paranormal fiction including characters with special abilities – mind reading/control, teleportation, etc. Return to general Paranormal
Note: these books are currently sorted by release date, with newest first.
Word Count:

52,500
Summary: The cerebral interface has revolutionised society. Need a ride? With a thought, the cab is on its way. Want an adventure? Enter a VR 5 computer game nearly indistinguishable from reality. Amanda arranges for her Big Sisters Program little sister, Rachel, to spend a day gaming as a fourteenth birthday present. Amanda never suspects that her insane ex-boyfriend, Jim, will use a computer virus to trap her and her companions in the game. A pleasant diversion becomes a life and death struggle as her party seek a way to come back to the real world without triggering a program that will cause nanobots to rip their brains to shreds. To complicate matters, in the game scenario the adventurers have been transformed into cats. Will the party survive? Will Amanda admit that Rachel's older brother, Tyrell, might just be her future? Will the computer virus Jim used to trap them become a cyber plague that could kill thousands?
Cats
Word Count:

57800
Summary: Ethan Roam suffers from night terrors and vivid daydreams, which lead him to the doorstep of the eccentric Dr. Grady Hunter, who thrusts him into a world of supernatural misfits. Ethan quickly learns that there's more reality to his dreams than he suspected. As Ethan unravels the truth behind his nightmares and falls into his first experience with love, he also finds himself the target of a sinister plan. Ethan's trust in his new companions will be tested and he'll have to decide who he can rely on and who he must defy in order to survive a fatal Halloween night.
ROAM
Word Count:

47,000
Summary: A collection of tales filled with monsters, be they human or beast, ranging in setting from dystopia to pitch black noir and even general silliness. From the ludicrous to the frighteningly plausible; from deep space to after the end of the world. There are clumsy werewolves and bloody revenge, monster sleep overs and a dieting fad sure to kill your appetite. Whether looking into the past or the future, you're sure to find that stuff gets really weird.
Shotgun Bastards and Other Stories
Word Count:

83000
Summary: By the end of the 21st century, the world had become a harsh place. After decades of natural and man-made catastrophes, nations fell, populations shifted, and seventy percent of the continents became uninhabitable without protective suits. Technological advancement strode forward faster than ever and it was the only thing that kept human society steady through it all. No one could have predicted the discovery of the Dream Walkers. They were people born with the ability to leave their bodies at will, unseen by the waking world. Having the potential to become ultimate spies meant the remaining government regimes wanted to study and control them. The North American government, under the leadership of General Rennet, demanded that all Dream Walkers join the military program. For any that refused to comply, they were hunted down and either brainwashed or killed. The very first Dream Walker discovered was a five year old girl named Julia. And when the soldiers came for her at the age of twenty, she was already hidden away. A decade later found Julia living a new life under the government's radar. As a secure tech courier in the capital city of Chicago, she does her job and the rest of her time avoids other people as much as she is able. The moment she agrees to help another fugitive Walker is when everything changes. Now the government wants them both and they'll stop at nothing to get what they want.
Waking the Dreamer
Word Count:

83400
Summary: Artists use all manner of materials to express their vision, to interpret the world around them, to affect the hearts and minds of their audience. But what if the artist himself were the medium? And what if artistic inspiration weren't the only force at work? If painter Stefan Cobbe and art investigator Luke Morganstern don't answer those questions fast, they stand to lose their reputations, their relationship — and their lives. **Omnibus edition contains both The Artist's Touch and Tested in Fire
Art Medium
Word Count:

52000
Summary: Six months ago, Stefan Cobbe was at rock bottom: grief-stricken, guilt ridden, debt laden, artistically blocked, and living on charity in an isolated mountain cabin. But after reconciling with his first love, Luke, and moving to Sarasota with him, Stefan is preparing for his first major show. Yes, he still has debts, and no, Luke doesn't understand Stefan's desire for independence. But compared to last year? No contest. Luke Morganstern ought to be happy. After all, his art-investigation business has recovered and he's got his boyfriend back. But Stefan stubbornly refuses to move in with him or accept Luke's financial help, and it's really starting to bug him. Who knew that the biggest test of their relationship wouldn't be time or distance, but his own insecurities? After Luke's next job—a trip to Italy to retrieve a mysterious artifact—he plans to convince Stefan that it's time to totally commit. But when Luke returns, he changes, and Stefan begins to suspect that the person in Luke's skin isn't Luke at all. He can hardly go to the police and claim his lover is the victim of a supernatural hijacking though. He needs alternative help to find Luke and get him back, because he refuses to let anyone—or anything—come between them again.
Tested in Fire
Word Count:

85788
Summary: Kris Starr used to be famous. Rock and roll. Sold-out shows. Literal magic. Empathic talents and screaming fans. But he has a problem or two. He's having a hard time writing new music. It's Midwinter, which means he's surrounded by depressing holiday cheer. And he's in love with Justin, his manager, who has a talent for rescuing almost- or once-famous bands ... and who's hiding secrets of his own. Justin Moore, on the other hand, is very good at keeping those secrets -- he's had to be for years. One secret involves a demonic inheritance that would make him a target of suspicion. Another involves his past. And the third involves Justin's feelings for Kris Starr, rock and roll icon and now his client ... and a powerful empath.
A Demon for Midwinter
Word Count:

32000
Summary: Two men haunted by more than the past. Painter Stefan Cobbe was homeless and debt-ridden after the death of his wealthy partner, but the worst loss of all was his artistic inspiration. After two years of nothing, he's offered patronage by an eccentric gallery owner and starts to produce again, canvas after canvas. The only problem? He can't remember painting any of them—not one single brushstroke. Luke Morganstern's reputation as an art-fraud investigator is in tatters. He can't afford to turn down any job, even a lousy one for an anonymous client who sends him after an unidentified forger in a remote cabin in Oregon. When the alleged forger turns out to be Stefan, the man he never stopped loving, Luke's professional ethics are stretched beyond the breaking point. As the two men take tentative steps toward reconciliation, evidence begins to mount that they're not alone in the woods. Someone—or something—is watching. Something with sinister plans for them both. To escape, Luke must overcome his suspicions and Stefan must trust Luke with his deepest fears. Otherwise they could forfeit their relationship, their sanity—and their lives. Publisher's note: Publisher's note: This is a heavily revised and significantly expanded reprint of Northern Light. The second book in the Art Medium series, Tested In Fire, is a first edition. Both are sold together in both ebook and print collections.
The Artist's Touch
Word Count:

54000
Summary:
Lew's life is pleasantly boring until his friend Mira messes with magic she doesn't understand. While searching for her, he is pulled back in time to 1919 by a catastrophic magical accident. As he tries to navigate a strange time and find his friend in the smoky music clubs of Soho, the last thing he needs is Detective Alec Carter suspecting him of murder.
 London in 1919 is cold, wet, and tired from four years of war. Alec is back in the Metropolitan Police after slogging out his army service on the Western Front. Falling for a suspect in a gruesome murder case is not on his agenda, however attractive he finds the other man.
 They are both floundering and out of their depth, struggling to come to terms with feelings they didn't ask for and didn't expect. Both have secrets that could get them arrested or killed. In the middle of a murder investigation that involves wild magic, mysterious creatures, and illegal sexual desire, who is safe to trust?
Lost In Time
Word Count:

50655
Summary: 'Old actors never die' shouldn't be literally true. Carrington Loveless III, skim-blood vampire and senior officer of Philly's paranormal police department, has long suspected that someone's targeting his squad. The increasingly bizarre and dangerous entities invading their city can't be a coincidence. So when a walking corpse spouting Oscar Wilde attacks one of his officers, Carrington's determined to uncover the evil mind behind it all. As a rare books librarian, Erasmus Graham thought he understood some of the stranger things in life. Sharing a life with Carrington has shown him he didn't know the half of it. They've survived attack books and deadly dust bunnies together and got through mostly unscathed. Now his world and his vampire's appear ready to collide again. Books are missing from the Rare Book collection—old tomes of magic containing dangerous summonings and necromancy. He's certain whoever has been stalking the Seventy-Seventh is composing their end game. It's going to take a consolidated effort from paranormal police, librarians and some not-quite-authorized civilians to head off the impending catastrophe.
All The World's An Undead Stage
Word Count:

90000
Summary: Join an extraordinary family on a heart-pounding adventure as they face mortal danger. Telepathy creates as many problems as it solves, as everyone in the secret organization x0 would admit. Those problems become much worse when budding psychic Lola discovers another group of telepaths associated with a powerful media empire. This group is willing to destroy anyone capable of challenging them. Soon, Lola's family and friends are in danger. Fortunately, they are gifted with astonishing abilities of their own. Yet, none of them know how to fight. It will take every power they possess, and the allegiance of a helpful warrior, to bring down the arrogant adepts who do the bidding of a man hell-bent on promoting destruction. Can the talented people Lola cares about learn to trust each other and work together in order to save the world?
One of Two
Word Count:

57949
Summary: Hoax animals and a consulting vampire on the prowl—Jason never thought having a cop boyfriend would be this hard. All Animal Control Officer Jason Shen ever wanted was a quiet life of rescuing lost kittens and helping animals in need. Having a paranormal cop boyfriend guarantees an end to the quiet part. What at first seems a random encounter with jackalopes in the park might be more than chance and when State Paranormal sends a handsome, charming vampire to consult with the Seventy-Seventh, he finds his relationship with Alex on shaky ground. Officer Alex Wolf hoped his humaning skills were improving but now he can't unravel the strange politics at State Paranormal or why Jason's family seems to hate him. There's no time to puzzle things out either. Bizarre animals are loose in the city, Jason's acting strange, and is the vampire captain from State flirting with him? Wolf's going to have to keep his head in the game if he's going to have any chance of putting the pieces together and keeping the city safe from the strange critters terrorizing its streets.
Jackalopes & Woofen-Poofs
Word Count:

40000
Summary: Officer Alex Wolf responds to a lot of 'paranormal' calls that aren't. Exotic pet birds aren't monsters and unusual dog breeds aren't aliens. It's a good thing he likes the animal control officers, but he both yearns for and dreads those calls where he runs into ACO Jason Shen. Jason's scent is so delicious that Wolf has a difficult time humaning around him. Animal control calls take a disturbing turn, though, when Wolf and his lizard-man partner, Krisk, discover the impossibly mummified bodies of rats and an unfortunate mother cat. The rescue of the cat's sole surviving kitten not only gives Wolf more time with Jason, which is both perplexing and wonderful, but also leads to dangerous discoveries. Something inconceivable stalks the city and its officers of the law. Wolf has to figure out what it is before it can attack and drain the life from the people and the kitten he loves.
Feral Dust Bunnies
Word Count:

46809
Summary: When a ferocious book attacks Carrington at his own birthday party, he believes it's an isolated incident. But similar books soon pop up all over town, menacing innocent people with harsh bits of poetry and blank verse that deliver damaging physical blows. It's a frustrating case with too many variables and not enough answers, and the stakes go up with each attack. With the help of his misfit squad mates at the 77th and the public library's rare book department, the missing pieces decrease but not Carrington's vexations. His commanding officer rakes him over the coals at the beginning of every shift. His police partner has lost patience with what she sees as his delusional relationship choices and his inability to pick the right man in a vast field of two. City Hall demands that the books be stopped immediately. It's enough to put a nutritionally-challenged vampire off his skim blood.
Skim Blood and Savage Verse
Word Count:

31144
Summary: Vikash Soren, the perfect police officer except for his odd paranormal ability, never seems to lose his temper. Always serene and competent, he's taken on the role of mediator in a squad room full of misfits. But on the inside, he's a mess. Unable to tell his police partner that he loves him, Vikash struggles silently, terrified of losing Kyle as a lover, partner and friend. But life in the 77th Precinct doesn't leave much room for internal reflection. A confrontation with a stick-throwing tumbleweed in Fairmount Park leads to bizarre consequences involving pill bugs, statues and…time travel? If Vikash manages to survive the week and stay in one point in time, he might be able to address normal things like relationship problems. He just needs Kyle to have a little more patience. Maybe a few centuries' worth.
The Pill Bugs of Time
Word Count:

30008
Summary: Kyle Monroe's encounter with a strange, gelatinous creature in an alley leaves him scarred and forever changed, revealing odd abilities he wishes he didn't have and earning him reassignment to a precinct where all the cops have defective paranormal abilities. Just as he's starting to adjust to his fellow misfit squad mates, Kyle's new partner arrives. Tall, physically perfect, reserved and claiming he has no broken psychic talents, Vikash Soren irritates Kyle in every way. But as much as he'd like to hate Vikash, Kyle finds himself oddly drawn to him, their non-abilities meshing in unexpected ways. If they can learn to work together, they might be able to stop the mysterious killer who has been leaving mutilated bodies along the banks of the Schuylkill.
Lime Gelatin and Other Monsters
Word Count:

133000
Summary: Brian can Find a lost child or a wanted criminal, but when his secret gets out, even Nick's skills and connections may not be enough to keep them safe. Brian Kerr is now free of his dangerous boss and his domineering brother. He's eager to start using his psychic Finding talent to help people, if he can figure out how to do that safely. His dyslexia, and his tendency to act simpleminded under stress, make building his new life a daunting challenge. And while his not-quite-boyfriend, Nick, is willing to support him, in bed and out of it, Brian doesn't want to lean on Nick. If their relationship is going anywhere, he has to be a full partner and handle his own problems. Nick Rugo's walking a tightrope instead of settling into the ordinary cop's life he'd hoped for. He's hiding too many things from too many people. He has told professional and unprofessional lies that will come back to haunt him. Now, with Brian determined to start Finding again, he's not sure he can protect the man he cares for. If all that wasn't enough to make him start punching walls, he also has a suspicion that Brian's brother Damon and sister Lori may be out there, lurking, ready to complicate their lives.
Tracefinder: Changes
Word Count:

27900
Summary: A mind-blowing collection of short fiction. This anthology of Davyne DeSye's short stories includes twelve speculative fiction stories, ranging from science fiction to fantasy, and from humorous to horrific. This collection – which includes one new tale published here for the first time – contains: -A Ray Bradbury-esque story about a boy whose wishes come true; -A dark testimony of alien invasion and the redemptive power of a single selfless act; -The true story of Little Red Riding Hood; -An inside look into robot-assisted psychotherapy of a killer; and -A guided tour of a shop for recycled dreams. These twisted tales and others may be discovered in this anthology, which includes: "The Slide," "Moron," "There I Was…," "Death, By Any Other Name," "Mine Eyes," "Mirror, Mirror," "Carapace," "…I Win," "It's Not What You Think," "Shattered," "The Cloak," and "The Thief Speaks."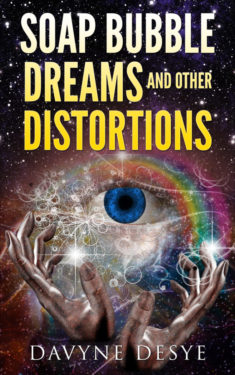 Soap Bubble Dreams and Other Distortions
Word Count:

129,000
Summary: Nate is caught between two dangerously hot vampires who can compel people to do whatever they want and a ruthless necromancer who wants Nate for all the wrong reasons—and that's only the start of his problems. Escort Nate prides himself on two things: his ability to please his clients and his normality – living in the monster capital of the world, ordinary is rare. Hunter, a darkly charming vampire with more charisma than is good for him, decides Nate is just what he needs. Nate's sympathetic nature and skill in the bedroom are put to the ultimate test. But Hunter wants Nate for someone else – his brother, Ben. Nate is immediately attracted by the control with which Ben holds his sensitive nature in force. Too afraid of becoming a monster to allow himself to feel, Ben struggles to resist Nate's generosity of emotion. As a vindictive necromancer makes Ben his target of revenge, Nate discovers that making people feel good doesn't compare to making Ben feel. As Nate's normal world crumbles around him, and he desperately searches for a way to save Ben, Nate is unable to escape becoming the necromancer's latest victim. But Nate's death is only the beginning. Coming back to life in the bathroom of Gunn, a Department Seven officer who hates the vampire family that Ben and Hunter belong to, Nate doesn't know who to trust or even what he is. As the necromancer's trap pulls tighter around himself and Ben, Nate is forced to let go of normal and embrace powers he doesn't fully understand. In defiance of Ben's vampire sire and hunted by Department Seven, Nate and Ben finally learn to trust and rely on each other. But when the necromancer succeeds in capturing Ben, Nate alone can come to his rescue.
Thorns and Fangs
Word Count:

141000
Summary: What could an undercover cop and a drug lord's pet psychic have in common? Brian Kerr has spent years hiding behind a facade of mental slowness. His brother and sister got all three of them off the streets and into a cushy life, under the protection of a dangerous criminal. But to keep that safety, Brian has to use his Finding talent to track down the boss's enemies. Although he pretends not to know what he's really doing, each Find takes its toll, and he's trapped in a life he hates, losing touch with his true self. Nick Rugo's job is to protect and serve the people of Minneapolis as an undercover cop. He isn't closeted, but he isn't out at work, and there's a wild, angry side to him that he's managed to keep hidden until now. When he's assigned to bring Brian's boss to justice, he intends to use anything and anyone it takes to do that. Nick initially sees Brian as a pawn to be played in his case, but he keeps getting glimpses of a different man behind the slow, simpleminded mask. As the two men get to know each other, it becomes clear they share secrets, some of which might get them both killed.
Tracefinder: Contact