Paranormal fiction includes supernatural elements – elements that cannot be easily explained by science. You can also check out these subcategories:
angels & devils | comedy |  dark | ghosts & haunted Houses | litrpg | magical beings | psychic talents | reincarnation | romance | shifters | vampires | zombies
Note: these books are currently sorted by release date, with newest first.
Word Count:

80,350
Summary: The sun and moon have been devoured by the cosmic wolves Skoll and Hati. Fimbulwinter has enveloped the world in the cold and darkness. Men prey on each other in order to survive. Amid the chaos, in the struggle for the throne, comes a war between brothers. Hakon, the illegitimate heir to the throne of Norveig, has obtained a horn that can summon a terror from the depths of the ocean. This monstrosity has been sinking the vessels of his half-brother, Jarl Erik Bloodaxe. Erik sends a company of untried heroes to infiltrate Hakon's stronghold and steal the horn. As with all things political, there are other agendas. Fjorn, the leader of the team, is Erik's half-brother who could challenge Erik for the throne. Erik's wife Gunnhild is a powerful sorceress with her own ambitions- could her goals derail the heroes? In life, sometimes a Jarl wins, and other times a Jarl wins.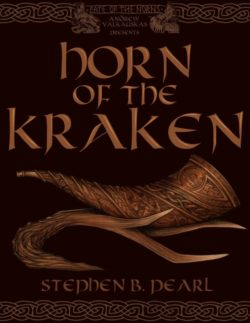 Horn of the Kraken
Word Count:

120,000
Summary: Tokyo high school student Tsukino Ayumu never wanted to stand out. He's always been content to run at the middle of the pack and go unnoticed, and he doesn't expect much to change when he moves to the small fishing village of Yuuyake to live with his grandfather. In Yuuyake, Ayumu makes his first real friend in Ikehara Haruki and forges close ties with two girls, Shizuka and Chou. Together, the four friends muddle through the messy world of dating and relationships while trying to succeed in school and prepare for the world they'll enter when it ends. Fate has other plans for them, though, and Ayumu in particular, as an invisible threat targets the village's young people. After being plagued by disturbing, violent dreams, Ayumu learns what the spirit world expects of him. He must learn to fight and to lead—but he's only ever been ordinary. With the support of friends he would die to protect, Ayumu faces a destiny only he can fulfill. But others have taken an interest in Ayumu. The mysterious Fox-Hat and Neko know more about Ayumu than he knows about himself, and they lead him onto a path that might end in the destruction of them all.
Fox-Hat and Neko
Word Count: Information not available
Summary: An ancient civilization long hidden from humanity is on the brink of chaos and war. Peaceful for thousands of years, the wolfkin clans are mysteriously losing packmates, kidnapped and killed by unknown foes. The nightmare begins with an ambush by humans at a gathering of their kind, and lives are lost. Among them is Luca, youngest grandson of the two most powerful wolves in the Northern Clans. Thought long dead and gone, he is forced into a half-life, hidden in the far northern wilds of Canada and cut off from his kind. Those who raised him have no idea the creature they harbor in their midst, and name him Ghost. He begins to lose himself over the long years, and though he barely recalls his true name, the one wolf he never forgets is Kane. Kane, Heir to the wolfkin clan Black Pine, is charged with hunting down the traitors who betrayed their kind to the humans. Years fly by, and more wolves are dying. He refuses to give up, and he vows to never again fail another of their kind, as he failed young Luca years before. His heart tells him Luca lives, but his mind tells him that it's foolish hope, his guilt eating him alive. Fate and magic change the course of their lives, and the two wolves long separated by the years find their paths intertwining. Though the gift of their reunion doesn't come without price. Faced by the consequences of their growing love, and the goddess-forged bond between them, Kane and Ghost are besieged on all sides. Enemies are coming for their blood, and without the steadfast loyalty and love of family and friends, they may not be safe from the very people they fight to protect.
Wolves of Black Pine
Word Count: Information not available
Summary:
The war is over. Resources are scarce. The population is dwindling in the Forkstream Territories.
Pinnacle Officer Wilcox has created FERTS amidst the chaos, a facility designed to protect the female population from raiding hordes.
Beth 259201, a newly-demoted Epsilon Internee, suspects that there is something more that lurks beneath the carefully constructed order of the facility.
She has a gift, one that could brand her a defective. A novice fighter, she must use her intellect to survive. Her own life, and the lives of many more may be at risk. Will she succumb to the plans in store for her or will she conceal her secret long enough to discover her own path?
FERTS
Word Count:

400000
Summary:
A future king. A slave's last hope. Can a sacrifice become something more?
Ilyas wants someone he can trust. As the heir to a great kingdom, all he can count on is the treachery of his younger brothers as he protects his future throne. When he receives his latest spoils of war, he meets a slave who's different. A slave with a hidden agenda… Jem is the last chance for his people. Shunned by his brethren, he yearns to save them with an impossible task: kidnap Prince Ilyas and sacrifice him to Jem's Dark God. Against all odds, he captures the prince and carts him across the frozen wasteland. Now Jem must keep Ilyas safe for the sacrifice and push down his urges to do more than protect the heir to the throne. Ilyas knows he can't trust the slave, but he feels like he's finally found a man he can love. As their attraction builds, they grow closer to a god that could destroy them both.
Snowmancer
is an LGBT dark fantasy novella set in a far-off kingdom. If you like unpredictable plot twists, rich descriptions, and tantalizing chemistry, then you'll love Olivia Helling's incredible tale of adventure, sacrifice, and love.
Buy Snowmancer to warm up to a forbidden love story today!
Snowmancer
Word Count:

75000
Summary: One hundred years ago, the vampire Victory retired from a centuries-long mercenary career. She settled in Limani, the independent city-state acting as a neutral zone between the British and Roman colonies on the New Continent. Twenty years ago, Victory adopted a human baby girl, who soon showed signs of magical ability. Today, Victory is a city councilwoman, balancing the human and supernatural populations within Limani. Her daughter Toria is a warrior-mage, balancing life as an apprentice mercenary with college chemistry courses. Tomorrow, the Roman Empire invades.
Steel Victory
Word Count: Information not available
Summary:
"Human civilization has collapsed. Rainey Vidic, MD is a genius, and she has Preston Hayes--her open hand, or hammering fist...
...Only the strongest and smartest will survive in The After.
A gifted surgeon, her retired warrior lover, a former Marine, and a taciturn drone pilot fight for survival in a dangerous and pitiless world, while navigating human needs for love, family and community.
When one of their own faces a lethal illness, Dr. Rainey Vidic's efforts are compromised by a savage horde of highly intelligent, relentlessly evil creatures that threaten the lives of the entire team.
Desperate to save their teammate, the Team encounters an imperiled town of survivors that may hold the key to saving them all. . . or send humanity into extinction.
With echoes of McCarthy's "The Road" and the thrill ride of "Jurassic Park," this three volume, four part series, "Love, Death, & The After," tests the limits of romance, loyalty, and community against a violent world hell-bent on devouring it all.
This book, Love, Death, & The After: Darkness is the first of three:
Book 2: Love, Death, & The After: Abandoned Spaces
Book 3: Love, Death, & The After: Never Again"
Love, Death, & The After: Darkness
Word Count:

67000
Summary: Pinkerton man Bram McCabe likes to work alone. But when a madman titling himself the Avian Emperor threatens the world's skies, he's forced to work with an English team already on the case. Things go from bad to worse for Bram when he takes more than a professional interest in Vyvian—a man with a secretive past. Each man dances around the other, hiding their true feelings, knowing they live in very different worlds. The Avian Emperor is as cunning and lethal as he is intelligent and when he kidnaps Vyvian, Bram holds the key to finding him. Bram will do anything it takes to rescue Vyvian. But is he willing to unlock his own inner secrets?
The Avian Emperor
Word Count: Information not available
Summary: A third of the world's population are cursed to become werewolves on the full moon, and walled cities like Seattle protect the Clean Bloods.  People like Detective Daria McQueen defend the gates of the city to stand against the packs of wolves, three nights a month. Daria discovers a breach in the wall while on her patrol, and saves a family from infection by three hungry wolves.  Daria herself is saved by a Wolf Hunter she had believed to be nothing but an urban legend, the Red Hood, Maireni Damaschin.  The mysterious woman in a red cloak seems to possess inhuman abilities. Daria and Maireni find themselves caught in a tangled web of deception that goes back centuries, which could spell the end to Clean Bloods and throw the world into servitude.
Urban Fairytales: Red Hood - The Hunt
Word Count:

63000
Summary: With one of his lovers imprisoned in the Underworld, Mac has no choice except to go where most angels fear to tread. With Tristan imprisoned in the Underworld, the ménage is broken. Angels are forbidden to enter the demonic domain and while Mac has been breaking rules in recent months, he doesn't have the power to enter the Underworld. Alastor is still unsure about his position in the relationship following recent revelations, but he cannot walk away when he is the only real link between his two lovers. Splitting his time between Mac and Tristan, he hopes they can soon find a way to reunite the two men in his life. As time moves on, Alastor realizes he is struggling to satisfy Tristan's thirst for sex. His lover needs more than he can give him and craves Mac in his bed. Mac still believes he can complete his mission to save his two lovers, but with one of them out of his reach, it is going to be far from easy. During their time together they have made plenty of enemies, including one who would seek to separate them forever, even if it means biding his time until Alastor and Tristan are at their most vulnerable, when even the love of an angel can't save them.
Between Life & Death
Word Count:

49000
Summary: Thrust into the role of Prince of the Lycans, Tristan strives to find his footing in a life suddenly rife with secrets and lies—and danger. Betrayed by a Goddess meant to safeguard him, desperate to protect his consort and their growing tribe, he can only prepare for the worst and struggle to hope. And then the worst comes to kill them...
Songs of the Earth
Word Count:

19000
Summary: Scott Baxter is a workaholic with no time for love, until a djinn pulls him out of his life and deposits him into the bed of Cameron Kirk. Cut off from his life, Scott isn't happy about the idea of being forced to help the djinn grant an unspecified wish, but he soon finds he has no real choice in the matter. The djinn who has turned his life upside down has powers that prevent Scott from leaving and ensure he does nothing to ruin Cameron's day with his 'husband'. Reluctant at first, Scott finds that as the day progresses he starts to enjoy playing the role of Cameron's husband. He connects with his unexpected lover in a way he never has with other men. Scott searches for clues to help him track down Cameron after the day is over and he returns to his own life. He doesn't want the day to end, but the wish is out of his control and when the magic is finished his time with Cameron may be over too.
One Perfect Wish
Word Count:

80000
Summary: Cling to the edge of your seat in this high-finance, high-stakes adventure. What do we do with knowledge of the future? Clairvoyant Ariel has been doing her best to ignore it, finding the whole thing a nuisance. But when she comes across people using similar abilities to get extremely rich, her interest is piqued. Then she discovers a second collection of gifted people. Their cause is less about money and more about ensuring the survival of the human race. That doesn't stop them from being as dangerous and crazy as the first group, however. Soon Ariel finds herself the object in a game of tug of war as each faction fights to have her--and her particular talents--on their side. She can't possibly help both groups. Aligning with either could be a terrible idea. But how can she stay out of it when so much is at stake?
Flickers of Fortune
Word Count:

61000
Summary: Is it possible for a demon to be a good man, or are all who have fallen for temptation evil at the core? Tristan, Machidiel and Alastor are bound together by love, but their lives are running far from smooth. Thanks to Tristan's demonic bargain with an incubus, they have no choice other than to accept that their lives are never going to be the same again. To fulfil his obligations to the demon Tristan has two choices—remain with the incubus as his trainee or find a mortal to take his place. Neither option is appealing. The three lovers struggle to release Tristan from his bargain, but find bigger problems on the horizon when a human caught up in the mess is taken prisoner by the Demon King himself. With no help forthcoming from either angels or demons, the three lovers are on their own with a seemingly impossible mission before them—rescue the mortal from the Underworld. Mac, meanwhile, has problems of his own. The archangels are voting on whether to ban relationships between angels and demons, and if the new law is passed he must choose between his wings and his lovers. The three of them believe their love is strong enough to see them through the hard times ahead, but if they aren't careful the repercussions of Tristan's bargain could tear their ménage apart forever.
Between Good & Evil
Word Count:

71500
Summary: When an angel and a demon fall for the same mortal man there is only one solution…share him. Halloween night at the Inferno club always draws a crowd. When Tristan spots a stunningly gorgeous man dressed as a demon across the dance floor he sets out to draw his attention, little realising he has already gained the notice of another. The demon disappears into the throng of revellers, but with the heavenly handsome Machidiel in his arms, Tristan doesn't mind. Even though Mac warns him they can never have more than a one-night stand, Tristan longs to see the man who gave him the best sexual experience of his life again. One year later, Tristan opens his door to find Alastor, the demon from the Inferno, who claims they have a date tonight. Alastor may be the one man who can make Tristan forget Mac. Little does he realise Mac isn't as far from his reach as he believes. When Mac reappears he has a proposition for Tristan and Alastor, one that means breaking rules and potentially getting him stripped of his wings. A ménage formed between an angel, a demon, and a human means the sex is hotter than hell itself, but only time will tell if the relationship they have forged together is made in Heaven or Hell.
Between Heaven & Hell
Word Count: Information not available
Summary: Here you'll find tales of the supernatural, betrayal and murder; the mistakes that lead to the fall of empires and the constant tug of war that haunts mankind. There's a blend of science fiction, fantasy and horror - from a modern day detective facing a serial killer to a future utopia filled with disloyalty. Lovers of romance will find a little something for them too, but within these bright sparks of hope shades of darkness lurk.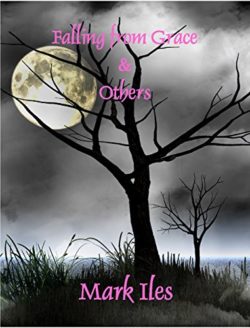 Falling from Grace, & Others
Word Count: Information not available
Summary: My kid, Romy, says I'm old and she's worried about me. What's to worry about... aside from Jordan, my ex? Really, she didn't have to come all the way home to check on me. It's all good—especially Nova, the girl at the drive-up coffee shop. I keep to my work and surfing the local breaks to keep her out of my head... But it doesn't work. Her perfect skin and brilliant hair crash through my mind and draw me to her—like a super-moon tide. There's something about her... Bodie Catalan knows second chances don't just happen after a hard life, wracked by mistakes. Every now and again, however, the universe throws down a wildcard. Drive-Up is a fabulist, sentimental, 21st century tale. It rides the beach breaks along the shores of several genres and connects the wildcard thrown to entangled, beach-bound lives and the inexorable tidal change that moves all that cross it. Dive into this tale and see what's been served at the Drive-Up.
Drive-Up
Word Count: Information not available
Summary: Kaen Yblis is a man with a past – if only he could remember it. He lost his memories in a duel with another vampire, and for centuries he has been alone, not even aware of all that had been torn from him. Until he meets Gregor Vladescu, a young human who stirs desires and emotions that Kaen didn't know he had, and whose blood brings back fragments of memories. As Kaen returns to his ancient home, a threat from his past arises and threatens to once again tear away everything that is precious to him. Will ancient blood and ancient soul bond be enough to save them all or will they be the very things that destroy them?
NOTE: Sanguine is a science fiction, semi-paranormal, M/M erotic romance. It contains sex scenes. You have been warned.
Sanguine
Word Count:

25000
Summary: Damon Snow thinks he has the world figured out. As an incubus and male prostitute, the world is a cruel, dark and lonely place where men only want one thing. When his long-time patron Byrne discovers he's dying, Byrne offers to leave his entire fortune to Damon. There's only one catch: Damon has to investigate and write about the reason another patron Price visits him. Easy — the same thing as all men. But what starts as an easy assignment turns into an impossible secret, the last thing Damon would ever suspect. If men only want the one thing, how can one possibly fall in love?
Nocturnal Lessons
Word Count:

86500
Summary: To save his clan from the ever-increasing shark attacks, merman Kyle seeks sanctuary for his people in the sunken city of Atlantis, even though he knows that as a homosexual merman he will be sacrificing his own chance for love. Love finds him anyway in the form of Prince Finn, the rebellious young heir to the Atlantean throne. When their relationship is discovered Kyle is the one to pay the price. Banished from the oceans he seeks shelter in England and finds a new love with human, Jake Seabrook. For Jake, Kyle is the chance to move on from the crush he has on his straight best friend. The strange man he found naked on the beach seems to fit into his life with ease.  If only Kyle weren't keeping secrets from him, Jake could see them having a future together. Things are not what they seem for either of the men and when Kyle discovers the truth about Finn he knows he must return to Atlantis. Three men, a tangled relationship, and one chance for happiness, if they can trust enough to take it.
Forbidden Waters