Paranormal fiction includes supernatural elements – elements that cannot be easily explained by science. You can also check out these subcategories:
angels & devils | comedy |  dark | ghosts & haunted Houses | litrpg | magical beings | psychic talents | reincarnation | romance | shifters | vampires | zombies
Note: these books are currently sorted by release date, with newest first.
Word Count:

53000
Summary: Years ago, empath Elijah Long made a bad decision, and he is still paying for it. He's kept hidden from his abusive werewolf ex for years, but when he wakes in a dark room, cuffed to a wall, he knows he's out of luck. Elora, his psychic sister, will come for him, he just has to endure long enough to give her a chance to find him. Captain Kol Jaecar of Rockshade's Paranormal Investigations Department detests slow times at work, so when Elora wants time off to search for her brother, Kol treats it as if it's a real case and starts an investigation. What he assumed was a brother not picking up when his sister called turns out to be something else. Elijah experiences people's emotions so strongly, it prohibits him from living a normal life. Spending time in the city is out of the question, yet it's where Elora takes him once she finds him. Elijah does his best to keep his distance, especially from the growling man Elora brought to his rescue. Elijah will never make the mistake of getting close to a shifter again. The moment Kol smells Elijah, he knows he's his mate, but how to get close to someone who doesn't want to be near you? The man who abused Elijah is still on the loose, and Kol calls in the entire team to hunt him down. But how are they to keep Elijah safe when he can't be around people? And how will Kol stay sane if he can't touch his mate?
Mind Scrambler
Word Count:

216321
Summary: Root by Daniel Fisher, the third book in the Place of Things series is the continuing story of Michael and his new, rather unique fiancée. From the Winter's Solstice to the Vernal Equinox we find our lovers and their friends explore new and creative ways to adapt to life-altering events. Having relocated and now a resident in the sanctuary town of Sacred Grove, Michael is finding his place among the mythical, mystical, and mostly immortal residents who've hidden away from the outside world. Not only is he coming out of his own isolation, but they are also finding he is dragging them out of self-imposed exile as well. Sometimes against their instincts. As his and Kurra's love deepens, new mysteries are added to the mysteries and his and their worlds will never be the same.As the union between two souls from two drastically different worlds draws closer, new mysteries, challenges, and threats crop up for Michael, the mortal, and all the immortals that get caught in his wake. Enchantments and wards may not be enough to hold back the onslaught of supernatural forces if the wedding gets bumpy. Many may yet perish if things go awry. May the Goddess help them all.Book four, the conclusion to this tale coming soon.
The Place Of Things Book Three: Root
Word Count:

36000
Summary: Being invisible makes it really hard to get laid. When half-human Kai Schiffer steps into the Interstices—the post-creation gaps between realms—his supernatural half kicks in and he literally disappears unless…well, don't ask. But in a stroke (heh) of good fortune, Kai finally has a chance to show his face (and other parts, stars willing) to his long-time crush Jovan Kos—Interstitial Law Enforcement agent, wolf warrior, occasional berserker, and best man at their mutual best friends' Imbolc wedding. Jovan, who's half in love with Kai already, is grateful his best man duties are light enough that he can focus all his attention on Kai. After all, with Enchanted Occasions Event Planning handling the Olesson-Pakulski wedding, what could possibly go wrong?
Best Beast
Word Count: Information not available
Summary: Queer horror ekphrasis. A widowed witch with Schizoaffective Disorder moves from Los Angeles to Reno, Nevada. Watching "American Horror Story," as exposure therapy for PTSD. Identifying and departing from it at key plot moments. No copyright infringement intended. Sequel to Hollywood Hedgewitch.
Grieving Through American Horror Story
Word Count:

26085
Summary: Sometimes the unexpected becomes magical. When August Shaw takes an unplanned vacation at the Oaks B & B, he decides on a bold step—to slip into his vintage feminine wardrobe and let himself feel beautiful. He usually plans every detail of his life, but is counting on bestie, Nicole, to boost his courage. When Nicole can't join him, and Jan Koskinen—the man August has crushed on for years—arrives instead, August risks accepting Jan's invitation to join in the Beat the Winter Blues Festival. The spontaneous weekend turns romantic, but August can't help his uncertainties, even as the people at the Oaks—along with a very uncanny house—encourage him to live in the moment. Can August accept the spontaneous whirlwind winter romance… or will his questions leave him standing in the cold?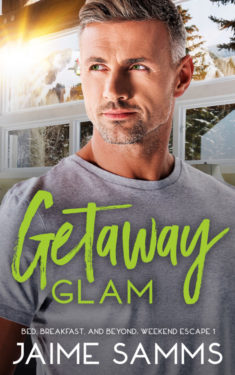 Getaway Glam
Word Count:

72000
Summary: Vampires and werewolves live long lives. The Sleepless City saga might have ended but the story continues… Welcome to the Vampire Guard, where legend and myth meet science and technology.   Vampires make the best spies. Throw a smart-mouthed werewolf in with three vampires, mix well, and The Vampire Guard's newest team is bound to become one of their greatest assets. Super spies with a full range of skills. Warrior, hacker, thief, and scientist.  They get in, do the job and get out before the bad guys ever know what hit them. Forge, Blair, Declan, and Lucas are thrust into the world of high-tech spies and top-secret espionage conspiracies. Recruited into the world's most elite and secret organization with one singular mission. Protect those who can't defend themselves from ruin. Life becomes complicated when an impending Presidential visit to their town, Boggslake, throws them headlong into the world of the vampires and werewolves of the Vampire Guard. Very quickly they uncover and confront a werewolf terrorist organization known as the Qiguan. Together they must thwart an assassination attempt on the open waters of Lake Superior while tracking a previously unknown biological weapon controlled by the Qiguan—a weapon which may very well mean death for one of them.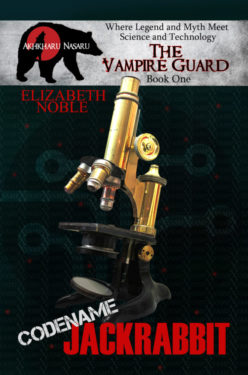 Code Name Jack Rabbit
Word Count: Information not available
Summary:
Some fight evil with swords and force. But for Evie and Hesta, they stand against evil with no more than their will and a song.
In a series of violent and horrific murders, The Butcher of Bristelle, strikes terror into the heart of the city. No one is safe. When Evie Chester encounters the remains of one such victim she knows that this is the work of no ordinary killer.
With mistrust of the gifted rising, can Evie and Hesta solve the case and keep the city safe. Will their wits and their gifts be enough against brute force.
The Evie Chester Files - Case 3: Fur and Fangs
Word Count:

65535
Summary: After the first war in Heaven, Lucifer's defeat and banishment was all but definitive. While peace reigned for a millennium, the Father of Lies dwelled in the void of the Pits of Hell. Fueled by vengeance and blinded by his destiny during his imprisonment, Lucifer plotted against those who would stand in his way. Upon his release, Lucifer sets off a series of events that draws the attention of a handful of angels as Heaven remains skeptical of any danger. In an unsanctioned mission to thwart Lucifer's plans, a small group of angels set off on their own. Do they have the fortitude to endure Hell's forces and convince Heaven or will Lucifer threaten all of creation?
Gates of Divinity: The First Light
Word Count:

50963
Summary: Trystan is an unchosen angel—shunned by society, bullied, and without a future. In a hidden well, Trystan discovers a carving of a dragon, who were once the commanders of demons and now believed extinct. But Trystan learns the carving doesn't depict an ordinary dragon. Stories tell that millennia ago, the great dragon Asagoroth and his demon army nearly conquered the three realms but was killed by the five elders. The powerful angels combined their life forces to cast a spell, sacrificing their lives. But history is full of falsehoods. The five elders only managed to imprison the dragon, and Asagoroth had cast his own spell—one of releasement. It only needs the blood of a certain angel to liberate him from his cage…. Asagoroth, enemy of angels, conqueror of realms, is free. But even as the angels prepare for war, the great dragon surprises them with an ultimatum: hand over the angel who awakened him or face annihilation. Note to readers: this is the second edition, fully revised and updated. The current audiobook is based on the first edition.
On Wings of Thunder
Word Count:

67000
Summary: When Heavy Metal Meets Serious Magic, Get Ready for Some Monstrous Consequences. Lottie Ferro lives her life by order and rules, but on stage it's nothing but chaos. While leading goth metal band The Furies on their first tour of the year, Lottie uses her band's witchy theme to hide her magic in plain sight. As Lottie struggles to keep their manager, Trenton from sabotaging their careers, she starts to suspect she isn't the only one who's hiding something. Trenton discovers her secret and offers her an ultimatum: perform a ritual for him or get shut out of the industry forever. Lottie has no choice but to tell her bandmates the truth. Together, they agree to find a way to give him what he wants. When the ritual goes wrong, it opens the door to bigger dangers than any of them are prepared for. From author N.J. Ember and USAT Bestselling Author Amir Lane comes a story of music, magic, and mayhem.
A Falsetto of Fury
Word Count:

40,400
Summary: Sequel to Lost in Time and Shadows on the Border Inadvertently tumbling through the border after Fenn and then thrown into the middle of the internecine political disputes of their people, Sergeant Will Grant of the Metropolitan Police has spent three months in prison in the Underhalls of the Frem. When Fenn comes to free him and return him home through the border, he has very little time to work out what's going on before the sudden appearance of Fenn's missing younger sibling, Keren, throws Fenn for a loop. Instead of returning them to London as planned, the trio step through the border to the Egyptian desert. Once they work out where they are, it's a two week trip back to England with the possibility of pursuit both onboard ship and when they reach home. Will the journey give Fenn and Will time to resolve the feelings they have been dancing around since the day they met? How will they keep Keren from recapture by the faction who tried to persuade Fenn they were dead? And has Will's friend Alec forgiven Fenn for lying about their motives when they first traveled to London four months ago? The Hunted and the Hind is the third and final book in the 1920s 'Lost in Time' trilogy. The books need to be read in order.
The Hunted and the Hind
Word Count:

69861
Summary: A loving boyfriend, generous friendships, and a thriving business—Arnold Kreed should be ecstatic. So why does he feel like he's standing on the edge of an abyss? When Kreed took a chance on a thief—letting Lucky into his world, his life, his heart—he hardly imagined he would find the love and acceptance he didn't dare dream of. Lucky draws people to him, and his extended found family embraces Kreed. Now in an established relationship, despite Kreed's ex causing trouble again, Lucky and Kreed are working toward making a life together. But Kreed is unsettled, unable to find his bliss. He is getting grumpier, and he can feel his people, including his beloved self-aware house, Mildred, pulling away… How can Kreed get back to the joy he so recently found if he has no idea what's wrong?
Innkeeper's Blues
Word Count:

80,000
Summary: Cherokee attorney Baylie Smith hates pushing paper at the Bureau of Indian Affairs. When Baylie learns time travel exists, she goes to 1787 to guide her people westward to safety before the Trail of Tears. Baylie becomes a warrior woman, where her intelligence, cunning and logic help the tribe win a decisive battle against the Chickamauga Cherokees. She earns ownership of enslaved Kirk O'Malley, who the Cherokees believe is the white devil, Tsul Kalu. Baylie and Shadow Wolf fall in love and are about to marry when O'Malley manages to go forward in time. The village orders her to retrieve O'Malley to his correct time. But Kirk finds love with Mellie Henderson, and refuses to return to the past as Baylie learns she is pregnant with Wolf's 'different-abled' child. Will Baylie be able to rejoin Shadow Wolf, claim her destiny, and fulfill her part of the prophecy?
Path of the Guiding Light
Word Count:

23000
Summary: Christmastime brings out memories, and ghosts. Silas tracks down a poltergeist haunting a local tree farm. Darien hopes to convince Silas that despite experiences with demons and hells, Christmas can still be fun. Pip tries to catch his first rat. And Grim watches from a high vantage point and a position of moral superiority—he has holiday memories of his own, but cats know how to keep a secret. - A 23,000 word holiday novella in the Necromancer series.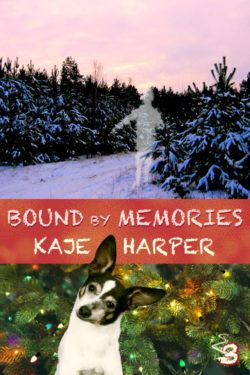 Bound by Memories
Word Count:

2600
Summary: Jake is a trapper working high in the mountains of Wyoming Territory, usually not seeing another human from one month to the next. Recently, however, he's had an unexpected guest – an Easterner named Edwin, who pitches in to ensure that Jake has enough supplies to survive the coming winter. As the evenings draw in, Jake works on knitting a blanket, adding a bit of love (and maybe even magic) into every stitch, hoping to entice Edwin to join him under its warmth…
Love in Every Stitch
Word Count: Information not available
Summary: The system is broken and if I'm not careful, it'll break me too. While my peers get excited for college, I brace for disaster. I've learned at Hawthorn Academy that danger can happen to anyone. To the jock. To the class clown. To my brother. Now I'm in the line of fire. All known extramagi must have their abilities tested. The way they do it is a horrifying secret. After witnessing one last year, I made a plan to expose the ugly truth. But there's a mind magus on campus now, threatening me. And he's totally within his rights to do so. Mr. Fairbanks leads the Board of Trustees, which demoted the headmaster and expelled my brother. Last year's threat was only a symptom of bigger problems. Half the Trustees play quid pro quo while the rest flex their authority for personal vendettas. Mr. Fairbanks blames me for his daughter's troubles. Mrs. Onassis says I poisoned her son's mind. And Mr. Pierce thinks I'm taking advantage of his children. All because extramagi are supposedly evil. But now I suspect we're scapegoats the influential families pin blame on. They say you make your own future. But can I survive the present first?
Hawthorn Academy Year Three
Word Count: Information not available
Summary: A tormented past, a demon, and a death foretold. Evie no longer a slave, is haunted by her past. Her saviour Hesta Bethwood, who granted her freedom, wants to embark on a joint venture to set up an academy for the gifted. During a demonstration of mesmerism, they witness a demon possession. The demon aware of their presence, seeks them out.  When Evie and Hesta seek advice from a wise witch, a death is foretold. Together they must face the demon; failure will mean loss of freewill that Evie holds so dear. Can they both survive the demon encounter, or will the foretold death prevail.
The Evie Chester Files - Case 2: Sirens and Syphons
Word Count:

20000
Summary: Zeke is a hermit in his late forties who lives a quiet life in a small cabin in the Western Montana mountains, a few miles outside of Thompson Falls. He's gotten used to being alone since the end of the world, and has everything he needs. Everything but someone to talk to. Nathan is a younger man on a cross-country trek, searching the country for someone... anyone still alive. Saddled with a ghost from his old life and a case of OCD, he stumbles upon Thompson Falls and a pack of rabid dogs. Rescued by Zeke, he has to figure out how to be human again. And with Christmas just a week away, both men have to figure out if there's something left to be hopeful for, and if they might have a future together.
Wonderland
Word Count:

92609
Summary: Rose was waiting tables at Ken's All-Nite Diner in Keokuk, Iowa, circa 1959, when something happened that would change her life forever. Two men burst through the front door, fighting for their lives. Though it was morning, she could see stars in the nighttime sky through the doorway as the door closed behind them. The larger of the two men quickly gained the advantage, knocking the smaller man unconscious before running out of the diner. Rose, a student nurse, quickly patched up the injured man, and when an ambulance arrived, insisted on riding with him to the hospital. His name was Henry Martin, according to his driver's license, though both the license and the money in his wallet are dated some 60 years in the future. There's something else, too—a portable telephone that plays music and seems to have a miniature color television inside. Just who is Henry Martin, where did he get these things, and why is someone trying to kill him?
Leap Year
Word Count: Information not available
Summary: The case: a grandmother who vanished from a locked room. The best lead: a psychic who's as mysterious as she is cute. Detective Jack Duarte is the one called upon when weird cases hit Auckland. A fierce loner with a reputation for solving the unsolvable, she is the perfect choice for the latest odd mystery: the locked-room disappearance of a beloved grandmother, who has vanished without trace and, seemingly, without suspects or a motive. This time around, though, Jack has also been assigned a partner. The fresh young detective Piper, who has transferred in with a difficult history, is determined to prove themself. Smart, perky, and inexperienced. They are exactly the kind of partner Jack manages to scare away. As they dig deeper into the mystery, though, Jack has to put her own reluctance in the back seat and help Piper navigate a whole different world — because the beloved grandmother has her own mysterious past, one that has already cost lives… and souls. With the help of the enigmatic and beautiful psychic Emmaline, Jack and Piper must confront the strange world on the other side of the mirror. Some mysteries can only be solved with magic!
The Other Side of the Mirror