Paranormal fiction includes supernatural elements – elements that cannot be easily explained by science. You can also check out these subcategories:
angels & devils | comedy |  dark | ghosts & haunted Houses | litrpg | magical beings | psychic talents | reincarnation | romance | shifters | vampires | zombies
Note: these books are currently sorted by release date, with newest first.
Filter by:
Genres
Fantasy
Fantasy - Alternate History
Fantasy - Comedy
Fantasy - Contemporary
Fantasy - Dark Fantasy
Fantasy - Erotica
Fantasy - Faery & Fae
Fantasy - Fairy Tale / Folklore
Fantasy - Fantasy of Manners
Fantasy - Gothpunk
Fantasy - Heroic
Fantasy - High & Other World
Fantasy - Historical
Fantasy - Hopepunk
Fantasy - Knights & Castles
Fantasy - Latinpunk
Fantasy - LGBTQ+
Fantasy - LitRPG
Fantasy - Low Fantasy
Fantasy - Magical Realism
Fantasy - Mythic
Fantasy - Mythpunk
Fantasy - New Adult
Fantasy - Paranormal
Fantasy - People of Color
Fantasy - Piratepunk
Fantasy - Quiet
Fantasy - Romance
Fantasy - RPG
Fantasy - Slipstream
Fantasy - Steampunk
Fantasy - Sword & Sorcery
Fantasy - Urban & Magical Beings
Fantasy - Weird Fantasy
Fantasy - Young Adult
Fantasy – Gods and Heroes
Horror
Horror - Angels & Devils
Horror - Comedy
Horror - Fairy Tale/Folklore
Horror - Ghosts & Haunted Houses
Horror - Gothic
Horror - LGBTQ+
Horror - LitRPG
Horror - Lovecraftian/Cthulhu
Horror - Man-Made Horrors
Horror - Monsters
Horror - Mythic
Horror - New Adult
Horror - Noir
Horror - Occult
Horror - People of Color
Horror - Post-Apocalyptic
Horror - Psychic Talents
Horror - Psychological
Horror - Shifters
Horror - Splatterpunk
Horror - Vampires
Horror - Weird Horror
Horror - Werewolves
Horror - Witches
Horror - Young Adult
Horror - Zombies
Nonfiction
Nonfiction - Writing Guides
Paranormal
Paranormal - Angels & Devils
Paranormal - Comedy
Paranormal - Dark
Paranormal - Ghosts & Haunted Houses
Paranormal - LGBTQ+
Paranormal - LitRPG
Paranormal - Magical Beings
Paranormal - Monsters
Paranormal - New Adult
Paranormal - People of Color
Paranormal - Psychic Talents
Paranormal - Reincarnation
Paranormal - Romance
Paranormal - Shifters
Paranormal - Vampires
Paranormal - Young Adult
Paranormal - Zombies
Poetry
Sci Fi
Sci Fi - Alien Invasion
Sci Fi - Alien Races
Sci Fi - Aliens
Sci Fi - Alternate / Parallel Reality
Sci Fi - Alternative History
Sci Fi - Apocalyptic Fiction
Sci Fi - Artificial Intelligence
Sci Fi - Biopunk
Sci Fi - Christian
Sci Fi - Climate Fiction (Cli-Fi)
Sci Fi - Clockpunk
Sci Fi - Clones
Sci Fi - Colonization
Sci Fi - Comedy
Sci Fi - Cyberpunk
Sci Fi - Cyberspace
Sci Fi - Decopunk
Sci Fi - Detective
Sci Fi - Dieselpunk
Sci Fi - Distant Planet
Sci Fi - Dying Earth
Sci Fi - Dystopian & Post-Apocalyptic
Sci Fi - First Contact
Sci Fi - Frontier
Sci Fi - Furry
Sci Fi - Galactic Empire
Sci Fi - Generation Ship
Sci Fi - Genetic Manipulation
Sci Fi - Gothpunk
Sci Fi - Greenpunk
Sci Fi - Hard Sci Fi
Sci Fi - Hollow Earth
Sci Fi - Hopepunk
Sci Fi - Human Evolution
Sci Fi - Immortality
Sci Fi - LGBTQ+
Sci Fi - LitRPG
Sci Fi - Lost Worlds
Sci Fi - Military
Sci Fi - Mind Uploads
Sci Fi - Multiverse
Sci Fi - Mutants
Sci Fi - Nanopunk
Sci Fi - Near Future
Sci Fi - New Adult
Sci Fi - Nowpunk
Sci Fi - People of Color
Sci Fi - Piratepunk
Sci Fi - Pulp
Sci Fi - Realistic
Sci Fi - Robots/Androids
Sci Fi - Romance
Sci Fi - RPG
Sci Fi - Science Fantasy
Sci Fi - Singularity
Sci Fi - Slipstream
Sci Fi - Social
Sci Fi - Soft
Sci Fi - Solarpunk
Sci Fi - Space Exploration
Sci Fi - Space Opera
Sci Fi - Space Western
Sci Fi - Spacepunk
Sci Fi - SpyFi
Sci Fi - Steampunk
Sci Fi - Superheroes & Villains
Sci Fi - Terraforming
Sci Fi - Teslapunk
Sci Fi - Theological
Sci Fi - Time Travel
Sci Fi - Transhuman
Sci Fi - Uplift
Sci Fi - Utopian
Sci Fi - Virtual Reality
Sci Fi - Weird Sci Fi
Sci Fi - Young Adult
Tropes
Abandoned Place
AI Uprising
Alien Artifacts
Alien Eggs
Alien Invasion
Alien Ruins
Aliens Among Us
Aliens as God
Aliens in History
Ancient Astronauts
Ancient Weapon
Antihero
Arthurian Legends
Asteroid Miner
Astral Projection
Bad Robot
Band of Brothers/Sisters
Band of Misfits
Bar Tales
Becoming a Monster
Benevolent Aliens
Beyond the Grave Communication
Big Sword
Black and White Morality
Body Modifications
Bodysnatchers
Book of Spells
Born Hero
Burial Ground/Cemetary
Changing Painting
Chosen One
Clones
Conspiracy
Crazy Clairvoyants
Cross-Species Friendships
Cryosleep
Dark Enemy
Dark Lord
Death by Sex
Demonic Possession
Dragonriders
Dying World
Dystopian Governments
Enemy to Ally
Evil Megacorporation
Evolving Powers
Fallen Hero
Farmer to Hero
Farmer to Royalty
Fated Mates
Fellowship
Fetus of Doom
First Contact
Fish Out of Water
Found Family
FTL
Galactic Civilization
Generation Ships
Good Robots
Haunted House
Here Comes the Cavalry
Humanity is Dangerous
Humanity is Good
Humans Evolved From Aliens
Hunted
I Am Your Father
I See Dead People
Immortality
Inaccessible Magic
Interspecies Adoption
Interspecies Romance
Interstellar Travel
Killer Aliens
Library of Secrets
Lost Civilization
Lucky Novice
Mad Scientist
Magic Furniture
Magic Talisman
Magical Disaster
Marooned
Mirror Shows True Self
Modern Human in Fantasy World
Museum/Store of the Unusual
No Cell Coverage
Old Person in the Woods
Oxygen Leak
Parallel Worlds
Past People/Future Tech
Person in Distress
Portals
Possession
Post-Apocalyptic
Powerful Artifact
Prophesy
Pseudo European Society
Psionic Powers
Quest
Redemption Arc
Reluctant Hero
Reluctant Vampires
Robin Hood Legends
Roguish Thief
Secret Heir
Secret Royalty
Secret Society
Sentient AI
Sentient Spaceships
Sex Magic
Singularity
Space Battles
Space Dentistry
Space Detectives
Space is Empty
Space is Full
Space Medicine
Space Pilot
Space Pirates
Space Psychology
Space Smugglers
Superpowers
Sword of Destiny
Time Loop
Time Travel
Training
Ultimate Evil
Undiscovered Planet
Uploaded Consciousness
Vengeful Spirit
Villain to Hero
Waiting/Sleeping Evil
Wise Mentor
Tags
author - american
author - arabian
author - australian
author - belgian
author - british
author - canadian
author - dutch
author - european
author - french
author - italian
author - new zealander
author - saudi arabian
format - anthology
format - audiobook
format - book
format - box set
format - collection
format - free
format - hardcover
format - illustrated novel
format - kindle
format - kindle unlimited
format - kindle vella
format - large print
format - netgalley
format - novel
format - novel >100K
format - novel <100K
format - novel 40-100K
format - novella 15k-40K
format - novellette <15k
format - omnibus edition
format - paperback
format - payhip
format - planner
format - prequel
format - self published
format - sequel
format - series
format - shared universe
format - short stories
format - short story <15K
identity - aromantic
identity - asexual
identity - bisexual
identity - demisexual
identity - gay
identity - gender fluid
identity - intersex
identity - lesbian
identity - non-binary
identity - pansexual
identity - polyamorous
identity - transgender
potential trigger
potential trigger - abduction-captivity
potential trigger - addiction
potential trigger - avalanche
potential trigger - blood
potential trigger - death
potential trigger - gore
potential trigger - graphic torture
potential trigger - murder
potential trigger - rape
potential trigger - sexual abuse
potential trigger - stalking
potential trigger - suicidal ideation
potential trigger - suicide
potential trigger - torture
potential trigger - traumatic past
potential trigger - violence
what - concept - amnesia
what - concept - curse
what - condition - blindness
what - condition - disability
what - condition - mental illness
what - condition - ptsd
what - element - ferocious poodle
what - holiday - general
what - topic - cartel
what - topic - chinese medicine
what - topic - chinese mythology
what - topic - climate change
what - topic - compassion
what - topic - crime
what - topic - desert survival
what - topic - disaster
what - topic - flying
what - topic - genetic engineering
what - topic - harem
what - topic - haunting
what - topic - japanese mythology
what - topic - learning disabilities
what - topic - legend
what - topic - magic
what - topic - multicultural
what - topic - music
what - topic - natural disaster
what - topic - non-violence
what - topic - politics
what - topic - ransom
what - topic - reincarnation
what - topic - religion
what - topic - revenge
what - topic - science experiment
what - topic - secret
what - topic - secret organization
what - topic - superstition
what - topic - taboo
what - topic - technology
what - topic - terrorism
when - period - 16th century
when - period - 17th century
when - period - 18th century
when - period - 1920s
when - period - 1930s
when - period - 1940s
when - period - 1950s
when - period - 1960s
when - period - 1970s
when - period - 1980s
when - period - 1990s
when - period - 19th century
when - period - 20th century
when - period - ancient greece
when - period - ancient rome
when - period - edwardian
when - period - georgian
when - period - great war
when - period - middle ages
when - period - near future
when - period - prehistoric
when - period - prohibition
when - period - victorian
where - fictional - moon colony
where - general - alternate universe
where - general - carnival
where - general - castle
where - general - cave
where - general - cruise ship
where - general - forest
where - general - military
where - general - mountains
where - general - private school
where - general - rural
where - general - small town
where - general - swamp
where - general - uncharted island
where - general - underground
where - general - underwater
where - Mars
where - non-Earth planet
where - space - international space station
where - space - space station
where - space station
where - spaceship
who - description - alpha male
who - description - alphas and omegas
who - description - tattoos
who - magical humans
who - occupation - apothecary
who - occupation - archaeologist
who - occupation - artist
who - occupation - assassin
who - occupation - astronaut
who - occupation - astronomer
who - occupation - author
who - occupation - baker
who - occupation - barista
who - occupation - bodyguard
who - occupation - botanist
who - occupation - bounty hunter
who - occupation - castle laird
who - occupation - computer programmer
who - occupation - contractor
who - occupation - coroner
who - occupation - cowboys
who - occupation - detective
who - occupation - doctor
who - occupation - engineer
who - occupation - ex-convict
who - occupation - federal agent
who - occupation - guard
who - occupation - hacker
who - occupation - healer
who - occupation - herbalist
who - occupation - historian
who - occupation - horsemaster
who - occupation - innkeeper
who - occupation - inventor
who - occupation - journalist
who - occupation - king
who - occupation - knight
who - occupation - law enforcement
who - occupation - librarian
who - occupation - lord
who - occupation - mage
who - occupation - marine
who - occupation - mechanic
who - occupation - medical
who - occupation - mercenary
who - occupation - military
who - occupation - missionary
who - occupation - motorcycle rider
who - occupation - musician
who - occupation - nurse
who - occupation - pilot
who - occupation - pirate
who - occupation - police
who - occupation - politician
who - occupation - priest
who - occupation - prince
who - occupation - prisoner
who - occupation - professor
who - occupation - psychic
who - occupation - royalty
who - occupation - sailor
who - occupation - scientist
who - occupation - security
who - occupation - serial killer
who - occupation - servant
who - occupation - sex worker
who - occupation - sheriff
who - occupation - soldier
who - occupation - space marines
who - occupation - spaceship captain
who - occupation - spy
who - occupation - starship captain
who - occupation - student
who - occupation - superhero
who - occupation - tattoo artist
who - occupation - teacher
who - occupation - thief
who - occupation - tracker
who - occupation - undercover agent
who - occupation - warrior
who - occupation - writer
who - religion - catholic
who - religion - jewish
who - religion - muslim / islamic
who - religion - pagan
who - religion - shinto
who - sea dragon shifter
who - shifter
who - type - alien
who - type - altered human
who - type - angels
who - type - badass heroine
who - type - bear shifters
who - type - bigfoot
who - type - centaur
who - type - cyborg
who - type - demons
who - type - dragon shifters
who - type - dragons
who - type - elves
who - type - fae
who - type - fox
who - type - gator shifter
who - type - ghosts
who - type - god
who - type - griffins
who - type - incubus
who - type - kitsune
who - type - merman
who - type - nekomata
who - type - nephilim
who - type - panther shifters
who - type - reindeer shifters
who - type - robot / cyborg
who - type - sea god
who - type - selkie
who - type - spiders
who - type - spirit
who - type - succubus
who - type - unicorns
who - type - vampires
who - type - vegan
who - type - werecats
who - type - werewolves
who - type - witch
who - type - wizard
who - type - wolf
who - type - yokai
who - type - zombies
who - world defender
Word Count: Information not available
Summary: A gifted slave. A cursed woman. Together can they gain their freedom? Evie Chester is a slave with a precious gift. Living in a world that both marvels and fears magic and the unexplained. Evie dreams of being free and of acceptance. When an opportunity presents itself for escape she finds herself pursued with a bounty on her head. Eyes are everywhere, nowhere is safe. An encounter with a cursed woman brings about the promise of freedom in return for her help. Everything changes. Is the price of her freedom at too high a price? Evie Chester is set in the same world as the fantasy Towers of the Earth series.
The Evie Chester Files - Case 1: Lost and Found
November 2, 2020
Word Count: Information not available
Summary: Lucifer has been waiting for me to awaken… …and now I welcome the growing darkness inside me as I become who I'm meant to be. The Vampires are afraid of me, the Lycan want to disembowel me, the Spellcasters want to harvest my power, the Fae want to control me, and the Roman Catholic Church wants to murder me. The Soul Hunters… well, who knows what they want with me. I've never been on the run from anyone before, but after I started running from the Devil, I decided the only way to survive was to run back to him and embrace the evil power within and claim my destiny. My name is Dante Coranguis, but you might know me as The One, the Herald of Satan, or the Antichrist. From here on out, you can call me Snakeheart, the most feared man throughout the ages. Darkness Awakens is the sixth book of The Snakeheart Series (Season 1), a supernatural novelette series about Dante Coranguis and the ancient prophecy of the End Times. Get it now.
Darkness Awakens
October 31, 2020
Word Count:
95000
Summary: When Orion joins an established coven of powerful mages he is unsure how he will fit into the group. The four elemental mages have had centuries to build both their powers and their relationships while Orion is little more than a stranger. As a light mage, Orion has the power to heal, but as he comes to know the other members of the coven, he learns that not all wounds are visible, and healing tortured souls and broken hearts isn't as easy as fixing broken bones. Orion must bring them all together before they tear themselves apart. Only when the coven is strong will they be able to welcome the dark mage who will complete the circle and give them the power to defeat a mage who has waited centuries to exact revenge on the former members of his coven. READER ADVISORY: This story is a ménage and more story with emphasis on the more.
Soul Magic
October 31, 2020
Word Count:
52000
Summary: Detective Thaddeus Ezax is in over his head. He's the only wizard in Rockshade's Paranormal Investigations Department, and it was his name that got him the job. The Ezaxs are known as some of the most powerful wizards in the world, but Thaddeus isn't your average Ezaxs. Is it any wonder his family shuns him? When a kidnapping case is dropped into his lap, Thaddeus must act fast. While most five-year-olds can cast a location spell, Thaddeus can't and is forced to get creative. When he finds himself in possession of a black market werewolf skull with a ghost trapped inside, accidentally releases the spirit, and somehow forms a connection with it, things get even crazier. Sandulf Hunter doesn't remember dying, but he remembers the last thing he saw before everything went black—a wizard. All wizards must die! The only problem is, the wizard standing next to him smells too damned good, so good Sandy thinks he might have to keep him. And since wherever Thaddeus goes, Sandulf finds himself yanked along, he might not have a choice in the matter anyway.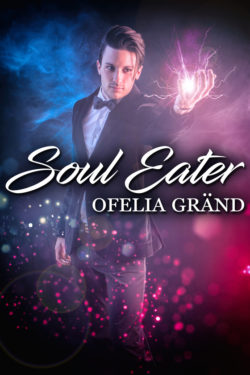 Soul Eater
October 31, 2020
Word Count:
122000
Summary: As the heir to the throne, Royal Connate Olivienne Dracore cannot escape having a Shield team protecting her wherever she goes. But with the addition of Shield Commander Castellan Tosh, she has a team that doesn't just guard her person but also aids in her job as a historical adventurist. She knows without a doubt that together they can unravel the Divine Mystery of who the Makers were and why they created the great temples. With the conclusion of their last mission, Olivienne acquired the map needed to find the mysterious third great temple of Psiere. And there is no one better to accompany than her beloved Cmdr. Tosh. But before they can leave to brave the dangers of the unknown, first they must brave their own oathing ceremony. They will need each other for the coming mission because as with all things related to the Makers, mystery often begets mystery and danger is always just a wrong step away. Especially when the prize is something that could change Psiere forever.
The Lost Temple of Psiere
October 30, 2020
Word Count:
73000
Summary: When supernatural secrets collide, it'll take more than coffee to brew the perfect love. When Ky Hernández bonded with his familiar, Zuri, his life changed forever. Their connection turned him into a practicing witch and led him to his calling as a medimagical professional. However, it totally tanked his love life—what guy would settle for eternal second place behind a parrot? So Ky keeps his witchy nature under wraps and sticks to hookups with humans, which can never go anywhere. But the mouthwatering barista at the coffee shop next door makes him thirst for more than a caffeine fix. The charms Ewan Jones uses to appear human are inconvenient, disorienting, and . . . necessary. Ewan and his siblings are achubyddion, metaphysical healers whose powers are coveted by unscrupulous supernatural beings. And let's face it: all supes are unscrupulous, given the right incentive. He's grateful for the protections that hide his little family, and for the barista job that keeps them housed and fed. He's just so lonely. And his regular, Ky, the super-hot, commitment-averse EMT, seems like the perfect candidate for a one-night shot at intimacy. After all, humans are no threat. It takes a clumsy coffee shop intern, a mysterious werewolf epidemic, and one snarky parrot to unravel their pasts—and give them a chance at a future.
Witch Under Wraps
October 26, 2020
Word Count:
107884
Summary: Julian Gypsun used to be a young man on his way to becoming a contractor. Everything changed when he died and was resurrected as a wizard's familiar. He was immortal and far better off physically than he had been as a human. Still, he was trapped with his life chained to a giant of a wizard who had no problem abusing him in every way imaginable. Julian was powerless to stop it without ending his own existence. That is until he was yanked bodily through his own portal, transported to Draoithe, and assigned to babysit the visiting dignitary, Amazon Warrior Princess Zephyra, and try to convince her that her people should ally themselves with Luke and Draoithe. That sounded easy, but it wasn't. He liked her. He had no clue how to act on that. Best to avoid that altogether. Keeping her safe just might equal his death. (Please see her warrior princess title.) She was old and so far out of his league. Worse, she liked him and was determined to have him. He can't even consider that. She has no idea how broken he really is.
Draoithe: Midnight Magic
October 23, 2020
Word Count:
88743
Summary: Stone Is the second book in the place of things series. It picks up where the first book left off. Michael Anderson is now in a strange new world of mystery and Myth, as well with a strange new bed mate is beginning to find his way. Bone follows his journey as he finds a life outside of the mundane world, and embraces a world he could never have though possible.
The Place Of Things, Book Two: Stone
October 20, 2020
Word Count: Information not available
Summary: The highly anticipated second installment in the award-winning Alex McKenna Series, this LGBTQ teen paranormal adventure perfect for fans of Aidan Thomas' CEMETERY BOYS and LOST IN THE NEVER WOODS. After surviving a harrowing case, Alex McKenna just wants to rest. Unfortunately, his plans are interrupted by the ghost of seven-year-old Haven, who is lost in an in-between realm. Despite his great-grandmother's warning, Alex crosses the bridge between the living and the dead, which sends him and his girlfriend into the world of the Academy of Souls, a high school for dead teens who are unable to complete their journey. There, Alex meets Ophelia, Haven's teenage sister, who's been searching for her for more than a century. With new companions, Alex must cross the treacherous terrain of the Underworld in-between, to save Haven from the clutches of the Soul Gatherer and reunite the sisters.
Alex McKenna and The Academy of Souls
October 14, 2020
Word Count:
56000
Summary: Sergeant David Lucas was an elite US Army Ranger deployed in Afghanistan until werewolves took down his unit. Caught in the middle of a fight between light and dark, Lucas finds himself the guardian of the young djinn Vash. As forces he doesn't understand circle them, Lucas struggles to make sense of everything while keeping Vash safe. He wanted to be a soldier, that was all he ever wanted to be. Shooting things he understands, but how can he survive when he runs into things bullets can't stop? Even with new friends around, turning furry might be more than Lucas can deal with. Failure could mean the end of a world he no longer comprehends. And worse, what does a strong ex-ranger do when he's forced to deal with girl's fashions for the first time in his life? Magic from the Middle East and West collide with the fate of one little djinn girl hanging in the balance.
Spark
October 12, 2020
Word Count:
81500
Summary: We aren't a we without all of us. Chaos reigns in The Sleepless City and it's really beginning to piss Detective Jonas Forge off. He's separated from his soulmate, Blair Turner. A separation he fears might be permanent. Nothing is going right. It's as if the universe is conspiring against him. A long closed off door buried deep within his psyche cracks open when a turn of events he never saw coming flips his world upside down. There's a monster behind that door and he's not sure where the monster leaves off and he begins. Hallucinations grip the town and everyone in it, threatening to tear the family in Boggs's Castle to shreds. The only way forward is to bare all to each other. While Forge and Declan confront horrors from their shared past, they all learn a terrible truth about vampires—one not even imagined in their worst nightmare. Demons lurk around every corner, seeking to cause havoc. Unless the tenuous thread woven between Blair and Forge is strong enough to pull Forge to safety, those demons might just be his demise. Can they turn it all around and control a monster in order to defeat a demon? If you like imperfect heroes with tarnished pasts who don't know how to quit, then you'll love Shifting Chaos by Elizabeth Noble, the action-packed, emotional conclusion to The Sleepless City. Author's note: This book was originally published in 2015. It has been rewritten with new chapters and scenes and re-edited.
Shifting Chaos
October 10, 2020
Word Count:
54000
Summary: "Tell me of your homeworld…" "Nope. And that's the last time you watch that movie before bed, baby boy." Talos cut off Kikoi who pouted. "Fine. Then tell me about when Uncle Majid finally stopped being so grumpy and murdery all the time." Kikoi batted his thick eyelashes. "Okay, I can tell you all about that. Well, I don't think he'll ever stop being murdery as you put it." Talos settled into his customary story telling position. "Some would say that story begins well over two thousand years ago when I first met my best friend and powerful unicorn shadow. Some others would say it started a little over a thousand years ago when tragedy struck. But I think it starts when my eldest brother, the crazy half-giant vampire that he is, retired and went on a quest for redemption."  Kikoi draped himself across Talos as he closed his eyes. "Little did Majid and Odin know that Fate sent a tough, smart, wasn't going to take lip from them polar bear to cross their path when they needed it most…" Majid's best friend, Talos, has found his mate and finally recognized his lover of the past several hundred years as his other mate. The mate Majid had spent the last eleven hundred years trying to forgive was back in his life. Will Majid rescue one mate only to lose the other? Or will the fierce polar bear, Siku, give him a chance to redeem himself? Will Odin forgive himself for the actions that tore Majid from his life? And will the not so little bear find him to be a worthy mate? Or is he doomed to die on a quest for redemption? Will Siku find his place not only within the relationship his mates clearly already have but also the entirely different world that is city life? Or is he just fooling himself that he can get over the wall between him and his mates? Bloodlines of Fate is an urban fantasy series set in a world destroyed by humans and resurrected by supernatural beings. This book contains depictions of omega polar bears who will eat you in self-defense, sturdy hair brushes that break naughty butts, timeouts for coloring and painting toes, and a family reunion for the history books. Majid is part two of a two-part story arch that tells the love story of two triads (MMM). It is necessary to read Talos to fully enjoy this book that does end in a HEA despite bickering chefs who try to burn the estate down. This is a type of omegaverse with mpreg.
Majid
October 6, 2020
Word Count: Information not available
Summary: I thought I was done with Vampires… …but I should have known they'd come back for me. I can't trust the people around me, and it's become clear everyone is after my power. The problem is, I don't understand my power, and I certainly don't want it because it comes from the Devil himself. Ever since age thirteen, the Devil visited me in my nightmares and tormented me. Nowadays, he drops into my mind and thoughts whenever he wants to and I'm thoroughly confused. Am I Dante Coranguis, or am I this other being named Snakeheart? I need help, but I don't know who to turn believe anymore. I see plots to drain my powers or kill me, but the only thing keeping me alive is the last thing I want—the power of the Antichrist. Unfinished Business is the fifth book of The Snakeheart Series (Season 1), a supernatural novelette series about Dante Coranguis and the ancient prophecy of the End Times. Get it now.
Unfinished Business
September 30, 2020
Word Count:
74000
Summary: When a curse comes calling, Dan and Chad confront their greatest challenge yet. Hauntastic Haunts is investigating the historic Ivarsson School. With Halloween right around the corner, the vlog is in peak season. Dan and Chad are eager to explore the decades-long string of strange deaths among the school's young scholars. While they delve into the mystery, both men must come to grips with Chad's newfound talents as a medium. Dan and Chad's efforts to uncover the haunting's truth meet with mixed messages from both the living and the dead. They're left wondering if this month's site is full of tricks, or if there's a treat awaiting discovery. The locals blame a curse for all the misfortune at the one-room schoolhouse, and if the pattern holds, the guys are at risk of becoming the latest victims. Join ghost hunters Dan and Chad on their third hauntastic adventure in this trans M/M paranormal romance.
Dan's Hauntastic Haunts Investigates: Ivarsson School
September 30, 2020
Word Count:
90000
Summary: Jack Hansard is the man who can sell you anything. Luck in a bottle, fame in a box, dreams on a leash... anything is possible when you're a trader on the occult Black Market. Jack is used to a life of handling dangerous goods, dodging disgruntled customers, and sometimes running away very fast. But when Ang (a two-and-a-half-foot tall coblyn right out of Welsh folklore) buys his help to find her missing kin, Jack suddenly finds the goods are riskier, the customers more treacherous, and escape is anything but guaranteed. The Jack Hansard Series is an episodic urban fantasy with a wide streak of humour and a lot of British folklore. Season One contains the first fifteen episodes in the series.
The Jack Hansard Series: Season One
September 27, 2020
Word Count:
60000
Summary: A teen without a home. A dangerous residence. Can she survive one terrifying night to secure her future? Charlene Griffin never thought she'd be without a home. But when she's kicked out on her eighteenth birthday, she has no choice but to sleep inside an ominous Victorian mansion. And with the owner offering the estate to anyone who can spend a full night in the haunted property, Charlene decides to risk life and limb to get off the streets. Refusing to heed the warnings of those sent running in fear for their lives, Charlene is confident she can last from sunset to sunrise. But she'll need all her wits about her to withstand the hours of terror, because these ghosts are determined to get rid of her. Will Charlene outsmart her supernatural foes and make it to dawn? Defying the Ghosts is an eerie YA haunted house story. If you like heart-racing action, fearless heroes, and survival adventures, then you'll love Joan Marie Verba's thrilling tale. Buy Defying the Ghosts to explore forbidden shadowy corners today!
Defying the Ghosts
September 26, 2020
Word Count:
33000
Summary: England, 1910. Landscape designer Jonas Laurence arrives at the cheerless and fog enswathed Hillcomb Hall, home to the Earl of Stanley and his family, to renovate their crumbling gardens. With a great storm crashing all around, his time is at the mercy of the house's odd and mysterious occupants. Captivated by the hauntingly attractive portrait of Lord Stanley's ancestor, which constantly seems to watch and taunt him, Jonas's dreams become weird and distressing. And his waking moments are consumed by the strange stories and weird atmosphere of the manor estate. Ghostly visits in the night leave Jonas no choice but to accept his attraction to the otherworldly spirit from the painting. But is this affaire de coeur real? Or it all just a trick of the mind, a sinister game being played by the inhabitants of Hillcomb Hall?
The Ghost of Hillcomb Hall
September 23, 2020
Word Count:
6000
Summary: The Mother Dark. The Chained Goddess The Serpent of Judgment In the space between the Realm of Mortality, the Expanse of the Celestial Choir, and the Void, Shi Coils around Hir throne. Hir opelecant gaze looks not to the singing stars nor the great black ocean of lucious agony. Instead, they look to the chains that bind the Goddess to this place. They were at first chains of sadism and dark intent. Every link forged by the Void to keep her from the love of Hir children in Mortality. Yet as she undulated within their grasp, her own sensual mind learned their construction. Now Shi is no longer a Goddess in chains, but a Goddess of chains. Forging new links in secret, Shi imbues them with the stories of Hir many children. Hir mystical eyes look into the glowing loop of eldritch metal. The patterns of silver-blue that formed as it cooled told the story of a love triangle that defies the boundaries of normality. A deathly howl echoes into the night, a young girl is visited in her dreams by the wolf's immortal spirit. He teaches her of his kind, the Uadeans. As she grows up, the wolf becomes more handsome to her own maturing sentiments, and she falls in love. Yet this love was not meant for the wolf, but for his mate. Now, years after, Jenova stands at the edge of life and death. Having earned her right to stand with the others of the pack, the woman prepares herself for the Heartsblood Rite. She must challenge one of these lycanthropic beings to ritual combat. The prize is the Heart of an Uadean and all the power that comes with it. Jenova faces her opponent in the ritual circle, the lust of the crowd overwhelming her human senses. She has not intention of killing tonight. The heart offered as the prize is that of the she-wolf Jenova had been chosen to love... And to bear the children she cannot.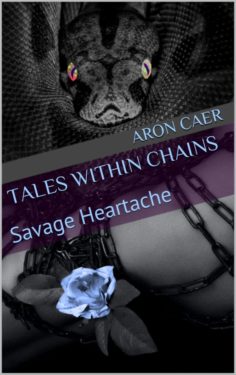 Tales within Chains
September 23, 2020
Word Count:
76144
Summary: Fairy tales. Prince Charming fights evil, wins the princess, lives happily ever after. Three sons, three wishes, witches, dragons, a quest, and happily ever after. These stories are part of our cultural fabric. The stories change in retellings to reflect contemporary culture, such as Princess Charming, or heroes and heroines as people of color. In this collection, queer characters take center stage in stories that grew out of questions: What if the prince falls in love with Cinderella's gay stepbrother? What if Rumpelstiltskin doesn't really want the Queen's child but rather the King himself? What if Beauty and the Beast are two men? These stories explore metaphors of magic and the magical, this time, with a gay perspective. What price must be paid for happily ever after? Duty or love? Is love worth great sacrifice? Once upon a time ...
The Wicked Stepbrother and Other Stories
September 23, 2020
Word Count:
55000
Summary: In Unsafe Words, the first full-length collection of her edgy, award-winning short stories, Loren Rhoads punctures the boundaries between horror, dark fantasy, and science fiction in a maelstrom of sex, drugs, and rock-n-roll. Ghosts, succubi, naiads, vampires, the Wild Hunt, and the worst predator in the woods stalk these pages, alongside human monsters who follow their cravings past sanity or sense. Featuring an introduction by Lisa Morton and cover art by Lynne Hansen, these never-before-collected stories come from the magazines Cemetery Dance, Space & Time, City Slab, and Instant City, the Wily Writers podcast, and from the books Sins of the Sirens, Demon Lovers, The Haunted Mansion Project: Year Two, Tales for the Camp Fire, and more. One story, "With You By My Side It Should Be Fine," is original to the collection.
Unsafe Words
September 20, 2020