Sci fi is a type of speculative fiction that looks ahead and asks "what's next?" You can also check out these subcategories (a-g):
alien invasion | alien races | alternate/parallel reality / alternative history | atompunk | biopunk | candlepunk | christian | cli-fi | clockpunk | colonization | comedy | cyberpunk | cyberspace | decopunk | detective | dieselpunk | dying earth | dystopian & post-apocalyptic | first contact | frontier | furry | galactic empire | gothpunk | greenpunk
Note: these books are currently sorted by release date, with newest first.
Word Count: Information not available
Summary: Welcome to Hub! Just a few simple rules apply: 1. Never Steal from Dragons 2. See Rule #1 3. Never Work for Dragons In Hub, a city of treachery and deceit, Gelsey, a pixie, is one of the best thieves around. When a smash and grab assignment turns into a job interview with a powerful dragon, Gelsey finds herself a part of a crew including five more of the best criminals Hub has to offer. Her crew includes Silai, a con artist with a deadly secret. Kelthar, a mage who's bent on self-destruction. Aikila, a smuggler set on avenging her father's murder. Nyx, a hacker coming off a busted run, and Lorcan, a mercenary whose child is being held hostage. The dragon pulls all their strings, forcing them to accept an impossible job: break into a fortress nobody in all of Hub's long history has ever cracked. And if they fail, they'll end up dead one way or another. A wild mix of fairy tale and Cyberpunk that hits all the marks of classic crime capers. Reads like Elmore Leonard and Neil Stephenson playing D&D in a pixie-infested bar and having the time of their lives way past last call. Kat Richardson, Bestselling author of the Greywalker novels Dugan weaves an excellent heist story by blending the fantasy, cyberpunk, and even noir genres. The world building is top notch, including the lore which uses familiar creatures, but in new ways. This is the book for you if you enjoy cyberpunk, urban fantasy, heist stories, or any combination thereof! Bishop O'Connell Author of American Faerie Tale series and Two-Gun Witch
Never Steal from Dragons
Word Count: Information not available
Summary: Before Ardulum, there was the Mercy's Pledge. One year after saving the Neek homeworld and redefining the people's religion, the crew of the Scarlet Lucidity returns to the Charted Systems for a much-needed break. For Nicholas and Yorden, the Systems will always be home, but for Emn and Atalant, too many memories compound with Emn's strange new illness to provide much relaxation. Tales from Ardulum continues the journey of Atalant, Emn, Yorden, Nicholas, and Salice as they try to define their place in a galaxy that no longer needs them while battling the artifacts of Ardulan colonization. Other stories include Yorden's acquisition of the Mercy's Pledge (and his grudge against the galaxy), Atalant's exile from her homeworld, Ekimet and Savath's romance, and many others.
Tales From Ardulum
Word Count:

70000
Summary: What secrets lie beneath the streets of Paris? When a malfunctioning automaton runs full force into their locomotive on the new Paris-Orléans railway, Jacqueline Duval and her bohemian twin sister Angélique Laforge become embroiled in a mystery deeply rooted in their tragic past. A polytech and famed engineering prodigy, Jacqueline is fascinated by the metal man, even more so when she discovers that it is powered not by steam, but by the supernatural. Her investigation puts the sisters on a path both dangerous and mysterious as they must foil a plot to employ the dead to power a mechanical army aimed at international conquest. Aid comes from unexpected sources as the twins rush to avert this engineered war, but will they be in time?
Esprit de Corpse
Word Count:

12000
Summary: If The Little Mermaid were set in the twenty-second century... In the aftermath of climate change, humans have abandoned the flooded coasts. Underwater, people of another kind struggle to rehabilitate the polluted seas. After one rescues a human engineer, she realizes he might hold the key. If she can learn how to interact with the world like a human, if she can understand them, if she can become enough like them, maybe they will help. Maybe he will help. But to reach him, she may need to sacrifice who she is...
Voice of the Sea
Word Count:

45000
Summary: These three tales tell the story of Tharassas before the Tharassas Cycle, including the origin of the hencha queens, the ce'faine, and the colonization of the Highlands, essential companions for the four novels that make up the cycle: The Fallen Angel Charlie Fah, Cha'Fah to most of the world, has never fit in with the other citizens of Gully Town, thanks to his darker skin that sets him apart. But one day, an Angel arrives on a supply run from Earth, and what happens next sets Charlie on a new path that will turn his life upside down. The Last Run Sera is the last runner from Earth, bringing badly needed supplies to the Tharassas Colony across a twenty-five year gulf between the planets. Jas works on a hencha farm to make ends meet, harvesting berries from the semi-sentient plants. Neither one that knows their lives—and worlds—are about to change forever. The Emp Test Jey awakens to find himself in the care of a handsome stranger—a cheff from one of the mountain tribes. Afraid for his life, Jey has no choice but to let the man take care of him and his broken leg. Avain is on his Aud'ling—the coming-of-age test that requires him to spend a couple months away from his own people. The two of them will have to come to an understanding if they're going to help one another. The Last Run and The Emp Test have been published before in previous stand-alone editions, but The Fallen Angel is a new story written exclusively for this collection.
Tales From Tharassas
SALE
Word Count: Information not available
Summary: There's a kettle of rotten fish on the fire … and the stink's about to get worse. – Jeskan proverb Once in a generation, the matriarchs of Jeska choose a new king to manage the government and command the Guard — protecting Jeskans from crime, invaders, and insurgency. Corren's been training for that job since he was six, but this is an unsettled time: rumors of strange incursions, grumbling discontent, and increasing brigandry. Corren's own problems are multiplying. His father, a skeptical shaman, has gone missing, His polyamorous foster-brother keeps interfering with his personal and professional business. And the king needs him to track down the conspirators behind a simmering insurrection. When a strange woman turns up wearing a shaman's cape, speaking a weird language, and hiding knowledge that doesn't belong in this world, all his plans will have to change.
Shadows of Insurrection
Word Count:

35000
Summary: Will the Manderians choose security over freedom? Keyla Damaer presents the second collection of short stories featuring characters from the Sehnsucht Series. The Manderian Directorate is born from the ashes of a past dripping blood. Existential dilemmas, double agents undercover, epic battles, old and new enemies promise a thrilling read. Thrust into it now!
Tale From The Sehnsucht Series Part Two - The Manderian Directorate
Word Count: Information not available
Summary: Four tales of terror. Haunting dolls live upstairs in The Doll Lady.  A psychotic serial killer is obsessed with Lady Gaga and lets the world know with each murder in Gaga for Murder. A Stranger's Rope is a modern-day nod to Hitchcock's Rope and Strangers on a Train. Insected features a 90-year-old woman as the main character in a sci-fi thriller with deadly insects from another world.
Word Count:

93700
Summary: Raven's a thief who just swallowed a dragon. A small one, sure, but now his arms are growing scales, the local wildlife is acting up, and his snarky AI familiar is no help whatsoever. Raven's best friend Aik is a guardsman carrying a torch for the thief. A pickpocket and a guard? Never going to happen. And Aik's ex-fiancé Silya, an initiate priestess in a magical crisis, hates Raven with the heat of a thousand suns. This unlikely team must work together to face strange beasts, alien artifacts, and a world-altering threat. If they don't figure out what to do soon, it might just be the end of everything. Things are about to get messy.
The Dragon Eater
SALE
Word Count:

50,000
Summary: J. Manfred Weichsel's versatility, unique style, and refusal to be bound by genre conventions have made him a force to be reckoned with in the world of speculative fiction. Now, Weichsel invites you to strip down and expose yourself to his raw and unfiltered imagination with Warrior Soul & Other Stories. Weichsel's stories peel away the veneer of societal norms and delve deep into the human psyche, exposing the rawest and most vulnerable parts of our existence. Through his boundary-shattering tales of science fiction, adventure, horror, and humor, Weichsel fearlessly explores the fringes of what is possible in fiction, revealing the naked truth of our humanity. From the mind-bending science fiction of "Warrior Soul", to the fantastical realm of "The Rainbow-Colored Rock Hopper", from the light comedy of "Queen of the House", to the darkest depths of horror of "Complicit in Their Bondage", these twelve tales will leave you feeling exposed and vulnerable in the best possible way. The bold and daring themes that run throughout Weichsel's work strip away all pretense and artifice to reveal the unvarnished truth of the human experience. So if you're ready to shed your inhibitions and explore the depths of what's possible in fiction, then get your copy of Warrior Soul & Other Stories now. It's time to embrace your innermost desires and take the plunge into the raw, unbridled world of J. Manfred Weichsel.
Warrior Soul & Other Stories
Word Count: Information not available
Summary: In this stunning work of speculative urban fiction, Redfern Jon Barrett breaks down the binary between utopia and dystopia—presenting an ambitopian vision of the world's first gay state. A glittering gay metropolis of 24 million people, Berlin is a bustling world of pride parades, polyamorous trysts, and even an official gay language. Its distant radio broadcasts are a lifeline for teenagers William and Gareth, who flee toward sanctuary. But is there a place for them in the deeply divided city? Meanwhile, young mother Cissie loves Berlin's towering high rises and chaotic multiculturalism, yet she's never left her heterosexual district—not until she and her family are trapped in a queer riot. With her husband Howard plunging into religious paranoia, she discovers a walled-off slum of perpetual twilight, home to the city's forbidden trans residents. Challenging assumptions of sex and gender, Proud Pink Sky questions how much of ourselves we need to sacrifice in order to find identity and community.
Proud Pink Sky
Word Count: Information not available
Summary: The planet wakes. Atalant is torn between two worlds. In uncharted space—head of a sentient planet—the new Eld of Ardulum now leads the religion she once rejected. Emn is by her side but the Mmnnuggl war brewing in the Charted Systems—threatening her homeworld of Neek—cannot be ignored. Atalant must return to the planet that exiled her in order to lead the resistance. She must return home a god, a hypocrite, a liar in gold robes, and decide whether to thrust her unwilling people into the truth of Ardulum, or play the role she has been handed and never see her family, or her world, again.
Ardulum: Third Don
Word Count:

134000
Summary: The key to saving the future, lies in the past. On the eve of societal collapse under the weight of a declining worldwide birth rate, Michael Boyer has a dream that is not a dream. While asleep he sees through the eyes of an ancestor, experiencing their memories as if they were his own. But this ability belongs not only to him. People around the world begin having these strange dreams. They are known as Dreamers. As the population declines, follow the Boyer family line through the decades as civilization falls around them until far in the future, with extinction on the horizon, Michael's descendant must use his ability, which he calls the Gift, to search the past for a way to save what's left of humanity. The descendent, Cameron, must find allies, including his own ancestors, while confronting those who would use the crisis as a means to gain power.
The Primary Branch
Word Count: Information not available
Summary: A young woman in 1884 doesn't have many options … But Susannah did not expect to be tutoring an alien snail child while aboard a ship sailing in space … Who will get the real education? Orphaned and penniless in Hong Kong in 1884 — what's a young gentlewoman to do? Impulsive, adventurous, and self-confident, Susannah accepts an offer to become the governess to a young foreigner on a ship. She does not expect the ship to be in space, or the foreign child to be an alien who looks like a giant snail. Nevertheless, she throws herself into the job of bringing Victorian decorum to the natives. But when she is accused of spying and put on trial in an alien court, Susannah has to challenge the law of the aliens to save herself — and her young and slimy student.
Snail's Pace
Word Count:

85000
Summary: Jameson Havercamp, a psych from a conservative religious colony, has come to Oberon—unique among the Common Worlds—in search of a rare substance called pith. He's guided through the wilds on his quest by Xander Kinnison, a handsome, cocky wing man with a troubled past. Neither knows that Oberon is facing imminent destruction. Even as the world starts to fall apart around them, they have no idea what's coming—or the bond that will develop between them as they race to avert a cataclysm. Together, they will journey to uncover the secrets of this strange and singular world, even as it takes them beyond the bounds of reality itself to discover what truly  binds them together.
Skythane
Word Count:

125000
Summary: Is Leif really lucky?  Stranded in orbit, viewing a destroyed civilization on Earth through the screens of a starship almost out of fuel and food, he doesn't feel that way. It wasn't supposed to be like that. As the starship Dauntless returns from a successful mission to the planet called Heaven, Earth holds no attractions for Exoplanetary Scout Leif Grettison.  He wants only to complete the mission and leave for another star, along with ace pilot Yang Yong.  In fact, he would be happy spending the rest of his life flying the starways with her. But they and the rest of the ship's skeleton crew awaken from hibernation to find Earth's solar system dark and silent—no signals, no responses to their transmissions. When they make orbit, the magnitude of the disaster becomes clear: An apocalyptic war has killed billions and destroyed every last source of power and tech that 22nd-Century humans relied on to survive. Getting down to Earth is only the beginning of Leif's problems.  Those few who survived the apocalypse are still divided, fighting over what's left. The disastrous re-entry to Earth leaves him with no resources or allies. He lands in the middle of a makeshift family that needs him more than he's comfortable with and hears stories—even nursery rhymes—that speak of a lucky starman.  For once, he's the only person with tech—but if he's caught using it, they might kill him. Can a man back from the stars end the warfare on Earth, or will he make it worse?  Can he save a family that might become his?  Is he everyone's lucky starman?
The Lucky Starman
Word Count: Information not available
Summary: Teens and their giant robots search for a new home for mankind, but the planet they discover belongs to the dragons. Two hundred years after the Climate Wars left Earth uninhabitable, Johari and his giant robot companion lead a squad of scouts on a quest for a new Goldilocks planet to settle the remnants of the human race. When one of the scouts and his bot go down in a hostile wilderness, Johari's fight to save them reveals complex behavior in the dragon-like dominant species. The scout team fragments as Johari strives to rescue his friends and discover the truth about the aliens. If he's right, mankind will lose its best hope for a home — or sacrifice its own humanity.
A Wreck of Dragons
Word Count: Information not available
Summary: Ardulum. The planet of myth. The planet of unwanted destiny. The Charted Systems are in pieces. Mercy's Pledge is destroyed, and her captain dead. With no homes to return to, the remaining crew sets off on a journey to find the mythical planet of Ardulum—a planet where Emn might find her people, and Neek the answers she's long sought. Finding the planet, however, brings a host of uncomfortable truths about Ardulum's vision for the galaxy and Neek's role in a religion that refuses to release her. Neek must balance her planet's past and the unchecked power of the Ardulans with a budding relationship and a surprising revelation about her own genealogy. Ardulum: Second Don blends space opera elements and hard science into a story about two women persistently bound to their past and a sentient planet determined to shape their future.
Ardulum: Second Don
Word Count:

170000
Summary: In the not so distant future…  Kiah Hasan, a young, talented computer scientist haunted by her war-torn past, is reaching for something just past the edge of theoretical possibility. Her best friend, physicist Nigel Evans, is obsessed with pushing the boundaries of space travel. And Captain Josh Walker? He's just out here for the adventure – and Kiah. Together with the crew of Trinity Station, they head toward the Kuiper Belt and disappear just as simmering political tension on Earth erupts into outright war. A hundred years later… Admiral Darren Winters leads a mission to the Kuiper Belt to find out what happened to Trinity Station. To his, and Earth's, surprise, not only have the Trinity Station scientists survived, but have reached levels of advanced technology due to the success of Dr. Hasan's AGI experiments. After shaky negotiations with Earth that ends with the birth of the new nation of Survey, Admiral Winters is offered a new position with the AI ship Musashi. His first mission is to figure out what happened to the youngest AI, Loki, whose first crew was killed in a tragic accident. With psychologist Dr. Alex Campos, they uncover a secret that could endanger the newly formed Survey nation and its AIs. Can Darren and Alex find Loki before it's too late?
Survey
Word Count:

140000
Summary: Jack Kirby just wants peace. Deeply scarred from a failed mission and struggling with the loss of his lover, Jack takes a job  as a Religious Program Specialist on a remote PreCol station. There, he finds what he never expected: a family. Marsha, a complicated woman with a deep connection to the spiritual world. Jenny, a cheerful ensign with a dangerous past. Mark, driven to demolish the atavistic cult he was born into. Can Jack protect them all as they become entangled in an espionage game with galactic stakes?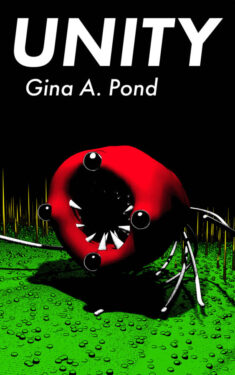 Unity