Sci fi is a type of speculative fiction that looks ahead and asks "what's next?" You can also check out these subcategories (a-g):
alien invasion | alien races | alternate/parallel reality / alternative history | atompunk | biopunk | candlepunk | christian | cli-fi | clockpunk | colonization | comedy | cyberpunk | cyberspace | decopunk | detective | dieselpunk | dying earth | dystopian & post-apocalyptic | first contact | frontier | furry | galactic empire | gothpunk | greenpunk
Note: these books are currently sorted by release date, with newest first.
Word Count:

86000
Summary: Regan has her ups and downs. -Dumping her girlfriend: Down. -Moving in with her loving brother: Up. -Waking up to a plague of undead: REALLY down. After the undead began roaming the neighborhood, Regan lost track of her brother. She's spent the last two years searching for him. In the meantime, she's fallen in love, only to be told, "Sorry, I'm straight. And you're a lunatic." There's a psycho out there somewhere who caused the outbreak, using nanotechnology, just for the fun of it, and Regan intends to hunt him down. Oh, and the crush she still has on the straight gal? Dangerously distracting, when there's a zombie around every corner.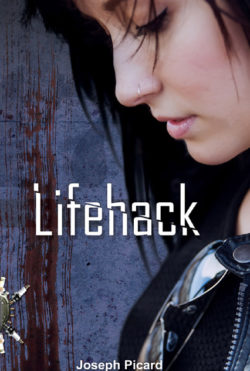 Lifehack
Word Count: Information not available
Summary: Spaceship captain Tom lost his copilot and lover to a slipstream accident, but he refuses to accept Briak is dead. As he loses himself to his obsession, his ship begins to exhibit technical glitches and personality traits not normal for a shipboard computer. It gets worse as Tom finds a new pilot and decides to manipulate the slipstream to go back in time and stop the accident from happening. But if Tom can't figure out the problem, the space-time jumps may tear the ship—and his dreams of reunion with Briak—apart.
Renegade
Word Count:

80000
Summary: Celebrate the superhero in each of us in this unique exploration of the connections we forge. A young Nigerian telepath faces a crisis when her sister is forced into a frightening marriage, then disappears. Once Somadina cannot locate her sibling's thoughts, she seeks another telepath to help. What she finds is Lola, a busy Texan scientist who has ignored the disturbing phenomenon in her mind for decades, and has no intention of embracing this nonsense now. Yet these two women have more in common than they know, and a powerful link will be forged. When Somadina discovers her sister is a pawn in a dangerous political game, the stakes rise for everyone, including an ancient organization of telepaths compelled to intervene. For both women are stronger than they realize, and they have ignited the wrath of a fanatic willing to kill anyone to alter his nation's future.
One of One
Word Count: Information not available
Summary: It's her first job...and it's already going wrong. Freshly graduated from university with a degree in engineering, Crystal approaches her placement on the wormhole-constructive ship Crossing Paths with nothing but enthusiasm. But while Crystal gets used to the ins and outs of a multispecies, multicultural ship, tension brews both at work and back home. Not murdering her coworker Jai is hard enough; the last thing she needs are the terrifying errors cropping up on her maps. Reality and space are either tearing themselves apart - or someone else is attacking them. With conspiracies lurking everywhere, friendship won't be enough to see her through these dangerous new problems... Fans of Becky Chambers' Wayfarers series will enjoy this sometimes joyful, sometimes dark personal adventure set in a world of politics, bureaucracy - and piracy.
And The Stars Will Sing
Word Count: Information not available
Summary: When young paleontologist, Ryan Thompson, finds a new species of mosasaur in Cretaceous seaway sediments, he is thrilled. The discovery should jumpstart his career. Joy quickly turns to fear when he touches an artifact buried among the sea reptile's ribs. Suddenly, he must fight a mental takeover by an alien intelligence committed to transforming the Earth into a refuge for her own race. As Ryan and his girlfriend, Skeets, attempt to thwart alien plans to colonize Earth begun in the deep past, even this crisis becomes trivial. The uneasy symbiosis of Ryan and the alien, Siu, generates a new entity with the power to transform the entire universe.
A Singular Prophecy
Word Count: Information not available
Summary: All she wants is to be an engineer, but her parents—and society—will never allow it. Until riots break out in steampunk London and she seizes her chance... It's 1889, and Claire Trevelyan is expected to do nothing more with her life than catch a rich husband. Unfortunately, her talents lie not in the ballroom, but in the laboratory, where things have a regrettable habit of blowing up. When her father gambles the estate on the combustion engine despite the fact that everyone knows the world runs on steam, Claire finds herself out in the street with nothing to her name but her steam landau and her second best hat. But the embarrassments of her old life just might be the talents that save her now ... and it's not long before a new leader rises in the underworld, known only as the Lady of Devices… If you like old-fashioned adventure, brave young women, clever children, and strong-willed chickens, you'll love the Magnificent Devices series. Fangs for the Fantasy says Claire is "a wonderful main character (one of my favourites in the genre)" and the series has "a great sense of Victorian style and language that's both fun and beautiful to read." With Lady of Devices, you can begin the adventure today!
Lady of Devices
Word Count:

214000
Summary: Starship lost in eternity... Ghost ship Impris, lost during the War of a Thousand Suns, is the stuff of legend. Her very name conjures the perils of interstellar travel. But no mere legend, she is real—glimpsed on occasion in the hyperdimensional Flux, and then gone. Her passengers and crew live on in a strange limbo, their fate hopelessly caught up in quantum defects in space-time, interstellar piracy, and galactic coverup. To the pirates of Golen Space, she is a perfect lure, drawing passing ships to their doom. Many innocent star riggers have been captured in such raids and forced to pilot for the murderous pirates. One such rigger, Renwald Legroeder, makes a daring escape and flees to the presumed safety of the Centrist Worlds. But instead of finding asylum, he is framed for treason. Something is terribly wrong in the Guild of Riggers and the government that should be protecting him. To clear his name--and perhaps to avert a disastrous war between worlds—he must escape a second time, and partner with the amphibious Narseil to return to the Deep Flux and search for the lost Impris. Legroeder's journey takes him back into the heart of raider territory, where he encounters a bewildering array of motives, conspiracies, and even deep-cyber romance. Forging friendships and finding love in the unlikeliest of places, Legroeder must nevertheless put his life on the line to protect the innocent, and preserve a shaky interstellar peace. A finalist for the Nebula Award, Eternity's End stands as a highlight of the Star Rigger saga, and one of Jeffrey A. Carver's most memorable novels. Can be read as a stand-alone book, or as part of the future history. PRAISE FOR ETERNITY'S END: "True love, cognitive dissonance, divisions among the enemy, ambitious schemes, another mission—this one deeper than anyone has ever gone before into the substrata of the Flux—and a final resolution that leaves the reader both breathless and satisfied." —Analog "You don't want to wait for the paperback." —Science Fiction Chronicle "A mesmerizing tale of human perseverance and courage under pressure that updates the legend of the Flying Dutchman." —Library Journal "Carver never runs out of new plot twists to keep the reader coming back for more." —The Washington Post
Eternity's End
Word Count:

14800
Summary: Won Honorable Mention in the Writers of the Future contest. "… refreshing and dynamic take on the cyberpunk genus." Lancer Kind splices cyberpunk with Hawaiian culture in this novelette length tale (roughly 70 paperback pages). Global warming's legacy has put part of Honolulu underwater and forced the erection of seawalls. Nafi has given up professional surfing for a stable path to home ownership—working security at a pineapple research facility. A beautiful woman named Lina throws herself at him, and following an after-hours tour of his workplace, she leaves him dazed in a lap-dance's afterglow to smuggle pineapple samples. Nafi stops her and she accuses him of abetting a conspiracy to engineer a virus that will wipeout the island's entire pineapple crop. Although he thinks she's crazy, within hours a security guard is murdered and an infamous epidemiologist turns up. While Nafi pieces together why a plantation would destroy its own crop, he and Lina must flee a coverup that requires them dead.
Honolulu Hottie
Word Count:

120412
Summary: Sarah's got daddy issues. He lives in her head, built her out of fish, and killed millions of people. But he's really sorry. Honest. A father that lives in your head wouldn't be so bad if he wasn't the killer of millions. At least it's comforting to know that he didn't murder the fishes used to create your body. Or the seagull. Sarah hides her illegal nanite origins in an effort to build an ordinary life, but the legacy of dad's horrors makes it difficult. Especially when new but familiar zombie-like abominations begin to appear in the city.
Echoes of Erebus
Word Count:

109700
Summary: Cassidy needed a fresh start, and the offer of a guard posting for a historic temple in the middle of the desert sounded like a good way to clear her head. She didn't expect to find a new girlfriend- maybe even a soul mate. She didn't expect to be in the crossfire of a terrorist, a cowardly scientist, and a fleet of microscopic invaders. She didn't expect to lose. In the years after Lifehack and the Erebus incident, the world settles into relative quiet under strict nanite bans, but underground activity keeps dangerous nano-tech alive and well. (Although Watching Yute is a complete tale within the Lifehack series, it chronologically takes place between Lifehack and Echoes of Erebus.)
Watching Yute
Word Count:

99837
Summary: Race, an ex-cop private eye in a world where most people are conditioned so that they cannot commit an act of violence, must release a savage artificial personality, Ralf, that was implanted in him when he did a deep-cover mission as a police officer, to rescue Astra, the woman he secretly loves, from the crime syndicates who have used a drug to turn her into a sex slave. Race succeeds at the cost of the crime syndicates discovering that Ralph is still alive. The syndicates want their assassin back and think nothing of toppling Race's sanity to achieve their ends. Can Race maintain control of his body? Freed of the drug's effect, will Astra return his affections? And what of Ralph, can a sociopath learn to love and what changes might that bring?
Slaves of Love
Word Count: Information not available
Summary: Can a vampire learn to love a human? Adrianna never expected to meet the beautiful Heather, a young woman that loves fresh air, dances in the rain, and likes her heartbeat regular. Oh, and is as human as they come. Torn between her duty and her feelings, Adrianna struggles to find a place for the human girl in vampire society. In a cage or in her heart? — My Own Human is the first book in the completed Lesbian My Own Human Duology.
My Own Human - Arizona Tape
Word Count: Information not available
Summary: Each unique short story in this supernatural anthology will transport you to a magical interpretation of romance as authors bring to life, uncommon love affairs and out of the ordinary long distance relationships. Escape into the realms of eroticism, fan fiction fables, intergalactic intimacies, lunar love, mythical fantasy, and past lives revisited. Is it fate, is it destiny or is it one of those defining moments where the universe comes to a screeching halt as an epic love appears?
A Heart Well Traveled Vol. 2
David Brin , Sally Wiener Grotta , Justin C. Key ,...
Word Count: Information not available
Summary: Aegis Alight (2020 Collection) is a free collection of twelve stories published in each month of 2020. These are stories of other worlds, other places. Stories of creatures helping, of cryptids descending from otherness to join those in need. The stories can be read on Ava Kelly's website or on their Patreon. The collection is available for download as an .epub file.
Aegis Alight 2020
Word Count:

197000
Summary: Saving a life can change the course of history. Destin is torn away from his chicks and his bonded when the Terrens invade Aries 7. Experimented on in Terren labs, and made to work their mines, the GyrFalconi struggle to survive. Destin becomes their caretaker, endeavoring to save as many as possible, despite the emotional toll. Amidst the battle for survival, the universe shines on him and he bonds with not one but four people who give him a reason to keep fighting. When Valespia sends its Legions to the GyrFalconi's aid, Destin and his bonded are eventually freed, only to face new cruelties from their own people. Freedom comes with its own trials, though, as a divide forms in GyrFalconi society between the winged and the wingless. Destin and his bonded are given a chance at true happiness and they keep what they claim, no matter what. Tags: The Twenty-Year War where Terrens really mucked things up, so many hatchlings, Love not Lust (yes, using caps there seemed necessary), survivors, bisexual characters, all the cute hatchlings, talking to spirits, low heat, protective chantelle, evil empress, courageous stags, polyamorous, Destin keeps collecting bonded, avian species screech... a lot, non-human ace spectrum characters, found family, underestimated batore, so many stags, Mar'Sani mentor, did I mention the cutest chicks ever? CHERISH is the fourth book in the award-winning Valespian Pact series. Trigger warnings can be found in the Author's Note. Please download a sample of this book or use the Look Inside feature. 196,000 words.
Cherish
Word Count: Information not available
Summary: An anthology of stories combining two or more fairy tales.
Upon A Thrice Time
Word Count: Information not available
Summary: The embers of War still glow as memories of strange skies over an alien landscape, light-years from home, bring back the sensations of battle; a time when personal sacrifice meant the difference between salvation for all, or total destruction. Gathered here is a cross-section of stories from the first decade of the award-winning Defending The Future series. Written by the known and up-and-coming in the military science fiction genre, these stories represent the fan-requested highlights from the series.
The Best of Defending the Future