Sci fi stories that posit a society or world destroyed by something terrible and/or under autocratic rule. Return to general Sci Fi
Note: these books are currently sorted by release date, with newest first.
Word Count:

43000
Summary: What if the man you swore to protect ordered you to commit genocide? Fifteen hundred years after the Catastrophe, Inventor Benjamin Kerr built the domed neo-Edwardian city-state of Bridges in the center of the former U.S. Three hundred years later, Bridges is in trouble. King Taylor Kerr is elderly, the economy is struggling, and corruption is rampant. Forty years ago, a fence was built outside of the "Pot of Gold" — the city proper — to keep out the growing numbers of homeless. This number has increased to over a hundred thousand, whole generations knowing nothing but life in the tent camps. Xavier Alcatraz is head of the Palace Guard. When King Taylor is assassinated by his son, who then gives the order to slaughter everyone outside the fence, Xavier must choose between his vows and his conscience, making a choice which will affect Bridges for generations to come. Set 100 years before the Red Dog Conspiracy series, this dark, violent story brings you a collision of science fiction, steampunk, and war fiction - Downton Abbey meets Black Hawk Down in a city gone mad.
The Alcatraz Coup
Word Count:

18000
Summary: "Welcome, Mr Reese and Mr Connor... I trust your special day was all that it was cracked up to be? And what better way to compliment your union than with a honeymoon across time, eh? We here at TimeLabs are the premier time travel company and our guides are highly trained. Anything you want, anywhere you want to go... The possibilities are very nearly endless..." Sam and Zak take a Time Tour for their honeymoon, visiting some of the events through time which have captured their interest, including the very first Olympics. A five-star time machine for transport, luxury meals, fine wines—what could be more perfect? TimeLabs Inc. Tom loved his master, his job and the wonderful society he lived in—until one day, somebody hacked his tattoo and his world changed forever. Tattoo Kel meets his first alien and falls in love with her. Except... Alien Love Story Evan and Joey step through a door and find themselves in a whole new world where mythical creatures are as real as they are. Love Spider General Parker Rodriguez didn't believe for one second in the existence of flying saucers with little green men conducting random probes, but he still knew that Aliens were out there. And when they came, he would be ready. E-Contact And a dystopian short, My Day At The Beach TimeLabs Inc is a collection of six science fiction short stories, all with a romantic theme.  Not explicit. Suitable for both teens and adults.
TimeLabs Inc
Word Count:

29,400
Summary: Li Liang has found a berth to suit her: chief pilot and first officer of the all-female crew of an old space freighter, the Sappho. Then one ordinary, unremarkable morning, Liang retunes the Sappho's communications systems just in time to catch the breathless, terrible accounts from Mars of the total destruction of Earth. Earth's a cinder. The unknown alien race that destroyed it has left Mars, too, in flames and is ravening outward from the solar system, devouring every human colony on the way. Liang's one of the few survivors, racing ahead of the Devourers, rescuing as many frightened, shocked people as she can. Will Liang and the pitiful remnants of humanity find a new haven, somewhere to start again? Or will she, too, echo the dreadful last message coming out of their dead home? They're coming. Oh God, they're coming.
Passing Shadows
Word Count:

75000
Summary: She just wanted an easy case ... Private eye Jacqueline Spadros, recovering from her harrowing experiences the week prior, wants nothing more than a simple, straightforward case - preferably one the Spadros Family won't find out about. Aristocratic jewel merchant Dame Anastasia Louis, aka "The Queen of Diamonds," seems to be offering the perfect arrangement. But Jacqui can't leave the madman "Black Jack" Diamond's crimes unpunished. And the more she learns, the more she begins to believe that this particular job wasn't such a good idea after all ...
The Queen of Diamonds: Part 2 of the Red Dog Conspiracy
Word Count: Information not available
Summary: Olson lives in a city that has been sealed from the outside world. He's an Eleven Year and close to citizenship. His life is upended when one of the few adults who cares about him commits suicide - or so it appears at first. While investigating, Olson meets a girl named Natalie snooping around his school. He soon learns that one of her friends died under similarly mysterious circumstances. Together, they start looking for answers, and end up discovering the city's darkest secrets.
Atmospheric Pressure
Word Count:

110000
Summary: In Sleep State Interrupt, a giant media corporation has taken over the Internet, created an addictive virtual reality called BetterWorld, and controls nearly all information. Politicians do their bidding and a brainwashed humanity serves a privileged few. Waylee Freid, an unemployed Baltimore journalist with ever-worsening bipolar disorder, is the only hope for a brighter future. She and her countercultural friends bust a notorious teenage hacker out of jail and sneak into a closed presidential fundraiser at the Smithsonian castle, where they hope to record incriminating admissions that will wake up the world. Hunted by Homeland Security, Waylee and her friends must reach a sufficient audience by broadcasting their video during the Super Bowl. But to do so, they'll have to break into one of the most secure facilities ever built.
Sleep State Interrupt
Word Count:

115,674
Summary: Oil reserves depleted. Society collapsed. A few places cling to modern technology. For everywhere else, there are the Tinkers. In southern Ontario, Novo Gaia uses sustainable energy to support its citizens in comfort. From there, Novo Gaia sends Doctors of Applied General Technology, tinkers, into the Dark Lands to install everything from solar stills to televisions—and make a profit. After twenty years as an E.R. nurse, Tabitha "Tabby" Drivensky's failing marriage sent her into the tinker program and the open waters of the Great Lakes. While fulfilling her Coast Guard service obligation, she rescues a boy named Andy Camble from a sinking ship. Andy turns out to have vital information on Packer, a pirate captain who has been plaguing the Great Lakes for generations in an ancient, nuclear-powered submarine. Using Andy's intelligence, Tabby sets out ostensibly to scout out a new aquatic tinker route along Lake Huron but secretly assigned by Novo Gaia to find and put an end to Packer once and for all.
Tinker's Sea
Word Count:

27900
Summary: A mind-blowing collection of short fiction. This anthology of Davyne DeSye's short stories includes twelve speculative fiction stories, ranging from science fiction to fantasy, and from humorous to horrific. This collection – which includes one new tale published here for the first time – contains: -A Ray Bradbury-esque story about a boy whose wishes come true; -A dark testimony of alien invasion and the redemptive power of a single selfless act; -The true story of Little Red Riding Hood; -An inside look into robot-assisted psychotherapy of a killer; and -A guided tour of a shop for recycled dreams. These twisted tales and others may be discovered in this anthology, which includes: "The Slide," "Moron," "There I Was…," "Death, By Any Other Name," "Mine Eyes," "Mirror, Mirror," "Carapace," "…I Win," "It's Not What You Think," "Shattered," "The Cloak," and "The Thief Speaks."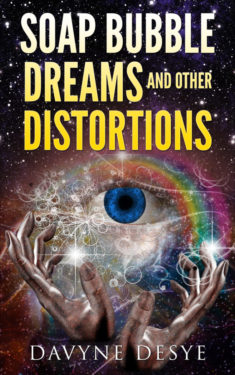 Soap Bubble Dreams and Other Distortions
Word Count: Information not available
Summary: Every night the monsters hunt. A city that is the whole world: Theosophy and her companions in the City militia do their best to protect the civilians from the monsters, but they keep crawling from the Rift and there's nowhere to run. Theosophy knows she'll die fighting. It's the best kind of death she's seen, and at least she can save lives in the meantime. They say the Scarred carve you up while you're still alive. A village in the shadow of a forest: Refugees from the border whisper about the oncoming Scarred, but Briony can't convince her brother to relocate his children to safety. Briony will do anything to protect them. She owes them that much, even if it means turning to forbidden magic. When Theosophy and Briony accidentally make contact across the boundaries of their worlds, they realize that solutions might finally be within reach. A world beyond the City would give Theosophy's people an escape, and the City's warriors could help Briony protect her family from the Scarred. Each woman sees in the other a strength she lacks—and maybe something more. All they need to do is find a way across the dimensions to each other before their enemies close in.
City of Hope and Ruin
Word Count:

75000
Summary: The once-beautiful domed neo-Victorian city of Bridges is split between four crime families in an uneasy cease-fire. Social disparity increasing and its steam-driven infrastructure failing, a new faction is on the rise: the Red Dogs. Jacqueline Spadros has a dream life: a wealthy husband, a powerful family. But her life is not what it seems. Kidnapped from her mother's brothel and forced to marry, the murder of her best friend Air ten years before haunts her nightmares. She finds moments of freedom in a small-time private eye business, which she hides in fear of her sadistic father-in-law. Air's little brother disappears off his back porch and the Red Dogs are framed for it. With the help of a mysterious gentleman investigator hired by the Red Dogs to learn the truth, Jacqui pushes her abilities to their limits in hope of rescuing the child before the kidnapper disposes of him.
The Jacq of Spades: Part 1 of the Red Dog Conspiracy
Word Count:

52000
Summary: Never in our wildest dreams did we imagine it could happen to us... In the years since the Twelve-Minute War, the world has fallen into darkness and chaos. The combined impact of nuclear, biological, and chemical agents has rendered the majority of the world's water unfit for human consumption. Only the bravest men and women dare to venture out into the desolate, radioactive wasteland to collect this precious commodity. Matt Freeborn is one such man... a weller. A lone drifter, Freeborn's gaze is fixed ever east, away from the horrors of his past. Danger is always one step behind, however, as the weller's precious cargo makes him a prime target for attack. Savage road pirates, grotesque mutants, ravenous cannibals, and ruthless private armies all lurk behind every dune. Armed with his trusty sidearm, the Well Digger, Freeborn is fully prepared to handle any of these terrors, but there are still things even the weller fears: the bogeymen of the wastes... distillers. A high-octane, post-apocalyptic thrill ride from the author of Birthright and War of the Worlds: Goliath!
The Weller
Word Count: Information not available
Summary:
The war is over. Resources are scarce. The population is dwindling in the Forkstream Territories.
Pinnacle Officer Wilcox has created FERTS amidst the chaos, a facility designed to protect the female population from raiding hordes.
Beth 259201, a newly-demoted Epsilon Internee, suspects that there is something more that lurks beneath the carefully constructed order of the facility.
She has a gift, one that could brand her a defective. A novice fighter, she must use her intellect to survive. Her own life, and the lives of many more may be at risk. Will she succumb to the plans in store for her or will she conceal her secret long enough to discover her own path?
FERTS
Word Count: Information not available
Summary:
"Human civilization has collapsed. Rainey Vidic, MD is a genius, and she has Preston Hayes--her open hand, or hammering fist...
...Only the strongest and smartest will survive in The After.
A gifted surgeon, her retired warrior lover, a former Marine, and a taciturn drone pilot fight for survival in a dangerous and pitiless world, while navigating human needs for love, family and community.
When one of their own faces a lethal illness, Dr. Rainey Vidic's efforts are compromised by a savage horde of highly intelligent, relentlessly evil creatures that threaten the lives of the entire team.
Desperate to save their teammate, the Team encounters an imperiled town of survivors that may hold the key to saving them all. . . or send humanity into extinction.
With echoes of McCarthy's "The Road" and the thrill ride of "Jurassic Park," this three volume, four part series, "Love, Death, & The After," tests the limits of romance, loyalty, and community against a violent world hell-bent on devouring it all.
This book, Love, Death, & The After: Darkness is the first of three:
Book 2: Love, Death, & The After: Abandoned Spaces
Book 3: Love, Death, & The After: Never Again"
Love, Death, & The After: Darkness
Word Count: Information not available
Summary: Memories of another life and lover guide her, but are they even hers? She is a Bearer—keeper of past lifetimes and gifted with strange talents. Ember must find her answers away from safe Longquan Village, snared instead in the sensuality and dangers of The City. Hidden among spider farmers and slaves, prostitutes and weavers, a nest of people like her are waiting. A powerful man outside The City raises his forces, determined to hunt down the 'demons' who could taint his followers. Threatened from without and within, can the Bearers even trust each other? Powers will rise and alliances will be forged in a dark new world. The Memory Bearers are coming. This book includes violent and mature content. Reader discretion is advised.
After the Garden
Word Count:

89180
Summary: Lenth grew up in a lie. Apparently there's more than five people in the world. Savage Citizens, orderly Providers, keepers of ignorance, and a damaged killer stand in the way of the world's simple truths. Four Brothers live their lives in an enclosed habitat as directed by the silent Rubberman above them. When they disobey, they get shocked. This is normal. It always has been. When a Brother dies, they learn of death. When he is replaced by someone new, they learn they are replaceable. When the ceiling above the ceiling cracks open, Lenth plans a journey beyond the known universe: A third floor. Up.
Rubberman's Cage
Word Count:

36000
Summary:
"Wanna know what sucks most about an apocalypse? You don't get to pick which kind you get!"
Surviving a worldwide plague can lead to unlikely alliances, especially in Hanning County.
It's hard enough for Ashley Korrs keep the tribe of young survivors alive and together, but the pressure is on to learn all she can from their unlikely sage, Toby Cracken, the handyman, before he succumbs to his mental decline. When Toby is snatched by a violent gang, Ashley must consider cozying up with old adversaries to rescue him. Adversaries like the notorious MacKenzie Tanner—a girl as manageable as a wolverine stuck in a water bucket with the lid on—and her twin outlaw boyfriends who may be the chaos needed to free Toby... if Ashley can keep the whole thing from going off the rails.
Dirty secrets are exposed as the truth comes to light in this story of small town reputations, rivalries, and survival.
"Rich with pulpy apocalyptic dysfunction, 'gritty' is not a raw enough description—put on your grown-up pants before taking this journey."
Reader Advisory: This novella contains violence, explicit language, graphic sexual content, and gritty, adult situations; kinda like life.
This'n Apocalypse Or Not?
Word Count: Information not available
Summary: Nightmares bleed into the waking world. A city of shadows lurks underground. Restless ghosts, eerie dolls, and spiteful stepmothers. Haunting stories of love, madness, and small disasters. Featuring a full-length novel and eleven stand-alone short stories, this collection blends fairy tales, horror, and science fiction. The Underlighters is a dystopian horror coming-of-age adventure that follows the life of Janelle Cohen from insignificance to bitter-sweet triumph. Footsteps in the Snow is a Lovecraftian nightmare set in a Canadian winter. A Shot of Vodka, a darkly realistic exploration of life after trauma, rounds out the collection. More and stranger stories fill in the gaps. Gender and sexual mores are rewritten, primal fears take physical form, and dreams and reality merge. Prepare yourself: nothing is safe.
The Loved, The Lost, The Dreaming
Word Count:

109700
Summary: Cassidy needed a fresh start, and the offer of a guard posting for a historic temple in the middle of the desert sounded like a good way to clear her head. She didn't expect to find a new girlfriend- maybe even a soul mate. She didn't expect to be in the crossfire of a terrorist, a cowardly scientist, and a fleet of microscopic invaders. She didn't expect to lose. In the years after Lifehack and the Erebus incident, the world settles into relative quiet under strict nanite bans, but underground activity keeps dangerous nano-tech alive and well. (Although Watching Yute is a complete tale within the Lifehack series, it chronologically takes place between Lifehack and Echoes of Erebus.)
Watching Yute
Word Count:

99837
Summary: Race, an ex-cop private eye in a world where most people are conditioned so that they cannot commit an act of violence, must release a savage artificial personality, Ralf, that was implanted in him when he did a deep-cover mission as a police officer, to rescue Astra, the woman he secretly loves, from the crime syndicates who have used a drug to turn her into a sex slave. Race succeeds at the cost of the crime syndicates discovering that Ralph is still alive. The syndicates want their assassin back and think nothing of toppling Race's sanity to achieve their ends. Can Race maintain control of his body? Freed of the drug's effect, will Astra return his affections? And what of Ralph, can a sociopath learn to love and what changes might that bring?
Slaves of Love
Word Count: Information not available
Summary: Can a vampire learn to love a human? Adrianna never expected to meet the beautiful Heather, a young woman that loves fresh air, dances in the rain, and likes her heartbeat regular. Oh, and is as human as they come. Torn between her duty and her feelings, Adrianna struggles to find a place for the human girl in vampire society. In a cage or in her heart? — My Own Human is the first book in the completed Lesbian My Own Human Duology.
My Own Human - Arizona Tape