Sci fi stories that involve individuals using and being affected by the use of do-it-youeself renewable resources, recycling and repurposing.. Return to general Sci Fi
Note: these books are currently sorted by release date, with newest first.
Word Count:

80,350
Summary: The sun and moon have been devoured by the cosmic wolves Skoll and Hati. Fimbulwinter has enveloped the world in the cold and darkness. Men prey on each other in order to survive. Amid the chaos, in the struggle for the throne, comes a war between brothers. Hakon, the illegitimate heir to the throne of Norveig, has obtained a horn that can summon a terror from the depths of the ocean. This monstrosity has been sinking the vessels of his half-brother, Jarl Erik Bloodaxe. Erik sends a company of untried heroes to infiltrate Hakon's stronghold and steal the horn. As with all things political, there are other agendas. Fjorn, the leader of the team, is Erik's half-brother who could challenge Erik for the throne. Erik's wife Gunnhild is a powerful sorceress with her own ambitions- could her goals derail the heroes? In life, sometimes a Jarl wins, and other times a Jarl wins.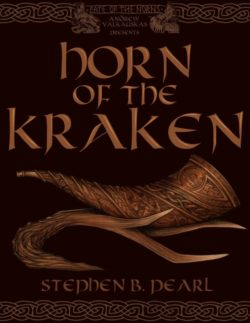 Horn of the Kraken
Word Count:

98263
Summary: Quinn and Valerian have come through the trials of facing an undead lich queen and the perils of falling in love. Now they work to restore AURA to its previous strength and efficiency while navigating their new life with each other. Fortunately, they're not in this alone. Kai Hiltas has taken over as the head of the research department at AURA and has become everyone's favourite workaholic, everyone except his lover Tenzin, who has had enough of his late nights and broken promises. As Kai tries to salvage his relationship, he finds a teacher for Quinn, who also happens to be one of Valerian's new officers, Flax Wolfheart, a sexy elf with trouble written all over him. Flax has motives beyond simply teaching Quinn to control his magic. He's trying to recover from his own losses and failures, but he has a plan. The two newest elvish crossovers, Ash and Sage, are sizzling hot and might even like him. With them as backup as he tracks a deadly stone mage and figures out how to teach Quinn, Flax sees his chance to impress Val and snag a place by his captain's side. On the hunt for both danger and redemption, Flax's pursuit leads him ultimately down trails he never expected.
Flax's Pursuit
Word Count: Information not available
Summary: Lasair Faol, Master of the Fade-Hounds to the Royal court of the Demesne of Fire in the Fae Realm, has been exiled to the human world by the Princess Consort for failing to catch her son's kidnapper. Bryce Newhouse, Greenwich Village investment banker, is universally loathed by all who know him. Generally, he's perfectly cool with that, but he discovers what he's been missing—literally — when he finds Lasair chained in his basement. Bryce was supposed to receive half of Lasair's soul at his birth, but thanks to the Fae of Purgatory, the Pattern — the portal between the worlds — has been damaged, and Bryce's soul arrived 31 years too late. Now the exiled Fae is the shunned human's only hope of healing his broken past. And with the fate of two worlds riding on that healing, Lasair is going to have to overcome both his race's innate mistrust of genuine emotion and his own very unFae awkwardness, to have any chance of reaching Bryce's impenetrable heart.
Blowing Smoke
Word Count: Information not available
Summary: Rian Sheridan is a foundling, a Falls Road corner boy, whose world went up in flames beside an Orangemen's bonfire of hatred last July the Twelfth. A pain he barely remembers is a siren's call, taunting him, daring him to find its source and lose himself to it. And he searches in the only place he knows, the S&M underground of Belfast. Cuinn an Dearmad is the last surviving Fae Loremaster. He's just seen the beginning of the death of the Realm, the home of the Fae race and their haven from the twisted evil of the Marfach. The only hope of saving the Realm starts with finding the Prince Royal of Fire he himself stole from the cradle, and lost in the human world, many years ago. He has a few guesses about where that hope ends, none of which bode well for him. Rian and Cuinn are an impossible pairing, two SoulShared Fae. Any two Fae strike sparks, but these two Fae are an explosive combination. Drawn into an escalating series of sexual collisions, their passion will save — or destroy — two worlds.
Firestorm
Word Count: Information not available
Summary: An ancient civilization long hidden from humanity is on the brink of chaos and war. Peaceful for thousands of years, the wolfkin clans are mysteriously losing packmates, kidnapped and killed by unknown foes. The nightmare begins with an ambush by humans at a gathering of their kind, and lives are lost. Among them is Luca, youngest grandson of the two most powerful wolves in the Northern Clans. Thought long dead and gone, he is forced into a half-life, hidden in the far northern wilds of Canada and cut off from his kind. Those who raised him have no idea the creature they harbor in their midst, and name him Ghost. He begins to lose himself over the long years, and though he barely recalls his true name, the one wolf he never forgets is Kane. Kane, Heir to the wolfkin clan Black Pine, is charged with hunting down the traitors who betrayed their kind to the humans. Years fly by, and more wolves are dying. He refuses to give up, and he vows to never again fail another of their kind, as he failed young Luca years before. His heart tells him Luca lives, but his mind tells him that it's foolish hope, his guilt eating him alive. Fate and magic change the course of their lives, and the two wolves long separated by the years find their paths intertwining. Though the gift of their reunion doesn't come without price. Faced by the consequences of their growing love, and the goddess-forged bond between them, Kane and Ghost are besieged on all sides. Enemies are coming for their blood, and without the steadfast loyalty and love of family and friends, they may not be safe from the very people they fight to protect.
Wolves of Black Pine
Word Count: Information not available
Summary:
The war is over. Resources are scarce. The population is dwindling in the Forkstream Territories.
Pinnacle Officer Wilcox has created FERTS amidst the chaos, a facility designed to protect the female population from raiding hordes.
Beth 259201, a newly-demoted Epsilon Internee, suspects that there is something more that lurks beneath the carefully constructed order of the facility.
She has a gift, one that could brand her a defective. A novice fighter, she must use her intellect to survive. Her own life, and the lives of many more may be at risk. Will she succumb to the plans in store for her or will she conceal her secret long enough to discover her own path?
FERTS
Word Count: Information not available
Summary: More than two thousand years ago, the healer Lochlann Doran was the first Fae to leave the Realm after the Sundering of the Fae and human worlds. After centuries of wandering the human world, seeking his SoulShare, he has spent all his magick, and lost all his hope. Garrett Templar is the star pole dancer at Purgatory, the hottest gay nightclub in Washington, D.C. If his past hadn't taught him the futility of hope, his present surely would; HIV-positive since age 18, his illness has suddenly and inexplicably mutated into drug-impervious AIDS. A SoulShare bond with Garrett may give Lochlann back his magick, his gift of healing. But it also might kill him. And if he survives the return of his magick, the Marfach and its host are waiting to use the dancer as bait in a deadly trap. Only an impossible love can save them both. And everyone knows Fae don't love….
Deep Plunge
Word Count: Information not available
Summary: Once upon a time in a world where magic and technology collide with unexpected consequences… As a mechanic, Tessa lives a dangerous live ever since the new king outlawed technology. Little does she suspect the true reason for this law. But when she discovers a hut in the forest with an obviously cursed inhabitant, she gets drawn into a political intrigue that might destroy not only the kingdom but her family too. What if the Brothers Grimm misjudged the strength and intent of the curse on "The Hut in the Forest"? The book includes a bonus story and the original fairy tale.
The Hut
Word Count:

75000
Summary: One hundred years ago, the vampire Victory retired from a centuries-long mercenary career. She settled in Limani, the independent city-state acting as a neutral zone between the British and Roman colonies on the New Continent. Twenty years ago, Victory adopted a human baby girl, who soon showed signs of magical ability. Today, Victory is a city councilwoman, balancing the human and supernatural populations within Limani. Her daughter Toria is a warrior-mage, balancing life as an apprentice mercenary with college chemistry courses. Tomorrow, the Roman Empire invades.
Steel Victory
Word Count:

36600
Summary: Undercover agent Liam Connell stared at his captor.  He looked like a pirate from a holovid— black trousers, a white, puffy-sleeved shirt, and a purple sash wrapped jauntily around his waist. Wavy black hair fell to his shoulders and ... Connell couldn't believe it.  He actually had gold hoops hanging from his ears. The pirate ran his forefinger lightly down Connell's cheek and smiled. "Mmm! Mmmm! What do we have here?" Just what had Connell gotten himself into? (M/M Romantic Sci-Fi) Word Count 36,600
Pirate
Word Count: Information not available
Summary: Conall Dary is the mightiest mage born to the Fae race in more than two thousand years, ever since the Sundering of the Fae and human worlds. But that power condemns him to an untouched, virginal life — sex calls to power, and his power is enough to drain the magick, the life, from his entire world. Exiled from the Realm for refusing to turn his talent to service a Noble's petty revenge fantasies, his soul is torn in two and his magickal gifts blocked. Josh LaFontaine is a gifted tattoo artist with a heart of gold. While doing a good turn for an ex-boyfriend, he's stunned when a gorgeous red-haired twink appears out of nowhere at his feet during New York City's Pride march. The Marfach was thwarted in its first attempt to capture a Fae. But when a terrible accident separates Conall and Josh before they bond, it's a race to see who finds the mage first, the monster who will use him as a weapon to destroy his race, or his SoulShare.
Gale Force
Word Count: Information not available
Summary: A collection of seventeen short stories and one novella ("Inclemency"), all penned (or "computered") by Tracy Shew. Who really killed JFK, and why? What strange secret do oranges hold? Can sub-sub-atomic particles have sex? Where do stories that no one will ever read go? What is God doing in Arizona? What happens when the national debt clock reaches zero? Where does luck come from? Do plants and animals have souls? What is the true source of your childhood fears?"
Twenty Twelve
Word Count: Information not available
Summary: Fourth of the Virian Chronicles Darien sets out for the Crystal Planet, Viria, to discover her Virian heritage and find out more about the troubled history of her mother's side of the family. Accompanied by her new companions, she explores the beautiful and savage world of her ancestors, making new friends and enemies as well as uncovering old family secrets. Follow Darien into unknown territory as she learns about herself and experiences both wonders and tragedies on her spiritual journey.
The Virian Fellowship (Virian Chronicles Book 4)
Word Count:

7150
Summary: In a four-gendered world where correct gender identity is law, Venk struggles with his inability to choose one sexual orientation over another. His body has matured, but he still shows the multi-colored crest of a juvenile, someone who has not yet presented proper orientation. With his family losing patience and others beginning to whisper, Venk must find a way to change his crest or be labeled an aberration. But the only choice he sees is a dishonest one.
The Color of His Crest
Word Count: Information not available
Summary:
When the right space pilot walks into his bar, a desperate bartender uses all his wiles (and tentacles) to talk the man into business and his bed--but the spacer is still enslaved by his past and isn't sure he can deal with a two-armed lover, much less one with six. As the supply shipments stop coming, Teo Houdin needs all his tentacles to keep his waystation bar open. Facing a riot by thirsty miners stranded in the backwater of the galaxy, Teo helps a greenie space pilot buy a ship in return for a regular haul of liquor. But he longs for the courage to invite the enigmatic spacer to fill his lonely bed as well. Still smarting from his newly implanted navigational ports, Jimenez knows owning his own ship will prevent him from ever being bought and sold again. For a former slave, transporting cargo through the emptiness of space sounds like paradise, but after meeting the compassionate and sexy Teo, his heart feels empty, too. At the edge of the galaxy's spiral arm, can Teo convince Jimenez that the heart has its own tentacles and theirs should be entwined forever?
The Klockwerk Kraken
Word Count: Information not available
Summary: How much must one sacrifice for the sake of friendship? Lady Claire Trevelyan has had to deal with betrayal before, but none is quite so painful as the belief that Gloria Meriwether-Astor deserted her and her friends and left them to die under the waters of Venice. But when she learns that Gloria has vanished, can she do the right thing and attempt to find the missing heiress? Of course she must. But this does not sit well with the gentlemen in her life, who had every reason to believe she planned to settle down at last. Suddenly Claire finds herself without a career, a fiancé, or the confidence in her own abilities that has carried her this far.  Worse, Captain Ian Hollys is suffering from the megrims and cannot seem to recover from his dreadful experience as a prisoner. Alice's dream of captaining her own ship in England is scuttled. Tigg is struggling with a revelation that has turned his life upside down—and may result in a betrayal more harrowing than any the flock has yet seen. Will the bond of friendship that has brought Claire and the flock together be the very thing that separates them for good? Or will love tip the balance and prove that what really defines a gentleman of means is none other than a lady of resources?
A Gentleman of Means
Word Count: Information not available
Summary: Tiernan Guaire was exiled from the Fae Realm a century and a half ago for his brother's murder. His soul torn in half, he lives by his vows - never to trust, never to love. And if he can only be whole by finding and loving the human with the other half of his soul? He's content to live broken and half-souled. Kevin Almstead's future, the career he's worked for as long as he can remember, has been taken away by a vote of the partners at his law firm. Chance brings him to Purgatory, the hottest all-male nightclub in Washington, D.C., to a meeting with a Fae, with long blond hair, ice-blue eyes, and a smile promising pleasures he's never dreamed of. But there's no such thing as chance. But Tiernan isn't the only one to find Kevin in Purgatory. The most ancient enemy of the Fae race sees in the handsome lawyer a way to destroy the world from which it, too, was exiled. And only the strength of a true SoulShare bond can keep it from what it seeks.
Hard as Stone
Word Count:

120130
Summary: Determined to kill his father for his crimes again humanity, Pelinas resolves to live until the Duke of Korval is dead. Beyond a burning desire for revenge, though, he has no solid plan to accomplish what seems impossible. Duke Per leads a massive army, controls frightening technology, and even commands the dead. But the Duke of Korval has eleven other sons, many carrying their own dark secrets. When Telluris Marat reveals strange and terrible facts about Pelinas's heritage and his birth, new possibilities unfold. He might attain all he desires—but will the cost be too high for him, for his friends, and for the entire continent?
Oracle's Child
Word Count: Information not available
Summary:
"Human civilization has collapsed. Rainey Vidic, MD is a genius, and she has Preston Hayes--her open hand, or hammering fist...
...Only the strongest and smartest will survive in The After.
A gifted surgeon, her retired warrior lover, a former Marine, and a taciturn drone pilot fight for survival in a dangerous and pitiless world, while navigating human needs for love, family and community.
When one of their own faces a lethal illness, Dr. Rainey Vidic's efforts are compromised by a savage horde of highly intelligent, relentlessly evil creatures that threaten the lives of the entire team.
Desperate to save their teammate, the Team encounters an imperiled town of survivors that may hold the key to saving them all. . . or send humanity into extinction.
With echoes of McCarthy's "The Road" and the thrill ride of "Jurassic Park," this three volume, four part series, "Love, Death, & The After," tests the limits of romance, loyalty, and community against a violent world hell-bent on devouring it all.
This book, Love, Death, & The After: Darkness is the first of three:
Book 2: Love, Death, & The After: Abandoned Spaces
Book 3: Love, Death, & The After: Never Again"
Love, Death, & The After: Darkness
Word Count:

17700
Summary: Following his principles will break two hearts. Forester Veld loses a piece of himself to mute baker Oren when they first meet, but Oren is vowed to Haram. When Haram is killed, Veld denies his heart to respect the mourning period. It's the right thing to do. During Haram's funeral, Oren proudly bares the brands that show the nature of their love; Haram owned him, heart and body. The elves pity Oren and think he's broken. Veld has no intention of dishonouring Haram's memory, but his death may not have been an accident. Only a forester can learn what the trees have seen. However, Oren's independence is threatened, and if Veld does not offer what Oren needs, Oren may never be his to claim.
Oren's Right