Word Count: Information not available
Summary: Real estate is hell - sometimes literally! Wedged between real estate speculators, startup bros, and gentrified neighborhoods, it's gotten hard to get by in San Francisco and it's getting even harder all the time. Now two witches have decided the time has come to do something about it. Using all their arcane skills, Iria – tall, dark, and genderqueer – and their partner and mentor, Madge – the granddaughter of Chinese immigrants and a powerful magician – have summoned back to the world of the living one of San Francisco's greatest eccentric heroes: Joshua Norton, self-declared Emperor of the United States and Protector of Mexico. In the 19th century he issued imperial proclamations intended to combat prejudice and advance the interests of the destitute and downtrodden. Binding him to themselves and to the city, Iria and Madge need Norton's charisma and tireless dedication to the city to help them save the city from a demon of greed. With an exciting combination of spell-slinging and derring-do, Norton and his modern-day patrons embark on a series of adventures across San Francisco's past and present in search of the keys to the city: objects from its past they can use in the present to save the city's future from a demon of greed and his tireless efforts to rob San Francisco of its soul forever!
Through the Doors of Oblivion
Word Count: Information not available
Summary: Step through a portal in time - and steal a piece of history! Iria and Madge, witches extraordinaire, have summoned Joshua Norton I, self-declared Emperor of the United States, back from the nineteenth century to help them save the city of San Francisco from a demon of greed. Mammon, their infernal adversary, is running a real estate scam to end all real estate scams, and he's got his own helping hand from the city's past: Etta Place, famous in her day as the accomplice of Butch Cassidy and partner of the Sundance Kid. As Norton dodges mafia foot soldiers alongside another of San Francisco's larger-than-life figures from yesteryear on the fog-shrouded streets of Chinatown long ago, Iria and Madge find themselves face to face with Mammon and Etta in modern day - and trapped in very different timelines. It'll take all their ingenuity, bravery, and prowess to fix time itself, steal the prize, and get these three heroes back together!
All the Pomp of Earthly Majesty
Word Count:

35000
Summary: THE TIME TO STAND UP FOR YOURSELF IS NOW – AND ALWAYS! Past and present shatter like glass as Iria and Madge, lovers and witches in modern-day San Francisco, send their friend and ally Emperor Norton back in time to snatch a key to the city's soul from one of its most turbulent events: the Compton's Cafeteria riots! As the abused and exploited LGBTQIA+ people of the Tenderloin neighborhood rise up against their violent oppressors, our heroes find their plans foiled by Mammon, their demonic foe, when he sends his lieutenant Etta Place to ambush them in the present while he attacks them in the past. As Norton and Place dance a deadly duel in the shadow of one of the city's greatest monuments, Iria and Madge must use their most powerful arts and quickest wits to wage a battle of wills and weapons across multiple moments in time. Betrayals abound and secrets are revealed as everyone involved—good and evil, wicked and wise—joins the battle for their own soul, the soul of the city, and their place in its future! Servant/Sovereign is the time-bending urban fantasy series from award-winning author Michael G. Williams, set in the Shadow Council World of Quincy Harker.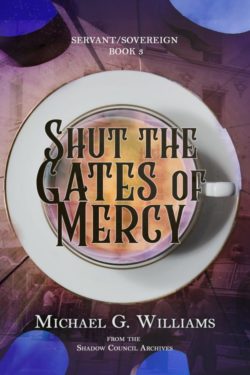 Shut the Gates of Mercy