about limFic
We're an inclusive library of spec fic titles (fantasy, sci fi, paranormal and horror). Use the book search, our filter search, or the menu links. Join our weekly newsletter list, and we'll give you four free ebooks (and you can sign up for more each month via the newsletter). You'll be able to add books to your TBR list and "favorite" authors. Questions? Email scott@limfic.com.
Using this Site
Authors: Join Us
our blog
By scott
/ October 2, 2022
Warren Rochelle has a new MM alternate history fantasy out: In Light's Shadow. Gavin Booker, a school librarian, leads an...
Read More
new from limfic authors
Check out our "coming soon" titles here too.

Word Count:
91000
Summary: She barely survived the last round. As the Red Dog Gang closes in on her Family, can she survive the next? After the devastating events of our last chapter, all private eye and mafia wife Jacqueline Spadros wants is to get her life back. Then a missing person she thought she'd never track down falls into her lap. Jacqui is thrown into a series of events which not only puts her and everyone around her into danger, but changes her life forever. Warning: on-screen murder, major consent issues, smoking, language, infidelity, betrayal, description of injury, gore, on-screen suicide, child injury This is chapter 9 of a 13-part serial novel. Please read these books in order: * The Jacq of Spades * The Queen of Diamonds * The Ace of Clubs * The King of Hearts * The Ten of Spades * The Five of Diamonds * The Two of Hearts * The Three of Spades * The Knave of Hearts <-- you are here Book 10 coming October 2023
The Knave of Hearts
October 1, 2022
Word Count:
103,000
Summary: Humans are no longer alone; they have been joined by Arcanes, Lycans, and Vampires. It's been over a hundred years since the Earth went through The Shift. Where once almost eight billion humans lived, the population now holds at four billion. But that wasn't the only change. No one anticipated the branching of human DNA to produce new species of humans. Arcanes, Lycans, and Vampires are hidden throughout the genome, awaiting puberty before they manifest distinctly unhuman abilities. Finally, the new species of man were welcomed. No longer studied or treated as outcasts by most. People accepted these new humans and they integrated into society, albeit not easily. This allowed the UN Government to focus on colonizing space, in order to secure a future for all. Risks remain however, permitting a vampire to feed from you can cause shared memories. Tobin Corsian took such a risk. He resides in a newly reopened district of San Jose, California, where his family's old home stood. He lives there with his friend Mikel, a Lycan, and his dog Begger. Instead of making his mandatory monthly blood donation at the government blood bank for the vampire community, Tobin decides, with the help of his therapist, to visit Biter, a vampire spa. The spa allows vampires to feed from humans directly while providing spa and sexual services, granting the donor a three-month reprieve from their required donations. Tobin's encounter at Biter opens a window to his past and an experience he had as a child on the moon. Questions abound as he tries to unravel his past and make sense of his life.
Volaria
October 1, 2022
Word Count: Information not available
Summary: In the fourth and final installment for the series, Alex faces his most difficult case yet: the school bully. For two years, Kyle had no qualms making Alex's life even more complicated than it already was. Choosing to single him out for his psychic abilities, the angry teen took every chance to undermine Alex's well-being. But When Kyle is unexpectedly murdered, his ghost seeks out Alex for the very power he'd been stigmatized for. Despite their fraught history, Alex must set aside old wounds to help a soul in need. Searching for the killer, Alex uncovers why Kyle had victimized him so intensely, and it's not what he ever could have expected.  The truth, it turns out, will set them both free.
Alex McKenna & Death Is Not The Beginning
September 20, 2022
Word Count:
5200
Summary: There's something in the dark … but is Lem's imagination worse than reality? Out in the vast emptiness of the galaxy, anything can happen. It's a fact that Lem and her trusty companion Spock know all too well. Sometimes, the things lurking in the darkness are all in your head. Then again, maybe there really is something out there. With her talking dog and an infuriatingly literal AI by her side, Lem must rely on nothing but her strength and wits to help her.  As a humorous homage to Arthur C Clarke's classic A Walk in the Dark, this short adventure is a not-actually-scary sci-fi horror story that's perfect for fans of Martha Wells and John Scalzi. 
Jurassic Dark
September 9, 2022
Word Count:
95000
Summary: Feared by her own kind. Hunted by extraterrestrial forces. Can one super soldier find her place among the stars? Lieutenant Tabitha Chiu is plagued by doubt and conflict. Still heartbroken over the loss of her AI companion and marooned on a faraway moon, the space marine and her ragtag team of super-powered civilians stand as the last line of defense against alien hunters. But when her powers pick up whispered threats of approaching invaders, she's horrified to discover her own people have betrayed her squad. Barely escaping assassination, Tabitha and her fellow psionics flee the hateful moon to the sanctuary of a single surviving combat ship where she hopes to reunite with her AI friend. But when her newly resurrected acquaintance hijacks the craft, the nonbinary fighter is torn between protecting those she loves best and saving humanity from annihilation. Can this conflicted officer and her misfit allies defeat a formidable enemy intent on driving them to extinction? Amp Squad is the electrifying second book in the Ship Whisperer military science fiction series. If you like strong LGBTQ+ characters, unusual weaponry, and fearsome space battles, then you'll love this pulse-pounding story. Buy Amp Squad to launch into a gut-wrenching thrill ride today!
Amp Squad
September 8, 2022
Word Count:
13,800
Summary: He didn't want a job, but he fell into a portal, and now he's going to learn that there's no escape from beneath an office planet! Planet of the Wage Slaves is a 13,800 word sci fi satire.
Planet of the Wage Slaves
September 8, 2022
Word Count:
45000
Summary: A mordant, smirking collection; rife with life in a grim future Florida, notions of Christianity and its cousin Satanism—spies, mercenaries, magic, asteroid-belt drillers, and above all else, a universe bent forever by the powers of pleasure and pain.
Forsaken, Fantastic!
September 7, 2022
Word Count:
110000
Summary: Finding work is easy. Staying alive is a little bit harder. When Russ Wesley finds an unusual artifact in his grandfather's collection of rare antiquities, the last thing he expects is for it to draw the attention of a ferocious alien from a distant planet. Equally surprising is the adventurous team of intergalactic exterminators dispatched to deal with the alien threat. They're a little wild, and a little reckless. Worse yet, they're so impressed with Russ's marksmanship that they insist he join their squad . . . whether he wants to or not. Blurb "This book is so much fun it ought to be illegal in all known galaxies. Ash Bishop has written a wildly imagined, deeply felt, swashbuckling page turner. I loved it." —Jesse Kellerman, New York Times bestselling author of The Burning
Intergalactic Exterminators, Inc.
September 6, 2022
Word Count:
299
Summary: This action filled, edge of your seat dystopian adventure is set in the near future, when a space probe is returning to Earth from the Cares 1 Asteroid with geological and biological samples frozen in ice for billions of years. It's big news, the discovery of ancient organisms from an extra-terrestrial body. After the samples arrive at Interplan Astro-Research facility in the quiet city of Worcester Massachusetts, with the world's media gathered, eager to hear official announcement that the samples are indeed biological, thus discovering evidence of complex life beyond our planet. Not everyone's excited or happy about having alien lifeforms coming to Earth, and one group of terrorists have planted a thermobaric bomb in an elevator shaft of the facility. The bomb detonates and the facility explodes, killing hundreds of people, workers, protestors, scientists and TV crews, but far from destroying the samples, the explosion has released them from their level one quarantine and unleashes a deadly parasite that quickly infects the citizens of Worcester with infestations of strand red worms that infest the living. Despite efforts to contain the "Cares Pestis" AKA the "MR. Ripple" it spreads fast and becomes through the USA and beyond, causing a complete breakdown of society. But then comes something else, something far more menacing that threatens the very existence of human life on earth, and for Colonel Troy Glass and his fiancé Yvette, a deadly struggle for survival begins as they head west, to a secret government facility known as Haven. On their way, they pick up an eclectic group of fellow survivors, who together, battle against all the odds, both human and alien…
Mr. Ripple
September 6, 2022
Word Count:
99000
Summary: Gavin Booker, a school librarian at Cooper Road Elementary, Raleigh, Northern Carolina, leads an orderly, normal life. Work, jogging, friends from work, his son every other weekend. Gavin is also a secret. He is a hybrid, or part-fairy, and in the Columbian Empire, hybrids are under an automatic death sentence. Magic is illegal. So is loving another man, another capital crime. Fairies are locked away in ghettoes, magical beasts, such as gryphons, unicorns, and pegasi are kept in zoos. The others, the tree and water spirits, the talking beasts, fauns, and the rest, are in hiding. This is the world in which Gavin grew up. He survived, thanks to his mother. He can never forget he is different: ministers preach against people like him constantly; hating the other is a part of every school's curriculum. But now, things are changing fast, and apparently, for the worst. Earthquakes, volcanoes, killer storms are all frequent occurrences. The medicine Gavin takes to suppress his body's glowing, isn't working. The spells cast by his doctor, a witch, are losing their power. If anyone finds out what Gavin is, he is dead. Under threat, the Empire always goes after its marginalized people. Can Gavin survive the coming catastrophe? Will he ever recover from losing the boys he loved? Can he find the fairy man who has haunted his dreams all his life before it is too late? Can his scarred heart ever heal?
In Light's Shadow
September 3, 2022
Word Count: Information not available
Summary: The resurrection of one world will mean the destruction of another. The homeworld of the alien Noigel has been annihilated. Their existence as a species is on a razor's edge. But they have found a replacement: Earth. But it must be changed to suit their needs. If they succeed, all of humanity will perish. When an alien secret agent is killed, his technology and mission are given to Hina Takamachi. The Japanese schoolgirl discovers the alien's battle suit gives her incredible powers, just like the anime heroines she admired as a kid. The battle suit's artificial intelligence, whom Hina names Voice, informs her that only she can save the world from the Noigel.With Voice training and guiding her, Hina must overcome her own self-doubts and find the courage to stop the Noigel's plan. For one world to win, the other must lose.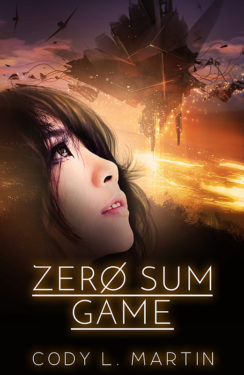 Zero Sum Game
September 2, 2022
Word Count:
105,192
Summary: NEIMUS GRUNDLY TAKES the reigns and becomes the new alpha of an elite order of werewolves. His first day on the job isn't going so well. He has to deal with his hybrid wolf problem, the werecats, angry witches, and the moral decline amongst his subordinates. Oliver Grimes, one of his wolves, has discovered a way to gift magic. After bestowing himself with powers, Oliver can now create hybrid werewolves with a single bite, putting the pedigree of the pack in jeopardy. Thereby forcing Neimus to call upon the pack physician, who has been separated from the pack for 950 years, to help rid them of hybrid werewolves. In conjunction, Neimus has to walk a fine line with Phelan, the alpha of the werecats, with whom they are on the verge of war. The werecats attacks are more frequent and deadly, but Neimus fears the growing threat of the witches the most. He is thrust into uncharted territory. He must find a way to safely get his pack through these trying times. A challenge he isn't sure he can manage.
The Hallowed Bloodline: Resurgence
September 1, 2022
Word Count:
115000
Summary: Frontiers have always attracted the Other - where they find that the Other is always already there. These 22 stories explore what happens when queer characters encounter weirdness on the edge of the worlds they know. Authors include: Julie Bozza, J.A. Bryson, Dannye Chase, S.E. Denton, Miguel Flores, Adele Gardner, Roy Gray, KC Grifant, Peter Hackney, Bryn Hammond, Narrelle M Harris, Justin Warren Jackson, Toshiya Kamei, Catherine Lundoff, Bunny McFadden, Angus McIntyre, Atlin Merrick, Eleanor Musgrove, Jennifer Lee Rossman, Lauren Scharhag, Sara L. Uckelman, and Dawn Vogel.
Queer Weird West Tales
August 31, 2022
Word Count:
174300
Summary: My sister is in grave danger, captive in the city of Witch Hunters. As Manalar prepares for war, a Red Sister's only chance lies in infiltrators from Augran. I shall join them. The prosperous port of Augran thrives in diverse trade with the Dwarven Clans. The Bishops of Manalar have withdrawn defiantly into the Temple of the Sun, scorning their past allies. The Ma'ab Empire has sent their dark army out of the Far North, seeking not riches but a small, well-protected spring high upon a mountain. The sacred pool of Manalar is said to bless all mages who control it. On the fringe, there's Gavin and me. Each dedicated to our purpose, we garner allies from Augran and the Clans of Taiding willing to see them through. My Dragonblood bodyguard, Mourn, reinforces our strengths as we expect others like us to jump out of hiding and into the fray. I failed one sister. I will not fail another. Sirana's desperate search upon the Surface reaches its culmination in Battle for Manalar, where foes and allies unite and clash in this transformative event driven by opportunity, righteousness, and reprisal.
Battle for Manalar: Sister Seekers 8
August 29, 2022
Word Count:
10000
Summary: How far would a werewolf go to help a friend? Werewolves and dogs don't usually get along, but Jordan Abbey has formed a bond with her elderly neighbor's Rottweiler. So when Rex goes missing during a dog-walking mishap, she's determined to return him home. With her abilities, finding him should be easy. Except there is one problem. The vampire lord of the city has declared she's not allowed to shape-shift within the city limits of Rancho Robles. Better to ask forgiveness than permission, or so Jordan thinks. But there is another issue she has to face - Animal Control. Rumors are getting around about wolf-like dogs wandering the city, and they respond quickly to panicky stray dog calls. Jordan knows how to be discreet, or so she believes. Will Jordan be able to find her friend without sacrificing her freedom?
Chaos Unleashed
August 22, 2022
Word Count:
74000
Summary: Sometimes you have to fight fire with fire. Darien's ready for a quiet life— back to studying, sleeping with his ridiculously appealing necromancer, playing magical Fetch with his dog-familar. But breaking the demon portals was only a temporary solution, when there are sorcerers out there rebuilding them. Much as he'd like to shove the rest of the job on someone else, Darien's not willing to see his world burn. Silas is ready to turn the whole hunting-dark-sorcerers mess over to the Guild. Except he doesn't trust his council members as far as he can throw them, the sorcerer Chicago has sent sets his teeth on edge, and if they get it wrong, Darien's life is at risk. So with Grim at his side, and Pip encouraging Darien, they, Jasper, and Magda will take on one more hunt to find and stop the portal-builders.
Consumed by Fire
August 20, 2022
Word Count:
75000
Summary: The neon lights of Las Vegas mask the horrors hiding in the shadows. Horrors like my ancient vampiric maker, the Goddess Tawaret. Tawaret promises me power in exchange for helping her. She wants to be worshiped again, and has me gathering vampire followers. My boyfriend, Jack, tries to warn me about her, but I don't listen. Too late, I realize my mistake in accepting. Now there is no escape. After the slaughter she left behind in Portland, no one wants to risk her wrath. With Jack suddenly abandoning me, no one will come to my rescue. I'd rather die than be bound to her for eternity. It just might come to that.
Goddess of the Ancients
August 16, 2022
Word Count:
126,000
Summary: A little blue world, the third planet from the sun. It's home to 7 billion people with all manner of faiths, beliefs and customs, divided by bigotry and misunderstanding, who have been told they are not alone in the universe. Anyone watching from the outside would pass by this fractured and tumultuous world, unless they had no other choice. It's been a little over a year since Todd Landon's life changed with the arrival of the Nentraee. Continuing his duties as Special Envoy for Terran Affairs, Todd finally feels at home with the aliens; gaining more responsibility and influence with both races. Plans are underway for two Interplanetary spaceports and additional solar exploration. It's an exciting time for both the humans and the Nentraee. Not everything is as perfect as some hope. Speaker General Mirtoff and Vice-Speaker Mi'ko of the Nentraee are worried that the Liberi Dei plot additional terrorist attacks and may have inside help. Threats are clear, but who can they trust? Could Todd be helping them unknowingly or worse covertly? Will these new space endeavors continue to bring the human and the Nentraee together or will a conspiracy hiding in the shadows fracture an already shaky alliance?
Conspiracy
August 16, 2022
Word Count:
110725
Summary: 133 years. Time is up. Lead Engineer Tara and her partner Sasha face the coming end of the facility generator. For generations It has served thousands of people who have been hiding underground from the ravages of the war, and the lingering Enemy above. Up and down the Grand Elevator, though the entire facility, every resident's life will be shaken when the generator sparks its last amp. The Great Actual, the anarchistic Citizens, and all of the regressed sub-societies in between will have to face the unknowns of the surface. Old fears will pale against new circumstances beyond their imagination, and new attention brings judgment upon all.
Rubberman's Exodus
August 16, 2022
Word Count:
115000
Summary: Battles and adventure crisscross the Viking Age! From monumental sea clashes to beleaguered mountain strongholds to war with the tribes of Eire, circumstance drives the scattered Agneson clan across the known world. And beyond the lands of Midgard, mythic hidden folk challenge our forerunner hero. The award-winning Forerunner Series epic continues…. Fleeing an arranged marriage, Kara escapes across the narrow sea to follow her warrior dreams. Escaping slavery, Cub joins Rollo's horde in Britany, while his outlawed brother Sorven fights for survival in the Welsh mountains. Uncle Karl and his warriors rally to Harald Tanglehair in his ambition to unify the wild kingdoms of the North Way, and young Thorfinn is left behind, safe and secure in a tiny fishing village... or is he? Kara gains her place in king of Dublinn's ranks to prove her mettle, but being a warrior is not what she expected, and what of these new feelings she finds for her closest companion? Will Karl and his crew perish in the great battle of Hafrsfjord? And how will an unprepared Thorfinn survive kidnapping by an 8-armed giant, leaving behind worried friends and a very angry dragon? Don't miss this 5-star epic fantasy critics are calling "whimsical and gritty," with "fabulous, engaging characters." If you enjoy the history of The Last Kingdom and Nordic myths and legends, the Forerunner Series is a grand tale not to be missed!
Kara Shieldmaiden of Eire
August 15, 2022