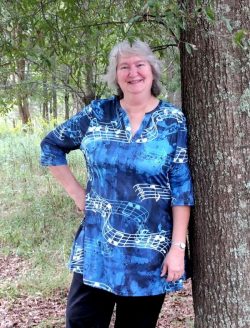 Edale Lane is the pen name used by Melodie Romeo for her LGBTQ literature to differentiate from her more mainstream stories. Melodie Romeo is a native of Vicksburg, Mississippi. She earned a bachelor's degree in Music Education from the University of Southern Mississippi and a master's degree in History from the University of West Florida. Ms Romeo is a retired school teacher who currently travels the country as an over the road truck driver with Prime, Inc. Her first book, Vlad, a Novel, (https://www.facebook.com/VladANovel) an historical thriller, was published in 2002. She has short stories published in anthologies by Seventh Star Press, Charon Coin Press, Alban Lake Press, and Less Than Three Press. She has a son, Peter and daughter, Michele who both serve in the US Army, a daughter-in-law, Jessica and two grandsons, Mark and Asher. Melodie resides in Utica, MS with her longtime partner, Johanna. Some of her works can be found at http://www.amazon.com/-/e/B00WFFFEA4
Melodie is also a musician who plays the French horn, composes, and has spent many years as a choral and instrumental director. She aspires to be a successful enough author to quit driving and devote herself to writing fulltime.
Contact Information:
Email Address: melodieotr@gmail.com
Books By Edale Lane
Tribute in Blood
Edale Lane ...
July 22, 2020
Terror in Time
Edale Lane ...
October 9, 2019
Heart of Sherwood
Edale Lane ...
October 19, 2018