Word Count: Information not available
Summary: Eighteen well-reviewed stories in the rare subgenre of trucking science fiction.
18 Wheels of Science Fiction
November 4, 2018
Word Count:
67000
Summary: Androids & Aliens is Scott's third short story collection - eight sci fi and sci-fantasy shorts that run the gamut from cyborgs to (comedic) alien invasions: Rise: The rise in sea levels caused by climate change swallowed Venice beneath the lagoon half a century ago. But what if we could bring it back? Ping: I was a real estate agent by day, and a museum curator in the evening at a sci-fi museum. What I saw one night changed everything. What the Rain Brings: Miriam struggles to make a living in post-climate-change Vancouver. But her friend Catalina has it even worse in the Arizona desert. So Miri hatches a plan. High Seven: Zan dreams of making full reals - immersive live virtual reality skins - but his low score may doom him to a life of cheap coding. Full Real: Dek's given up his life of spying for the city. But one more case awaits him. Will he regret it more if he takes it, or turns it down? Shit City: The Bay Area is being walloped by a hurricane, and seventeen-year-old Jason Vasquez has been relocated to a refugee city in the Nevada Desert. Will it be temporary shelter, or change his life? Firedrake: Kerry has always wondered about his deadly powers. But a mysterious bunch of violet roses starts him on the path to discovery - even if he's not sure he's going to like what he finds. The Last Human Heart: I'm one of the Remainers, the few cyborg humans still living on this busted planet. But if my still-human heart finally gives out, I may not live to find out the truth about who I am. This is the first time all of these stories have all been collected in one place, and the first publication of the Pacific Climate Tryptich - What the Rain Brings, High Seven, and Full Real - in any form.
Androids & Aliens
December 8, 2022
Word Count:
33000
Summary: Clarity (noun) Four definitions to inspire writers around the world and an unlimited number of possible stories to tell: 1) Coherent and intelligible 2) Transparent or pure 3) Attaining certainty about something 4) Easy to see or hear Clarity features 300-word speculative flash fiction stories from across the rainbow spectrum, from the minds of the writers of Queer Sci Fi.
Clarity
October 5, 2022
Word Count: Information not available
Summary: Eclectic, imaginative, and unexpected, Community of Magic Pens features forty genre-spanning flash and short stories--including fantasy, humor, science fiction, romance, historical fiction, satire, and mystery--bringing together a rich group of diverse voices from a wide range of backgrounds and intersections. Fountain pens, markers and ink, charcoals, spy pens, a braille writer, a printing press, virtual reality, and a supernatural pizza: whether revealing unspoken truths, fighting injustice, or finding friendship and love, our pens have power. Join us as a recent graduate of superhero school struggles to understand her gift, a disabled android interviews for a job, a queen's conscripted artist must pull reality from illustrations on parchment, and a grandmother's secret room is…better kept a secret. Tales of struggle and triumph, compassion and hope: Community of Magic Pens is a celebration of our shared story.
Community of Magic Pens
Word Count:
132,000
Summary: Rules were made to be broken. From terraformed outposts to magical realms, journey to worlds where deadly plants, rampant biodiversity, or failed colonies have created irresistible opportunities for those brave enough to seize them. New worlds, found family, mystical secrets, and deadly science weave together in this lesbian-centric anthology focusing on a very different kind of first time—a first encounter with a world, or being, entirely unlike our own. If you like diverse stories with lesbian heroines practicing science, magic, and seduction, buy Distant Gardens today!
Distant Gardens
August 2, 2021
Word Count:
97000
Summary: The seas spell freedom. Pirates and kraken, boats and submarines, deadly sirens, mermaids, and the women who face them all. These are our heroes. High seas adventure, fantasy, and magic weave together in this sapphic anthology focusing on the joy of the unbounded oceans. If you like diverse stories with lesbian and sapphic heroines exploring oceans, battling sea monsters, and seducing pirates, buy Farther Reefs today! With stories by: Sarah Day and Tim Pratt, Kim Pritekel, Kyoko M. Sara Codair, William C. Tracy, N.L. Bates, Robin C.M. Duncan, Vanessa Ricci-Thode, Margaret Adelle, and J.S. Fields Genres: Science Fiction / Fantasy / Adventure / Lesbian / LGBT and Non Binary Market: Adult
Farther Reefs
October 18, 2022
Word Count:
85000
Summary: ALSO AVAILABLE FROM INGRAM FOR BOOKSTORES We're a world beset by crises. Climate change, income inequality, racism, pandemics, an almost unmanageable tangle of issues. Sometimes it's hard to look ahead and see a hopeful future. We asked sci-fi writers to send us stories about ways to fix what's wrong with the world. From the sixty-five stories we received, we chose twelve most amazing (and hopefully prescient) tales. Dive in and find out how we might mitigate climate change, make war obsolete, switch to alternative forms of energy, and restructure the very foundations of our society, The future's not going to fix itself.
Fix the World Anthology
April 10, 2021
Word Count:
47,956
Summary: *Enjoy three out-of-print stories for the price of one!* Sometimes the greatest romance can be found in the vastness of space... TRASH AND TREASURES Tucker has spent his entire life as an interstellar trash man. But ever since his mother died, he's been alone, and certainly lonely. So when he discovers the derelict ship he scooped up has an occupant—a beautiful young man named Ronan—Tucker is thrilled. Ronan is royalty and running from his tyrannical mother, determined to keep a powerful object out of her hands. But when he strikes a deal with the adorable Tucker, he wonders if it's time to stop running. Or during one's loneliest hour... NIGHT GUARDIANS William was a soldier until an IED severely wounded and scarred his body. Now he lives a quiet life in a small village in the Black Forest and is the caretaker of the church and caregiver to the local priest. He's grown fond of the two stone gargoyles on the bell tower and often speaks to them, reminding himself of Quasimodo. But on his thirty-seventh birthday he learns a stunning secret—the gargoyles aren't what they seem. Or among dear friends in their darkest time of need... A GIANT'S FRIEND For three years, Jeth and Kodie and their soldiers have guarded a hostile mountain pass against the invading Dathians in a war that has waged for decades. Jeth has the blood of giants running through his veins, and it has caused bigotry and death to dog his steps his entire life. After a childhood tragedy shatters his world, it takes the courage and loyalty of his best friend, Kodie, to protect him from himself. Jeth knows he's a danger to everyone around him and joins the army to control and focus the black rage inherited from his bestial bloodline. Kodie follows his friend into the army, determined to stay close to the one he loves most. He has never revealed his deeper feelings for Jeth, and is ignorant of Jeth's own feelings. Their bond is too precious for either of them to risk rejection. Yet they might have to take the chance when Kodie's life is threatened, and their enemy forges an alliance with a giant clan. Jeth must call upon his darker heritage to brave the hostile environment to make an alliance of his own—with a giant clan that knows more about him than he does himself.
Guardians of a Giant's Treasure
January 9, 2018
Word Count: Information not available
Summary: Part of the four-volume \"Bubbas of the Apocalypse\" series. Can\'t get much weirder than this.
Houston, We've Got Bubbas
July 25, 2013
Word Count:
36000
Summary: INK (NOUN) Five definitions to inspire writers around the world and an unlimited number of possible stories to tell: 1) A colored fluid used for writing 2) The action of signing a deal 3) A black liquid ejected by squid 4) Publicity in the written media 5) A slang word for tattoos Ink features 300-word speculative flash fiction stories from across the rainbow spectrum, from the minds of the writers of Queer Sci Fi.
Ink
August 10, 2021
Word Count:
36000
Summary: IN-NO-VA-TION (Noun) 1) A new idea, method, or device. 2) The introduction of something new. 3) The application of better solutions to meet unarticulated needs. Three definitions to inspire writers around the world and an unlimited number of possible stories to tell. Here are 120 of our favorites. Innovation features 300-word speculative flash fiction stories from across the rainbow spectrum, from the minds of the writers of Queer Sci Fi.
Innovation
August 8, 2020
Word Count: Information not available
Summary: SciFi Thoughts will tease and tantalize your mind with this genre from the future with short, laser focused episodes. SciFi has many dozens of sub genres with different story telling styles which attempt to bring new possibilities into how you see the world. Our mission is to expand what science fiction means to you by exploring this genre that is diverse as the stars in the sky. SciFi thoughts will, like the James Web Telescope, draw focus on a discovery and tantalize you with thoughts on movies and literature through intelligent and engaging discussion.
Lancer Kind's Sci-Fi Thoughts
July 12, 2017
Word Count:
71500
Summary:
JMS Books' Trios are themed collections of three gay romance stories by a trio of authors. Each story is available separately, but readers can get all three for a discounted bundle price.
Legendary Loves Volume 2 contains three paranormal shifter M/M romances just in time for Halloween! Contains the stories:
In My Arms Again by Nell Iris
The Murky Depths by Kassandra Lea
Weekend at Bigfoot's by Addison Albright
Legendary Loves, Volume 2
SALE
October 19, 2019
Word Count:
51000
Summary: The world was whole before the war. But war is a terrible thing, and terrible things are done in the name of defense and protection. And this war tore the world apart, fractured it, separated families and lives and dreams. The reasons why no longer matter, but the effects still linger. They cause pain, though the war is over. But despite the monsters and the poisons and the despair, there is a glimmer of light. And hope and love are not gone from the world. These four stories, set in the Fractured World, explore how light can make it through the darkness. How hope can conquer fear. And most of all, how love can still flourish, even when the world is bleak. A young woman braves monsters to see the sky. A reluctant man chooses forgiveness over suffering. Lovers reunite to save a child and their community. Best friends risk everything for each other. Come see the light for yourselves.
Love Shines Through
March 9, 2019
Word Count: Information not available
Summary: Love defies time, crosses the infinite distance of space, and sparks formidable magics in the hearts of those it touches. And immortality? Yeah, it's got that covered, too. In this powerful volume, Pop Seagull Publishing presents twelve science fiction and fantasy short stories on the theme of love and its role as a force of nature. Follow an ambitious 1930's journalist and her high-society boyfriend as they defend the world from evil beings that hide in shadows. Can love prevail when science fails? Take a wild ride with Zephraim Cochrane as he searches for his long lost love through inter-dimensional travel. After all, the best inventions are always made to get dates. Embark on a whirlwind romance with a creature of the Fey in seven days, a beautiful story of friendship and finding self-love before all else. Descend into a very Torontonian sort of hell in search of lost love in Melanie in the underworld... just don't forget to pet the corgi. You'll find these adventures, and many more, inside.
Love, Time, Space, Magic
March 29, 2015
Word Count: Information not available
Summary: NOTE: This the 8th of Bad Dog Books' annual themed furry fiction anthology series, Roar. Though the book features a lot of diverse representation, not all the stories are queer. Paradise can be the stark natural beauty of our own world; it can be the connections we have with the people we love; it can be a moment in time. Paradise can be a place we're seeking or a place that we didn't realize we already had until it started to slip away. It can have a dark side. Even shining science-fiction utopias can come with a price. Read this book and take a journey through eighteen different visions of paradise—beginning with the personal and natural, traveling through the societal and technological, and all the way out to the supernal and divine. A great book can heal you when you're hurting, give you an escape that you desperately need, or even rekindle a lost spark of hope. Let this book be a small piece of paradise for you.
Roar Volume 8: Paradise
June 30, 2017
Word Count: Information not available
Summary: NOTE: This the 8th of Bad Dog Books' annual themed furry fiction anthology series, Roar. Though the book features a lot of diverse representation, not all the stories are queer. RESIST. Join the RESISTANCE. Meet a whole host of characters -- a drunk, grumpy frog; a nerdy pizza delivery cat, haunted by a ghost; an alligator and a cat in love; a lion and a human in love; soulmates tied together across the boundaries of reincarnation and transformation; a dhole in a rock band; a pangolin with social anxiety; a raccoon stranded planet-side when his spaceship has to leave in a hurry; and many more! These are stories of resistance, but they're also stories to give you a break from the real world, let you rest while the racoon lawyers and magical kittens do the fighting, and then you can come back recharged. Read fifteen stories from both writers new to the furry writing scene and familiar names like Watts Martin, Ryan Campbell, KC Alpinus, and Amy Fontaine in this powerful collection!
Roar Volume 9: Resist
July 6, 2018
Word Count:
27900
Summary: A mind-blowing collection of short fiction. This anthology of Davyne DeSye's short stories includes twelve speculative fiction stories, ranging from science fiction to fantasy, and from humorous to horrific. This collection – which includes one new tale published here for the first time – contains: -A Ray Bradbury-esque story about a boy whose wishes come true; -A dark testimony of alien invasion and the redemptive power of a single selfless act; -The true story of Little Red Riding Hood; -An inside look into robot-assisted psychotherapy of a killer; and -A guided tour of a shop for recycled dreams. These twisted tales and others may be discovered in this anthology, which includes: "The Slide," "Moron," "There I Was…," "Death, By Any Other Name," "Mine Eyes," "Mirror, Mirror," "Carapace," "…I Win," "It's Not What You Think," "Shattered," "The Cloak," and "The Thief Speaks."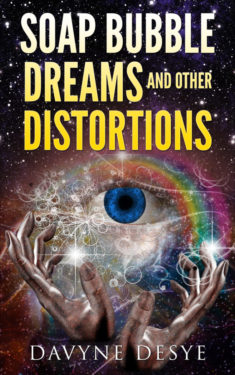 Soap Bubble Dreams and Other Distortions
June 25, 2016
Spark, A Creative Anthology: Volume VIII
December 23, 2016
Word Count:
40000
Summary: Spells & Stardust is Scott's first anthology - eight sci fi and fantasy shorts that run the gamut from regeneration to redemption. The Bear at the Bar: A gay fish out of water tale with a pinch of magic. Tight: What happens when your lover disappears in midair? Morgan: The year when everything changed. Re-Life: What if you were reborn in a strange new future? A New Year: They met every eleven years. And each time, Hank's life changed. Repetition: What if you wanted to go back in the closet? Gargoyle: Sometimes you get what you deserve. Sometimes it happens on All Hallows Eve. Avalon: A few bright moments in the sun, stolen from outside time. Most of these stories have been previously published in various anthologies and journals. This is the first time they have all been collected in one place.
Spells & Stardust
December 5, 2018