Word Count:
54615
Summary: THE ONLY PERSON ON EARTH SHE TRUSTS... IS IN SPACE ​​Archaeologist Nel Bently left Chile in the wake of murder, vandalism and UFO sightings. She already dreads facing the fall semester without her best friend, but now cops are at her door. Accused of a murder she's not certain is her fault, Nel has no choice but to run. Following her gut and vague directions from her elusive alien-benefactor-turned-almost-girlfriend, Nel finds herself the target of a extraterrestrial man-hunt. Running from the law isn't easy with only her field pack and a handful of scorned exes to depend on. Between starvation, untraceable texts, and a harrowing journey through the wilderness, Nel is forced to question everything about the science she loves and the people she trusted.
Drifters
November 15, 2016
Word Count:
89000
Summary: An uneasy truce between the four races has lasted for twenty years. Until now. The Dusters, a race of cat people from the north, have invaded and now former soldier Mika must make a grim choice: take up the sword again or watch everything he loves burn. With his old friend from the military, Gair, and a mysterious, half-breed Duster, Mika makes his way from his Northern border home to the southern capital, across the frozen wastes of the Duster homelands, and deep underground where the legendary Gallochs dwell. He is desperate to unravel the mystery of the invasion and how it's connected to his origin. But hunted by his own kind and unable to trust his companions, he discovers that to save his family, he may have to defeat not only the Duster army but the very Gods themselves. Penned by award-winning author, Adam Stemple, Duster is an epic, page-turning fantasy for adult readers who like their tales grim and dark but with just enough light at the end of the tunnel to keep them wanting more. Fans of Martin's Game of Thrones, Abercrombie's The First Law Trilogy, and Estes' Fatemarked will all find something to enjoy within. "I can, without reservation, recommend everything Adam Stemple has written, and Duster is no exception." — Steven Brust, best-selling author of The Baron of Magister Valley "No one writes bastard-son-of-a-bitch characters as brilliantly as Adam Stemple." — Naomi Kritzer, Hugo-Award-Winning Author of Catfishing on Catnet Praise for Adam's first novel, Singer of Souls "One of the best first novels I have ever read." — SFWA Grand Master, Ann McCaffrey *STARRED REVIEW* "A dour, nihilistic, absolutely marvelous grunge fantasy!" — Ray Olson, Booklist "Fans of Charles de Lint and Clive Barker will find much to like!" — Publishers Weekly
Duster
July 11, 2020
Word Count:
90000
Summary: Intenze is the newest designer drug. Take it, and nightmares come alive. "Edging" is a better rush than the Tower of Terror. It's a fraction of the price of a Six Flags admission. And it's the most addictive high that the tiny suburb of New London has ever known. For Rick Carlson, the junkies roaming the streets don't even scratch the surface of what worries him. He's trying to win back his cheating wife. He's trying to protect his residents at Belmont Assistant Living from their own drug-addled grandchildren. And he's trying to save his twin boy and girl from their mother's murderous paranoia. But he can't save them all. The fears of all those who edge summon the Thirst—a living miasma that thrives on terror. It is bringing a storm. And time is running out.
EDGING
March 30, 2017
Word Count:
68000
Summary: When a vampire finds his soulmate, the bond is forever. It's love at first sight. Or is it? Homicide Detective Jonas Forge has been a vampire for centuries. He's fought wars, seen life go from the simple colonial days to the modern high-tech world. He's evolved with the times, adapted to each new era, blended into each new life. The one constant is his best friend, mentor, and lover, Declan. Even though not fated to bond as soulmates, Forge and Declan are happy and settled in their life together. Until Forge's real soulmate falls, literally, into his life. Forge isn't thrilled with the guy, despite the pheromones attracting them to each other, and the feeling seems mutual. While trying to adjust to his clumsy soulmate and equally awkward feelings, Forge is also on the hunt for a serial-killer witnesses can't identify who's leaving a trail of bodies in its wake. Will the bond Forge is finally forming with his soulmate be destroyed when the hunter becomes the victim? If you like fated mates who aren't perfect for each other, a paranormal killer who might not be caught and found families then you'll love Elizabeth Noble's Electric Candle.
Electric Candle
SALE
August 18, 2020
Word Count:
214000
Summary: Starship lost in eternity... Ghost ship Impris, lost during the War of a Thousand Suns, is the stuff of legend. Her very name conjures the perils of interstellar travel. But no mere legend, she is real—glimpsed on occasion in the hyperdimensional Flux, and then gone. Her passengers and crew live on in a strange limbo, their fate hopelessly caught up in quantum defects in space-time, interstellar piracy, and galactic coverup. To the pirates of Golen Space, she is a perfect lure, drawing passing ships to their doom. Many innocent star riggers have been captured in such raids and forced to pilot for the murderous pirates. One such rigger, Renwald Legroeder, makes a daring escape and flees to the presumed safety of the Centrist Worlds. But instead of finding asylum, he is framed for treason. Something is terribly wrong in the Guild of Riggers and the government that should be protecting him. To clear his name--and perhaps to avert a disastrous war between worlds—he must escape a second time, and partner with the amphibious Narseil to return to the Deep Flux and search for the lost Impris. Legroeder's journey takes him back into the heart of raider territory, where he encounters a bewildering array of motives, conspiracies, and even deep-cyber romance. Forging friendships and finding love in the unlikeliest of places, Legroeder must nevertheless put his life on the line to protect the innocent, and preserve a shaky interstellar peace. A finalist for the Nebula Award, Eternity's End stands as a highlight of the Star Rigger saga, and one of Jeffrey A. Carver's most memorable novels. Can be read as a stand-alone book, or as part of the future history. PRAISE FOR ETERNITY'S END: "True love, cognitive dissonance, divisions among the enemy, ambitious schemes, another mission—this one deeper than anyone has ever gone before into the substrata of the Flux—and a final resolution that leaves the reader both breathless and satisfied." —Analog "You don't want to wait for the paperback." —Science Fiction Chronicle "A mesmerizing tale of human perseverance and courage under pressure that updates the legend of the Flying Dutchman." —Library Journal "Carver never runs out of new plot twists to keep the reader coming back for more." —The Washington Post
Eternity's End
December 11, 2010
Word Count:
42,203
Summary: Katja has long spent her life buried in the pain and sorrow of her past, a vampire abandoned to her fate for over 300 years, she never expects to meet another who could help her reclaim her existence. Raven, a poet and fellow lost soul, could be the one to spur her on, but in order to have the future she has only begun to grasp, she must uncover the truth about her origins and the awful event which left her alone centuries before. If she cannot face her past and reclaim her strength, she will lose everything.
Eyes Like Blue Fire
July 18, 2019
Word Count: Information not available
Summary: The Dissolution approaches, and all will change. "Science fantasy with fantastic queer rep" -J.S. Fields, Author of the Ardulum Series The Dissolution approaches. Sam has saved the Assembly of Species, but at a terrible cost. Locked in his apartment, his memories gone and his best friend abducted, he is once again crippled with anxiety. Meanwhile, Enos struggles to free her brother from imprisonment, alone for the first time in her life. Her true species has been revealed, and there are hints the deadliest of her kind survived an ancient war. But the Nether contains more secrets. A musical chime disrupts daily life, signaling changes to its very fabric. To solve this mystery, Sam must face his anxiety and confront truths about his memories and unique abilities. Only then can he save his friends from the machinations of the Life Coalition, by understanding the reality behind the Facets of the Nether. If you like epic fantasy, space opera and music-based magic, you'll love William C. Tracy's Dissolution Cycle. Download Facets of the Nether today and discover the diverse cultures, genders, and alien species of an epic science fantasy space opera! The Dissolution Cycle (Epic Space Opera, LGBT): Book 1: The Seeds of Dissolution Book 2: Facets of the Nether Book 3: Fall of the Imperium Book 4: Tales of the Dissolutionverse (Novella collection)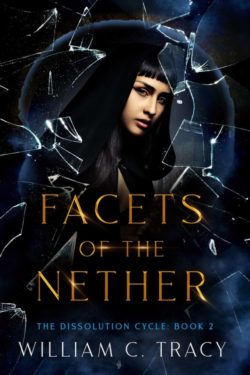 Facets of the Nether
June 22, 2020
Word Count: Information not available
Summary: The Dissolution is here. It is both an end, and a beginning. "Science fantasy with fantastic queer rep" -J.S. Fields, Author of the Ardulum Series The Dissolution has begun. Sam is finally reunited with Enos and Inas, only to see his new home under siege by beings that dissolve reality at a single touch. Even as they battle their personal demons, the three apprentices must also fight to save their home. Enos lashes out at those she loves, plagued by voices she's consumed, and Inas must risk his sanity to access ancient memories of the Nether. Sam must learn how he uniquely affects the Symphony, but there is little time to master what usually takes a lifetime. The Nether is leaderless and the Assembly is in chaos. The three apprentices must counter an invasion by aliens who rip the Symphony, and the very universe, apart. Ancient antagonists will resurface, a battle must be fought, and the secrets of the Nether and the universe will be laid bare in this final book of the Dissolution Cycle. If you like epic fantasy, space opera and music-based magic, you'll love William C. Tracy's Dissolution Cycle. Download Fall of the Imperium today and discover the diverse cultures, genders, and alien species of an epic science fantasy space opera! The Dissolution Cycle (Epic Space Opera, LGBT): Book 1: The Seeds of Dissolution Book 2: Facets of the Nether Book 3: Fall of the Imperium Book 4: Tales of the Dissolutionverse (Novella collection)
Fall of the Imperium
August 24, 2020
Word Count:
81000
Summary: BORN OF SUPERNATURAL MONSTERS. HUNTED BY HER ENEMIES. READY TO KICK ASS. Secrets are hard to keep in a town like High Moon, especially the one hanging over Tamara Bentley's head like the sword of Damocles. Her mother's a witch and her father's a werewolf. The blood of two ancient races flows through her veins. Pity that they hate each other's guts. When the leader of the wolf pack finds out what she is, he decides she's an abomination that needs to die – even if it means slaughtering everyone who gets in his way. Too bad for him she's not willing to go down without a fight. His army of werewolves is terrifying enough, but now they're about to become even more powerful thanks to a rare lunar event. Tamara will need to call upon every last ounce of her strength if she wants to survive the night, protect her home, and stop the rampage before it carves a bloody path through everything she's ever cared about.
Get Bent!
Word Count:
102,000
Summary: Can you hear it? Whispering in the dark. Secrets only the dark knows. Joseph Moore, choir director for the First Baptist Church of Lenora, Nebraska, has secrets of his own. Terrible, lonely secrets. One that involves natural human desire. One that calls forth powers he cannot begin to understand. Both with the potential to destroy him and those he loves. Now the world is changing. The darkness, the shadows, the ghosts, are closing in—and Joseph and his lover, Kevin, are being stalked by a merciless demon, hell-bent on possession. Can you hear it now? There in the dark. It's whispering your name.
Hallelujah
April 1, 2020
Word Count:
80000
Summary: Lily Van Der Houghton, a newly licensed physician, is lost and unsettled on which way her life is leading her when she goes hiking to the Jacks River Falls. Lily stumbles through a hole in time and finds herself in 1763. She is not on the trail to the falls anymore but is in Indian Territory in the aftermath of the French and Indian War. To her surprise, Lily learns she has a key role in an ancient Cherokee prophecy. The tribal elders prayed for the right woman to come from Beyond to be Red Moon Woman and the right woman for Marcus McCarron. Lily Van Der Houghton, fresh from the new millennium, is the right woman for the job.
Home to McCarron's Corner
September 16, 2018
Word Count:
76000
Summary: Sometimes it's harder to teach a young dog new tricks. That's why werewolves embark on a Howling: a three-year rite of passage in which they're sent to a group residence to wrestle with their wolfy instincts and assimilate into the Wider World. But Tanner Araya's Howling is almost over, and he could be called back to his remote pack at any moment. His twenty-first birthday might be his last chance to act on his strongest instinct and finally kiss Chase Denney. Chase is RA at the Howling residence affectionately dubbed "the Doghouse," and he takes his job seriously. So seriously that when he realized he was developing feelings for a resident, he forced himself to keep Tanner at a distance. But now that Tanner's twenty-one, he's not Chase's charge any longer. They could be friends or—if Chase is lucky—something more. At least until they both return to their home packs for good, as tradition demands. It would take a miracle for them to get together—especially when the other Doghouse werewolves insist on "helping." Warning: Many Frisbees are harmed in this story, forgiveness is not always easier than permission, and the five-second rule does not apply.
Howling on Hold
January 13, 2020
Word Count:
approx 40k
Summary: Is anyone truly prepared for the apocalypse? Well, Kerry certainly isn't, and she fairly quickly discovers that looking sharp in a business suit and heels is not going to help anyone when there's an apocalypse, with possible zombies! Together with a super spy, an ex girl guide and a personal trainer with manly foraging skills Kerry must battle terrifying religious cults, rich people and her personal demons, all whilst having the daily chore of deciding what to wear! This is a laugh out loud comedy with romance, heart and talking badgers, and is not to be missed. What would you wear to the apocalypse? #IWoreHeels
I Wore Heels to the Apocalypse
April 2, 2016
Word Count:
32,507
Summary: In Sacrum Umbra you were treated to tales from the shadows, the literary darkness that lives within all of us. Here you will find tales of another sort, the type you might find in the less wholesome end of the collective unconscious and the very depths of the gut. From stories of childhood gone horribly wrong to sex and madness with an impossible cost, this is where you'll find the more gruesome end of the spectrum.
In Ventre Tuo
June 3, 2019
Word Count: Information not available
Summary:
The Past doesn't easily Forgive. Or Forget.
Distraught over the loss of his crewmates, Caspian Robeaux no longer believes he can pretend to be part of the crew of the
USCS Tempest
. He has to face the fact he's become an outsider and that's who he'll always be. He has no place on a Coalition starship anymore. But the mission must continue and until it's complete, he's stuck on board. Will he find a way to cope, or will the ghosts of his mistakes drive him mad first? Meanwhile Commander Evelyn Diazal is dealing with her own issues. After a visit with her infirmed father goes horribly wrong, she begins to see and hear things that aren't really there. Afraid her father somehow passed his madness on to her; Evie does everything she can to cover up her problems until it puts another crewmember in mortal danger. Amidst all of this, the
Tempest
has traveled far beyond the borders of Coalition space, searching for the mysterious
Andromeda
threat. However what they find is far more dangerous and destructive than they ever could have imagined. Will Cas and Evie manage to pull the crew together to survive, or will their ailments cripple them before the
Tempest
can escape?
Full of action, humor and characters you can't help but root for, JOURNEY'S EDGE is the rousing fourth chapter in the hugely popular INFINITY'S END saga!
Journey's Edge
July 10, 2019
Word Count:
86000
Summary: Regan has her ups and downs. -Dumping her girlfriend: Down. -Moving in with her loving brother: Up. -Waking up to a plague of undead: REALLY down. After the undead began roaming the neighborhood, Regan lost track of her brother. She's spent the last two years searching for him. In the meantime, she's fallen in love, only to be told, "Sorry, I'm straight. And you're a lunatic." There's a psycho out there somewhere who caused the outbreak, using nanotechnology, just for the fun of it, and Regan intends to hunt him down. Oh, and the crush she still has on the straight gal? Dangerously distracting, when there's a zombie around every corner.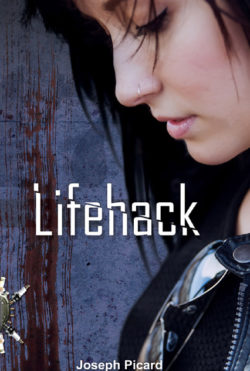 Lifehack
June 3, 2012
Word Count:
94000
Summary: A CHILD OF TWO WORLDS – BELONGING TO NEITHER, DANGEROUS TO BOTH. All Kisaki wants is a place where she can belong, but there are few safe havens for half demons such as her. Raised in isolation within the celestial palace, she longs to escape and explore the world below – Earth. So when an opportunity presents itself, she takes it, inadvertently stealing the Blade of Heaven – her mother's greatest treasure – in the process. Exploring a new land is terrifying enough, but hot on her heels is the tiger-spirit Shitoro. If he catches her, he'll drag her straight back home. She thinks it's to punish her. But in actuality it's to protect her. Kisaki doesn't know it yet, but there's a good reason she's been kept hidden. Half-breeds aren't tolerated by the great demon lords. If they find her, they'll stop at nothing to take the blade and use it to destroy her, her mother, and the new world she hopes to call home.
Midnite's Daughter
Word Count:
approx 20k
Summary: When your dreams are real there's nowhere to escape! Andi is just holding it together. Working two jobs means she doesn't need to rely on anyone, but doesn't have much of a life. In her dreams, however, she is a hero: battling monsters and saving innocents. When her dream woman turns out to be very real, Andi's life begins to spiral out of control. Step into an exciting urban fantasy that will have you on the edge of your seat. Think The Book of Abisan, only sexier!
My Dream Woman
July 1, 2018
Word Count:
50963
Summary: Trystan is an unchosen angel—shunned by society, bullied, and without a future. In a hidden well, Trystan discovers a carving of a dragon, who were once the commanders of demons and now believed extinct. But Trystan learns the carving doesn't depict an ordinary dragon. Stories tell that millennia ago, the great dragon Asagoroth and his demon army nearly conquered the three realms but was killed by the five elders. The powerful angels combined their life forces to cast a spell, sacrificing their lives. But history is full of falsehoods. The five elders only managed to imprison the dragon, and Asagoroth had cast his own spell—one of releasement. It only needs the blood of a certain angel to liberate him from his cage…. Asagoroth, enemy of angels, conqueror of realms, is free. But even as the angels prepare for war, the great dragon surprises them with an ultimatum: hand over the angel who awakened him or face annihilation. Note to readers: this is the second edition, fully revised and updated. The current audiobook is based on the first edition.
On Wings of Thunder
January 5, 2021
Word Count:
80000
Summary: Celebrate the superhero in each of us in this unique exploration of the connections we forge. A young Nigerian telepath faces a crisis when her sister is forced into a frightening marriage, then disappears. Once Somadina cannot locate her sibling's thoughts, she seeks another telepath to help. What she finds is Lola, a busy Texan scientist who has ignored the disturbing phenomenon in her mind for decades, and has no intention of embracing this nonsense now. Yet these two women have more in common than they know, and a powerful link will be forged. When Somadina discovers her sister is a pawn in a dangerous political game, the stakes rise for everyone, including an ancient organization of telepaths compelled to intervene. For both women are stronger than they realize, and they have ignited the wrath of a fanatic willing to kill anyone to alter his nation's future.
One of One
February 20, 2012