Word Count:
106000
Summary: Baker. Wizard. God of Space and Time. Cupcake enthusiast. How long will it take to fan the flames and enrage this gentle phoenix? Start counting. What's a wounded and lonely little cinnamon roll to do? Stripped of his psychic powers, Calico Winghorse flees to 19th century earth via his inter-dimensional portal. As a mixed-blood phoenix trapped in human form, he opens a bakery in the San Francisco Bay Area and quietly nurses his wounds. But the unique method of his arrival has drawn the unwanted attention of Infinity Corporation. Representing this angelic-run company is Agustin Chavez de la Cruz, the Demon Lord of California. Even though Agustin is IC's heir, he finds himself demoted from his duties to concentrate on his new assignment: take absolute control of the portal. But Calico refuses to sell for any price. Before Agustin can formulate a more gracious avenue of acquiring Calico's gateway, the demanding head of IC interferes, further complicating matters. So as negotiations stumble along, Calico and Agustin realize they both wish to establish more than a mere business arrangement. In the mean time, Calico ensures that the good people of the city are getting their fill of baked goods. However, due to Calico's injuries, the portal remains vulnerable to the darker forces that want it at any cost. Agustin will have to push both his angelic heritage, as well as his own psychic power to the very limits to mend someone who not only bears celestial blood, but who is also the God of Space and Time. The Demon Lord of California book 1 is a queer slooow burn meet-cute. A queer / mm paranormal fantasy series with romantic elements. Featuring phoenix shifters, hidden world, first love, found family, hurt/comfort, and a sugar daddy grasping at his second chance.
January 30, 2023
Word Count:
85788
Summary: Kris Starr used to be famous. Rock and roll. Sold-out shows. Literal magic. Empathic talents and screaming fans. But he has a problem or two. He's having a hard time writing new music. It's Midwinter, which means he's surrounded by depressing holiday cheer. And he's in love with Justin, his manager, who has a talent for rescuing almost- or once-famous bands ... and who's hiding secrets of his own. Justin Moore, on the other hand, is very good at keeping those secrets -- he's had to be for years. One secret involves a demonic inheritance that would make him a target of suspicion. Another involves his past. And the third involves Justin's feelings for Kris Starr, rock and roll icon and now his client ... and a powerful empath.
A Demon for Midwinter
March 10, 2018
Word Count: Information not available
Summary: Welcome to the last of the great flying Cities! It's 9172, YE (Year of the Empire), and the future has forgotten its past. Soaring miles over the Earth, Autumn, the sole surviving flying city, is filled to the brim with the manifold forms of humankind: from Human Plus "floor models" to the oppressed and disfranchised underclasses doing their dirty work and every imaginable variation between. Valerius Bakhoum is a washed-up private eye and street hustler scraping by in Autumn. Late on his rent, fetishized and reviled for his imperfect genetics, stuck in the quicksand of his own heritage, Valerius is trying desperately to wrap up his too-short life when a mythical relic of humanity's fog-shrouded past walks in and hires him to do one last job. What starts out as Valerius just taking a stranger's money quickly turns into the biggest and most dangerous mystery he's ever tried to crack – and Valerius is running out of time to solve it. Now Autumn's abandoned history – and the monsters and heroes that adorn it – are emerging from the shadows to threaten the few remaining things Valerius holds dear. Can the burned-out detective navigate the labyrinth of lies and maze of blind faith around him to save the City of Autumn from its greatest myth and deadliest threat as he navigates his feelings for his newest client, the handsome golem Alejandro?
A Fall in Autumn
January 1, 2019
Word Count:
93700
Summary:
Keola is a mermaid – and bound for marriage to a foreign human prince. Unable to face a life cut off from the ocean with a man she despises, she chooses freedom at a terrible cost. Posing as a human wavesinger to remain hidden from her pursuers, she finds work on the ship of the dashing captain Anaar Kahlani. Anaar is searching for a mythical treasure and believes that Keola is the key to finding it. Amidst the hunt for fame and fortune, Anaar begins to fall for the mysterious wavesinger. Confronted with a secret and a dangerous revelation, she must decide what price she is willing to pay for untold riches – and for love. When Keola's past catches up with her, can they survive the oncoming storm together, or will the trials ahead demand more of them than they are willing to sacrifice?
A Melody in the Deep
July 20, 2021
Word Count:
66000
Summary: Sarah Wright woke up a few times after parties in strange places―but the morgue's a first. At eighteen, she's eager for a taste of independence, moving out of state to attend college. A change of scenery is extra-needed due to a bad breakup with her boyfriend, Scott. However, soon after escaping the body cooler, she makes two startling realizations: vampires are real, and she is one. There's nothing quite like an untimely death to ruin plans. California's sunny beaches aren't the best place for vampires to chill, and worse, not only does she wind up stuck in Seattle, she's still living (figuratively) with her parents. They take the news surprisingly well―after all, it's better than burying her―even helping move her bedroom to the basement. A disinterested sire, distraught friends, nosy Men in Black, and awestruck younger siblings complicate her adjustment to the new normal of being an immortal still subject to her parents' rules. Undeath has its perks, but it also brings enemies. Without a copy of 'Fangs for Dummies,' Sarah's left scrambling for answers when one such new enemy attacks her siblings and friends. If she can't figure out how to vampire, her attempt to spare her family the grief of losing her may wind up killing them.
A Nighttime of Forever
February 20, 2018
Word Count: Information not available
Summary: A survivor with no memory and a warrior looking for her path unite against the pirate horde. Two hundred soldiers walk into the burning sands of Gypta, but only a handful make it out. When Magda Stoner wakes in an infirmary halfway across the world, she discovers her memories of the desert are gone. Something happened that tore her mind and soul apart, and the only thing keeping her sane is the fact that she can't remember a thing. Ascara d'Jharaena ael Korphen is a warrior, not a soldier, and trying to fit herself into the lesser role at Veritas Traders has left her body battered and broken in the same infirmary where Magda recovers. As they both mend, they meet a survivor of a pirate attack that included gifted attackers. Finding themselves without a unit or mission, they propose a daring plan to infiltrate the pirate horde and bring them to justice. Can the pirates be stopped? Or will Magda and Ascara be caught before they even begin? This is the first prequel in the Towers of the Earth fantasy adventure series.
A Pinch of Salt
January 25, 2020
Word Count: Information not available
Summary:
In every legend of Fairyland, the fairies have their own reasons for crossing the border…
Oliver has spent his life as the crown prince, preparing to rule but in no hurry about it, enjoying life and taverns with Tirian, his fairy-companion and best friend. But when the traditional Vision Quest calls— and a dragon appears—Oliver finds himself facing difficult questions about heroism, sacrifice… and the emotions he's discovering about Tir. But Tirian has secrets of his own, about his purpose, his magic, his feelings for Oliver, and a prophecy that will change the fates of two kingdoms forever.
A Prophecy for Two
August 21, 2018
Word Count: Information not available
Summary: In the shadows, treachery and betrayal grow unseen. The state funeral of Princess Olivia at Port Ruth marks the end of the Queen of the Desert's reign of terror. As Lucinda, Magda and Ascara attend this grand ceremony, all is not as it seems. A storm of secrets and lies emerge from the shadows and the darkness threatens to destroy them all. No matter where Magda goes, her heritage calls to her. Even when they make their way home, peace and safety are still not theirs. Malice and betrayal, hidden and out of sight, finds the three women and threatens to pull them under the waves of death and pain once more. For the Trinity of Truth: Raven, Fire and Ice, there can be only one way forward, but at what price? This is the third in the Towers of the Earth fantasy adventure series.
A Touch of Darkness
April 2, 2020
Word Count:
128,000
Summary: Alien Bonds is about two people, a human woman and a Wakanrean man, who meet on his world, Wakanreo, and instantly mate from a  biological reaction that occurs only in Wakanreans. But even though Dina goes home with Kuaron that night, she does not love him. You cannot love someone you don't know.  Over the next several months her feelings for him change, as do his for her. On one level, this is simply a love story. But the story also explores the culture and history of Wakanreo. It shows what a world would be like if looks didn't matter—if people had no choice in who they paired off with. and thus sex had nothing to do with morality.  How would this uncontrollable mating affect the societies that formed on this unique world? In human history, much of the stratification of society was achieved by people only marrying within their own social order. What if it wasn't possible to enforce that kind of discrimination?
Alien Bonds
January 23, 2018
Word Count:
29600
Summary: Deborah Raboinowitz is a literary broker. She travels to alien worlds via virtual reality and sells the publishing rights to Earth books on other planets. But when an alien is murdered right before her eyes, there's no way she can keep from being involved and solving the murder herself. Then, when an old friend is accused of a murder on a different world, Deborah has to become a lawyer and defend her friend before a kangaroo court by solving that murder, too.
Alien Murders
Word Count:
73900
Summary: "It's not all about serving coffee and typing reports." Working for a secret organisation specialising in alien cover-ups, Connor Smith is no stranger to the abnormal or dangerous. His love life on the other hand… not so exciting. Until he reluctantly agrees to a blind date and meets the perfect bloke, Jason. Things are finally falling into place for Connor, so of course that's when he attracts an alien stalker. Noah Jones, ex-alien, has been stranded on Earth and forced to live as a human since 1648. Alone and detached from the world around him, Noah has spent centuries observing and recording humankind. In all that time, he's only experienced a connection with a human once… until he finds Connor. Even knowing Connor is in a relationship, Noah can't ignore their potential bond, or stay away. While dealing with missing alien artefacts, a dangerous and shadowy group of collectors, and the ever-present Noah, Connor finds his orderly life crumbling around him. At least he still has the perfect boyfriend… When Noah goes missing, Connor is forced to face the feelings growing between them and the mounting evidence that Jason isn't who he says he is…
Aliens, Smith and Jones
October 1, 2018
Word Count:
184000
Summary:
An unexpected romance. A space-heist gone wrong. A galactic catastrophe in the making.
At the furthest reaches of the known galaxy, cyber-thief Rowland Hale's biggest score turns into a fight for his life.  Beaten but not broken, ex-navy captain Toar Grithrawrscion can save that life, but only by risking his own. With a toothy foe hell-bent on domination, can these two unlikely heroes come together and not only save the galaxy, but each other? Their destiny is in their hands, but only if they keep their hands to themselves. A high-adventure space epic with a touch of charming romance,
Allure of Oartheca
tells the story of two men from different worlds who must face battles both from without and from deep within – an Allure that whispers promises of rapture and destruction, that dares not be risked, and cannot be refused. If our heroes give up, they fail.  If they give in, they fail too – and the fate of the universe rests in the balance.
Allure of Oartheca
May 30, 2021
Word Count:
97,641
Summary:
A quest for power. A growing evil. Can a scholar of magic keep an incredible discovery from the forces of chaos?
Wizard and bookworm Athala Dohn pursues her research with a fiery passion. So when she uncovers evidence of an ancient spell buried deep within the city, she won't rest until she's the one who makes the find. Determined to outwit potentially-deadly magical protections, Athala brings help: a Conscript, Elise Bresch, and a barbarian, Ragan Ermolt. Together they enter the sewers completely unprepared for what awaits… With undead skeletons, giant rats, and even a dragon in their path, Athala never expected a set of metal bars to thwart her. But when a corrupt man imprisons and tortures her and her friends, the scholar realizes her curiosity may have unleashed destruction upon all of Neuges. Athala has one chance to escape captivity and claim the spell before the Age of Mortals slips from humanity's grasp.
Ancients
is the first book in the Heroes by Necessity saga of sword and sorcery fantasy novels. If you like magical Dungeons and Dragons inspired worlds, multifaceted and diverse characters, and pulse-pounding action, then you'll love Riley S. Keene's epic tale.
Buy Ancients today!
Ancients
November 30, 2017
Word Count:
90000
Summary: Charlie's life force is fading. His only hope is an aged martial arts master in the remote reaches of China who, as far as Cappa can tell, doesn't like him very much.
While Charlie and Cappa are away from Z-Tech, William has been raising an empire of his own — one determined to crush any who interfere with his plans for world domination. Worse, he's sided with the only other organization who had almost succeeded in erasing Z-Tech from the global market, pitting Anne and her friends in a desperate struggle for survival. The enemy has the advantage of numbers, but Z-Tech has Zima — a one-person army in her own right. Only time will tell if she's enough to offset the overwhelming forces set against Z-Tech, and if San Francisco will survive their battle.
Angels Fall
October 19, 2021
Word Count: Information not available
Summary: One month after her childhood friend Gilbert appeared on the doorstep of her library seeking help in fleeing from the Blue Crescent Brotherhood, Lenna Faircloth - librarian, self-proclaimed dormouse, and lover of all things alcoholic - finds herself in the unlikeliest of situations: roughing it in the forest with her mother's people, the Freewomen of Laur. With his dying words Gilbert bequeathed to Lenna one of three powerful artifacts, dubiously named the Godjewels, and it had formed a unique psychic bond with her that only the wards of the Freewoman settlement could mask from the other parties interested in acquiring her gem. As for Lenna? She's just interested in taking a bath, having a tall glass of wine, and forgetting the past month even happened. APPRENTICE continues the tale of LIBRARIAN and follows the adventures of a young woman forced to confront and discover what it means to be a hero (albeit a sometimes tipsy one), a friend, and a person with far too much power at their ready disposal.
Apprentice
November 14, 2014
Word Count:
171995
Summary: There will be time to crown a king, but first a warlord must rise. Arthur's battle summer is upon him, and he must be victorious if he is to claim his throne and rid the land of Saxon invaders. The teenage king has pulled the sword from the stone, but still the petty kings will not accept his rule. The Saxons are invading, Lot and Uriens are united against him, and he still has to prove himself to the common folk of the land. Next stop: the mysterious standing stones of the Giants' Dance and the Beltane ritual. Warfare does not wait for Arthur to catch his breath. Battle follows battle. Love is lost and found. Allies fall, enemies rise, and betrayals come to the young High King. If he stays strong, he can lead his people through a bloody summer. If not, all of Britannia will fall. Arthur alone will be responsible for the glory or ruin to come. Merlin will help him to see it through. But what secrets is the druid keeping? Arthur Rex: Dux Bellorum is the third installment in an epic retelling of the King Arthur legend. You only think you know the story.
Arthur Rex: Dux Bellorum
September 15, 2019
Word Count:
82290
Summary: Merlin has devised a test. All of the petty kings have gathered in Londinium to see who will be the next High King. Arthur and his retinue travel to the city in secret, but they are not the only ones with an interest in the Sword in the Stone. Morgana, Arthur's half-sister and the renegade queen of Rheged, has journeyed there with her Saxon lover, and petty kings have come with no kind welcome for the young High King. Arthur pulls the sword, but the kings will not accept him. He is given the temporary title of Dux Bellorum, and with Merlin at his side, he sets out to unite the tribes of Britannia as the Saxon threat grows more menacing on their eastern shore. Some battles are easy. Others are carried out in secret. It is the secret battles that Arthur will need to fear. "Arthur Rex: Ex Lapis" is the second installment of an epic retelling of the Arthurian legend. You only think you know the story.
Arthur Rex: Ex Lapis
July 20, 2019
Word Count:
125,000
Summary: For the past few years Yarroway L'Estrella has lived in exile, gathering arcane power.  But that power came at a price, and he carries the scars to prove it. Now he must do his duty: his uncle, the king, needs him to escort Prince Garith to his wedding, a union that will create an alliance between the two strongest countries in the known world. But Yarrow isn't the prince's only guard. A whole company of knights is assigned to the mission, and Yarrow's not sure he trusts their leader. Knight Duncan Purefroy isn't sure he trusts Yarrow either, but after a bizarre occurrence during their travels, they have no choice but to work together—especially since the incident also reveals a disturbing secret, one that might threaten the entire kingdom. The precarious alliance is strained further when a third member joins the cause for reasons of his own—reasons that may not be in the best interests of the prince or the kingdom. With enemies at every turn, no one left to trust, and the dark power within Yarrow pulling dangerously away from his control, the fragile bond the three of them have built may be all that stands between them and destruction.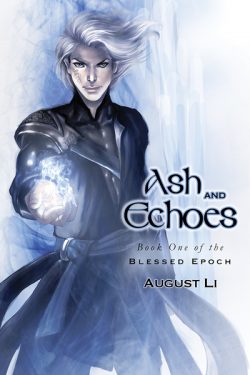 Ash and Echoes
June 15, 2012
Word Count: Information not available
Summary:
Withrow Surrett, cantankerous vampire lord of North Carolina, is passing the long winter nights of the off-season in the sleepy resort town of Sunset Beach. When the nights are long and humanity slumbers, where else would a vampire go but the beach? This is no mere vacation for Withrow and his cousin Roderick, though. They're hunting down a nest of nasty elder vampires who want to take over the world!
Of course it's not that simple, because for Withrow nothing ever is. Withrow and Roderick - and their team of frienemies, rivals, and allies - soon learn there are stranger things afoot than vampiric machinations among the dunes of Sunset Beach: mysterious mortals, twisted sorceries, and fleeting apparitions. Through sabotage, espionage, and bare-knuckled brutality Withrow must find and stop the elder vampires before they play the ace up their sleeve!
Kick back in the sand with the fourth installment of this vampire and urban fantasy series, perfect for fans of Rick Gualtieri, Jeff Strand, or Christopher Moore.
Attempted Immortality
August 21, 2017
Word Count:
68000
Summary: They'll take a leap into the unknown to protect the world. There's something seriously wrong with Earth's magic. A demon has appeared unsummoned out of thin air, familiars can't return Home, and as Grim points out, rats smell like summer in the middle of winter. Grim and Pip can deal with rats; Silas can banish one wayward demon. But soon there are other demons, more each day, and Silas's old mansion is full of mysteries. He and Darien will need their familiars, their friends, plus a whole lot of luck, as they search beyond Earth for the forces that have changed their world. And to have any chance of getting safely home, Silas will have to confront a past he's avoided for ten long years.
Beset by Demons
February 22, 2022