Word Count:

26000
Summary: Being an OIL (Onsite Inter-species Liaison) for the Interplanetary Multispecies Pact has never been an easy job. In fact it's a crap job when stuck on a backwater nowhere planet like Earth. But cobra Yervath Sissal Naganos manages. The demotion was swift and heavy-handed, but he'll climb back out of this hell eventually. Humans don't meet his social needs, so, yes, it's been lonely and he tells himself he likes the solitude. That is, until IMP sends him an irritating  new assistant he never asked for. Now his peace is well and truly disturbed and his paranoid diplomatic reflexes have reawakened. The worst part is the kid didn't have to be so cute.
A Message From The Home Office
Word Count:

73,151
Summary: Time travel. For mages, it violates their number one rule: what the Mother has written, let no one unwrite. The Mother writes the destinies of the creatures on the world of Karishian. If her writings were undone, it is feared that Creation itself could be undone. The dark mage Morgorth takes this rule to heart, but there are others who do not. Morgorth is about to claim a stone of power when it is stolen from him by a female mage he hasn't seen in decades. As they struggle for the stone, she activates it, and Morgorth is unwillingly plunged into another time and another place. It isn't long before he realizes what time he's found himself in and there are a few familiar faces. Most notable is a much younger version of Aishe. His mate. Living with a tribe who will be massacred, caring for a young lad who will become his mate, and fighting a battle against a mage who can travel from past to future at a whim—Morgorth's life has never been easy but now he must contend with the will of the Mother. Unable to change the future and the tragedies of Aishe's life, he must decide what his role in his mate's past will be, and ask himself one vital question: how does one defeat time?
Agate: Then and Now
Word Count: Information not available
Summary: Step through a portal in time - and steal a piece of history! Iria and Madge, witches extraordinaire, have summoned Joshua Norton I, self-declared Emperor of the United States, back from the nineteenth century to help them save the city of San Francisco from a demon of greed. Mammon, their infernal adversary, is running a real estate scam to end all real estate scams, and he's got his own helping hand from the city's past: Etta Place, famous in her day as the accomplice of Butch Cassidy and partner of the Sundance Kid. As Norton dodges mafia foot soldiers alongside another of San Francisco's larger-than-life figures from yesteryear on the fog-shrouded streets of Chinatown long ago, Iria and Madge find themselves face to face with Mammon and Etta in modern day - and trapped in very different timelines. It'll take all their ingenuity, bravery, and prowess to fix time itself, steal the prize, and get these three heroes back together!
All the Pomp of Earthly Majesty
Word Count:

65000
Summary: A young man sold into servitude has his loyalties tested in ways he never imagined. Raised in an orphanage in Dickens, Daniel doesn't know who his parents were, where he comes from, or even his last name. Like all orphans, on his 16th birthday, he's sold to the highest bidder. Not knowing where he's going, who's bought him, or what they even want with him, Daniel embarks on an adventure he never thought he'd take. He finds love, a family, and a secure future - yet in a split second, makes a decision he ends up regretting the rest of his life. Brothers begins fifteen years before the Red Dog Conspiracy series. Warning: Language, smoking, use of alcohol and drugs, attempted suicide by hanging, M/M underage sexuality with consent issues, forced servitude, blood, gun violence, a man being beaten by a horsewhip, murder, discussion of child prostitution, underage M/F sexuality with age gap (female older).
Brothers
Word Count:

73,667
Summary: Lord Morgorth is haunted by dreams of his father. Though Morgorth killed him, his father's presence and brutality won't completely die. But now he has more to worry about—in the form of the Council of Mages' inquiry into the duel between Morgorth and an elder of the council. Morgorth expects sabotage and prepares accordingly. He fears for Aishe's life, knowing that the best way to sabotage the inquiry is to eliminate the witnesses. He sets into motion a desperate plan that, though it will protect Aishe, could put a strain on their relationship not easily removed. Yet the true danger lurks unseen, and it will take all of Morgorth's skill, strength, and devotion to Aishe, to save his mate from the hold of a foe Morgorth has yet to tangle with: a dream demon. Now Morgorth must throw aside caution, restraint, and fear if he is to save the one most dear to him. He must call upon the power of the one thing he hates more than even his father: a stone of power. But even if he manages to save Aishe, his mate's experiences in Dreamworld—at the mercy of the dream demon—have changed him forever and could shatter their bond irrevocably.
Carnelian: Dreams and Visions
Word Count:

112,000
Summary: Chanda Kasmira devotes years of her life and career to saving the inhabitants of the planet Splendor from the planet's coming destruction. Her latest effort fails. Life on Splendor faces more danger than ever before. Disheartened, Chanda places herself into a "long sleep," intending to awaken decades later to a brighter future for Splendor and its people. She doesn't. Instead, an even more difficult path lies ahead after CHANDA'S AWAKENING.
CHANDA'S AWAKENING
Word Count: Information not available
Summary: It's not easy being the child of legends When her brother goes missing, the first hint of a larger plot against her famous family, Beau must find her inner hero--if she & her friends can avoid getting killed first. CHASING SUNSET is a stand-alone sequel to the WOODSPELL SERIES and one of the TALES OF ARDONNA.
Chasing Sunset
Word Count:

130000
Summary: The world was forever changed when a government genetic experiment created the Chromodecs from a dead alien in 1952. Decades later, when it became apparent that society needed a way to deal with a hybrid humans with unheard of powers, the CORP was created. The Chromodec Office of Restraint and Protection was a special government police agency formed to keep track of the Chromodecs. This particular tale involves two refugees, young babies who were sent down to Earth to escape being used as pawns in an interplanetary war, despite the fact that Earth itself wasn't so safe. Destined to be Q'sirrahna, or soul mates as the humans called it, Amari Losira Del Rey and Zendara Inyri Baen-Tor would grow to be more powerful than any other beings on the planet, if they could find each other first. After being forced to hide from the CORP when it's realized their powers could level entire cities, Amari and Zen will have to answer one question. Who will save the world when it all falls apart?
Children of the Stars
Word Count:

72000
Summary: Vampires and werewolves live long lives. The Sleepless City saga might have ended but the story continues… Welcome to the Vampire Guard, where legend and myth meet science and technology.   Vampires make the best spies. Throw a smart-mouthed werewolf in with three vampires, mix well, and The Vampire Guard's newest team is bound to become one of their greatest assets. Super spies with a full range of skills. Warrior, hacker, thief, and scientist.  They get in, do the job and get out before the bad guys ever know what hit them. Forge, Blair, Declan, and Lucas are thrust into the world of high-tech spies and top-secret espionage conspiracies. Recruited into the world's most elite and secret organization with one singular mission. Protect those who can't defend themselves from ruin. Life becomes complicated when an impending Presidential visit to their town, Boggslake, throws them headlong into the world of the vampires and werewolves of the Vampire Guard. Very quickly they uncover and confront a werewolf terrorist organization known as the Qiguan. Together they must thwart an assassination attempt on the open waters of Lake Superior while tracking a previously unknown biological weapon controlled by the Qiguan—a weapon which may very well mean death for one of them.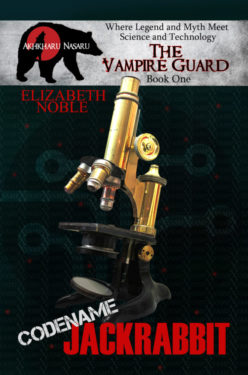 Code Name Jack Rabbit
Word Count:

12500
Summary: SEALS Winged Insertion Command (SWIC) has based Tiger Bailey's operational SWIC-3 out of Howland Island near the Equator in the central Pacific, just a few kilometers away from Baker Island, location for the socket where Amelia Earhart Skytower terminates. Tiger Bailey's squad is tasked to drop from Low Earth Orbit (LEO) to Mayotte Island, northwest of Madagascar in the Indian Ocean, to rescue a U.S. Senator and his family who were taken hostage by pirates.
DAEDALUS COMBAT—Combat drop from Low Earth Orbit
Word Count:

15600
Summary: Following his successful base jump from Fred Noonan Skyport, Tiger Bailey undertakes the next step in the development process of the Gryphon hardshell wingsuit, a drop from Low Earth Orbit. Using the Gryphon-10 with enhanced navigation and computer control, and with a greater wingspan, he uses the Slingshot Space Launch Loop to gain Low Earth Orbit (LEO), but experiences equipment problems that nearly destroy him and doom the project. Ultimately, Tiger perseveres and drops into the Earth's atmosphere. He skips out in in several times before eventually making a harrowing but safe landing.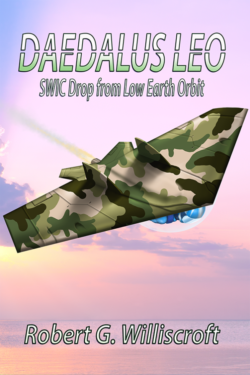 DAEDALUS LEO—SWIC drop from Low Earth Orbit
Word Count:

12300
Summary: After his successful proof-of-concept drop from Low Earth Orbit (LEO), Tiger Bailey's squad undertakes the next step in the development process of the Gryphon hardshell wingsuit, a coordinated drop from LEO by six team members. They tried to plan for every conceivable contingency, however, Mother Nature intervened with disastrous results.
DAEDALUS SQUAD—SWIC Squad drop from Low Earth Orbit
Word Count:

13500
Summary: Using a new Gryphon-7 hard-shell wingsuit, Tiger Baily, irreverent member of the Navy SEALS Winged Insertion Command, makes a harrowing first experimental base jump from the edge of Space, the Fred Noonan Skyport 80,000 meters above Jarvis Island in the Equatorial Pacific. Tiger's target, which he must reach to survive, is Kiritimati Island, a tiny isolated atoll 379 km northeast of Jarvis over ever-threatening and oh-so-deep ocean waters.
DAEDALUS: SWIC Basejump from Fred Noonan Skyport
Word Count:

73000
Summary: Vampires and werewolves live long lives. The Sleepless City saga might have ended but the story continues… Someone is hunting supernaturals.  Vampire Simon Hawthorne and his human partner Ben Leyton's plans for a peaceful holiday with family are hijacked by the New Zealand Supernatural Council. Tensions are on the rise in Wellington. Supernatural councillors are disappearing. Werewolves are suspicious of anyone human or vampire. If they don't work together, their enemy has already won. And no one with a connection to the supernatural world is safe.
Double Exposure
Word Count:

118937
Summary: Frank Grimes is a lowlife, no count, barely classifiable as a human, male who just happens to have enough sense to hire and retain qualified construction workers. He landed the contract to build most of Draoithe in January of 2016. He's not only worthless, but he's also criminal filth. He will do anything for an easy dollar. After the Draoithe housewarming party, his true colors shine through when he attempts to rape the architectural designer in her apartment after driving her home. Luke can't afford to let Jace kill him or allow Flame to turn him as dragonsworn, but there is no way that Frank can be allowed to just get away with what he's done. Even the Assassin King wants him dead, and he is the dragon called to serve one miscreant underking. Sentenced to house arrest and forced labor, Grimes seeks a way to fulfill the requirements Luke sets on him to gain enough respect that Javier will turn him into a canine shifter until he meets a blood demon who wants to help Luke out. Is it possible to totally rehabilitate the walking filth that is Frank Grimes into a real man in order to help him avoid certain death and turn him into a wolf? Or will the demon simply drink him dry and slowly end his miserable existence?
Draoithe: Filth and Death
Word Count:

107884
Summary: Julian Gypsun used to be a young man on his way to becoming a contractor. Everything changed when he died and was resurrected as a wizard's familiar. He was immortal and far better off physically than he had been as a human. Still, he was trapped with his life chained to a giant of a wizard who had no problem abusing him in every way imaginable. Julian was powerless to stop it without ending his own existence. That is until he was yanked bodily through his own portal, transported to Draoithe, and assigned to babysit the visiting dignitary, Amazon Warrior Princess Zephyra, and try to convince her that her people should ally themselves with Luke and Draoithe. That sounded easy, but it wasn't. He liked her. He had no clue how to act on that. Best to avoid that altogether. Keeping her safe just might equal his death. (Please see her warrior princess title.) She was old and so far out of his league. Worse, she liked him and was determined to have him. He can't even consider that. She has no idea how broken he really is.
Draoithe: Midnight Magic
Word Count:

135408
Summary: Alexio Asmodai is the demon king of Eaglafonn, a small outpost kingdom in the Netherworld overruled by the Demon Lord Asmodeus. It is Alexio's responsibility to protect and police the frontier borders against any threats. He is an accomplished knight, so that part came easy. Eaglafonn is a cold and isolated kingdom. Alexio needed to stay and build his castle atop the hot springs to beat an addiction to seduction sickness. After over seven centuries, he thinks his loneliness has finally come to an end when he opens a crate to find a woman sent by Asmodeus for him to keep safe. He falls for her instantly. She is a human woman, fragile, timid, and irresistible. He must follow his liege's directive, convince her to become his queen, and see that she is cared for properly in a place that is inhospitable to her existence. This leads to a realization that his castle lacks a lot to be a first-class home for a lady. Can a tainted demon prince rise to the challenge to become a true king and win the woman who stole his heart? Dread Allies 7-14 The Shadow king of Eaglafonn has chosen his queen, but his castle lacks the feminine element. To make her more comfortable, he orders the demon princes to seek out and claim their own mates. That is easier said than done. Eaglafonn is a cold dark isolated kingdom in the Netherworld. It might be easier to claim mates from the Domhain, but not everyone could survive on the brutal dangerous frontier. The other options afforded from the Netherworld come with their own dangers. The magic is unbalanced and balancing comes with a price. Claiming their mates lead the demon princes on epic mini journeys and reveals the need for Eaglafonn to take a greater role in helping Luke aid the dream. Dread Allies is a miniseries set in the Netherworld in the dream. It is an ancillary group of stories to the Draoithe saga. While it is set in that world, it is not in the direct series lineup. The dream just got darker and colder. Welcome to Eaglafonn.
Dread Allies: Shadow King
Word Count:

41000
Summary: A yuletide wedding brings tidings of comfort, joy… and peril. Eighteen months ago, Tarik Jaso, Duke of Arles, would have been thrilled if Sander Fiala, Duke of Roses, sank beneath the waves along with his stupid boat. That was then. Now, Tarik can't wait to head out on a private sail with Sander—a sail that will culminate in a highly public, politically significant wedding. Their union will be the first one between North and South Abarran royalty in centuries. If all goes to plan, it will usher in a new era of peace and cooperation between their countries. But as the big day approaches, their meticulous arrangements begin to fall apart. Can Sander and Tarik weather the storm of political opposition, familial objection, and outright betrayal to reach the altar at last? Duke the Hall is a 41,000-word M/M superhero rom-com featuring two dukes determined to tie the knot, relatives both helpful and annoying, spiteful thunderstorms, superhero sabotage, and hints that things are not all they seem. Note: Duke the Hall is not a stand-alone story. It's the sequel to Duking It Out and as such contains spoilers for the earlier book.
Duke the Hall
Word Count:

46000
Summary: Royal dukes from rival countries, shipwrecked on a deserted island. The grudge match of the century—or a love story of super-heroic proportions? Sander Fiala, Duke of Roses, is fourth in line to the South Abarran throne, even though his rogue power earned him the nickname "The Monster of Roses" and got him banished from the Castle. But right before he's about to set off on his annual birthday sailing trip, the Queen asks him to meet with the notoriously volatile North Abarran Duke of Arles. Tarik Jaso, Duke of Arles, expects the worst from people because—let's face it—people are the worst. His superpower bombards him with any and all electronic transmissions, which…yeah, people suck. So when he's attacked and wakes up in the cabin of a stranded boat, he knows he's royally screwed. Because the man looming over him—the man he'd gone toe-to-toe with right before the attack—is the infamous Monster of Roses. Tarik is positive the Monster is behind his kidnapping. Sander is sure the whole thing is Tarik's fault. As they work toward rescue, Tarik realizes that the disturbingly hot Sander is no monster, and Sander discovers that Tarik's temper masks a caring soul wrapped in a cantankerous (though undeniably sexy) body. tt For their burgeoning connection to endure, they'll have to duke it out with political factions, dark conspiracies, and centuries of traditions that keep them on opposite sides of the border. But first? They have to get off this damn island. Duking It Out is a 46,000-word M/M enemies to lovers, opposites attract, superhero rom-com, featuring Only One Bed, a grumpy duke who should know better than to jump to conclusions, a self-doubting duke who's good with his hands (heh), gossipy seagulls, competent assistants, a guaranteed HEA, and (unfortunately) capes.
Duking It Out
Word Count:

222000
Summary: Two people find themselves in a quandary: Aderri, a powerful dragon shifter with some light defensive magic, and Ellys, a half-elven swordswoman for hire, one of the best across the six nations. When Aderri gets news that she must come home for the naming ceremony of a new hatchling, she's forced to hire Ellys and her telepathic steed, Roccotári, to see her safely there. Of course, things are never as simple as they seem. Not only do they have to traverse the land between two kingdoms on the brink of war, but Aderri's Clan expects her to return with a romantic interest. So, for the added promise of triple Ellys's normal fee, the half-elf agrees to pretend to be Aderri's suitor. Ellys and Aderri have to convince a Clan full of magical mixed-shifters for a week that creatures of differing elements can burn with the flames of love, without actually lying. A situation made even more difficult by a matchmaking mare, steamy baths, and an innkeeper with mischief on the mind. Caught between the weight of the past and expectations of the future, they must find their true destiny within the heat of fire.
Elemental Attraction