Word Count:
25000
Summary: Exiled to Earth for perhaps the worst failure in Irasolan history, General Teer must assimilate or die. Earth is too warm, too wet, too foreign, but he does the best he can even though human males are loud, childish louts whom he can't imitate successfully. When a grieving seaplane pilot strikes up a strange and uneasy friendship with him, he finds he may have been too quick to judge human males. They are strange to look at, but perhaps not as unbearable as he thought.
A Christmas Cactus for the General
December 23, 2014
Word Count:
24000
Summary: A HISTORY OF TROUBLE A Beacon Hill Sorcerer Collection A collection of brand-new short stories, featuring characters from The Beacon Hill Sorcerer Series by bestselling author SJ Himes. Red Wine and Blood The Blood Wars raged for centuries across Boston. Witness a brief glimpse into the brutal history of the Wars with Ignacio Salvatore and the vampire he loves, Ashwin Metcalfe, in 1897. A History of Trouble Angel was joking when he asked O'Malley if someone resurrected a mammoth. Little did he know that was exactly what someone did. Experience the untold story of what happened that unfortunate night at the Boston Public Museum. A Dragon in the City What happens when Eroch goes adventuring in Beacon Hill without Angel? Chaos, pure chaos. Fae's Gold Daniel is helping the newly-resurrected fae Ruairi Brennan become accustomed to modern-day living. A boring trip to the bank quickly escalates, and Daniel calls Angel for help. The day goes downhill from there but ends in a comfy meal in a pub for an ancient fae warrior and a necromancer's apprentice. This is an collection, featuring vignettes and short stories from the universe of The Beacon Hill Sorcerer series. For full enjoyment, the Beacon Hill Sorcerer Series Books 1 through 3 should be read before reading this collection.
A History of Trouble
February 25, 2019
Word Count:
4500
Summary: In love, time is relative, until they run out… Regulations limit time digger Ish and time cop Kabal, born years and worlds apart, to two dates a year, making every date precious. But when Kabal announces his retirement at their tenth anniversary, what should have been a happy occasion might be their last night together. Previously appeared in Storm Moon Press' Sweethearts & Seduction anthology
A Time Traveler's Valentine
February 14, 2017
Word Count:
15500
Summary: When Dominick has to attend a six-day dragon mating ceremony, he wants to avoid speaking to anyone for fear his severe stutter will send possible suitors running. However, Lysander and Zachary, both from different cultures with a thing for redheads, refuse to let him hide. Worse, they actively pursue him, even after Dominick mucks up their first encounter. Against the backdrop of a ceremony that takes testing endurance, strength, and acoustics to new heights, differences between languages, customs, and expectations create an obstacle course where any misstep could send the men home… alone.
An Invitation To Love
February 13, 2020
Word Count:
7700
Summary: A lion sleeps in the hearts of brave men. When Prince Theodorin refuses to wed the general's youngest son because he loves another, he is trapped on a cursed island. He spends his days trying to escape, his nights listening to his lover's soothing voice echoing through the forest. His attempts to escape only lead back to where he started… until an encounter with a lion reveals a crack in the illusion. Theo has to believe, or he may never find his way home. Previously appeared in Wilde City Press' Bedtime Stories anthology
Click Your Heels
February 14, 2018
Word Count:
74000
Summary: When a curse comes calling, Dan and Chad confront their greatest challenge yet. Hauntastic Haunts is investigating the historic Ivarsson School. With Halloween right around the corner, the vlog is in peak season. Dan and Chad are eager to explore the decades-long string of strange deaths among the school's young scholars. While they delve into the mystery, both men must come to grips with Chad's newfound talents as a medium. Dan and Chad's efforts to uncover the haunting's truth meet with mixed messages from both the living and the dead. They're left wondering if this month's site is full of tricks, or if there's a treat awaiting discovery. The locals blame a curse for all the misfortune at the one-room schoolhouse, and if the pattern holds, the guys are at risk of becoming the latest victims. Join ghost hunters Dan and Chad on their third hauntastic adventure in this trans M/M paranormal romance.
Dan's Hauntastic Haunts Investigates: Ivarsson School
September 30, 2020
Word Count:
7718
Summary: Michael Sarver hates Valentine's Day. Between the flowers, the tacky decorations and his sleazy boss, he's certain he's about to experience the worst costumed office party in history. But Cupid's minions and a certain Hawaiian god have other ideas. Let the mayhem begin.
Hearts and Flowers
February 13, 2013
Word Count:
4820
Summary: A love that spans centuries, violent passion, and undeniable, forbidden attraction. Gunnarr has loved Vidar since they were brothers in arms back in the Viking days. In this day and age, Vidar- now the modern, proper gentleman, Ciernan Stewart- is bound by even more expectations and obligations that make his newly awakened attraction to his old friend, Gunnarr, a shameful secret. When the two men are forced to hide their involvement with each other in a house full of guests for the holidays, will the distance make their hearts grow fonder or rip them apart forever?
Him for the Holidays
December 26, 2018
Word Count:
4800
Summary: Tahl promised Enfys ice bears for Midwinter, but ey neglected to tell him that ey and eir kin were the ice bears. Written for the Rainbow Advent Calendar 2018
Midwinter Bears
December 22, 2018
Word Count: Information not available
Summary:
"Stephen Colbert meets Stephen King" - Book Nerd's Brain Candy
Winner of the 2012 Laine Cunningham Award!
Withrow Surrett is more than just his neighborhood's resident curmudgeon: he's also the self-declared vampire lord of North Carolina. Across the state, Jennifer McCordy is a genius stuck in a dead-end job.
When the dead rise, which will Withrow's neighbors find worse: the monsters outside or the vampire who might be their only hope?
When Jennifer takes matters in hand, will the people around her trust her competence or surrender to their own prejudices?
And when they meet, will anything survive?
Perishables is a novel in three parts, telling the story of reclusive vampires, reluctant heroes, questionable potlucks, late-night electronics sales, retail hell, unexpected friendships, and post-apocalyptic recipes. It's sometimes funny, sometimes deadly serious, and utterly original!
Fans of The Black Knight Chronicles, The Tome of Bill, and Fred, the Vampire Accountant will love this series.
Perishables
August 17, 2017
Word Count:
14000
Summary: As a security officer on an interspecies ship, Growlan Raskli's experienced in heading off species-specific aberrant behaviors in order to keep the peace. But when her captain asks her to find out what's bothering their sole human crew member, Raskli's out of her depths. She hardly knows anything about humans and she's not a psych doctor. Something's definitely upset Human Jen, something to do with human holidays. The more time Raskli spends studying humans and interacting with the intriguing Human Jen, the more personal the assignment becomes. Determined to lift the dark cloud from Human Jen, Raskli will do whatever it takes—within safe parameters, of course.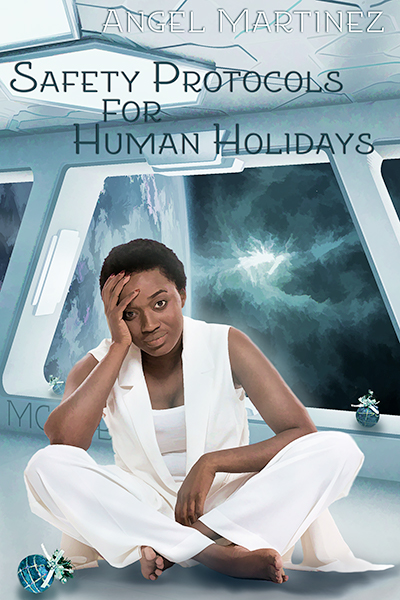 Safety Protocols For Human Holidays
December 9, 2017
Word Count: Information not available
Summary: When his memories begin endangering his happily-ever after on Celos, Jimenez is forced to choose between forgetting his lover Teo, or accepting the sometimes painful gifts of Spindrift.  Scars and a tattoo may be the only physical reminders from his years as a slave, but when Jimenez suffers a setback in his medical treatment, the only option is a therapy that will wipe away all his memories of the past including his time with Teo. Teo, torn between supporting his lover's decisions and the good intentions of his family, sets out to teach Jimenez about Spindrift Gifts and how memories are celebrated on Celos even when they are painful. Can Teo and Jimenez weather the storm to find their happily-ever-after on Celos?
Spindrift Gifts
December 11, 2015
Word Count: Information not available
Summary: With Midwinter just around the corner, Mark's Nanna decides that it is time he learnt more about his family heritage. Learning witchcraft shouldn't be too difficult, right? Balancing school, magic, and the distractions of the gorgeous new guy, should make this a very interesting winter. Free to download from most ebook retailers.
Winter Trials (Northern Witch #1)
November 16, 2016
Word Count: Information not available
Summary: As one of Santa's Elite Fixers, Jing spends most of his time waterboarding greedy toy manufacturers or responding to terrorists holding Rudolph for ransom. While not on the job, he relaxes in the North Pole, a paradise where he can forget all the killing and bloodshed and curl up to some Christmas music and hot cocoa. Until a rogue group of elves betrays Santa and threatens what should have been a pleasant Christmas. Every time a bell rings, an elf gets his Glock.
Xmas Elf
November 23, 2018