Word Count:

97,641
Summary:
A quest for power. A growing evil. Can a scholar of magic keep an incredible discovery from the forces of chaos?
Wizard and bookworm Athala Dohn pursues her research with a fiery passion. So when she uncovers evidence of an ancient spell buried deep within the city, she won't rest until she's the one who makes the find. Determined to outwit potentially-deadly magical protections, Athala brings help: a Conscript, Elise Bresch, and a barbarian, Ragan Ermolt. Together they enter the sewers completely unprepared for what awaits… With undead skeletons, giant rats, and even a dragon in their path, Athala never expected a set of metal bars to thwart her. But when a corrupt man imprisons and tortures her and her friends, the scholar realizes her curiosity may have unleashed destruction upon all of Neuges. Athala has one chance to escape captivity and claim the spell before the Age of Mortals slips from humanity's grasp.
Ancients
is the first book in the Heroes by Necessity saga of sword and sorcery fantasy novels. If you like magical Dungeons and Dragons inspired worlds, multifaceted and diverse characters, and pulse-pounding action, then you'll love Riley S. Keene's epic tale.
Buy Ancients today!
Ancients
Word Count: Information not available
Summary: It's her first job...and it's already going wrong. Freshly graduated from university with a degree in engineering, Crystal approaches her placement on the wormhole-constructive ship Crossing Paths with nothing but enthusiasm. But while Crystal gets used to the ins and outs of a multispecies, multicultural ship, tension brews both at work and back home. Not murdering her coworker Jai is hard enough; the last thing she needs are the terrifying errors cropping up on her maps. Reality and space are either tearing themselves apart - or someone else is attacking them. With conspiracies lurking everywhere, friendship won't be enough to see her through these dangerous new problems... Fans of Becky Chambers' Wayfarers series will enjoy this sometimes joyful, sometimes dark personal adventure set in a world of politics, bureaucracy - and piracy.
And The Stars Will Sing
Word Count: Information not available
Summary: Ardulum. The planet that vanishes. The planet that sleeps. Neek makes a living piloting the dilapidated tramp transport, Mercy's Pledge, and smuggling questionable goods across systems blessed with peace and prosperity. She gets by—but only just. In her dreams, she is still haunted by thoughts of Ardulum, the traveling planet that, long ago, visited her homeworld. The Ardulans brought with them agriculture, art, interstellar technology…and then disappeared without a trace, leaving Neek's people to worship them as gods. Neek does not believe—and has paid dearly for it with an exile from her home for her heretical views. Yet, when the crew stumbles into an armed confrontation between the sheriffs of the Charted Systems and an unknown species, fate deals Neek an unexpected hand in the form of a slave girl—a child whose ability to telepathically manipulate cellulose is reminiscent of that of an Ardulan god. Forced to reconcile her beliefs, Neek chooses to protect her, but is the child the key to her salvation, or will she lead them all to their deaths?
Ardulum. First Don.
Word Count: Information not available
Summary: History is a Lie. One final battle will decide whether Humanity will survive to tell the tale. Welcome, to the End of Days. Jacob Atkins was eighteen years old when he lost his best friend, Mark. Since then, he's tried to move on with his life, building a career in the Hourglass Corps. Then an unexpected convergence of events threatens to expose the Hourglass, and destroy everything they have tried to accomplish. Martin Atkins thought he was perfectly happy as a relatively unremarkable Captain in the Confederation Marines, until a terse message landed in his inbox from a man he thought was the love of his life. Now, all the secrets his family has inherited are at risk, not only from humanity, but from an insidious threat that he has only glimpsed until now. Calvin Teague has been Michelle Atkins's obsession since the Janus Incident. But the fugitive traitor is much more than he appears, and at long last, all the misshapen puzzle pieces fall into place as the mystery of his role is finally unravelled, leaving her with no option but to wage a desperate war against the most implacable and terrifying enemy humanity has ever faced: Its children.
Ascension
Word Count: Information not available
Summary: Un appel de détresse mystérieux amène l'équipage de l'Hermès jusqu'à un vaisseau militaire en perdition… et désert. À l'intérieur, du sang et des viscères jonchent les couloirs, et un seul survivant, prisonnier d'une cellule de détention. Attiré par le bel homme traumatisé, l'agent de com' de l'équipage, Isaac Ozawa, prend Turk sous sa responsabilité, lui offrant la gentillesse et la chaleur dont il a besoin après les horreurs qu'il a vécues. Isaac sait d'expérience ce que c'est qu'être différent, d'être un paria, et cela renforce leur lien. Jadis pilote prometteur, il a vu son cerveau être endommagé lorsque l'implant devant servir à piloter les puissants chasseurs de la flotte n'a pas fusionné correctement. Le cerveau de Turk n'en mène pas plus large. Le résultat d'une expérience militaire ratée, ses compétences naturelles ont été augmentées à un niveau dangereux. Lorsqu'un amiral sans morale et avide de puissance kidnappe Isaac et se sert de lui pour convaincre Turk de devenir l'arme cataclysmique dont il rêve par-dessus tout, les deux hommes et leurs compagnons se lancent dans une bataille éperdue pour leur liberté…
Attraction gravitationelle
Word Count: Information not available
Summary: Edward has one chance to save a man he forgot he ever loved. All he has to do is destroy the world. The disastrous events of the Zenith mission behind them, Marty and Edward lead very different lives at either end of time. Martin has been tapped to lead an elite military operation designed to curtail and ultimately eliminate the threat of time travelers. But Henry Bradford has other ideas, and seeks to entice him into taking up the role of captain of the rechristened starship Azimuth. Almost a quarter century in the future, Edward lives a life of wealth and influence as the adopted son of Starfire's CEO, Trevor Sutton. But the mystery of his birth father's murder still weighs heavily on his mind, eclipsed only by the baffling appearance of Martin's dogtags around his neck. The distance he will go for answers will determine the ultimate course of human history, as he is pitted head to head once more against the destructive agenda of the time traveler he knows only as Gifford.
Azimuth
Word Count:

70000
Summary: As far as rock star Gareth Kendrick, the last true bard in Faerie, is concerned, the only good Unseelie is . . . well . . . there's no such thing. Two centuries ago, an Unseelie lord abducted Gareth's human lover, Niall, and Gareth has neither forgotten nor forgiven. Niall O'Tierney, half-human son of the Unseelie King, had never lost a wager until the day he swore to rid the Seelie court of its bard. That bet cost him everything: his freedom, his family—and his heart. When he's suddenly face-to-face with Gareth at the ceremony to join the Seelie and Unseelie realms, Niall does the only thing inhumanly possible: he fakes amnesia. Not his finest hour, perhaps, but he never revealed his Unseelie heritage, and to tell the truth now would be to risk Gareth's revulsion—far harder to bear than two hundred years of imprisonment. Then a new threat to Gareth's life arises, and he and Niall stage a mad escape into the Outer World, only to discover the fate of all fae resting on their shoulders. But before they can save the realm, they have to tackle something really tough: mending their own broken relationship.
Bad Boy's Bard
Word Count:

95877
Summary: A bargain must be struck before the Age of Mortals can be truly realized. For Elise, Ermolt, and Athala, the price is high. Not only do they have to find the dragons that have been hidden for centuries, but they have to kill them. ​ Their first stop is Jalova, home of Teis, God of the Sky, and their enemies the overseers, a group of thieves led by Merylle Callac, former High Priest of Teis. ​ Merylle wants help them, and her terms are simple - she wants revenge of her former God. Elise and her companions are more than willing to comply. ​Will Elise, Athala, and Ermolt be able to slay Sirur with Merylle's help, or will they face the wrath of Meodryt for their failure?
Bargain
Word Count:

55300
Summary: Luxor City, a once lawless metropolis on the brink of civil war, is now at peace, but even in lighter times there are always shadows. In the technicolor streets of the Southern Empire, Junsu Sun, the Alpha heir to one of Luxor City's great crime families, busies himself by dealing with a blacklisted group known as the Underground. After taking down one of the Underground's notorious leaders, Junsu assumes he'll be given time to rest and recuperate, but his mother, Alpha Xijuan Sun, has a new mission for him, involving a luxury cruise and a new mate, Omega Kaito Yamaguchi, of the powerful Yamaguchi family. Ever the dutiful son, Junsu obeys his orders as if it were any other mission, but this sort of engagement isn't exactly the type of thing he's used to and Kaito Yamaguchi certainly isn't the sort of Omega he's used to either. Kaito is impatient, impassable, and impossible. He's a spoiled Omega who is pissed off that his family have reorganized his life and thrust him into this arranged mating with some Luxor City Alpha he's never met before. Kaito hasn't even seen a picture of Junsu Sun, a fact that Junsu uses to his advantage. Faced with a week spent trapped on a luxury cruise with a rude, bratty Omega who doesn't even know who he is, Junsu decides to play a little trick on his future mate. But just how far will he let things go and where is the line between a little trick and a painful deception? Meanwhile, other secrets floating between empires and continents are about to spill out onto the deck.
Between Empires and Continents
Word Count:

61000
Summary: Is it possible for a demon to be a good man, or are all who have fallen for temptation evil at the core? Tristan, Machidiel and Alastor are bound together by love, but their lives are running far from smooth. Thanks to Tristan's demonic bargain with an incubus, they have no choice other than to accept that their lives are never going to be the same again. To fulfil his obligations to the demon Tristan has two choices—remain with the incubus as his trainee or find a mortal to take his place. Neither option is appealing. The three lovers struggle to release Tristan from his bargain, but find bigger problems on the horizon when a human caught up in the mess is taken prisoner by the Demon King himself. With no help forthcoming from either angels or demons, the three lovers are on their own with a seemingly impossible mission before them—rescue the mortal from the Underworld. Mac, meanwhile, has problems of his own. The archangels are voting on whether to ban relationships between angels and demons, and if the new law is passed he must choose between his wings and his lovers. The three of them believe their love is strong enough to see them through the hard times ahead, but if they aren't careful the repercussions of Tristan's bargain could tear their ménage apart forever.
Between Good & Evil
Word Count:

71500
Summary: When an angel and a demon fall for the same mortal man there is only one solution…share him. Halloween night at the Inferno club always draws a crowd. When Tristan spots a stunningly gorgeous man dressed as a demon across the dance floor he sets out to draw his attention, little realising he has already gained the notice of another. The demon disappears into the throng of revellers, but with the heavenly handsome Machidiel in his arms, Tristan doesn't mind. Even though Mac warns him they can never have more than a one-night stand, Tristan longs to see the man who gave him the best sexual experience of his life again. One year later, Tristan opens his door to find Alastor, the demon from the Inferno, who claims they have a date tonight. Alastor may be the one man who can make Tristan forget Mac. Little does he realise Mac isn't as far from his reach as he believes. When Mac reappears he has a proposition for Tristan and Alastor, one that means breaking rules and potentially getting him stripped of his wings. A ménage formed between an angel, a demon, and a human means the sex is hotter than hell itself, but only time will tell if the relationship they have forged together is made in Heaven or Hell.
Between Heaven & Hell
Word Count:

63000
Summary: With one of his lovers imprisoned in the Underworld, Mac has no choice except to go where most angels fear to tread. With Tristan imprisoned in the Underworld, the ménage is broken. Angels are forbidden to enter the demonic domain and while Mac has been breaking rules in recent months, he doesn't have the power to enter the Underworld. Alastor is still unsure about his position in the relationship following recent revelations, but he cannot walk away when he is the only real link between his two lovers. Splitting his time between Mac and Tristan, he hopes they can soon find a way to reunite the two men in his life. As time moves on, Alastor realizes he is struggling to satisfy Tristan's thirst for sex. His lover needs more than he can give him and craves Mac in his bed. Mac still believes he can complete his mission to save his two lovers, but with one of them out of his reach, it is going to be far from easy. During their time together they have made plenty of enemies, including one who would seek to separate them forever, even if it means biding his time until Alastor and Tristan are at their most vulnerable, when even the love of an angel can't save them.
Between Life & Death
Word Count:

73000
Summary: ::The Seignso have our own plans for the remains of Genghis Khan.:: Alien warmongers have cloned an ancient emperor to lead an unstoppable army. Gifted with superhuman powers and advanced technology, he sets his sights on his home planet, Earth, and then... the stars! However, countermeasures have already been set in place. A young Iowa farm boy, oblivious to his powers or destiny, is thrust into a battle that will decide the fate of humanity against the new and improved Genghis Khan! A thrilling, interstellar adventure from the author of The Weller and War of the Worlds: Goliath!
Birthright
Word Count:

75000
Summary: Sleepwalking may be the death of me… again. I thought things would get better now that I no longer had assassins after my head. Although it's fun eating people who misgender me, I'm just so thirsty all the time. And until I improve, I'm barred from seeing Jack, my were-jackal boyfriend. My babysitter, I mean 'vampire mentor,' isn't much help either. As if things weren't bad enough, the amulet that started this mess is whispering to me. Calling me somewhere. I think it might be my mysterious maker. Judging by the trail of bodies they're leaving across the globe, I don't want to know what will happen if I can't keep resisting.
Bloodline of the Ancients
Word Count: Information not available
Summary: Lasair Faol, Master of the Fade-Hounds to the Royal court of the Demesne of Fire in the Fae Realm, has been exiled to the human world by the Princess Consort for failing to catch her son's kidnapper. Bryce Newhouse, Greenwich Village investment banker, is universally loathed by all who know him. Generally, he's perfectly cool with that, but he discovers what he's been missing—literally — when he finds Lasair chained in his basement. Bryce was supposed to receive half of Lasair's soul at his birth, but thanks to the Fae of Purgatory, the Pattern — the portal between the worlds — has been damaged, and Bryce's soul arrived 31 years too late. Now the exiled Fae is the shunned human's only hope of healing his broken past. And with the fate of two worlds riding on that healing, Lasair is going to have to overcome both his race's innate mistrust of genuine emotion and his own very unFae awkwardness, to have any chance of reaching Bryce's impenetrable heart.
Blowing Smoke
Word Count:

81000
Summary: Alessia is an Outsider—a member of the not-quite-human community that has recently been released from their underground prison. Shortly after their liberation, Alessia is given an ultimatum: obey all the United Earth Alliance's demands, or her mother will forever remain a hostage—a mother she'd believed dead for fifteen years. Reluctantly, she agrees, though she has no idea what those demands may be or how she will balance her obligations to the UEA with her responsibilities to her people and her family. As the UEA tightens its grip on humans and Outsiders alike, it becomes clear that meaningful social change will not be possible without a revolution. Alessia and her peers embark on a mission to discover just how far the government is willing to go to maintain their monopoly on power. What Alessia and her comrades discover, however, goes much deeper than they'd ever anticipated. Who are the Outsiders, really? What secrets of their destiny lay hidden within a top-secret space station? And why are the Outsiders linked to an emerging disease the UEA seems desperate to keep secret?  As they delve deeper, it isn't only Alessia's identity that will be called into question, but the fate of the entire planet.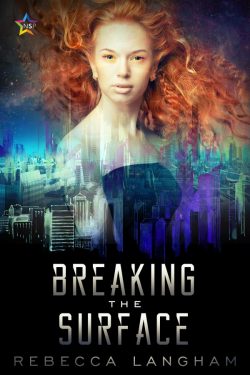 Breaking the Surface
Word Count:

60,000
Summary: Queer Handmaid's Tale meets hyper-capitalist dystopia. Nonbinary, queer main character BREEDER is set in a distant but bleakly familiar future, where each person exists to repay Units to the violent Corporation. But girls and women can only be Breeders in this world, and can only repay the Corporation through reproduction. Is the price of survival worth the cost of submission? Will Meadows is a seemingly average fifteen-year-old Westie, who lives and works in Zone F, the run-down outermost ring of the Corporation. In the future state of the Corp, a person's value comes down to productivity: the right actions win units, the wrong ones lose them. If Will is unlucky and goes into unit debt, there's only one place to go: the Rator. But for Zone F Breeders, things are much worse—they're born into debt and can only accrue units through reproduction. Every day in Zone F is a struggle, especially for Will who is fighting against time for access to an illegal medical drug, Crystal 8. Under the cover of night, Will travels to the Gray Zone, where life is less regulated and drugs—and people—are exchanged for gold. There, Will meets Rob, a corrupt member of the Corporation running a Breeder smuggling operation. Will also meets Alex, another teen whom he quickly recognizes as a Breeder in disguise. Suddenly, Will has an illicit job and money, access to Crystal, and a real friend. As the pair grows closer, Alex shares her secret: she is part of the Response, an uprising to overthrow the Corporation. Caught up in the new friendship, Will and Alex become careless as the two covertly travel into Zone B for a day of adventure. Nothing goes as planned and Will's greatest fear is realized. Will his true identity be revealed?
BREEDER
Word Count:

60000
Summary: The war is over, and there are no winners. Just a broken galaxy. Now humans and aliens must share this war-torn galaxy. None of this matters to Drake, though, he's just an artist. He's tagging along on the busted up ship Trystero, along with its ragtag crew. Together, they traverse the Demilitarized Zone between Terran and Gra'al borders, taking on any job they can find. Big or small. Human or alien. The galaxy changes when the crew encounters a derelict alien ship, its crew slaughtered. With his dying breath, a crewman points them to a box. In it? An abandoned alien baby. When their government refuses to get involved, Drake and the crew need to return the baby they've been calling Bruce home, a bloodthirsty warlord on their tail. His quest? Find Bruce and claim the Gra'al throne, declaring a new war on humanity. Drake never wanted to be a hero... now he's all that stands in the way of a fragile peace between humans and aliens.
Broken Ascension
Word Count:

73027
Summary: If blood really is thicker than water, are the ties that bind a found family stronger than the ties of blood? After a decade of homelessness and living off his own wits, Tris has lost all faith in the kindness of strangers. And after years of letting his friends down time after time, Ozzy knows he's the last person anyone should count on. When Tris's search for his lost younger brother lands him in a small town at an overly-friendly Bed and Breakfast, everyone, including the B and B herself, seem to be pushing Tris and Ozzy together. Tris learned a long time ago, under the fists of his manipulative step-father, that family can't be trusted, and love means nothing. Torn between the desire to see Tris thrive in his new home, and the need to protect the very younger brother Tris came looking for, Ozzy has some hard choices ahead. Welcome back to Griffon's Elbow and The Oaks B&B, aka Mildred. She's not the only sentient house in town.
Brother's Keeper
Word Count:

65000
Summary: A young man sold into servitude has his loyalties tested in ways he never imagined. Raised in an orphanage in Dickens, Daniel doesn't know who his parents were, where he comes from, or even his last name. Like all orphans, on his 16th birthday, he's sold to the highest bidder. Not knowing where he's going, who's bought him, or what they even want with him, Daniel embarks on an adventure he never thought he'd take. He finds love, a family, and a secure future - yet in a split second, makes a decision he ends up regretting the rest of his life. Brothers begins fifteen years before the Red Dog Conspiracy series. Warning: Language, smoking, use of alcohol and drugs, attempted suicide by hanging, M/M underage sexuality with consent issues, forced servitude, blood, gun violence, a man being beaten by a horsewhip, murder, discussion of child prostitution, underage M/F sexuality with age gap (female older).
Brothers