Word Count:
85000
Summary: With the world clinging to a fragile peace forced on the Fae by humanity after the Faerie Wars, metalsmith Alex Blackwood is plunged into the world of the half-fae who traffick in illegal magical artifacts. Her best friend's murder and his cryptic last message place her in the crosshairs of a scheme to reignite the decade-old war between humans and fae. Worse, violent attacks against her and the arrival of a fae knight on a mission force Alex to face a devastating revelation of who and what she is. To catch a killer, retrieve a dangerous artifact, and stop a war, Alex will have to accept that she's an unregistered fae "halfer" with a unique magical talent—a talent that would change everything she believes about her past, her art, and her future. Her world is crumbling around her, and Alex will have to decide who to trust if she and the world are going to survive.
A Drop of Magic
July 31, 2019
Word Count:
83400
Summary: Artists use all manner of materials to express their vision, to interpret the world around them, to affect the hearts and minds of their audience. But what if the artist himself were the medium? And what if artistic inspiration weren't the only force at work? If painter Stefan Cobbe and art investigator Luke Morganstern don't answer those questions fast, they stand to lose their reputations, their relationship — and their lives. **Omnibus edition contains both The Artist's Touch and Tested in Fire
Art Medium
June 18, 2018
Word Count:
30020
Summary: Willem's father never approved of his artistic talents, his choices in life, or the fact that he's gay. When the only thing Horst leaves to Willem is the family cat, he thinks it's his father's last insult from the grave. That is, until the cat starts talking to him. Though Willem's lost his boyfriend, his home, and his job, Kasha, who claims to be a magic cat, reassures him that all will be well. All he needs is Willem's trust and a good pair of boots. But giving boots to a talking cat has unexpected consequences when odd events ambush Willem at every turn, such as the appearance of a handsome stranger in his arms at night. While he begins to suspect Kasha's plans might be dangerous for all involved, how can he distrust such a charming kitty in cowboy boots?
Boots
December 6, 2016
Word Count:
125662
Summary: When humans forsake the temples, the gods need to find other employment. Hades opens Brandywine Investigations after his divorce and his subsequent move to the modern world. If he was hoping for boring infidelity cases and lost dogs, he's sorely mistaken as murder and mayhem find his agency and his extended family at an astonishing rate. Includes: Canines, Crosshairs & Corpses: Brandywine Investigations #1 No Enemy But Time: Brandywine Investigations #2 Dragons, Diamonds & Discord: Brandywine Investigations #3
Brandywine Investigations: Open For Business (BI 1-3)
April 27, 2016
Word Count:
38000
Summary: An Imperial prince can only hide for so long—but his solution of a hastily invented engagement could backfire spectacularly. Marsh Kensinger's work as the utility mechanic for Bremen Station keeps his life interesting - but never quite as interesting as finding a pilot still hidden inside a hibernation drawer in what should have been a salvage craft. He knows he shouldn't get involved, but the Altairian Imperial crest on the private craft and the semi-conscious pilot's odd questions pique his always-whirling curiosity. Still unattached at a concerning age for an imperial son, Prince Shiro Shinohara hadn't been running from the endless, mind-numbing rounds of omiai his mother, the Empress, had mandated. Not exactly. He'd just wanted a break from persistent suitors at the family retreat on Ceti Tau. The short respite becomes a panicked flight for his life when one of the suitors stalking him attacks the family compound. Worried for the soldiers he was forced to leave behind, afraid there's a conspiracy to kidnap him, Shiro confides in the handsome mechanic who found him and in a moment of panic, concocts the fiction of a serious relationship with Marsh. It's only until Shiro's people can reach him and he can press charges back home. Marsh is willing to play along and Shiro's just going to have to keep himself together and not, under any circumstances, fall for the wonderful, generous man who refuses to stop helping him.
By Imperial Decree
November 17, 2020
Word Count: Information not available
Summary: My kid, Romy, says I'm old and she's worried about me. What's to worry about... aside from Jordan, my ex? Really, she didn't have to come all the way home to check on me. It's all good—especially Nova, the girl at the drive-up coffee shop. I keep to my work and surfing the local breaks to keep her out of my head... But it doesn't work. Her perfect skin and brilliant hair crash through my mind and draw me to her—like a super-moon tide. There's something about her... Bodie Catalan knows second chances don't just happen after a hard life, wracked by mistakes. Every now and again, however, the universe throws down a wildcard. Drive-Up is a fabulist, sentimental, 21st century tale. It rides the beach breaks along the shores of several genres and connects the wildcard thrown to entangled, beach-bound lives and the inexorable tidal change that moves all that cross it. Dive into this tale and see what's been served at the Drive-Up.
Drive-Up
October 23, 2014
Word Count:
26085
Summary: Sometimes the unexpected becomes magical. When August Shaw takes an unplanned vacation at the Oaks B & B, he decides on a bold step—to slip into his vintage feminine wardrobe and let himself feel beautiful. He usually plans every detail of his life, but is counting on bestie, Nicole, to boost his courage. When Nicole can't join him, and Jan Koskinen—the man August has crushed on for years—arrives instead, August risks accepting Jan's invitation to join in the Beat the Winter Blues Festival. The spontaneous weekend turns romantic, but August can't help his uncertainties, even as the people at the Oaks—along with a very uncanny house—encourage him to live in the moment. Can August accept the spontaneous whirlwind winter romance… or will his questions leave him standing in the cold?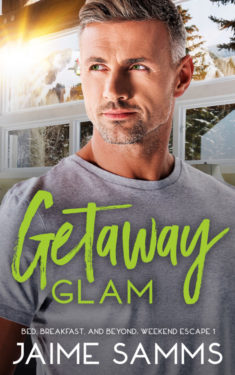 Getaway Glam
January 15, 2021
Word Count:
87000
Summary: A dying city. An ancient, forgotten accord. And two gifted men caught in a web of greed and dark magic. Despite belonging to different guilds, glass master Minel and warrior captain Falcon are friends. Their duties keep them apart, but when Minel falls ill and chooses death rather than the only known cure, nothing can keep Falcon from his side. As their friendship grows into more, old wrongs and one man's machinations threaten the floating city and leave both Minel and Falcon fighting for their lives. Can they learn to combine their gifts to save the city and its magic, or will everything they know and love perish before their eyes? Healing Glass is an LGBT fantasy adventure with its head in the clouds. If you like medieval backdrops, impressive world-building, three-dimensional characters and a touch of magic, then you'll love Jackie Keswick's socially-conscious adventure.
Buy Healing Glass to visit the floating city today!
Healing Glass
May 13, 2019
Word Count: Information not available
Summary: Genevieve doesn't know if her unhappiness and feelings of not fitting in are different from anyone else's on her college campus. Recovering from a break-up and struggling with depression, she takes comfort in her impulsive sketches of strange creatures to try to escape the dark cloud that looms over her. But the truth is her place in this world is a lot more complicated than she could ever imagine. With two strange men following her, vines that engulf her dorm overnight, and a cactus that overruns the campus library, she is forced to face the possibility that her origins are more mysterious than the fact that she was abandoned as a baby. Especially as a powerful urge takes hold of her to draw something new and frightening. Can it be that her reality is stranger than her imagination? The one thing she can't imagine is that her happiness and talents just might be the key to save or destroy an invisible world.
In The Drawing
August 8, 2019
Word Count: Information not available
Summary:
The Past doesn't easily Forgive. Or Forget.
Distraught over the loss of his crewmates, Caspian Robeaux no longer believes he can pretend to be part of the crew of the
USCS Tempest
. He has to face the fact he's become an outsider and that's who he'll always be. He has no place on a Coalition starship anymore. But the mission must continue and until it's complete, he's stuck on board. Will he find a way to cope, or will the ghosts of his mistakes drive him mad first? Meanwhile Commander Evelyn Diazal is dealing with her own issues. After a visit with her infirmed father goes horribly wrong, she begins to see and hear things that aren't really there. Afraid her father somehow passed his madness on to her; Evie does everything she can to cover up her problems until it puts another crewmember in mortal danger. Amidst all of this, the
Tempest
has traveled far beyond the borders of Coalition space, searching for the mysterious
Andromeda
threat. However what they find is far more dangerous and destructive than they ever could have imagined. Will Cas and Evie manage to pull the crew together to survive, or will their ailments cripple them before the
Tempest
can escape?
Full of action, humor and characters you can't help but root for, JOURNEY'S EDGE is the rousing fourth chapter in the hugely popular INFINITY'S END saga!
Journey's Edge
July 10, 2019
Word Count: Information not available
Summary: Kiss, Kiss! Stories of Love and Cake - is a collection of gay romantic stories exploring love and the pursuit of happiness, featuring some of LE Franks' most beloved characters. From a squirrely shifter to holiday angst, from the poignant search for acceptance and love to the testament of enduring friendship in the face of loss. LE Franks explores the human condition with humor and a touch of snark, while making her men jump through hoops for their happily-ever-afters. This anthology includes selections of shorts and novellas from 2013-2018.
Kiss, Kiss!
September 20, 2019
Word Count:
24000
Summary:
When Prince Aiden sets out to rescue a princess, the last thing he expects to find is a cross-dressing artist named Robert. Can he set aside his fears and find the fairy tale ending he longs for?
In a world where fairy stories are historical fact, Prince Aiden is on a quest to find a princess to rescue and bring home as his bride. Deep in the Enchanted Forest, he finds Robert, a cross-dressing artist who lives alone in his tower. Mistaking him for a woman, Prince Aiden is determined to have Robert as his bride.
When the prince of his dreams shows up at Robert's tower he is far from happy, especially when the handsome prince refuses to believe he is a man. Can he convince Prince Aiden to love him as the man he is, or is their happily ever after doomed from the start?
Let Down Your Hair
June 21, 2019
Word Count:
68900
Summary: Romance, mystery, and an impossible relationship. Meet David:  Sculptor.  Wealthy.  Introvert.  Suffering from the loss of his wife.  The last thing he needs is to discover that his newly purchased mansion is haunted. Meet Sarrinah:  Born 1882, died 1903.  She was smart, well read, fun.  Too bad she can't rest in peace. Sarrinah and David are both flawed, but just so lovely – if only they can get over the tragedies of their past that are weighing them down… and the fact that one of them is a ghost.
Love Whispers Through the Veil
May 15, 2021
Word Count: Information not available
Summary: Love defies time, crosses the infinite distance of space, and sparks formidable magics in the hearts of those it touches. And immortality? Yeah, it's got that covered, too. In this powerful volume, Pop Seagull Publishing presents twelve science fiction and fantasy short stories on the theme of love and its role as a force of nature. Follow an ambitious 1930's journalist and her high-society boyfriend as they defend the world from evil beings that hide in shadows. Can love prevail when science fails? Take a wild ride with Zephraim Cochrane as he searches for his long lost love through inter-dimensional travel. After all, the best inventions are always made to get dates. Embark on a whirlwind romance with a creature of the Fey in seven days, a beautiful story of friendship and finding self-love before all else. Descend into a very Torontonian sort of hell in search of lost love in Melanie in the underworld... just don't forget to pet the corgi. You'll find these adventures, and many more, inside.
Love, Time, Space, Magic
March 29, 2015
Word Count:
53000
Summary: England, 1910 Monty, along with his best friend Bishop, investigates an odd seal-like creature swimming in Manchester Lake. The pair soon realize they've found a selkie when the magnificent animal transforms into the most gorgeous man either of them has ever seen. Determined to discover the origins of the mystical man, they bundle him into Bishop's brand-new electric automobile and whisk him off to London. There they find a host of distractions: a tastefully debauched house party hosted by silver-tongued aristocrats, and a queerly European-inspired novelty called the night club. Both are filled with a cast of characters sometimes amusing and sometimes frightening. And as the night unfolds, Monty comes face-to-face with ghoulish agents of the occult as well as revelations from the past. Most surprisingly of all, Monty finds himself falling for the beautiful creature from the lake, who seems equally interested in him. Can he really find himself in love with a man he has only just met? Or do they have a deeper connection which goes much further back? And what does it all have to do with the memories of his trip to Paris three years prior? The mystery of the selkie from Manchester Lake is only the beginning, and before their adventure is finished Monty will see the culmination of long suppressed secrets explode in a firestorm of magic and passion!
Manchester Lake
March 9, 2021
Word Count:
48338
Summary: Every story has a beginning…. Dragons. Angels fear them and demons follow them. Formidable beasts of incredible power, they fight each other to the death for dominance. But dwindling dragon numbers cause alarm among the angelic ranks. Surely when the dragons have finished killing each other, the victors will search elsewhere for conquest… maybe even the Upper Realm. Roland, an angelic artist of significant talent, doesn't know what to believe. Part of him longs to see a dragon in person, and his peaceful life of contentment is wearing thin. He wants passion, desire, adventure, and love. He gets more than he bargained for when he and his sister are ambushed and captured by demons, and they bring him to a creature who surpasses Roland's wildest imaginings. But the mighty dragon Asagoroth is not all that he seems. Something sparks between him and Roland. Something neither anticipated. Something that will shake the cosmos to its core. Note to readers: this is the second edition, fully revised and updated.
On Wings of Passion
SALE
February 2, 2021
Word Count: Information not available
Summary: Warning!! Contains Aussie blokes, swearing, fairies and mild drug use. Meet Sean Evans. Aussie bloke. Unlucky in love. Rock fanatic. Talented artist. Makes a mean coffee. Just don't call him a barista. When Sean meets Tam by chance at a local bar, he thinks his luck may have taken a turn for the better. But when Sean drinks a spiked drink, he comes to a startling realisation. Either he is losing his mind or fairies are real. Enter Evie, who bears a striking resemblance to Tam, but is anything but human. Trapped in Sean's world, they must learn to coexist while Sean tries to keep his shifts at the cafe, finish his paintings, all while trying to convince Tam that he's not a creepy lunatic. But Evie has her own problems, and Sean as a human is powerless to protect her. Can Sean find a way to fix things with his fairy, Tam and himself before the doors close forever?
Open Doors
February 27, 2016
Paint
November 25, 2018
Word Count:
77500
Summary: After the disaster of global warming, the world has gotten its act together. People are positive, sensible, and intent on creating a better future and a just present. And it's working! So, in a world where everyone makes good decisions, what could possibly go wrong? Well, other people. Mardy is a 26-year old gay man who dreams of being a full-time machine-tool artist. He brims with ideas, puts in the hours, and has a solid circle of friends—both fellow artists and the artificial intelligences he works with. But he's always coming in second to another machine-tool artist at his makerspace. He's dealing with that, thanks to the highly effective psychotherapy of the future, but then he meets his irritatingly successful rival's twin—and falls for him hard. Consequences ensue, and fast, driving Mardy not just to pursue his artistic dreams, but to try to liberate his AI friends from servitude, and find love in the process.
Red Dot
November 1, 2021
Word Count:
70000
Summary: When you have chaos magic, the only thing you can do is expect the unexpected. Zombies. Shoestorms. Illicit unicorn rides. A talking red panda. Before today Max never believed in magic, despite bad luck so terrible he used to jokingly call it a curse. Now he's a reluctant believer. His first day as a mage he draws the attention of the magic police, not to mention the mysterious hooded figures chasing him all over downtown Portland trying to kill him with magic. With the help of his new speed-demon red panda familiar, his fortune-telling neighbor, a gadget-obsessed witch, a grumpy vampire, and his maybe-brother, Max needs to learn to use his chaos magic, and quickly, or his 'curse' is going to be the end of him and the people he loves.
Red Pandamonium
June 13, 2022