Word Count:

80000
Summary: Beware the demon prince who's sick and tired of running. Federico Duomo is dead, to begin with. But this is only the first bit of Shax's problems resolved. Powerful crime lords and an obscenely wealthy oligarch are still determined to destroy him and his crew, and Fluffy's original owner may be coming after the Brimstone now, too. It would be splendid to be able to take on one thing at a time. Adding to the external conflicts, life on board the Brimstone has only grown increasingly stranger. Shax has no idea what to do with the seven partly human children that Heckle rescued from slavers. Heckle himself has grown short-tempered, even with Mac. Someone from Julian's past catches up to them on Barbary. It's enough to put a demon off his cinnamon buns. Shax isn't panicking, though. In fact he's had it up to his handsome royal nose with the people he loves having to live in constant fear. The fox has turned at bay and the Brimstone's enemies are in for a shock. The demon prince of thieves is coming for them.
A Fine Mess: Brimstone 7
Word Count:

108000
Summary: Now what? As Kendra recovers from her wounds, Artemis is planning their next strike. But so are others. Artemis has been too corrupt for too long; their own people are ready to take control. It's just going to take a little encouragement...
A Quiet Revolution
Word Count: Information not available
Summary: Memories of another life and lover guide her, but are they even hers? She is a Bearer—keeper of past lifetimes and gifted with strange talents. Ember must find her answers away from safe Longquan Village, snared instead in the sensuality and dangers of The City. Hidden among spider farmers and slaves, prostitutes and weavers, a nest of people like her are waiting. A powerful man outside The City raises his forces, determined to hunt down the 'demons' who could taint his followers. Threatened from without and within, can the Bearers even trust each other? Powers will rise and alliances will be forged in a dark new world. The Memory Bearers are coming. This book includes violent and mature content. Reader discretion is advised.
After the Garden
Word Count:

87000
Summary: In a world where everyone has a soulmate, uniquely powerful mage Royiora and reluctant assassin Kalo collide in the worst of ways. Royiora Daralkaen, the only mage alive able to use all five kinds of magic, has a near idyllic childhood in the country of Porescalia - before war breaks out with their antagonistic neighbors, Kloria. Kalo Porla, a naturally magic-proof individual known as a Null, is trained to be as an assassin by the authoritarian empire known as the Domain. When Kalo and his partner assassin are sent to kill a mage and his apprentice, it starts a journey neither man was prepared to begin. Content warnings: harm to children, physical and psychological abuse, implied (off-page) rape, violence, mature language, minors in implied sexual situations (teenaged romance), implied sexual situations, bigotry towards fictional races, and suggestive language.
All or None
Word Count:

125,000
Summary: For the past few years Yarroway L'Estrella has lived in exile, gathering arcane power.  But that power came at a price, and he carries the scars to prove it. Now he must do his duty: his uncle, the king, needs him to escort Prince Garith to his wedding, a union that will create an alliance between the two strongest countries in the known world. But Yarrow isn't the prince's only guard. A whole company of knights is assigned to the mission, and Yarrow's not sure he trusts their leader. Knight Duncan Purefroy isn't sure he trusts Yarrow either, but after a bizarre occurrence during their travels, they have no choice but to work together—especially since the incident also reveals a disturbing secret, one that might threaten the entire kingdom. The precarious alliance is strained further when a third member joins the cause for reasons of his own—reasons that may not be in the best interests of the prince or the kingdom. With enemies at every turn, no one left to trust, and the dark power within Yarrow pulling dangerously away from his control, the fragile bond the three of them have built may be all that stands between them and destruction.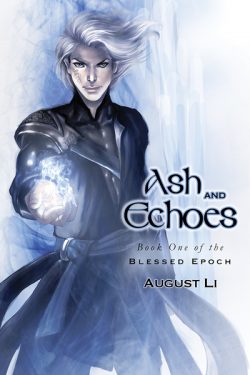 Ash and Echoes
Word Count:

35656
Summary: When Shax stumbles across rumors of an experimental house that responds to the occupant's brain functions, creating scenarios to please and delight, naturally he wants to steal it. While stealing an entire house sounds impossible, the demon prince has a cunning plan. But a night at the ballet heralds the return of a troubled and hunted Julian Parallax. He brings ominous news to whisper in Shax's ear and forces Ness to battle a new emotion – raging jealousy. With nefarious plots in the background and an overabundance of Poe references, even Shax's scheming may not be enough to get the Brimstone crew out alive this time.
Beside A Black Tarn: Brimstone 5
Word Count:

170,000
Summary: An assassin's unexpected mercy granted Octavian Rose his life and freed him from his father's control, but it left him with little more than the clothes on his back and the determination not to waste his chance at a life of his choosing. As Octavian sets out to make a name for himself, he refuses to compromise his ideals for money or status—a decision tested as he works his way up the ranks as a mercenary fighter and novice mage. Along the way he forges friendships, takes lovers, and makes bitter enemies, all while striving for the power he feels he deserves and can wield fairly. With the advent of the Blessed Epoch and the discovery of new cultures, the world is changing. Octavian's decisions will affect not only those closest to him but will have profound worldwide consequences that he cannot begin to imagine. For twenty years, Octavian does what he must, and his choices bring him brilliant victories alongside crushing losses. Time and again, he must choose between what is right for all and what is beneficial to him, while hoping for the wisdom to tell the difference. FREE Short—A Lesson and a Favor Eight years before meeting Yarrow and Duncan in Ash and Echoes, the man now known as Sasha lived and breathed for a single purpose: to kill for gold and the glory of his cult and dark god without emotion or hesitation. In this lost tale of Sasha's early career, he's dispatched on a difficult mission—one with a surprise in store for him. FREE Short—Archer's Regret  Sylvain Damasca has seen and done it all since walking away from his wealthy family and the promise of a future title. He's had more men, money, and adventure than he can count—including a part in the founding of Rosecairn—but he's restless, and no amount of gold, wine, or casual companionship can scratch his itch. It might be time to deal with the one thing he left unfinished, if he can find the courage to face the only man who ever got underneath his skin.
Cairn and Covenant
Word Count:

120,000
Summary: Whose hand will orchestrate the change in the world? The decade-long war with Johmatra is over, but peace hangs by a thread in Garith's kingdom. Yarrow, isolated in his island realm, refuses to abide by the treaty or to follow the dictates of the priestesses. Others—Octavian Rose among them—are uneasy with the growing military power of the temples, and the mage island of Espero remains a tenuous ally. Garith knows his people cannot weather another conflict and that infighting will leave their lands vulnerable to further invasion. The arrival of a Johmatran ambassador with his own agenda calls everyone's loyalties into question. Sides will be chosen, and the consequences of those choices will have repercussions no one can foresee. Even among the turmoil, Yarrow is determined to have his vengeance against the thirteen goddesses and heal the world's magic. But how far will he go, and what lines is he willing to cross? As unlikely alliances are forged and enemies are revealed, Prince Thane seems to be the key to forgotten knowledge that will shape the future—and some will do whatever it takes to control him.
Calling and Cull
Word Count:

72000
Summary: Vampires and werewolves live long lives. The Sleepless City saga might have ended but the story continues… Welcome to the Vampire Guard, where legend and myth meet science and technology.   Vampires make the best spies. Throw a smart-mouthed werewolf in with three vampires, mix well, and The Vampire Guard's newest team is bound to become one of their greatest assets. Super spies with a full range of skills. Warrior, hacker, thief, and scientist.  They get in, do the job and get out before the bad guys ever know what hit them. Forge, Blair, Declan, and Lucas are thrust into the world of high-tech spies and top-secret espionage conspiracies. Recruited into the world's most elite and secret organization with one singular mission. Protect those who can't defend themselves from ruin. Life becomes complicated when an impending Presidential visit to their town, Boggslake, throws them headlong into the world of the vampires and werewolves of the Vampire Guard. Very quickly they uncover and confront a werewolf terrorist organization known as the Qiguan. Together they must thwart an assassination attempt on the open waters of Lake Superior while tracking a previously unknown biological weapon controlled by the Qiguan—a weapon which may very well mean death for one of them.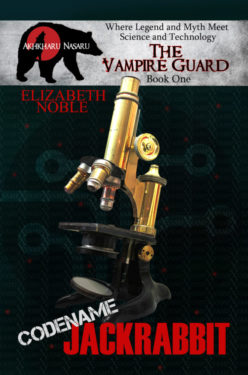 Code Name Jack Rabbit
Word Count:

54,646
Summary: Kaede Hiyashi is sick and tired of living in the shadow of his father, supervillain Doctor Terror. Brilliant but crazy, Doctor Terror sends his son to Corwyn, California, for reasons Kaede can't imagine. Sent to accompany and protect him is Ash, a genetically modified supersoldier raised and trained by an infamous death cult. Corwyn is lousy with superheroes, led by the obnoxious Dark Justice. Kaede finds himself dancing around Dark Justice as he digs into his father's mysterious business and teaches his socially awkward—but physically lethal—bodyguard to acclimate to "normal" life. Can these two wacky supervillains figure out what Doctor Terror wants them to do, solve the riddle of the villain known as Black Hand, and keep Dark Justice from raining on their bloody parade? The course of love—and world domination—never did run smooth.
Hearts of Darkness
Word Count:

140,000
Summary: Despite their disparate natures, Yarrow, Duncan, and Sasha united against overwhelming odds to save Prince Garith's life. Now Garith is king and the three friends may be facing their undoing. Distraught over Yarrow's departure to find the cure to his magical affliction, Duncan struggles with his new role as Bairn of Windwake, a realm left bankrupt and in turmoil by his predecessor. Many of Duncan's vassals conspire against him, and Sasha's unorthodox solutions to Duncan's problem have earned them the contempt of Garith's nobles. When word reaches Duncan and Sasha that Yarrow is in danger, they want nothing more than to rush to his aid. But Duncan's absence could tip Windwake into the hands of his enemies. In addition, a near-mythic order of assassins wants Sasha dead. Without Yarrow, Duncan and Sasha can't take the fight to the assassins. They are stuck, entangled in a political world they don't understand. But finding Yarrow may cause more problems, and with his court divided, King Garith must strike a balance between supporting his friends and assuaging the nobles who want Duncan punished—and Sasha executed.
Ice and Embers
Word Count:

160,000
Summary: Sasha was born to, and has always defined himself by, the secret assassins' Order of the Crimson Scythe. He chose the love of Yarrow L'Estrella and Duncan Purefroy over his duty to his clan, forfeiting his last mission and allowing Prince Garith to live. Now, the order—previously Sasha's family—has branded him a traitor. He's marked, and that means the brethren of the Crimson Scythe won't stop until Sasha is dead. Garith's twin kingdoms balance on the brink of war, and all three men have reasons to help the king, whether loyalty, duty, the interests of their own lands, or gold in their pockets. Still, Yarrow and Duncan are willing to abandon their reasons to seek out and destroy the assassins' order to keep Sasha safe. But Sasha isn't sure that's what he wants. Loyalties are strained by both foreign invaders and conspirators in their midst. It's hard to know which side to choose with threats piling up from every direction and war looming, inevitable, on the horizon. Their world teeters on the precipice of change, and Sasha, Duncan, and Yarrow can only hope the links they've forged will hold if Garith's kingdom is torn apart.
Iron and Ether
Word Count:

165000
Summary: What does a former assassin do when he's not out there… well… assassinating? Saving his species from extinction, of course. At least, that's what Leopold wants to do with every molecule in his body. But the task won't be fast or easy, and he can't do it alone. Enter Mastrodai—a mrrog prince who has absolutely no desire to rule, much to his father's exasperation. He craves the ability to prove his worth as a mate and to somehow atone for his actions that led to Leopold's torture at the hands of an enemy. Making humans official would be a good start. But politics rule no matter what the species, and Mastrodai has to maneuver carefully and risk what he has built to give his mate what he deserves. And when he realizes both he and Leopold have deeper feelings for Alex, one of Mastrodai's human slave women, he knows his future is out among the stars with his humans, not planet-bound with his kin. Unfortunately, before they can set their plan into motion, Leopold receives a vision that sends him reeling and questioning everything he knows about himself. A vision he must investigate, back to where he began—Lex, the backwater planet where he spent his early years, and where he swore never to return. Trigger Warning: Includes violence throughout, PTSD, a scene of graphic torture, and the start of a consensual menage relationship.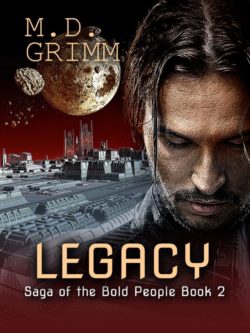 Legacy
Word Count:

170000
Summary: The enemy hunts him, but not for the reason he thinks. How does a human survive in an alien dominated InterGalactic Community? By becoming an assassin, of course. At least, that's what Leopold thought when he became an assassin for the elite. Pretending to be an alien known as Voidstriker, Leopold feeds his appetite for vengeance, killing aliens as well as taking their money. It's a win-win to his mind. That is, until a bounty is placed upon his head. With his true identity now revealed to the IG Community, Leopold knows it's only a matter of time before the powerful family members of his victims come for blood. Far worse is the fact that the one who put the bounty on his head, is the one he most fears. A routine job three cycles ago brought him face-to-face with Mastrodai, a prince of the powerful Mrrog Nation. Not only did Leopold—accidentally—destroy part of Mastrodai's moon, but one glimpse of the mighty alien had him feeling desire for the first time in his life. He ran, and like predator after prey, Mastrodai never stopped hunting him. Leopold is convinced that Mastrodai wants bloody revenge.  But when he finally confronts the mrrog, he is stunned to realize Mastrodai wants something very different. Something surprisingly intimate—the one thing that scares Leopold more than torture. Trigger Warning: Off page torture and abuse, and aftermath of rape. While the intimacy between Leopold and Mastrodai is always consensual, there are others who wish to break Leopold into as many pieces as possible.
Leopold
Word Count:

22400
Summary: When King Lucius is imprisoned in a magic mirror by an evil wizard, he is forced to watch as his life is destroyed and his kingdom brought to the brink of ruin.  Trapped in his own reflection, he only has the freedom to move and talk when the wizard sleeps. With his subjects under the dark spell of the wizard, Lucius is forced to rely on the most unlikely of heroes if he hopes to get his life back. Harry comes from a long line of assassins and prides himself on being one of the best in the kingdom, but when he is hired to kill King Lucius he discovers that all is not as it seems in the Kingdom of Cinders. Harry agrees to help Lucius in return for a full pardon for his crimes, but to complete his quest he may have to give up everything, including his freedom and the king he has come to love.
Magic & Mirrors
Word Count:

100300
Summary: Traveling has always frightened Marya, but when the Ktar chooses her to protect the heir on his confirmation journey, she fights panic. A prophecy concerning the heir's death, ominous dreams of a mysterious city, and news that one of the heir's companions will betray him all point to disaster. Unfortunately, the discovery of the assassin's identity is only the beginning. His menace pales in comparison to the ancient evil lurking in the mountains. When Marya is trapped and the men with her enslaved, she is faced with two choices: surrender to the alien being who offers her power, or ally with the handsome assassin she sought to thwart. One way she loses her soul, the other she may lose her heart.
Marya
Word Count:

165000
Summary: British superheroes, melodramatic Mages, snarky secret agents, one hell of a found family, and a whole load of weird people. Also, there's a duck. This is the painfully bizarre origin story of Rexley Nova. When Rex was four years old, he became one of the world's first superhumans. When Rex turns twenty, he feels the drive to use his scientifically given abilities to protect the world. He leaves home to become a member of the Secret Superhero Security team, alongside three of his friends and Danger City's own superhero, Polaris. Rex fights murderous Mages, evil organisations, criminal mafias, his agency appointed psychiatrist, his own anxious brain, and the most frightening of all, his attraction to a certain blue-eyed superhero.
Novas Got Nerve
Word Count:

102000
Summary: Ancient voices reveal a terrible secret: human scientists created the kresnas, devourers of life and sanity. Not only created, but also used in terrible, torturous experiments, turning them against their creators. Romenel's dilemmas pile up until he's lost in them. How can he destroy all the hordes of kresnas at once and is it morally defensible to do so? What other solution is there if humans are to survive? What should he do about the beautiful warrior, Kyliki, since he has no place in her world and she has none in his? And, hang it all, if he can resolve these things, what in blazes is he going to do about the mess of a succession war raging back home?
Obligations of Blood
Word Count:

31857
Summary: How does a nice young woman from a nice American neighborhood become a sensually augmented assassin trapped in an Arabian king's household? Is she a superhero or a monster? A victim or a villain? All will be revealed, and you can decide for yourself, while enjoying a raucous ride with Poison Patty!
Poison Patty
Word Count:

54545
Summary: Poor Poison Patty, the super sensually bio-augmented assassin, is in a powerfully pernicious predicament. Perhaps you read about it in Poison Patty, her first tragic tale? Patty used to be a gloriously gracious good girl, but that was before an awful arrogant acrimonious amoral aberrant Arabian king kidnapped her. Now she's got a bite! Even so, Patty's predicament has gotten worse. Not only is she sought after by two terribly tenacious powers, she's under the thumb of a third. Patty's also struggling with an essential existential enigma. Is she a superhero or a monster? A victim or a villain? Take a raucous run right through this second installment of Poison Patty's troublous tale and decide for yourself.
Poison Patty's Predicament