Word Count:
20000
Summary: A story born in the hollers of Eastern Kentucky. Elizabeth Robinson. An Elizabeth Robinson has lived in the hills of Eastern Kentucky as long as people have built permanent settlements in the lush, green forests. While the mountains recover from the War of Northern Aggression, the simple folk seek the healings of the Robinson women. Three generations, working the ways from the old country, live in isolation. The youngest Elizabeth Robinson, a healer by happenstance, despises her role in the family. She longs for freedom, the wilderness of her youth, an escape from a dark secret. Alone in the forest, she stumbles upon the ghost of a Yankee soldier, Samuel Henry. Determined to help Samuel pass beyond the veil, Elizabeth brings him back to her mountain home. Turning of the wheel of fortune, prosperity changes to misfortune for the Robinsons, and a menacing figure lingers like a thick fog. Generations, built on lies, force Elizabeth to face a bleak reality and make the ultimate sacrifice.
Apparitions of Elizabeth Robinson
December 19, 2019
Word Count:
21,400
Summary: When do dreams become reality? Orin sells dandelion latex at a no-name market, barely scraping by. Mette is a princess. Maybe. What Orin does know is that for thirty seconds every night, Mette visits Orin in xir dreams. Orin has long since written the fancy ghost woman off as a recurring nightmare, but when Mette insists upon meeting in real life, Orin's inner world turns out to be more substantive than imaginary. Along with best friend Blathnaid, Orin embarks on a journey to discover the truth behind xir otherworldly connection--determined to free xir mind and finally get a good night's sleep. But it's an ancient, planetary magic that binds Orin to Mette, and Orin's dandelions may be their only chance to survive the separation. If you want a fun, queer romp through a sci-fi planet with magic and dragons (of a sort), download Awry with Dandelions today! Note: this book uses xie/xir pronouns for Orin. Genres: Space Opera / Science Fiction / Romance / LGBT Lesbian Non Binary Market: Adult and New Adult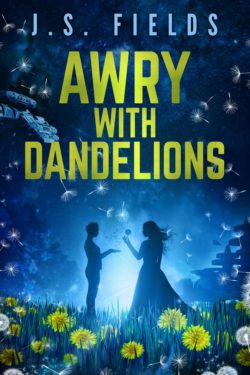 Awry With Dandelions
July 5, 2022
Word Count:
132,000
Summary: Rules were made to be broken. From terraformed outposts to magical realms, journey to worlds where deadly plants, rampant biodiversity, or failed colonies have created irresistible opportunities for those brave enough to seize them. New worlds, found family, mystical secrets, and deadly science weave together in this lesbian-centric anthology focusing on a very different kind of first time—a first encounter with a world, or being, entirely unlike our own. If you like diverse stories with lesbian heroines practicing science, magic, and seduction, buy Distant Gardens today!
Distant Gardens
August 2, 2021
Word Count:
7300
Summary: Two brothers find misery in California's Gold Rush until a Chinese doctor promises them riches. They should have asked, at what price? Set in the Trinity Mountains, this is the first book - a single story - in a series of short reads in science fiction and fantasy.
Dragon Bones - A Fantastic Tale
October 19, 2018
Word Count:
28985
Summary: A collection of the "Brassbright Kids" stories PLUS a brand-new novelette! The Steamkettle Kids Save the Day - Can Paisley Pockets and Christopher Cogan stop a crime in progress? They may be just a couple of kids, but where there's a will and some smarts, there just might be a way. The Legend of The Engineer - In a country called Industralia, children listen to a New Year's story about Frostica, the Engineer, and a magical train. A Life Invented - Gerard Liddle tinkers with his very first inventions - which sometimes work, and sometimes do unexpected things. The Steamkettle Kids and the Lucky Tentacles - After a hurricane shakes up Steamkettle Bay, Paisley Pockets, Christopher Cogan and Jimmy Cupper have an adventure as big as the sea. ~ NEW ~ The Secret of Tarragon Alley - Robin dreams of having a garden filled with flowers, just like Gramma did. When he brings home a little clay pot filled with gnarly, weird plants, he has no idea that it will take him on an amazing adventure.
Full Steam Ahead
September 21, 2022
Word Count:
84000
Summary: Cursed with immortality, Dermot MacKay craves death. To lift the faerie curse placed upon him and his men over 1,600 years ago, he must return the soul of his reincarnated wife to the exact place and time of her murder. But her soul is currently residing in the very modern Sidney St. George—and first he has to convince her to accompany him to Scotland. Sidney doesn't believe Dermot's wild claims of immortality and rebirth, yet she cannot deny that she is drawn to the sexy Scot. Nor can she explain the sense of déjà vu his touch elicits. Desperate for answers, she agrees to go with him—only to learn too late that to help the man she loves is to lose him forever… 84,000 words
Heart of the Druid Laird
September 19, 2011
Word Count:
80,350
Summary: The sun and moon have been devoured by the cosmic wolves Skoll and Hati. Fimbulwinter has enveloped the world in the cold and darkness. Men prey on each other in order to survive. Amid the chaos, in the struggle for the throne, comes a war between brothers. Hakon, the illegitimate heir to the throne of Norveig, has obtained a horn that can summon a terror from the depths of the ocean. This monstrosity has been sinking the vessels of his half-brother, Jarl Erik Bloodaxe. Erik sends a company of untried heroes to infiltrate Hakon's stronghold and steal the horn. As with all things political, there are other agendas. Fjorn, the leader of the team, is Erik's half-brother who could challenge Erik for the throne. Erik's wife Gunnhild is a powerful sorceress with her own ambitions- could her goals derail the heroes? In life, sometimes a Jarl wins, and other times a Jarl wins.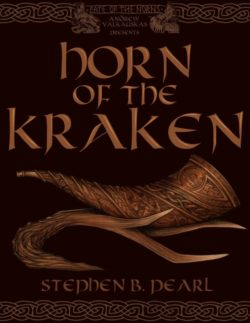 Horn of the Kraken
July 17, 2015
Word Count:
132,220
Summary: Bobby Gene is a man who stands out even among his people. Guided by the knowledge of his heritage as a backwoods shaman and more perceptive than many, he's grown to be a valuable asset to those he knows. While he isn't surprised to be the first to know when the woods around him begin to show clues that something isn't right, he doesn't expect just how much these omens and signs will prove to foretell something far more sinister to come. Soon strange dreams and inexplicable encounters have him questioning everything he knows- and then the people who live in his woodland Appalachian community begin to disappear. It's his job to protect and guide the others, what will he do when he's the only thing between them and the end of life as they know it?
Night is Falling
January 22, 2022
Word Count:
6000
Summary: The Mother Dark. The Chained Goddess The Serpent of Judgment In the space between the Realm of Mortality, the Expanse of the Celestial Choir, and the Void, Shi Coils around Hir throne. Hir opelecant gaze looks not to the singing stars nor the great black ocean of lucious agony. Instead, they look to the chains that bind the Goddess to this place. They were at first chains of sadism and dark intent. Every link forged by the Void to keep her from the love of Hir children in Mortality. Yet as she undulated within their grasp, her own sensual mind learned their construction. Now Shi is no longer a Goddess in chains, but a Goddess of chains. Forging new links in secret, Shi imbues them with the stories of Hir many children. Hir mystical eyes look into the glowing loop of eldritch metal. The patterns of silver-blue that formed as it cooled told the story of a love triangle that defies the boundaries of normality. A deathly howl echoes into the night, a young girl is visited in her dreams by the wolf's immortal spirit. He teaches her of his kind, the Uadeans. As she grows up, the wolf becomes more handsome to her own maturing sentiments, and she falls in love. Yet this love was not meant for the wolf, but for his mate. Now, years after, Jenova stands at the edge of life and death. Having earned her right to stand with the others of the pack, the woman prepares herself for the Heartsblood Rite. She must challenge one of these lycanthropic beings to ritual combat. The prize is the Heart of an Uadean and all the power that comes with it. Jenova faces her opponent in the ritual circle, the lust of the crowd overwhelming her human senses. She has not intention of killing tonight. The heart offered as the prize is that of the she-wolf Jenova had been chosen to love... And to bear the children she cannot.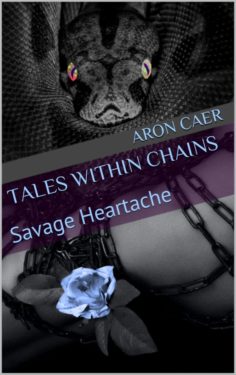 Tales within Chains
September 23, 2020
Word Count:
99,000
Summary: Oil reserves depleted. Society collapsed. A few places cling to modern technology. For everywhere else, there are the Tinkers. In southern Ontario, Novo Gaia uses sustainable energy to support its citizens in comfort. From there, Novo Gaia sends Doctors of Applied General Technology, tinkers, into the Dark Lands to install everything from solar stills to televisions—and make a profit. Brad Cooper is a tinker on his route in Guelph when he finds himself at the epicentre of a plague outbreak. Stranded without support in a tenuously-held quarantine zone, he must use his limited medical training in a desperate search for a treatment against an insidious relic from an age of excess. Meanwhile, fuelled by panic, other townspeople caught within the quarantine zone conspire to sabotage relief efforts. Distrusted by the people he's trying to help, hampered by political rivals, under-supplied, over-worked, and with his own risk of infection increasing, Brad seems to be fighting a losing battle as the casualties mount...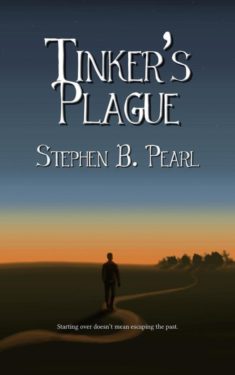 Tinker's Plague
April 29, 2016
Word Count:
113,100
Summary: Markus a wizard from a parallel Earth travels to our world in a bid to stop a blight that is destroying his own. Here he meets Alcina, a Wiccan Priestess, who is in a custody battle over her son, Tim, against Carl, the boy's sire, who abandoned her when she was pregnant eight years before. Carl has the backing of a dangerous religious cult in his bid to take Tim. Together Markus and Alcina face the forces of intolerance and hate to save a child and a world and thaw two warm harts too long trapped in the ice of betrayal. Meanwhile, Markus' best friend and his ex-fiancée, who is now a vampire, battle the authorities who are likely to hang Markus upon his return because he has done research into forbidden magics.
Worlds Apart
August 4, 2013